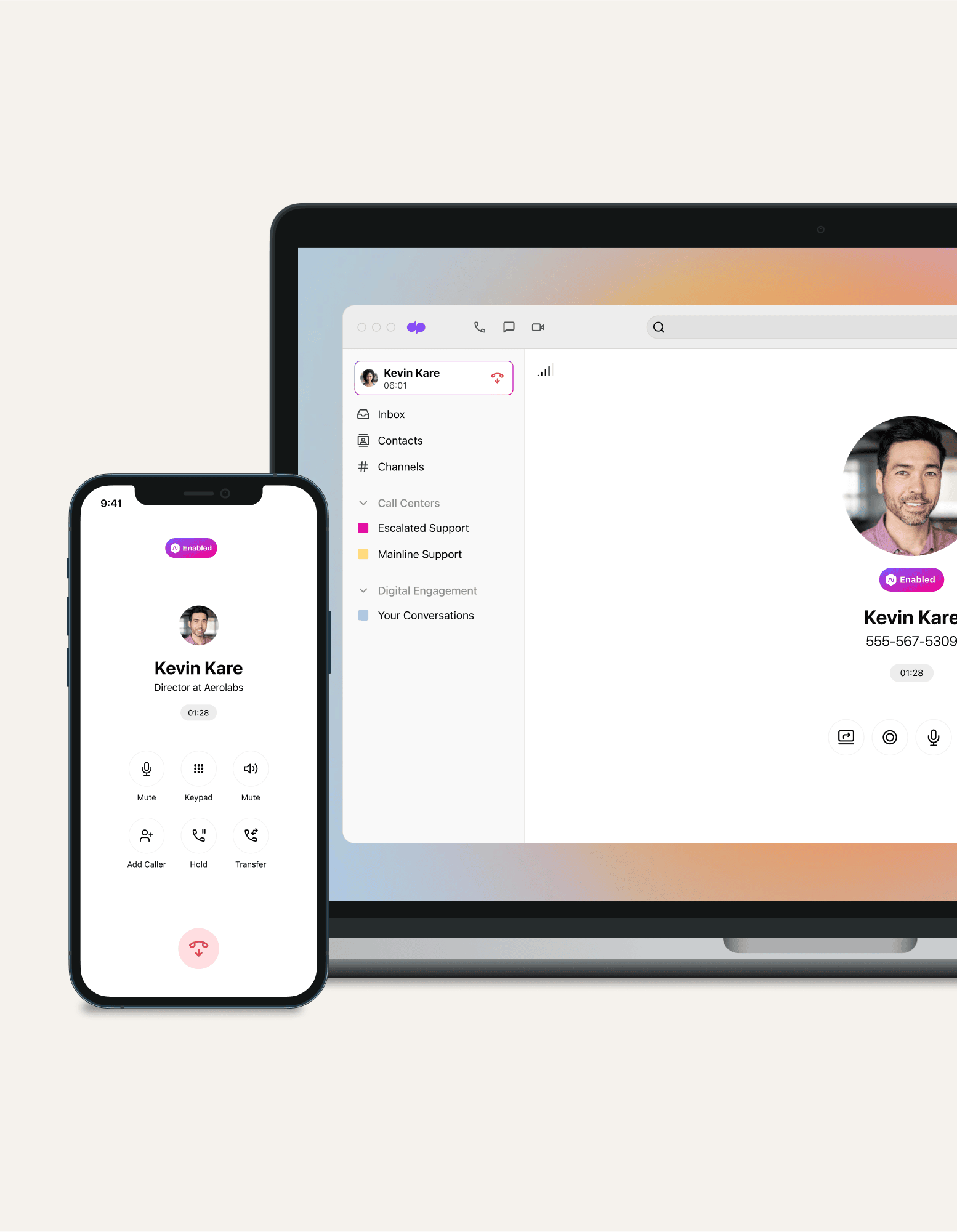 work from anywhere
Virtual PBX
If your business phone system is inflexible, expensive, and requires on-site maintenance, it may be time to switch from a traditional on-premises PBX system to a virtual phone system or even better, a UCaaS (Unified Communications as a Service) platform. Book a product tour to see how easy it is to make phone calls, send SMS/MMS messages, and even have video meetings with Dialpad's intuitive app!
For most businesses that are considering a virtual PBX phone system, their main must-haves are cost-effectiveness, flexibility, and ease of use.
But there's actually an even better option that lets you not only manage incoming calls, but also handle other communication channels—from a desktop or mobile app (aka. a softphone). More on that in a bit. For now, let's have a quick refresher on what virtual PBX is.
What is virtual PBX?
Virtual PBX, sometimes also referred to as cloud PBX, is a type of phone system that's a newer alternative to traditional PBX (Private Branch Exchange) systems. Rather than relying on physical hardware, switchboards, and landline connectivity, virtual PBX lets you make phone calls through the Internet.

How does virtual PBX software work?
Virtual PBX uses technology such as cloud-based software and Voice over Internet Protocol (VoIP) to give you the same functionality as traditional PBX phone systems. While traditional phone systems send analog data through copper wiring and landlines, virtual PBX software sends that voice data digitally through the Internet.
Today, though, these types of cloud phone systems have evolved even more, and you're likely to hear about "UCaaS" or "unified communications platforms" instead of just cloud or VoIP phone systems. The difference: UCaaS and unified communications platforms don't just give you phone calls like PBX phone systems do—they also let you communicate in other ways, like through instant or SMS/MMS messaging, and also video conference calls.
For example, that's exactly what Dialpad gives you (in addition to all the usual business phone features you'd expect, like an auto attendant and IVR (interactive voice response):

A few virtual PBX hosting comparisons
Virtual PBX vs. traditional PBX
The main difference between virtual PBX and traditional PBX is that virtual PBX systems use the Internet, while traditional PBX uses on-premises hardware and landlines.
This is hugely beneficial to small businesses and companies with remote teams or distributed offices around the world. Take TED, for example—you've probably seen one (or two, or five...) of their inspirational talks on YouTube. Their IT team was struggling with the endless maintenance and lack of flexibility of their previous on-site PBX phone system. After switching to Dialpad's unified communications platform, they eliminated these problems—and even got rid of desk phones altogether.
Both virtual PBX and traditional PBX typically have standard PBX features like call forwarding, conferencing, and voicemail.
Virtual PBX vs. IP-PBX
After traditional, analog PBX systems came IP-PBX phone systems, which was a first step in creating phone systems that worked over the Internet.
Virtual PBX vs. hosted PBX
"Virtual PBX" is sometimes used synonymously with "hosted PBX," and essentially what "hosted" means is simply that your phone system is managed by a third party provider somewhere else—not in your own office. Your hosted PBX vendor likely has its own data centres and provides all the IP phones, hardware, software, maintenance, security, and upgrades you need.

Call forwarding
Have you noticed that a lot of call forwarding features can be over-complicated and tricky to use? One minute you're trying to forward a call to your colleague, the next you realise that an important customer is no longer on the phone at all.
A UCaaS platform should let you easily set up and change your call forwarding settings. With Dialpad, for example, you can add up to five call forwarding numbers to your system and make any changes whenever you feel like it via your dashboard. No unnecessary complications:

Auto attendant

Why should you handle multiple calls about simple subjects like opening hours when you can have an auto attendant do it for you?
UCaaS platforms should come with an auto attendant feature that can provide basic information and answers to callers, and can also route calls to the right department for you.
Call queue
Call queuing allows larger companies with call centre teams to handle large volumes of calls with ease. If you get more incoming calls than you have available agents, queuing places your callers into a queue to be directed to an agent when one becomes available. You can thus deal with call spikes without affecting the customer experience.
Get more than just a virtual PBX
While virtual PBX has a lot more to offer than traditional PBX, a successful business today that uses other communication channels may be better off using a UCaaS platform. This way, they can have phone calls, video meetings, and SMS/MMS + team messaging, all in a single platform.
Not only is it more cost-effective, it's also easier to administer from an IT perspective.

Thinking about a virtual PBX?
Dialpad gives you more than just a business phone system. Make phone calls, have video meetings, send instant messages, and more—all from one easy-to-use app. Sign up for a 14-day free trial to try it out yourself. It takes just a few minutes, and you'll even be set up with a virtual phone number. Or, take a self-guided interactive tour of the app!
What's the difference between an on-premises system and a virtual PBX?
Virtual PBXs are cloud-hosted using off-site servers which belong to your telecommunications provider. On-premises PBX systems, on the other hand, rely on hardware and infrastructure at your own workplace.
How can I set up a phone system?
What equipment is compatible with virtual PBX?
What is a virtual PBX system?
Do you need a PBX, a VoIP-based solution, or a UCaaS platform?