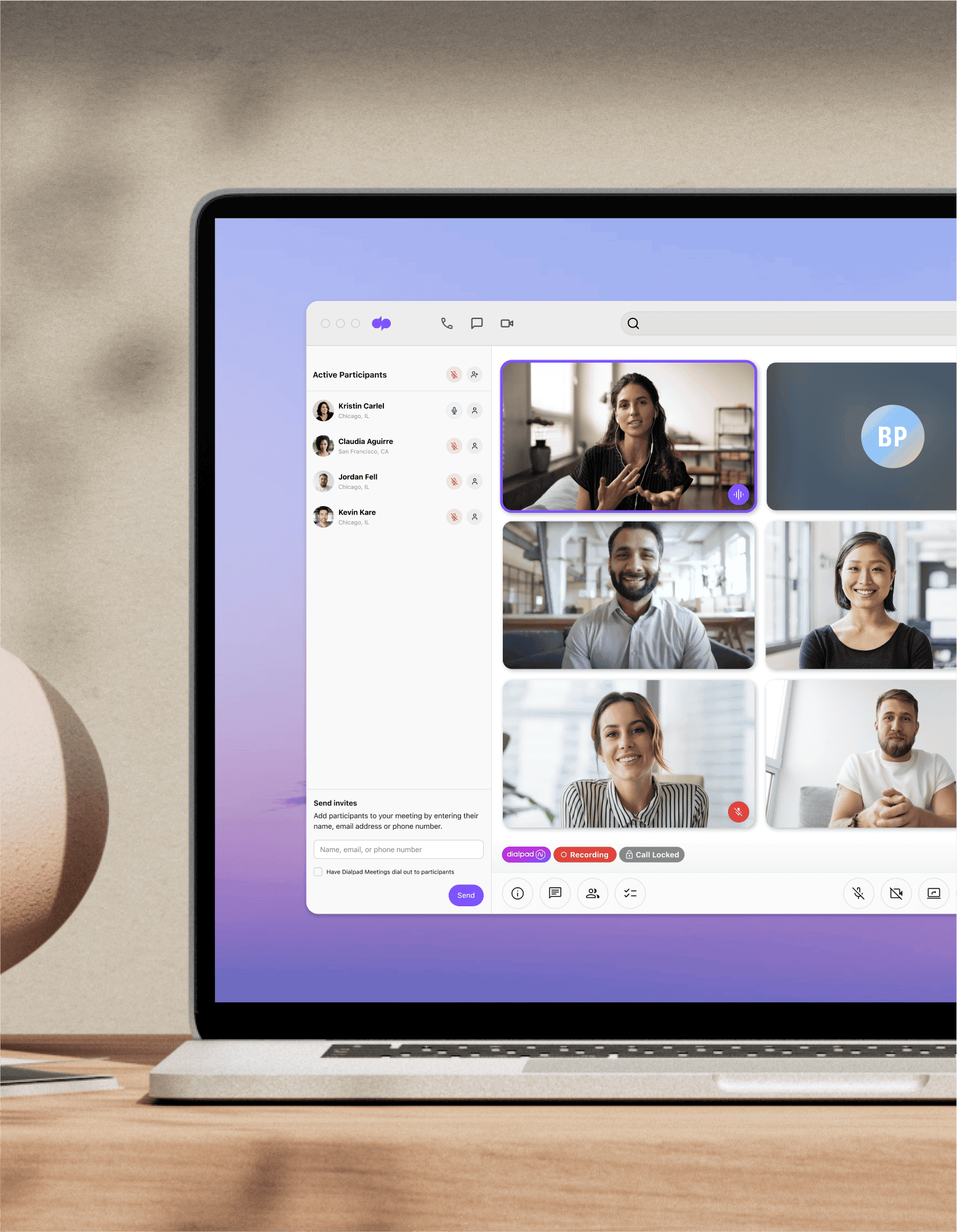 Conference calls in Canada
Dialpad lets you launch conference calls from any device, at any time, whether you're in Ottawa or Vancouver. It only takes a few minutes for a Canadian business to sign up for a free trial with Dialpad and get started with a virtual number, so why not give it a go.
Sign up for a free 14-day trial!
How to start a conference call from anywhere in Canada using Dialpad
With Dialpad, you can start a conference call by dialing a number or entering a contact's name in the desktop or mobile app. (Make sure to take time zones into account if you're inviting participants from other countries or regions!)
The next step is to invite your participants to the call. Dialpad integrates with both Google Calendar and Microsoft 365, making it easy to create a meeting invite with an auto-populated link.

When it's time to start to call, participants can join by clicking their link, or by dialing in using the details you've provided to them. To launch a conference call, just open up the Dialpad app or log in from your web browser. Then click on "Start Meeting" or the phone icon to start a call.
You can invite other participants to join an existing meeting room without having to leave the window. Simply click on "Participants", and then "Invite participants", and follow the on-screen prompts!
Dialpad: More than just a simple conference call service in Canada
If you're looking for team + SMS/MMS messaging in addition to just a conferencing service, check out Dialpad's unified communications platform.


Truly unified communications
Dialpad allows you to do so much more than just make phone calls or have video conferences. You can send and receive SMS and instant messages, fax, and more—all from the same platform. Keeping in touch with teammates and clients has never been easier. Plus, there's no need to constantly switch between different apps!

Robust call and admin controls
Dialpad's call and admin controls let you mute and unmute, turn your video on and off, and more if you're the meeting's moderator. If you're hosting a conference call, you can invite participants in real-time on a reservationless basis, turn on real-time transcriptions, and share your screen, right from the conference call screen.

Join from any device
Dialpad's apps work across both desktop and mobile devices. Whether you and your conference call participants are using Mac, PC, iOS, or Android, you can all connect seamlessly. Don't want to download any software? Dialpad can be accessed from web browsers too, which means your guests can join your call just by clicking your invite's link.

SMS invite reminders
Need to remind your attendees to join the meeting? Dialpad can send an SMS reminder text message to them for you, with a link to join the conference call right in the text message.

Integrations with popular tools
Dialpad has integrations with many of the most popular business apps like Google Workspace, Microsoft 365, and CRMs like Salesforce and HubSpot. Want to build your own custom integration with a niche tool? You can do that too with Dialpad's open APIs!

Security and reliability
Your communications provider should keep data secure, whether you're making a conference call or having a video meeting. Dialpad can help you maintain compliance with GDPR, SOC2 Type II, and HIPAA regulations—and has customers in a wide range of regulated industries like healthcare, law, and finance.
Start making conference calls in Canada with the right provider
If you're looking to make easy-to-join, HD-quality conference calls, then choosing the right provider is vital. Many platforms will provide you with basic conference call functionality, but may limit the number of online meetings you can have or have poor call quality.
Dialpad gives you access to unlimited meetings on all paid plans, and includes advanced features like audio recordings, screen sharing, and real-time transcriptions.
You can even make international calls, so if you're in Toronto, but you have remote employees in the United States or the United Kingdom, Dialpad can help bring you face to face with teammates and clients.
Dialpad isn't just a conference calling platform, either. It basically has a built-in business phone system, team messaging, integrations with third-party apps, and even AI and call analytics. See how it works!

Try cloud-based conference calling for free
Sign up for a free 14-day trial to take Dialpad for a test drive! It takes just a few minutes and you'll even get set up with a virtual business number. Or, take a self-guided interactive tour of the app first!
FAQs about conference calls in Canada
How do I make a 3-way call in Canada?
Dialpad's three-way call feature makes it easy to add a third party to your two-way business call, regardless of where in the world they are located.
While on a call, simply click the "Add a Caller" button, which looks like an icon of a person with a "+" symbol.
Either start typing the person's name to find them from your contacts list, or type in their phone number, then hit "Confirm" to call that person.
When they've answered, click "Done" to add them to the call. It's that easy!
Three-way calls are included as standard in all of Dialpad's pricing plans.

Do you need permission to record a conference call in Canada?
How long does it take to set up my account with Dialpad?
Does a free conference call have a time limit?
When should I opt for paid conference calling solutions?