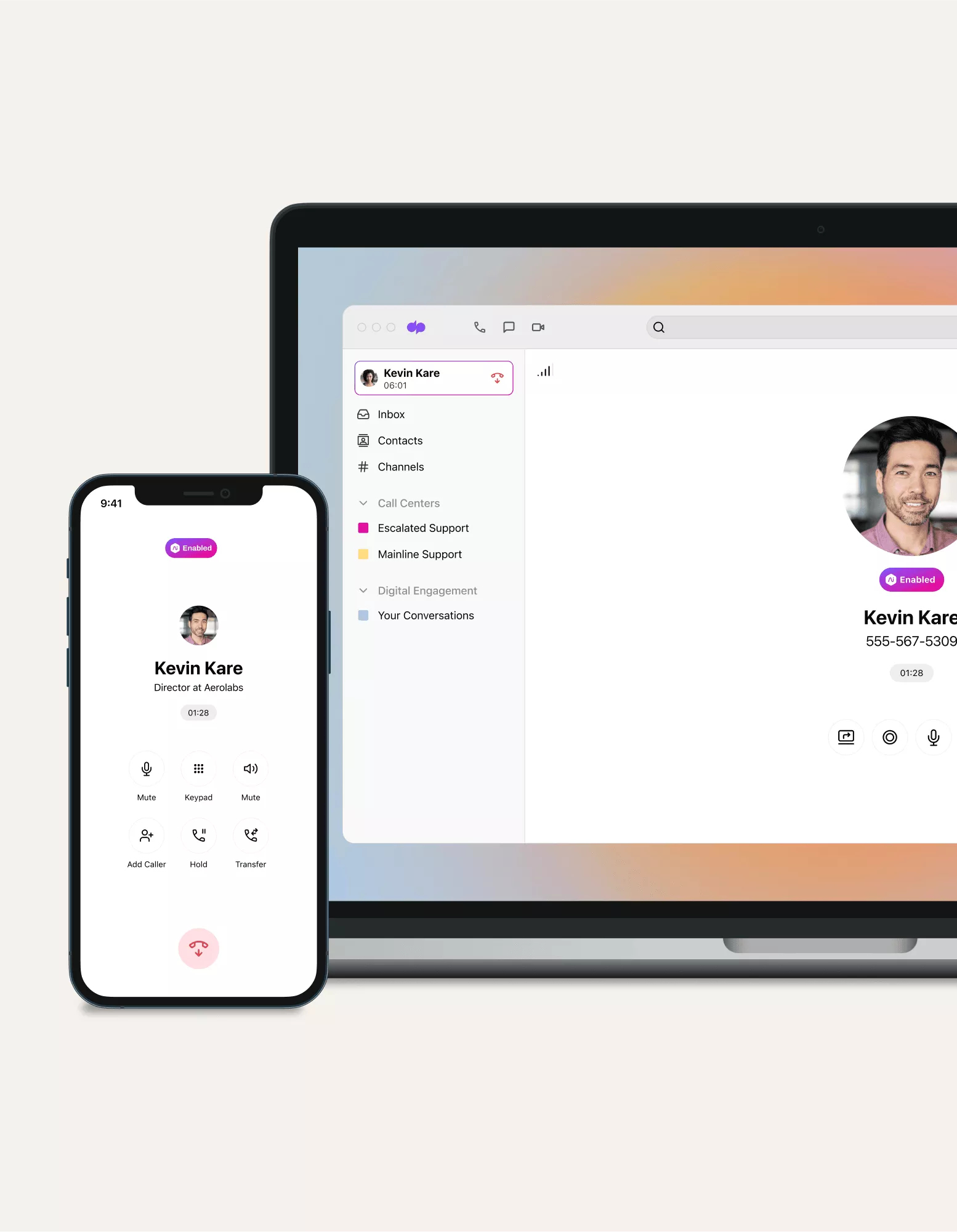 Small business phone system in Canada
If you're looking for the best small business phone system in Canada, check out Dialpad's UCaaS solution. It's packed with features like unlimited calling, video conferencing, SMS/MMS + team messaging, HD call quality, and more. Sign up for a free trial to get set up with a virtual business number in minutes!
Sign up for a free 14-day trial!
The best phone systems for Canadian businesses
Whether you're a brand new startup based out of your apartment in Vancouver, or a thriving small business in Calgary, you need a reliable communications solution. Dialpad's Unified Communications as a Service (UCaaS) solution is more than a simple business phone system.
With call routing options, you'll never miss a call again. Received a voicemail but don't have time to listen? No problem, Dialpad will transcribe it and send it as an email or text. Other features include HD calls, call summaries, a choice of caller ID, ACD and IVR functionality, a range of calling features, and even video conferencing.
There's no hardware needed either—Dialpad works on all your favourite devices, including phones, laptops, tablets, and more. With the ability to work anywhere with an internet connection thanks to VoIP, all you need is the desktop or mobile app (or to access Dialpad via browser) and you're good to go.
What sets Dialpad apart from other small business phone solutions?
Dialpad isn't just your average VoIP (Voice over Internet Protocol) telephone system. It comes with...


Truly unified communications
There's a lot more to Dialpad than a simple business phone system that lets you make one-to-one phone calls. You can have video meetings, conference calls, send instant messages and SMS, and more, all from one app.

A fully integrated contact centre
For businesses with a contact centre or support team, Dialpad has a fully integrated CCaaS product designed with a simple interface that lets support team agents and supervisors make calls, message each other, do live coaching, and access your CRM, all from a central hub. The best part? It's all on the same platform as your UCaaS functions.

Keep your existing phone numbers
Have important numbers you want to bring over from your current service provider to your new phone system? Dialpad's number porting support will help you port over local phone numbers for free with minimal downtime. (As long as your current provider cooperates!) And you can do it all from your online dashboard.
The best business phone system in Canada...
... Isn't a phone system. It's a unified communications platform. Sign up for a free trial to get set up with a virtual business number in minutes or, take a self-guided interactive tour of the app!

Easy call forwarding
Dialpad lets you forward calls to five other numbers so you never have to miss a call again. You can set up a maximum of five call forwarding phone numbers, which means missed calls will automatically get sent to your mobile phone, colleague, whoever you want!

Robust security and compliance
Dialpad protects your business operations and customer communications with built-in enterprise-grade security. It's SOC2Ⓡ Type II compliant, and ensures all your data is encrypted and secure no matter where you are or what device you're using. There are also built-in meeting security controls and APIs that enable automatic pausing of call recordings for compliance purposes.

Meet Dialpad Ai
No time to listen to your voicemails? Tired of taking meeting notes? Dialpad Ai can transcribes your meetings and calls, and even voicemail messages into text. Whether you're in back-to-backs and can't listen to your messages, or want to automate meeting recaps for your team, Dialpad Ai will email your voicemail transcriptions and meeting transcripts right to your inbox. How many business phone services can do that?
The small business benefits of having a good phone service
With more small and medium-sized businesses than ever competing for sales and needing to provide the best support, there's real value in using cloud-based business phone services—and even better, unified communications platforms.
It's cheaper than traditional telephone lines
Gone are the days of operating on-premises systems with expensive hardware and installation costs. Unlike traditional setups which require landlines and hardware on-site, VoIP technology lets you use your existing internet connection to make and receive calls.
This means there's no need for the hassle of setting up and maintaining those physical phone lines. You don't even need a special IP phone, you can turn any computer or mobile into a softphone (or use analog desk phones with a VoIP adapter).
These business VoIP solutions also make it easier to have a "Bring Your Own Device" culture (BYOD), which will lead to further cost savings by not having to provide each staff member with their own new device.
Another key advantage of SaaS solutions is they generally charge on a subscription service model. That means regular, affordable monthly fees, rather than a huge upfront cost. This is great for small business owners looking to scale up.
It helps you provide better customer service
The beauty of using a VoIP phone system is that your support agents are no longer tied down to an office. Customer support can now be handled from anywhere in the world at any time—meaning you can cover multiple time zones and support customers 24/7. (Plus, your staff can work from home and have better their work-life balance.)
Advanced features like customizable IVR menus ensure incoming calls get routed to the right agents for the job, first time, meaning customers get their answers quickly. All of this means happy customers, and happy customers means increased profits.
It comes with a lot more functionality to help employees be more productive and efficient
One of the biggest benefits of virtual phone systems and unified communications platforms is the wide array of features and integrations they come with.
For example, with some platforms that have built-in artificial intelligence, you get features like real-time transcriptions, live customer sentiment tracking, and more. For small businesses that need to compete against large enterprises, this type of functionality can go a long way in making a big impression and presenting a real air of professionalism.
Then there are the integrations! If your team is using other software (like a CRM), a unified communications platform like Dialpad can integrate with those tools to automate repetitive data entry tasks and let you work out of a single app instead of constantly toggling back and forth.
What's the best phone system in Canada?
With affordable pricing and plenty of features including video calling, SMS messaging, and AI-driven automation, we might be biased, but we'd say that Dialpad is the number one choice for business communication. But don't take our word for it. Try it out yourself for free!

Are you a small business that needs a new office phone system?
Try Dialpad free for 14 days—you can sign up in just a few clicks, and be set up with a virtual business number in minutes! Or, take a self-guided interactive tour of the app.