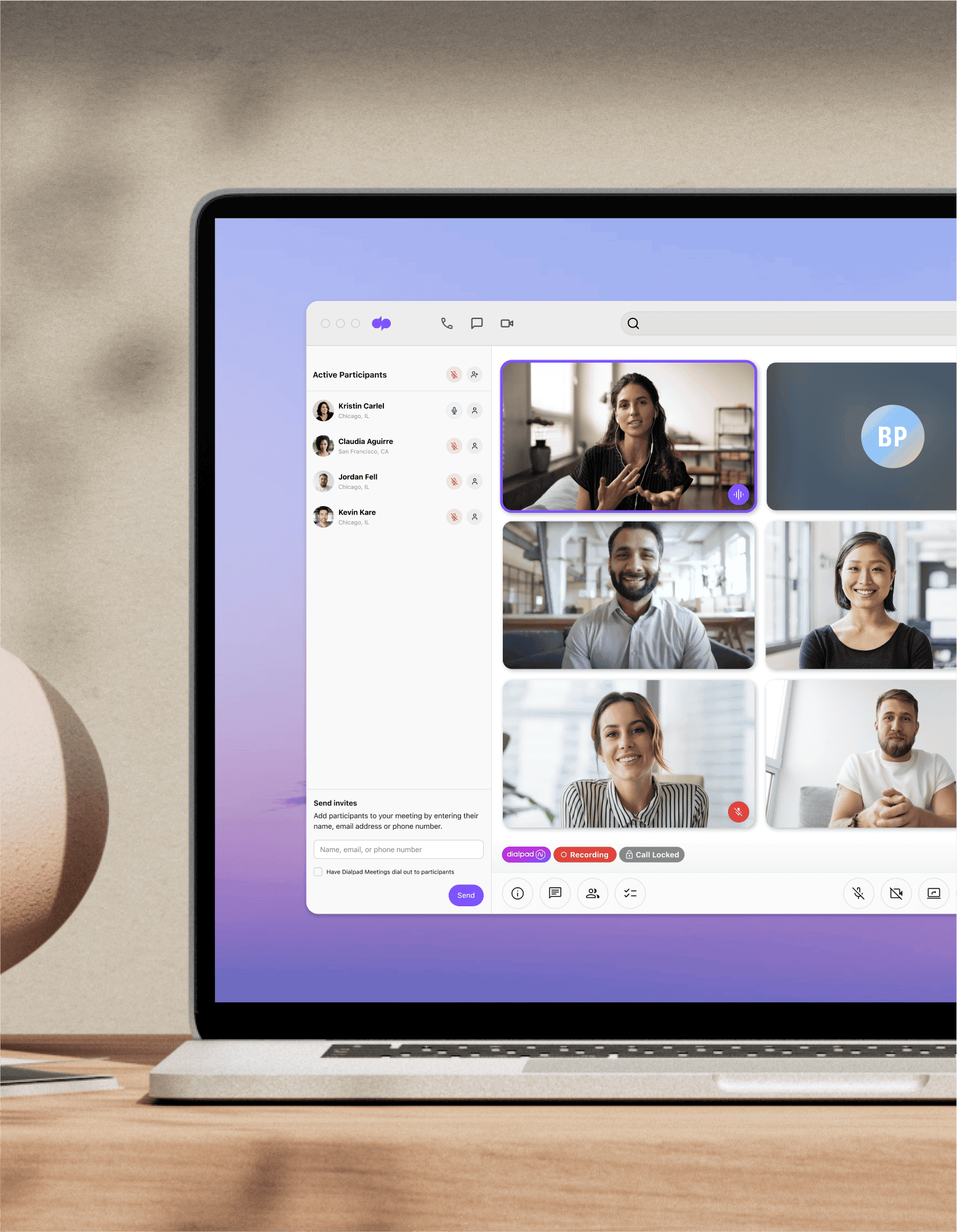 Enterprise video conferencing
In a remote work environment, team members need to be able to meet face-to-face over video. Dialpad Ai Meetings give you high-quality audio and video conferencing—along with unique, built-in AI-powered features like real-time transcriptions. Book a demo with our team or take a self-guided interactive tour of the app first!
What can an enterprise video conferencing solution do?
Good enterprise video conferencing software empowers businesses to join and create online meetings from anywhere, on any device. Dialpad's video conferencing software has a wide range of features including screen sharing, interactive whiteboard integrations, robust security controls, and more—all creating the best meeting experience possible.
Dialpad Rooms also turns your physical meeting rooms into true hybrid workspaces through its partnership with Poly, giving you the conferencing tools to create productive real-time meetings between your in-office and remote meeting participants:

The best enterprise video conferencing software features in one unified platform

Truly unified communications
Dialpad's all-in-one enterprise communication solution comes with video conferencing software built right in. If you need other communication channels as well, like VoIP calls and messaging, just upgrade from Dialpad Ai Meetings to Dialpad Ai Voice. Call, message, and meet virtually, all from a single app.

Plays nice with any device
Dialpad's features, including video conferencing, are remote work-friendly and work across desktop and mobile devices including PC, Mac, Android, and iOS. Don't want to download an app? No problem. You can join video conferences on Dialpad using a web browser—no downloads needed.

Easy screen sharing
Need to walk through a presentation or zoom in on a design with your team? Share your screen or just a window with one click using Dialpad's built-in screen sharing. Fun fact: With Dialpad, you can invite a client or teammate to a screenshare just by sending them the link in a text message, so they don't need to download the app.

Real-time transcriptions
Dialpad Ai, our proprietary artificial intelligence that's built in house, can transcribe your video calls—in real time. Not only that, it'll also log your action items and key questions, and even send a recap email with a searchable transcript to everyone.

Robust security
Enterprise video conferencing platforms can't slack on security. With Dialpad, hosts have the ability to remove unwanted attendees, block screen sharing, mute participants, and more.
Integrations with your favourite tools
Dialpad integrates with a wide range of business software and apps like Microsoft Teams, Salesforce, Azure, and more. Want to build your own custom integration? You can do that too with the API!

In-meeting chat
Stay engaged during a meeting by asking questions and chatting with other attendees.
Need an enterprise video conferencing solution?
Try Dialpad Ai Meetings for free now! It takes just a few minutes to get set up. Or, take a self-guided interactive tour of the app on your own first!
How do I start a video conference on Dialpad?
1. Open up the Dialpad app or log in on a web browser.
2. Type in a contact's name in the search bar, or just select a conversation thread.
3. Clicking the video icon to make a video call. That's it!

📹 Fun fact:
One unique thing about Dialpad is that it automatically adjusts video quality depending on attendees' bandwidth. That means if one person has a poor connection, it can automatically reduce the video quality so that the meeting can continue without audio or video being cut out.
There are tens, even hundreds, of video conferencing software options out there, but not all of them are necessarily designed for enterprise-size organisations. Here are some of the benefits of choosing a video conferencing solution that's a good fit for your enterprise.
It's more cost-effective
Beyond just looking at the price tag, a robust, versatile communications platform that comes with built-in video conferencing is often more effective. Not only does it help you streamline your tech stack, a modern cloud solution also makes it easy to add—and remove—users without heavy IT resources.
It makes implementing hybrid work easier
Perhaps the most obvious impact of video conferencing tools is bringing together employees from multiple locations and helping them work together more productively. These meetings solutions aren't just for online hangouts—they're designed to help employees brainstorm together as if they're all in the same huddle room.
Even if your employees want to turn off their video from time to time, having a web conferencing solution also lets you stay connected with clients and prospects from anywhere, and expand your hiring pool and interview and onboard remote applicants.
It improves meeting equity
Today, many teams are hybrid—they're a mix of in-person and virtual attendees. But often, online meeting attendees tend to get the short end of the stick, and don't necessarily get the same social in-person benefits as in-office workers. A good enterprise video conferencing solution should come with features that take these end users into consideration. For example, some solutions, like Dialpad Meetings, integrate with hardware and cameras that can track and even "zoom in" on in-office participants who are speaking, to make virtual attendees feel as if they're in the meeting room with the rest of their team.
Enable enterprise-level communications and collaboration
With Dialpad, you're getting a true unified communications platform that includes enterprise VoIP, an enterprise video conferencing system, instant messaging, and SMS/MMS messaging, all in one platform.
(And if you need a contact centre platform, Dialpad has that fully integrated too!)
Try it now!

FAQs about enterprise video conferencing
Do all video conferencing solutions have capacity to handle enterprise users?
Not all video conferencing solutions have the functionality—and security—that enterprise businesses need! Beyond basic features like audio and video quality, integrations, and screen sharing, enterprises also have more specific needs. This is why solutions like Google Meet, Skype for Business, and BlueJeans are more for small businesses rather than enterprises.
For example, how many participants do you typically have in your online meetings? How quickly can you add tens or hundreds of new users if you're in hiring mode? These are some typical questions that you should ask as you're shopping.

What are some quick ways to differentiate enterprise solutions from solutions for small businesses?
What Dialpad support is available for businesses with the enterprise plan?
At what point should I switch to an enterprise-grade video conferencing solution?
What are the limitations of using audio-only conferencing solutions?
My business already has a business phone system. Do I still need a conferencing solution?
What kind of setup should I have to enable enterprise video conferencing?