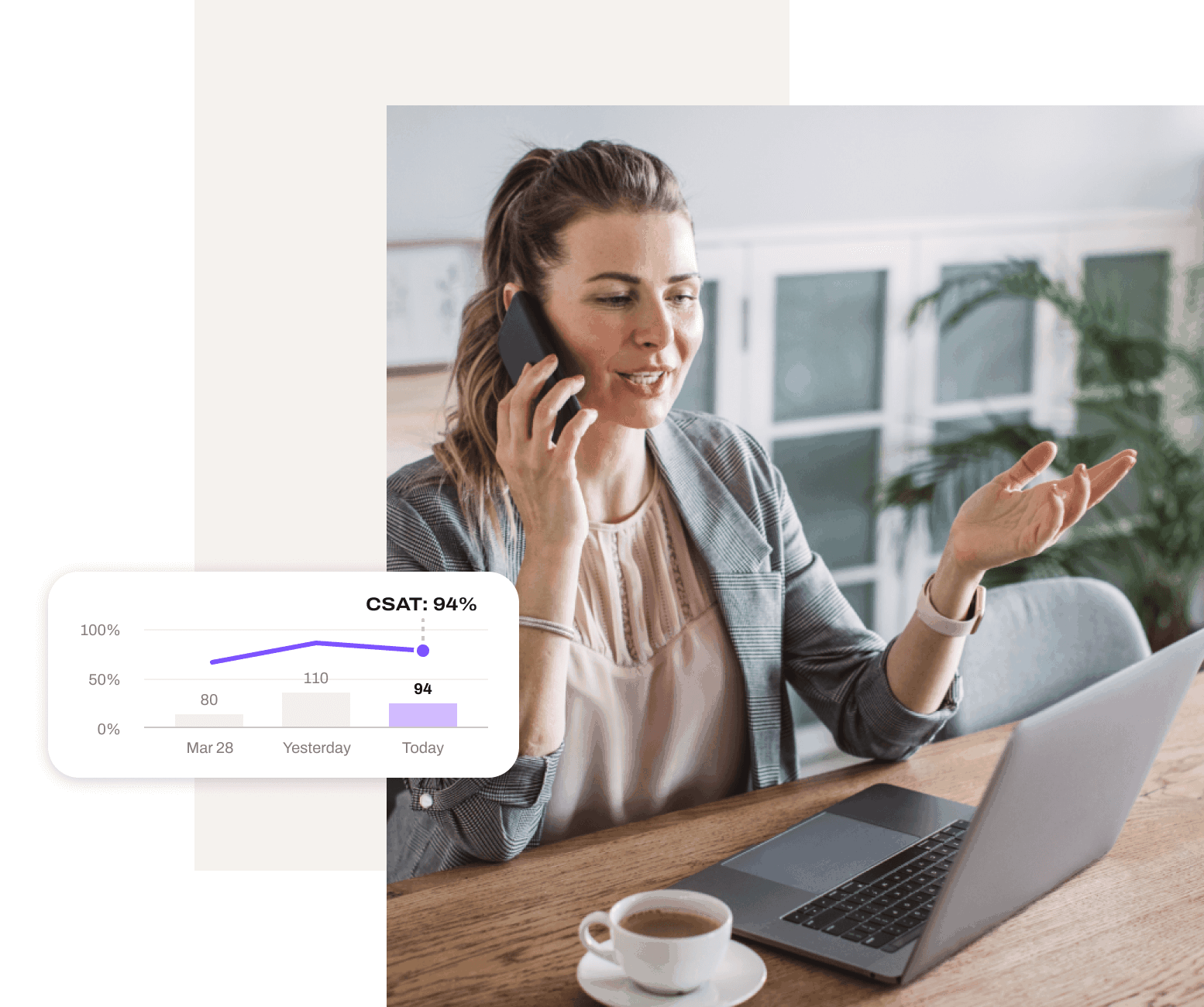 More data-driven customer interactions
Conversation intelligence
With the right artificial intelligence tools, you can make use of a treasure trove of data that you already have: your customer conversations. Book a product tour to see how Dialpad's conversation intelligence platform works!
Real-time transcriptions
Automated post-call recap emails
Keyword / topic tracking (e.g. "how often are customers asking for refunds?")
What is conversation intelligence?
Conversation intelligence is basically a subfield of business intelligence ("revenue intelligence" is another subfield that you've probably heard of) that focuses on gleaning actionable insights from one of the richest sources of data you already have: conversations with your customers!
Using artificial intelligence and algorithms, conversation intelligence tools can analyse what is spoken on calls, track how often certain topics come up, and more.
It's especially useful for improving team performance in contact centres and call centres, since they have customer interactions every day.
Tools like Dialpad have built-in natural language processing and machine learning, and can transcribe phone calls and even pick up on conversation insights like customer sentiment. (One unique thing about Dialpad is it can do this in real time—not after the call.)
Features to look for in conversation intelligence software

Real-time transcription
Fun fact: Dialpad Ai can transcribe conversations—in real time—even more accurately than almost all leading competitors. One example of how Dialpad Ai can be useful is it lets contact centre managers monitor multiple calls at once, since they can just scan the transcripts instead of listening in on each call one at a time. And if anyone on your team misses a meeting, they can just read the transcript to see what they missed.
Call recording
This isn't technically a conversation intelligence software feature, but whatever tool you use should have some kind of call recording feature built in. It's very useful to have, since even the best transcription tools aren't 100% perfect all the time. In Dialpad, you can toggle call recordings on and off easily right from your call screen.
Built-in analytics
Whether you want to zoom in on your customers' most frequently asked questions or understand how your contact centre team is handling call volumes, Dialpad comes with heat maps and an analytics dashboard that gives you all that information. No need to contact tech support, no need to wait days or weeks for that data.
Integrations with the tools you love
From Salesforce to Zoho CRM and more, Dialpad integrates with a range of popular business tools to streamline your workflow and automate repetitive tasks. There's also an open API, which lets you build custom integrations and automations to maintain compliance. For example, there's an API that automatically turns off call recording when sensitive information, like payment details, is being discussed!

Get all this in a unified platform
Dialpad is a unified communications platform, which means at its core, it's your phone system, video conferencing solution, and messaging tool—all in one. You can make phone calls, have video meetings, and send SMS/MMS messages from the Dialpad app, and all of these conversation intelligence features are fully integrated into a simple and affordable pricing plan.

Live sentiment analysis
Not only can Dialpad Ai transcribe calls in real time, it can also analyse the sentiment of calls as they're happening. This way, supervisors can monitor multiple active calls at the same time, and quickly spot if a call is going south and help the agent if needed.
Need a communications platform with conversation intelligence?
If you want to empower your sales reps, customer support agents, or call centre team, Dialpad's communications platform is designed to do exactly that. Book a demo with our team, or take a self-guided interactive tour of the app first!
The benefits of having a conversation intelligence tool
It gives you valuable insight, straight from the source
There are lots of KPIs available to contact centre managers for tracking the performance of their customer interaction teams. But beyond just numbers, there's a wealth of valuable information being given to you from your customers every day. They're telling you what they like about your product, what they don't like, what competitors they're considering, and much, much more. All of this information can help guide your marketing approach, sales forecasts, and inform your business strategy.
It helps you understand and nurture agents' winning behaviours
One of the major benefits of continuously assessing agents' performance is that it allows you to identify winning patterns and behaviours. Conversation intelligence can help you figure out what top performers are doing differently to other agents.
It improves productivity (and reduces expenses)
When your agents work more efficiently, it saves you money. From powerful automation tools to insights for coaching and development, a conversation intelligence platform can help optimise almost any contact centre or call centre operations.

"
We started seeing calls ending faster because we were able to shadow calls and jump in when we needed to or address agent staffing almost before those needs even came up!
"
Jon DiBiasio
I.T. Director at Fenway Health
How conversation intelligence is used: Different team use cases
Collecting conversational data as part of a unified conversation intelligence strategy can have benefits for marketing, sales, and customer support. Let's consider how conversation intelligence can be applied by marketing teams, ecommerce teams, sales teams, and to deliver an optimal customer experience.
For marketing teams
Marketing teams are occasionally left out of the loop when it comes to customer interactions stemming from other departments. But it doesn't have to be that way. When sales reps close deals, or when support agents take customer calls, they're gaining valuable insight that marketers can use to coordinate their campaigns and direct their resources more effectively.
Having the right software and conversation intelligence strategy in place gives marketers access to vital communication data they might not otherwise have.
For example, let's say customers are encountering a preventable pain point with a new product. This is something marketers should know about so that they can adjust their messaging in campaigns or email newsletters. With conversation intelligence, marketers can track incoming customer complaints and queries as well as any follow-up calls carried out by customer service departments.
For ecommerce businesses
For ecommerce businesses, it's important to have a smooth online sales process that makes things like launching new products and customer follow-ups easy.
Unlike physical retail stores, all of their conversations with customers and prospects are online or over the phone, which means these conversations all contain actionable insights. (In-person conversations can't be recorded or logged, so you can't really save any useful information here unless you do it manually.)

👀 Did you know?
Conversation intelligence functionality isn't just for online-only sellers either. Electrical goods retailer Bing Lee needed clear visibility and oversight features that their previous solution wasn't providing. With Dialpad, managers get clear insights into the performance of individual agents and tools to assess their contact centre operations as a whole.
In customer experience
And of course, customer experience (CX) teams are one of the teams that benefit most from voice of the customer and conversation intelligence data.
From what customers are complaining about, to what they're asking for in your products or services, to potential ways to increase retention, all of this information should be logged and easily accessible from a CRM. This is also why it's important to use communications platforms and business phone systems that have strong CRM integrations (so your agents don't have to keep copying and pasting notes between different apps).
Did you know: When legal software provider InfoTrack moved to the cloud, they needed a solution that would allow agents to handle email, web chat, and telephone support. Dialpad was able to get InfoTrack set up quickly so that they could continue helping customers with minimal downtime.
For sales teams
Probably out of all these teams, salespeople are under the most constant pressure to deliver. And sales reps are probably tied with customer support teams in terms of how many conversations they're having every day.
These sales conversations are a goldmine of helpful information.
For example, MarketStar's sales team does exactly this, using RTA cards in their sales conversations to help reps close deals more efficiently.
They also use Dialpad's voicemail drop feature to quickly leave a pre-recorded message in a phone call and move on to the next prospect, while using the power dialler to drastically speed up the process of making outbound calls.
By capturing and analysing that all-important call data, MarketStar found that conversation intelligence works to enhance the sales process across the board.
And with all that call data, sales managers are also better equipped to coach their teams. From onboarding new hires to honing the skills of top performers, there's a wide range of ways to use sales conversation data to create a culture of continuous improvement that turns sales reps into sales leaders.
Get more insights from your conversation analytics
Conversation intelligence is helping contact centre supervisors and business leaders capture more conversation data than ever before.
Do you need a fully scalable cloud-based solution that's designed to capture—and help you use—conversation analytics?

Industry-leading conversation intelligence
Book a personal walkthrough of Dialpad's AI-powered communications platform, or take a self-guided interactive tour of the app first!
Conversation intelligence FAQs
What is conversation intelligence software?
Conversation intelligence software uses artificial intelligence and machine learning to draw insights from conversations.
Conversation intelligence software typically has natural language processing capabilities, which allow it to transcribe customer conversations and pull insights from those transcriptions.
In a business context, conversational intelligence allows companies to provide a better customer experience because supervisors can see if agents are struggling on calls in real time and jump to help if needed, and some software even have automations that can coach agents through difficult conversations—also in real time.

How can managers use conversation intelligence?
How does conversation intelligence work?