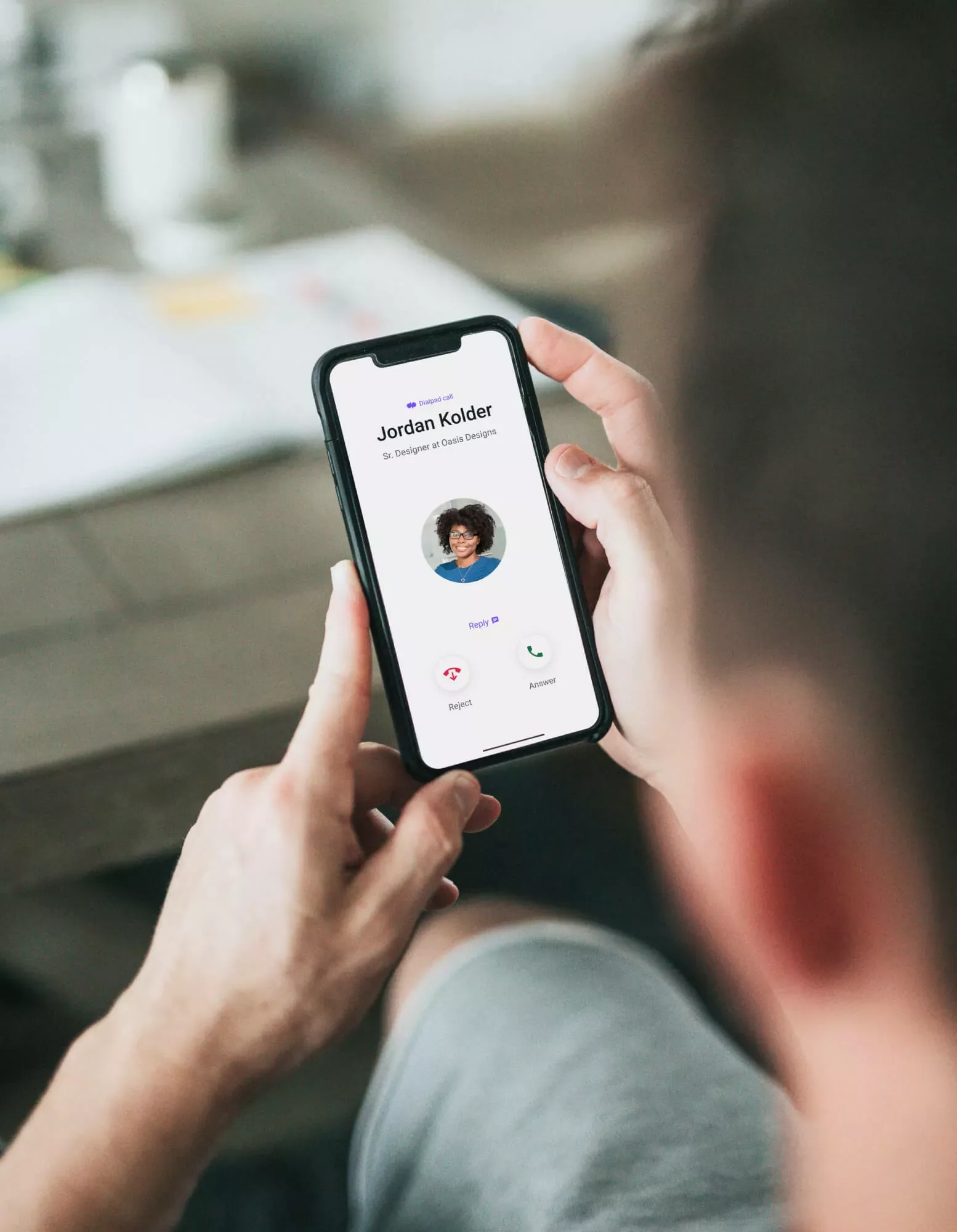 scalable + flexible
Best small business VoIP provider in Canada
If you're a small business owner looking for the best Canadian business VoIP (Voice over Internet Protocol) provider, you're in the right place. More than just a phone system, Dialpad's unified communications platform gives you phone calls, video meetings, and team + SMS/MMS messaging—at a budget-friendly price.

Sign up for a free 14-day trial!
How to set up VoIP for your small business with Dialpad
It's super simple to set up your business VoIP phone system with Dialpad—especially in comparison to traditional, legacy systems.
First, sign up for one of the cost-effective subscription plans (starting at only $20 per user per month, which comes with unlimited calling in the US and Canada).
Then, pick a phone number (or keep your current one), download the desktop or mobile app, and that's it! Your Ai-powered all-in-one virtual workspace is ready to go when you are, in literally a few minutes.


All your communications in one place
Why just get a small business phone system when you could have a unified communications platform that gives you multiple channels like video, voice calls, team messaging, and voicemail—in a single app?
An integrated contact centre if you need it
If you have a support or sales team, or any other type of call centre team, Dialpad's contact centre platform lets your agents take inbound and incoming calls and messages. It's fully integrated too, which means agents can handle external communications and call management and internal communications with teammates in one app, all on your phone.
Integrations with popular tools
Dialpad integrates seamlessly with your small business's CRM, other customer service software, productivity tools, and more to streamline workflows and reduce manual data entry. Or, build a custom integration with Dialpad's open APIs!

Easy setup
Because Dialpad lives on all your favourite devices, setting it up is simple. (If you want to use desk phones, you can do that, too.) Set up new users and phone numbers in just a couple of clicks from your online dashboard.

Plays nice with any device
The best VoIP solutions for small businesses in Canada should be easy to use, across cell phones and computers. That's why Dialpad's desktop and mobile apps work across iOS, Android, PC, and Mac devices. Or, just log into a web browser to use it—no downloads needed.
Built-in Ai
Dialpad's built-in artificial intelligence, Dialpad Ai, harnesses machine learning, speech recognition, and natural language processing (NLP) to analyze conversations and transcribe meetings—in real time. It even helps supervisors monitor live calls at a glance by analyzing sentiment and highlighting when a call is going south or if an agent needs help.

Voicemail transcriptions
Not only does Dialpad Ai transcribe calls, it also does real-time voicemail transcriptions. Its visual voicemail functionality transcribes your messages in real time, so that even if you're stuck in a meeting and can't listen to the recording, you can still read it to see what your client or teammate said.
Small business-friendly pricing:
USD $
USD $
CAD $
EUR €
GBP £
NZD $
AUD $
JPY ¥
Find the right plan for you

HD call quality
A good VoIP service should give you crystal clear calls. That's exactly what Dialpad's unique dual-cloud architecture and global voice network are designed to do—provide HD audio and video calls, around the world.

Customizable caller ID
Using Dialpad's customizable caller ID feature, you can make business calls from your personal cell phone—while still shielding your personal phone number. You can choose between different business phone numbers or even block your caller ID display if you need to.
Call recordings
With Dialpad, unlimited call recording comes as part of the package. Use call recordings to train support agents to deliver the best customer support. Dialpad also has Ai functionality that helps contact centre agents stay compliant by automatically pausing recordings when agents are discussing sensitive customer information.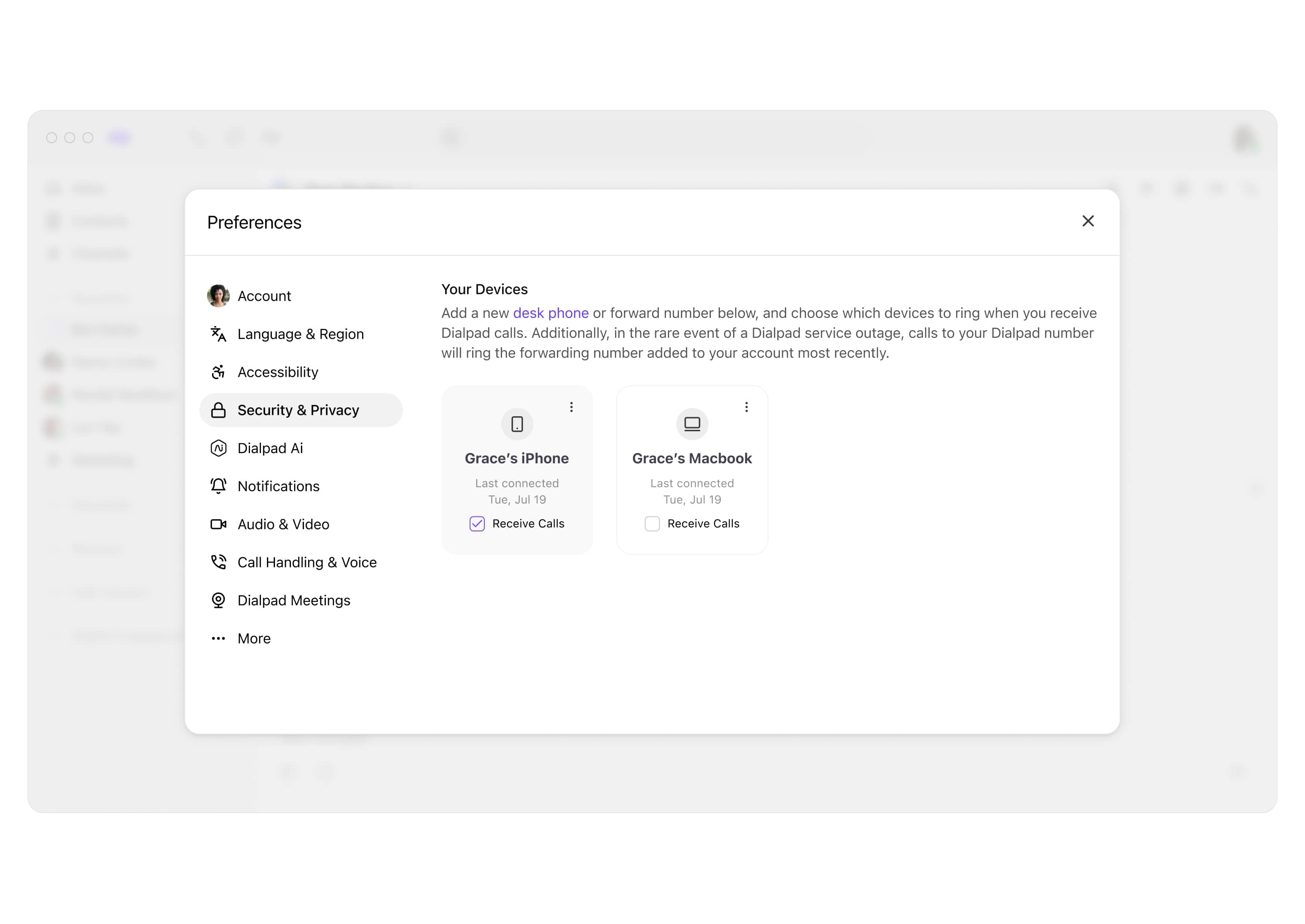 Easy call forwarding
Never miss a call again. Dialpad allows your small business to set up a maximum of five numbers for call forwarding, right from your online dashboard with a few clicks. Forward calls to your mobile phone, a colleague, whoever you want!

Call routing
With Dialpad, you can automatically distribute incoming calls according to your preferences, such as by agent skill level, availability, or idle time. You can even send some calls straight to voicemail, all with a few clicks!
If you need the best small business VoIP provider in Canada…
Check out Dialpad's UCaaS (Unified Communications as a Service) platform. Not only do you get high-quality VoIP calls and robust calling features, but you also web conferences, SMS meeting invite reminders, team messaging, and contact centre functionality (if you have a customer service or sales team).
See how it works now!

Why small businesses in the Canada choose Dialpad over other VoIP providers
It's more cost-effective
A lot of VoIP service platforms offer a monthly fee per user instead of a yearly or minutes-based fee. This makes them more accessible for small businesses and easier to use than many legacy telephony systems.
Dialpad takes things one step further. Our UCaaS plans start at only $20 per user, per month and all offer unlimited calls, unlimited video meetings, and more.
If you require an international calling feature, Dialpad offers low rates for that as well.
It gives you more flexibility
Business VoIP services offer a lot more flexibility than traditional landlines and office phones. If much of your work is remote, meanwhile, UCaaS solutions like those offered by Dialpad are the way to go.
Video calling, web and chat support that you can access from anywhere, and call transcriptions and summaries are all musts for hybrid and remote businesses, and are included in the monthly cost.
It's easy to set up
Dialpad is quick and easy to set up, even if you're wanting to get a team member on the other side of the world up and running. There's no need to ship them hardware such as a desk phone or even a company mobile. Your new recruits can get set up in a few clicks from anywhere, as long as they have an internet connection.
They can start calling, messaging, and attending virtual meetings, as soon as they have a licence. Setting up your new hires' voicemail, call routing, and any other settings can all also be done online, so your hybrid team can be independent and hit the ground running.
Is it time to rethink your small business communications?
If you're hovering on the fence between different business communication options, it might be time to weigh up what your business needs are. You might find they've changed since you first started, and that as your company grows, your communication needs are evolving.
Perhaps you've gone from a hyper-local business to having a global team, and you need to be able to communicate easily with your remote workers. Whatever your situation, it could be time to switch to VoIP—or, better still, a UCaaS platform—so you're not reliant on more old-school landline options.
Perhaps you need unlimited video conferencing with advanced features, or the ability to easily route and forward calls. Perhaps you want to cut your reliance on an IT team and have a handy dashboard at your fingertips where you can control all of the settings. Dialpad could be the answer.
Look beyond your average small business VoIP solutions
With Dialpad, you get advanced features beyond what any small business phone solution can give you—at a budget-friendly price. Try it for free with a 14-day trial, or take a self-guided interactive tour of the app first!
FAQs about business VoIP in Canada
Is VoIP legal in Canada?
Yes, VoIP is legal in Canada and North America. It's regulated by the Canadian Radio and Telecommunications Commission (CTRC) when it's provided as a local telephone service. The legislation intends to prevent phone companies with local exchange PSTN services from dominating the market.
Is VoIP worth it for small businesses?
How much does business VoIP cost in Canada?