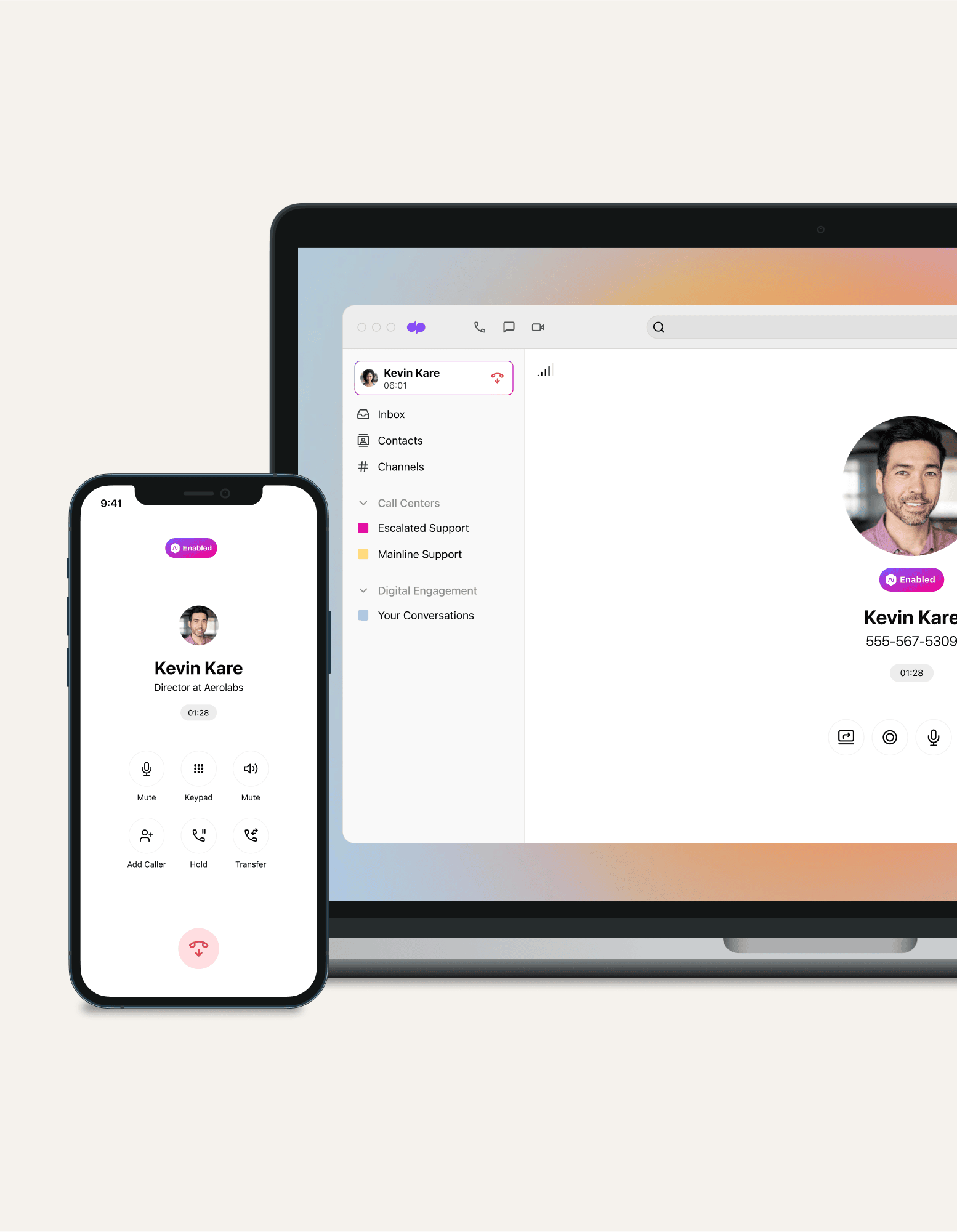 a primer
Click-to-call
Who says you need a desk phone or even cell phone to make a phone call? With a call feature called click-to-call, you can make calls by clicking on a phone number from your CRM or an app on your computer! Book a product tour of Dialpad to see how it works!
What is click-to-call?
Click-to-call (also known as click-to-dial, click-to-talk, or click-to-text) allows people to make phone calls in real-time using VoIP (Voice over Internet Protocol) technology—just by clicking a button.

You can also add click-to-call technology to a web page, as well as in pay-per-click (PPC) advertisements, map listings, and anywhere else your brand lives online. If you've ever seen a phone icon or button with a "call us" call to action (CTA) while browsing the web, that's click-to-call in action!

How does click-to-call work?
Essentially, click-to-call lets you make phone calls by clicking a phone number instead of having to actually dial the phone number. It may not seem like you're saving a ton of time, but imagine a sales team or outbound contact centre team that makes hundreds of phone calls a day. That really adds up.

(Implementing a click-to-call button on your website can be as easy as applying a WordPress plugin like the call now button, and it's one of the simplest ways to connect website visitors directly to your contact centre or call centre.)
Here are a few ideas for how you can use click-to-call technology:
CRM click-to-call
Fun fact: Dialpad's click-to-call integrates seamlessly with your CRM of choice, allowing customer service representatives to launch outbound calls with a single click. Integrated dialing allows a customer's entire contextual record to pop up on the agent's screen as they're talking to the customer:

Not only that, Dialpad also lets managers create Real-Time Assist (RTA) cards with tailored notes about specific tricky questions, and set them to trigger right from the CRM for the sales rep or agent, so they don't have to toggle back and forth between windows. Here's how it looks in Salesforce, for example:
App or browser calling
Let's say a customer comes across your brand on a website or in an app, and want to talk to someone from your team. You can easily add click-to-call to any website or app using VoIP. You've probably noticed some online map services like Google Maps, which now include click-to-call in their location-based company listings!
This way, customers don't have to remember or search for your name or number to call later—they can just click a button to reach you directly.

Request callback
As an alternative, you can also ask customers to enter their phone numbers and request an immediate callback through a CTA button or link.
The advantage to this approach is that you can then pull relevant information about the customer, including their name, the web page they're currently visiting, and any other relevant information, while the call is being established. This information is then passed to the customer service agent so that the customer doesn't have to repeat or enter any of it again during the call.
Once the customer clicks on the "call me" or "request a call" CTA link, it triggers an outbound call to the their phone number. They should (theoretically) then receive highly personalized customer service with just one click!
Why use click-to-call? What are the benefits?

Used correctly, click-to-call can be a powerful tool to drive growth for your business. From increasing your conversion rate to saving your sales reps valuable time, the benefits can be pretty wide-ranging.
It helps you gather customer data
Beyond reducing friction in the customer experience, incorporating a click-to-call dialer on your website also gives you more opportunities for collecting information about your customers.
For example, it can streamlines this flow with your other phone system features like call tracking, call recording, and speech analysis. Again, with a CRM integration, you can also automatically log calls from your computer to your CRM. Here's how it looks with Dialpad's Zoho CRM integration, which not only lets you click-to-call, but also auto-logs and pulls up customer information on the screen: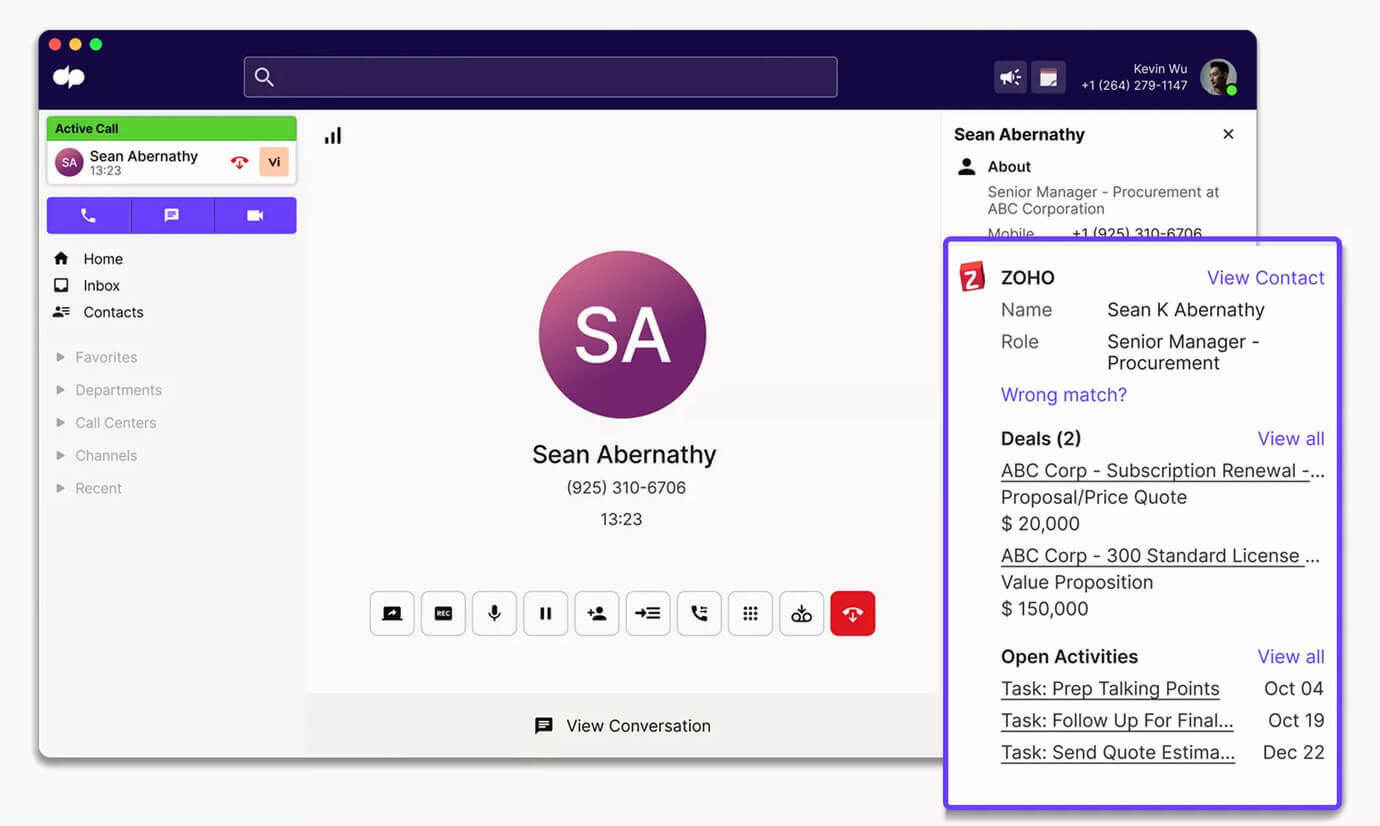 It can drive more conversions
Potential customers who call you directly tend to be the most qualified leads since they're determined to talk to you—so let them get in touch with the click of a button! Having to manually dial a telephone number just creates more friction in the process, and if we've learned anything from ecommerce giants like Amazon, reducing friction where you can is the way to go.
It lets you capture mobile users
Web searches from mobile devices are often especially likely to end with a phone call—they're on their phones, after all—so why not make it easy for someone to call you from their mobile phones?

When designing your click-to-call implementation, make sure it's optimized for mobile browsing. If you have an Android or iOS mobile app, you can also incorporate a call link in these, further multiplying the possibilities for customers to get in touch.

It can help improve customer segmentation
One unique way to implement click-to-call functionality is to use it to segment your customers or prospects. For example, if you have multiple clickable options for getting in touch, you can segment customers according to which journey led to the call being initiated.
You can also use segmentation according to customer journey to rank incoming calls by priority. For example, let's say you know that a certain hyperlink generates leads with an especially high conversion rate. You can group those calls together and prioritize them, making sure they get routed to your best reps as quickly as possible.

It gives your customers more access points to you
No two customers are the same and people will inevitably have different preferences when it comes to communication channels.
A click-to-call button gives your customers an additional way to get in touch with you, and helps you create a customer journey that transitions seamlessly from a digital experience to a phone conversation.
Hey, some people enjoy browsing through a website's FAQs to find the information they need and others might rather talk to your support team directly.
(Yes, some people really hate the phone, but right now at least, it doesn't look like telephony is ever going to fully go away.)

It helps with routing and makes life easier for your customer support team
The most basic form of click-to-call button is simply an HREF that appears as the number to be called. When someone taps a click-to-call HTML link from a mobile device, it'll place a call directly from their smartphone. On a computer, the functionality is different depending on which operating system and web browser they click from and which apps they have installed on their computer.
In these cases, incoming calls from click-to-call dialers will appear the same as any other phone call on your phone system interface.
To really streamline your call routing, you can set up a dedicated click-to-call button that integrates with your phone system's API. With this in place, you'll be able to see which incoming calls used click-to-call and route them automatically to specific agents who specialize in pricing questions or technical support (or whatever you want).
Whether you go with a prebuilt click-to-call widget or design your own from scratch, make sure there is an option to request some basic details before the call is put through. For example, you can categorize common issues and ask customers to click which one their inquiry deals with. (Just be sure to also include a "something else" option in case an issue isn't covered by one of the other choices.)

Interested in click-to-call?
Built on the Google Cloud Platform for peerless security, reliability, and scale, Dialpad's unified communications platform has a built-in VoIP phone system that lets your business communicate with customers and prospects through a variety of channels.

With Dialpad, you can have phone calls, send SMS/MMS messages, have group messaging threads, and more—all from a desktop or mobile app, or just a web browser. Try it out now!
More than just a click-to-call system
Make phone calls, have video meetings, send instant + SMS/MMS messages, and more—all from the intuitive desktop or mobile app. (Or just use a web browser, no downloads needed.) Book a demo to see how Dialpad works, or take a self-guided interactive tour of the app on your own!