Back to Blog
Top 7 VoIP phone providers in Canada: A detailed comparison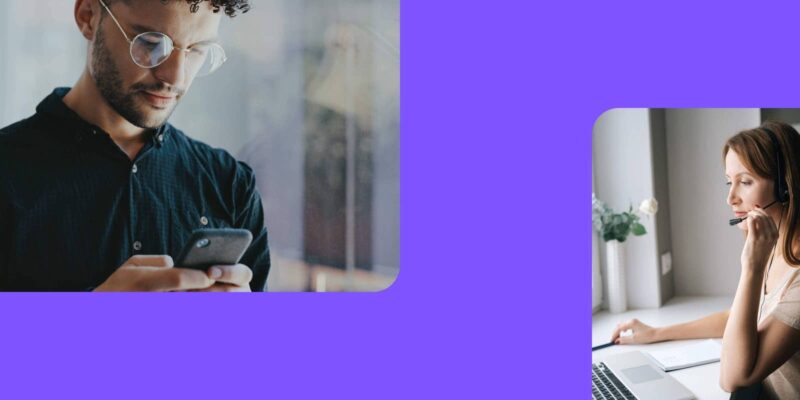 If you've found this VoIP phone Canada comparison, then you're probably at least aware of VoIP phone solutions in general and interested in their potential benefits for your business.
As technology rapidly evolves, some businesses cling to their legacy systems and fail to move with the times, while others are innovating and moving toward cloud solutions. In Canada, much like in the US, more and more businesses across different industries are moving to the cloud and VoIP telephony.
Learn about the benefits of VoIP phone systems and how some of the top VoIP phone providers out there stack up against each other.
What is a VoIP phone system?
VoIP phones use Voice over Internet Protocol technology to connect calls, and work similarly to traditional telephony delivered through landlines. The difference is that with VoIP, when a caller places a call, it connects to the recipient over the internet via the cloud.
(If you want to get technical, the voice data gets converted into digital packets while in transit over the internet, then reconverted into recognizable speech for the call receiver.)
This means you can make a call from anywhere with an internet connection and aren't tied to a landline office phone. Physical VoIP phones come in a range of shapes and sizes, including hard-wired desk phones and also traditional phones with analog telephone adapters (ATA).
The other key type of VoIP phone is what's known as a softphone app. These softphones are essentially desktop and mobile apps that work on any PC, laptop, mobile phone, or other device.
Things to consider before choosing a VoIP phone system in Canada
There are many VoIP phones and providers in Canada for businesses to sift through. Being spoiled for choice creates its problems. However, you can narrow the list of options down by focusing on several key features.
The pricing plan
The first question you may be asking is "what does VoIP cost?" Well, VoIP business phone systems are typically cloud- and software-based services, which means pricing plans will be either monthly or annual installments, and prices can range from around $20 to 40 or more per user, per month.
Some providers do offer freemium products but these tend to be severely limited and have only bare-bones functionality (and might have hidden activation fees and other costs that add up quickly).
For most businesses, VoIP will save you a lot of money. Typically, businesses can expect VoIP tech to help reduce phone bills and teleconferencing costs by up to 30%.

👀 Dialpad Ai Voice gives you enterprise-grade VoIP at a price businesses of any size can afford
Check it out. Not only does it come with video conferencing and team + SMS/MMS messaging, it's also a fully integrated contact centre platform (if you need it)!
Flexibility and scalability
Affordable, flexible pricing plans are the first step to finding the right VoIP phone solution for your particular business. You'll also want a good degree of flexibility when it comes to calling features and capabilities.
Smaller businesses and startups without large IT teams will want a painless process for adding new users. Larger businesses, on the other hand, will likely need enterprise VoIP services that are capable of launching new offices around the world quickly.
Security and reliability
VoIP phones provide a truly powerful alternative to traditional desk phones and a private branch exchange (PBX) system. Tapping into the power of the internet does bring some challenges. Firstly, like anything that uses the internet, your phone calls and other digital communications are potentially susceptible to hackers and other malevolent users.
Data privacy is important, and maintaining it is also non-negotiable when it comes to compliance. With a platform like Dialpad, you can rest assured that your (and your customers') sensitive information is protected by a system that's SOC2® Type II compliant.
This is accomplished through enterprise-level encryption of all calls over the VoIP network. And, application data is permanently stored using AES 256-bit on the Google Cloud Platform.
In addition to security, you should expect VoIP services to be as reliable as traditional landlines. Of course, service quality will vary due to internet service provider issues and network conditions. Read over service level agreements (SLA) and filter out providers that can't guarantee at least 99.999% uptime.
👉 Dialpad tip:
Generally, you'll want to have a network bandwidth of at least 100 kilobits/sec for each voice line you plan to run.
Advanced features for small and large teams
No matter your industry or the size of your team, a good VoIP phone provider or communications platform should give you advanced features. These can range from automated call handling to features that implement advanced AI and machine learning technologies.
Some of the basic features (meaning every provider should come with these included) to look for:

Automatic call distribution (ACD), auto-attendant, or virtual receptionist features

Conference calling

Custom greetings and custom hold music

Virtual extensions

Customizable caller ID

Call queues

Voicemail

Toll-free numbers and number porting capabilities
If you've got a really good unified communications or VoIP provider, you'll get functionality like this too:
Unified communications, meaning you can make phone calls, have video meetings, and do Instant messaging and group chat from the same app

Unlimited call recording

Simultaneous ring

Visual voicemail and automatic call transcription

A well-designed desktop and mobile app


Integrations with Microsoft 365, Google Workspace, Salesforce, and other popular business software

👉 Dialpad tip:
Call handling features like an auto-attendant and virtual extensions are a must for teams of any size. If your business has in-house customer support or call centres, then more advanced features like automatic call transcriptions and real-time assist cards can boost agent performance and improve the customer experience.
Call quality
Call quality is a major area where not all VoIP phones and providers are created equally. At a minimum, you should expect a solution that offers HD audio for voice communications. And if you need video conferencing, HD video is the starting point as well.
Getting a stellar high definition audio and video experience does rely on your network and your ISP's reliability. Because of this, you may experience a dip in quality when making calls from the office versus when out and about or working from home. Dialpad's global voice network and unique dual cloud architecture are designed to give you crystal clear, HD calls from anywhere.

As mobile network technology evolves, we can only expect call quality to improve, not only in Canada, but everywhere in the world.
The top 7 business VoIP providers in Canada
Ready to join other innovative businesses that have stepped into the future with VoIP phones and UCaaS platforms? From increased flexibility to cost savings, there are a variety of benefits to making the switch to a hosted VoIP phone service.
So the important question is, which one is the best solution for you? Here are seven of the top VoIP phone solutions in Canada.
1. Dialpad: A truly integrated, all-in-one communications platform

Okay, we may be a bit biased, but we truly believe the number one choice for VoIP providers in Canada is Dialpad. And the thing is, it's not just a VoIP service or business phone system. Dialpad is a feature-rich, all-in-one communications solution that's designed for businesses of any size.
But beyond just conference calls, messaging, and video meetings, Dialpad comes with a host of other functionality too.

Auto-attendant
An auto-attendant is a virtual receptionist that handles the routing of all calls tied to your business phone lines. The auto-attendant will put incoming calls through to the right person without the requirement of a real receptionist. This feature is particularly useful for directing a high volume of calls.
With Dialpad's call routing feature, you can pre-record messaging about your business hours and even set up VIP call routing to make sure your most important customers get routed quickly to a live agent.

Setting up custom call routing requires no special knowledge and you can make changes to your routing with just a few clicks from your online dashboard.
Dialpad's built-in routing options include:
Longest idle: Agents are rung individually based on whoever has been idle the longest

Fixed order: Agents are rung individually based on the same fixed order

Round robin: Agents are rung individually based on a rotating fixed order

Simultaneous: All agents are rung at once

Skills-based (call centre platform only): Agents are rated on a scale of 0-100 and calls are prioritized depending on their level of complexity
Real-time transcriptions
Dialpad comes with built-in voice transcription, powered by its industry-leading artificial intelligence: Dialpad Ai. No more having to take down hand-written notes or relying on memory. It can transcribe your phone calls, conference calls, and video meetings—in real time:


This makes it super easy for your team to find the information they need quickly with searchable transcripts, which are also useful for training and review purposes.
Call recording
Whether you have team meetings that not everyone can make, or lots of customer calls in your call centre to track, Dialpad's call recording feature lets you start or pause any recording of any call with just one click:

Easy call forwarding
Dialpad also comes with flexible call forwarding. Never miss a call again—it'll forward your missed calls to voicemail, your cell phone, desk phones, anywhere you want.
You can also customize forwarding rules according to business operating hours so calls can be routed to on-call staff when needed.
Customizable caller ID
Making a work call from your cell phone? Dialpad's customizable caller ID feature lets you choose which phone number you want to display on the phone of the person you're calling. Just make a call from Dialpad's app and choose which number to display from the drop-down menu.
Even if you're taking a call on the go from your own personal phone, your customers will see that they're getting a call from your company (which is also good for your privacy):

Visual voicemail
Voicemails are still a workhorse for many companies for dealing with missed calls. Unfortunately, not every environment or situation is conducive to listening to a voicemail. You may be in a noisy location or in back-to-back meetings all day. Dialpad's visual voicemail feature lets you read your messages instead.
Powered by Dialpad Ai, this feature gives you hyper-accurate real-time voicemail transcriptions. Like Dialpad's call recordings and transcriptions, visual voicemails can be accessed from any device at any time and easily shared with other team members.
Integrations with popular tools
Many VoIP phone solutions come with at least a few integrations. Dialpad comes with much more than a few, and they include the most popular business tools on the market today. For example there are native integrations for the Salesforce CRM, Microsoft 365, and Playvox QM.
Here is a list of just a few of the tools you can seamlessly connect to the Dialpad platform:

Productivity: Google Workspace, Microsoft 365

Customer Relationship Management: Salesforce, HubSpot, Zoho CRM

Customer service software: Zendesk, HappyFox

Sales: Outreach, Wingman
These are just a few of the many integrations available with Dialpad, and new tools are being connected all the time. What's more, you can also use APIs to build connections to your current favourite tools.
100% uptime SLA for Enterprise plan customers
We mentioned earlier that a 99.999% uptime SLA is the gold standard for VoIP phones—Dialpad's Enterprise plan comes with an unprecedented 100% uptime guarantee.

Pricing
Standard pricing starts at just $20 per user, per month. Even the most basic plan includes unlimited calling, unlimited video meetings, voicemail transcriptions, SMS and MMS messaging, and much more. Try it for free!

Take Dialpad for a test drive
Sign up for a free 14-day trial to get set up with a virtual business number in minutes. Or, take a self-guided interactive tour of the app first!
2. RingCentral MVP
RingCentral MVP, its cloud-based platform provides companies with the ability to message, call, and video chat from one app.
The basic plan gives you unlimited free calling in Canada and the US and lets you port your business phone numbers or toll-free numbers—but at a higher cost in comparison to Dialpad, which is why it's at #2.
Other features include:

Desktop and mobile apps

Call, text, fax, or chat from one app

Workflow management for team chat

IVR auto-attendant

Call queues

Call analytics: Call quality, usage, device status, and more

App integrations: Including Salesforce, Google, and Microsoft
RingCentral is an option for large corporations with remote teams.
Pricing
The basic Core plan starts at $40 (regular price) per user per month.1
3. 8x8
The 8x8 platform is a business VoIP service marketed to medium and larger teams. The 8x8 Work app gives businesses mobile VoIP capabilities and lets you answer calls, forward them, or assign them with receptionist options.
Other features include:

Multi-level auto attendant

Call waiting and call parking

Call recordings

Hold music

Call monitoring

Ring groups

Presence signaling

Unified communications analytics

Call queues

Local number porting and direct dial number
You can also receive transcribed voice messages as visual voicemail. However, unlike Dialpad, users will need to exit the main app and open their email to receive voicemail transcripts.
Pricing
There are two Business Communications plans, X2 and X4, but you have to contact their Sales team to get a quote.2
4. GoTo Connect
GoTo Connect is a communications platform (you might've heard of the GoTo suite) that, like Dialpad and RingCentral, are popular with companies that have remote teams.
It does have a desktop and mobile app with video conferencing—the one hang-up is the price is a bit higher than the other options on this list even though the feature sets are comparable.
Other features include:

International calling

Caller ID

24/7 customer support

Call routing

Wait time announcement

Unlimited call queues

Team messaging

99.996% uptime
Pricing
Prices start at a whopping $35 per user per month.3
5. Ooma
Startups and small businesses may have heard of Ooma and its Ooma Office VoIP phone solution designed for smaller organizations.
With Ooma Office, you get one free toll-free number included. Mobile apps let you turn nearly any device into a softphone but you can also opt to use Ooma's IP phones (at a cost) at your desk. All the expected call management features are here: Extension dialing, call forwarding, voicemail, and a virtual receptionist.
Other features include:

Call park

Ring groups

Transfer music

Call flip

Video conferencing

Call recording

Simultaneous ring
The platform also includes voicemail transcription. Unlike Dialpad, you cannot access transcripts directly from the app. Instead, voice messages are sent to a user-defined email address with an attached audio file and transcript. In terms of advanced features, Ooma's missing a lot of what the big players above have—no built-in AI like Dialpad, no real-time transcriptions, no integrated contact centre functionality if needed.

Pricing
Starts at $24.95 per user, per month for the most basic plan.4
6. Net2Phone
Formerly Versature, Net2Phone Canada is a small and local VoIP provider based in Ottawa.
Features include:

Unlimited calling to Canada, the US, and 40+ other countries

Web phone and mobile app

Complimentary phone rental with 3 and 5-year contracts

Local, toll-free, and international direct inward dialing (DID)

Call queues

Ring groups

Call transfer, screening, park, and hold

Voicemail: Including voicemail to email

Music on hold

Canadian-based tech support for chat, email, and phone

Dedicated onboarding specialist
Net2Phone's basic plan, Business Lite, does not include any video conferencing capabilities—which means if you're looking for unified communications, this one is off your list. Also, you don't get toll-free minutes with the standard plan.

Pricing
Standard pricing starts at $29.99 per user per month.5

7. Callture
Callture offers Canadian businesses a cloud-based business phone system, with unlimited calls to and from any number in Canada (which you also get with many of the other alternatives on this list).
There is a mobile app available (though the user interface leaves something to be desired) and browser support via WebRTC. Callture has a bit of a different pricing structure where each additional user costs the same price, but the package tier is based on the total number of users.
Other features include:

HD video and audio conferencing

CRM integrations with Zoho, Salesforce, and GoldMine

Separate internet fax number

Number porting: Toll-free, international, and vanity numbers

Custom greetings and call routing menus

Web-based administration

Call blast: Call up to five different numbers simultaneously or sequentially

Call recording
Pricing
Starts at $26.50 per user per month.6
Looking for the best VoIP provider in Canada?
It might not be your typical VoIP provider. For most businesses, Dialpad is the best choice for a business VoIP phone system—because you get far more than just a VoIP phone system.
From one app, your team can message, call, and video chat with HD quality, no matter where you're working from.
You also get unlimited calling in Canada and the US with competitive international long-distance rates. Dialpad is also powered by industry-leading AI that can help support agents and sales reps—and empower your team to provide the best customer experience.
There isn't another option on the market that can give your business so many features on top of built-in AI capabilities. If you're thinking of switching from your legacy system or traditional PBX, why not check out Dialpad for your business communications?

More than just a VoIP phone
Make phone calls, have video meetings, and send messages all in one app with Dialpad. Try it for free with a 14-day trial, or take a self-guided interactive tour of the app first!
VoIP phone in Canada FAQs
What is VoIP and how does it work?
VoIP stands for Voice over Internet Protocol. VoIP technology allows for communication over the internet. Callers are connected to the recipient over the cloud. When they speak, their voice is converted to digital packets and reassembled into audible speech for the listener on the other end.
Using a VoIP phone provides the same experience as a traditional phone, but VoIP also includes many advanced features for businesses. There are also residential VoIP providers available for general consumers.

Is VoIP cheaper than a landline?
1ringcentral.ca/office/plansandpricing.html#office
28x8.com/products/plans-and-pricing
3goto.com/pricing/connect
4ooma.ca/small-business-phone-systems/plans/
5net2phone.ca/plans-pricing
6callture.com/pricing.html