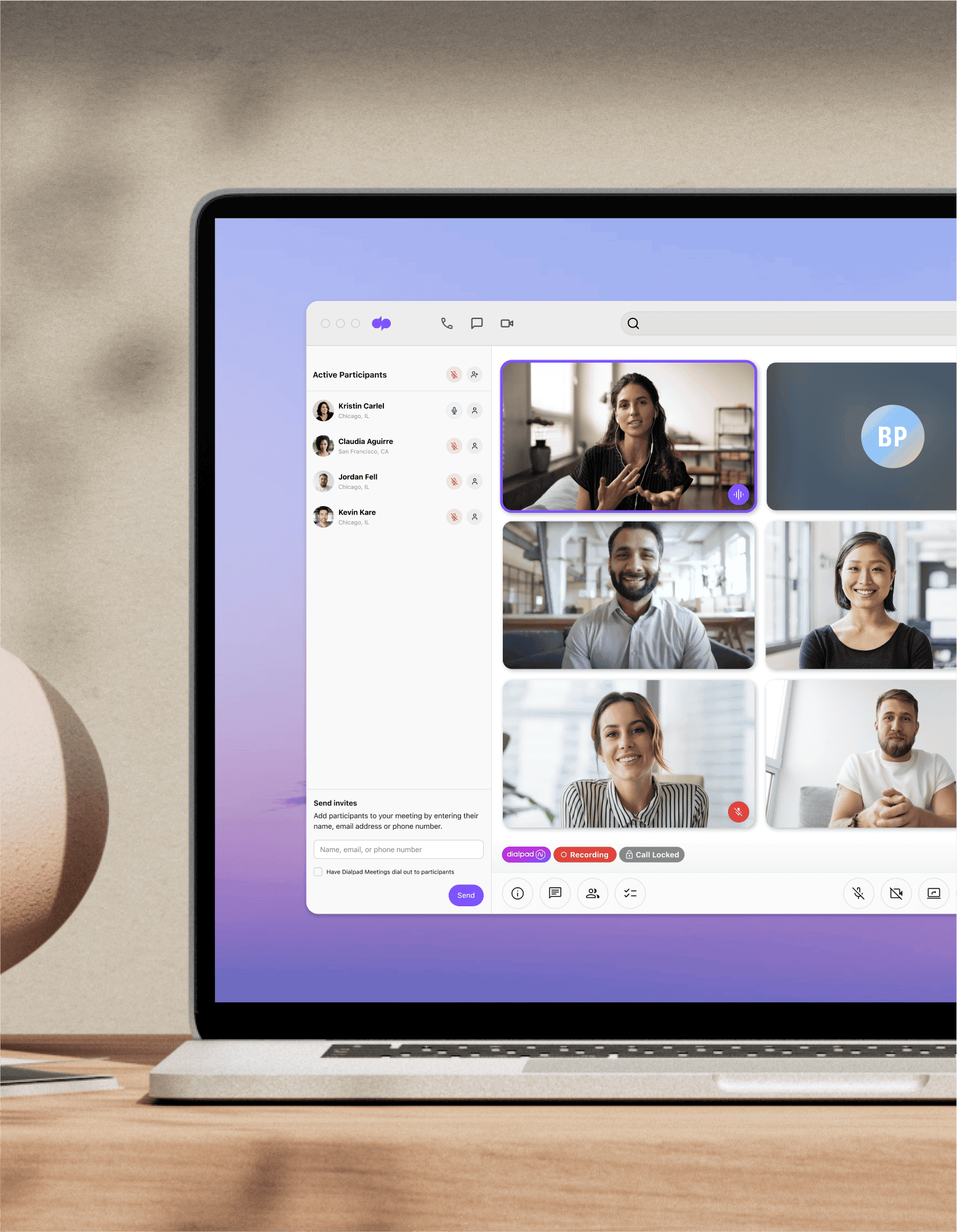 designed for businesses
Video chat
Whether you're doing remote or hybrid work, group video calls with teammates and clients are likely an everyday occurrence. Do you have a good piece of video conferencing software that lets you communicate in real-time? Dialpad Ai Meetings has a free plan that you can sign up for in minutes!
Features to look for in a video chat app for business

HD audio and video
There are few things more frustrating than poor call quality, especially when you're on a live video chat with a client or prospect. With Dialpad, you get HD video built right into the video conferencing platform thanks to its global voice network and unique dual-cloud architecture.

In-meeting chat
If you have a question during a video call but don't want to interrupt, this is a valuable feature that allows attendees to send instant messages to everyone in the meeting. Just hit the "chat" icon—and yes there are emoji reactions too.
Unlimited call recording
With Dialpad, you can record group calls, webinars, and tutorials for training, coaching, and more. Plus, you get unlimited call recordings, even on Dialpad Ai Meetings' free plan.

Easy screen sharing
Share mockups, do a walkthrough, and more. Dialpad Ai Meetings makes screen sharing easy—just click the "Share" icon to choose whether you want to share your entire screen, a secondary window, a specific window, a tab within a window, or a document. You can even send a screen sharing link to a prospect or client through SMS, which they can use to join in a web browser like Chrome!

Robust security settings
Discussing sensitive business matters and sharing valuable data in video meetings? Then you'll need to make sure you've got a secure video conferencing app with enterprise-grade encryption and robust in-meeting security controls. With Dialpad Ai Meetings, the host can do things like lock the meeting, mute participants, limit screen sharing capabilities, and more.
Integrations with your favourite tools
From Google Calendar to Microsoft Teams to Salesforce and more, Dialpad has a wide range of integrations with the tools you're already using.
Turn on that webcam and start having video chats
With Dialpad, you're not just getting a business phone system. You get a full-fledged communications platform (with built-in messaging and video meetings). Sign up for the free plan to start using it now, or take a self-guided interactive tour of the app first!
The benefits of video calling for business
Video chat services and tools play a vital role in keeping employees connected with not only each other but also clients and prospects. Here are a few benefits for both small and large businesses.
Save on operational costs
Video calls empower teams to collaborate from anywhere. You don't have to commute to an office anymore, and because many video chat solutions are designed for cross-platform use, you have the flexibility to have group video chats from your computer or mobile device. Dialpad's desktop and mobile app, for example, works across Apple iPhones, Android, PCs, and Macs. Just download it from your app store!
Save the most valuable resource of all (time)
On a related note, video chatting can help you save a ton of time that would be otherwise wasted—not on travelling, but on waiting for responses to emails and messaging back and forth. (Which was probably a big reason why chat rooms were so popular.)

More engaging than voice messages
Not every voice call needs to be a video conference but hey, sometimes it's nice to see your co-workers or clients face to face.

"
Dialpad makes our remote workforce feel like they're sitting at HQ.
"
Francil Richards
Senior IT Manager at TED
How to choose the best video chat app for your business
There are plenty of factors to consider when choosing video conferencing software. And really, it comes down to two things:
1. Consider your budget
In some cases, you might be able to get away with using social media apps like Facebook Messenger or WhatsApp for live video chats with teammates or customers, but in most cases, free video chat apps like Skype, Google Meet, or Hangouts simply aren't robust enough for business needs.
It's also worth considering the other communication tools and business apps you're currently paying for. A Unified Communications as a Service (UCaaS) solution like Dialpad, which combines multiple business communications tools in a single platform, is often much more cost-effective in the long run.
2. Understand your communication needs
No matter how fancy or basic your video conferencing solution, it should meet your specific needs. For example, if your meetings tend to run overtime, then a meeting timer feature is a great way to set time limits while giving everyone on the call a heads up once you're nearing the end of the meeting. Dialpad automatically pops up a countdown timer once you have five minutes left in the meeting to help you stay on track.
But while that's a (very) nice-to-have, it may not be a deal breaker or maker for every business.

How to video call with Dialpad
Video calling with Dialpad is super easy. Follow these simple steps to make and receive video calls:
How to make a call
Open up the Dialpad app or log in on a web browser

Choose the conversation thread of the contact you want to have a video call with or type their name in the search bar at the top

Select the video icon to call that contact

Wait for the contact to pick up the call
How to receive the call
If someone is video calling you, hit Answer OR

Answer from the pop-up notification if you're not currently in the app

Otherwise, ignore it or hit Decline.
Looking for a video chat app?
Try Dialpad's free plan now! It takes just a few minutes to get set up with your Google or Microsoft 365 account.