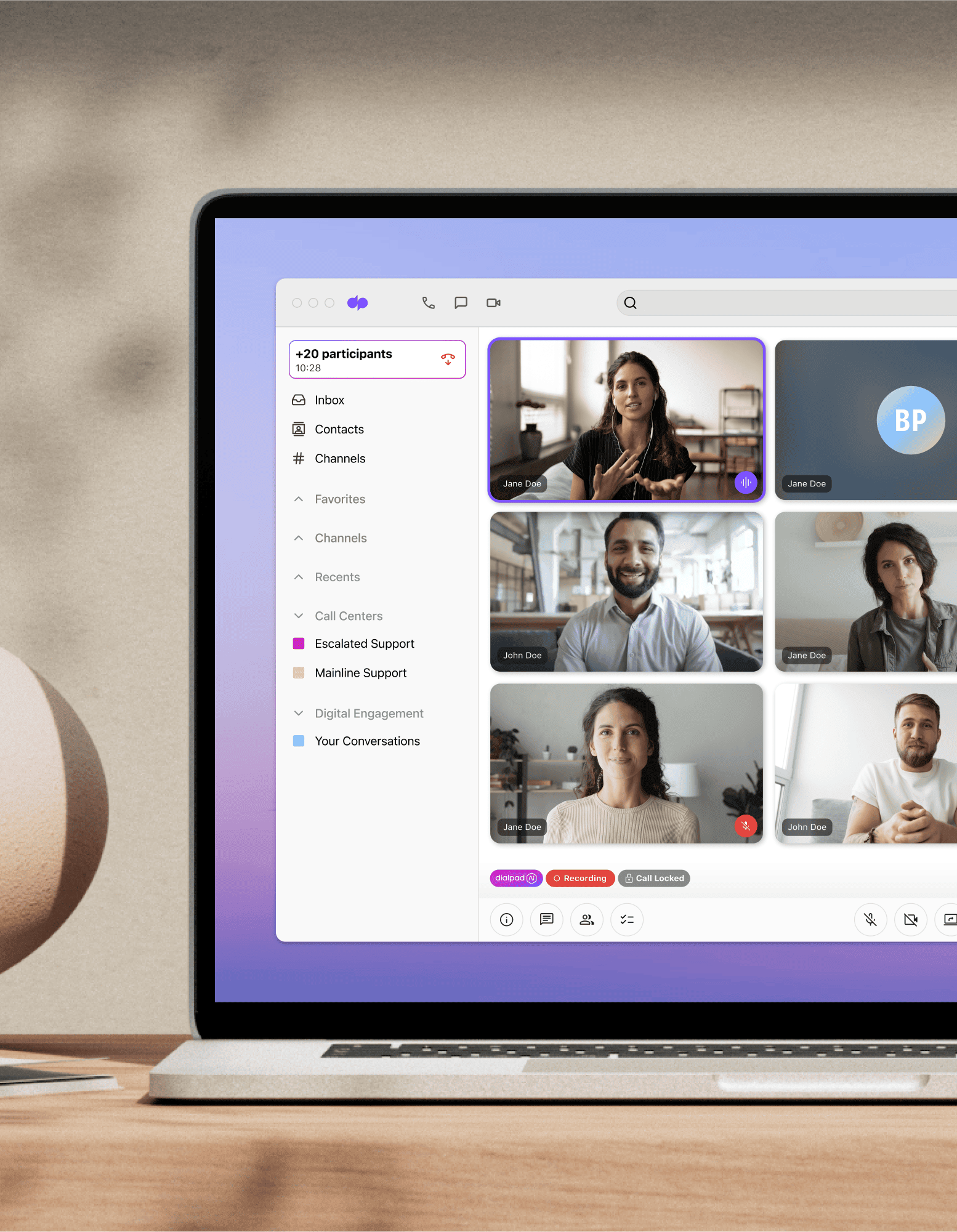 Video call online
Need to meet face-to-face virtually for work? Sign up with your Microsoft 365 or Google account to start making unlimited online video calls for free, with unlimited audio recordings, virtual backgrounds, and more. It takes just a minute to get started. Or, take a self-guided interactive tour of the app first!
It isn't always practical to have every single meeting in person. And today, there are lots of video chat apps with work-focused video calling features (that are designed more for hangouts with colleagues than chatting with loved ones).
As long as you have a good Wi-Fi signal, almost any business can start working remotely while staying in touch with clients and prospects.
So, if you need a video call app or software, keep reading. Dialpad's desktop and mobile app lets you not only do video conferencing, but also have group chat, send SMS/MMS messages, and more.

Business video calls (and more) with Dialpad

Browser-based video calls
Some video conferencing software will make you download the desktop or mobile app to host and join video calls. But Dialpad is browser-based, which means it won't force you to download the app. Host and join meetings from a web browser using your computer or mobile device, and get all the cool features that you'd get in the app.

Full meeting control
In the Dialpad app, all the call controls you need are easily in reach. Adjust your volume, start a screen share, mute and unmute yourself, or start and pause recording. It's all in a clean, easy-to-use interface that lays out all these options for you right on the screen.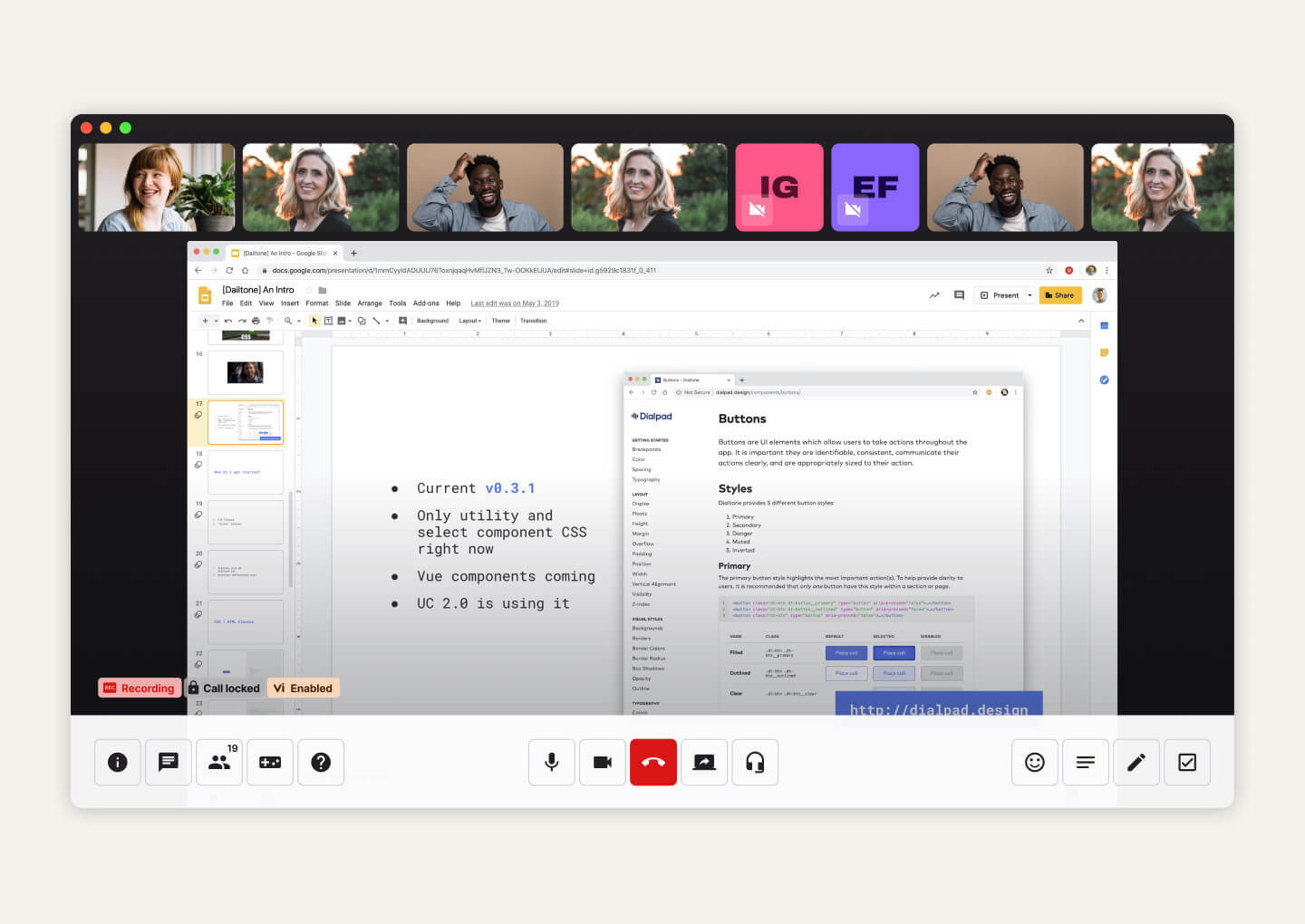 Screen sharing
Need to zoom in on a design mockup or run through a webinar with your remote team? Dialpad's simple screen sharing feature lets you choose between sharing a specific window or tab—or your whole screen. You can even do mobile screen sharing by texting someone a link. Again, no downloads needed.
Integrations with your favourite tools
Dialpad integrates with popular software like Microsoft, Google, and Miro to let you schedule video calls and be more productive during meetings. For example, the Miro integration lets you whiteboard virtually with your teammates!

Robust security settings
Keep your meetings secure. Dialpad's settings allow the host to mute participants, remove unwanted guests, lock the meeting, limit screen sharing, and more.
Truly unified communications
Beyond online video calls, what if your team also communicates through phone calls and text chat? Dialpad lets you consolidate all those tools into one. Talk, message, and meet—all from one convenient app. That makes for fewer software tools to pay for and manage—and less time wasted on context-switching for your team.

HD video quality
No one wants laggy audio or pixelated video quality in a meeting, especially when you're meeting with clients or prospects. Dialpad comes with crystal-clear HD video.
👉 Dialpad tip:
Even if your video call software has HD (high-definition) quality, that 4k or 1080p won't help if your Internet connection is bad. If your software isn't as HD as advertised, check your Internet first!
Get started with free video calls
Still using Skype or WhatsApp for your business meetings? Get started with Dialpad's free plan now to have video meetings from anywhere in the world.
Start having live video calls with Dialpad in 3 steps
All you need to get started with live video calling in Dialpad is an Internet connection. Its app works across Apple devices, PCs, iPhones, Android... Anything that you and your clients or prospects use. Just download the app from the app store you use.
Alternatively, you can just log into your account in a web browser and have video meetings from there.
To start a one-on-one or group video call, just go into a messaging conversation you have with a contact. Or you can start a video call using the drop-down in the top left.

Hit the video call symbol at the top of your messaging window.

That's it! This will start a video call with that person.
No need to launch a bunch of different apps, and you can even switch from a voice call to messaging and then to a video conference within the same conversation—all in one place with Dialpad.

Online video calling: A better way to communicate with teammates, clients, and prospects
There are so many aspects to running a successful business, and communication is a vital one.
If your team is scattered around the world, this is especially important because you probably don't want to fly teammates in and out of the office just to have a meeting.
And for sales teams, running product demos through a video call online is probably a better use of their time than making them travel to do a demo. (Great for saving both time and money.)
With HD video calling that's built right into its communication platform as standard, Dialpad lets you have face-to-face meetings from virtually anywhere. Even if your call is crossing the Atlantic, your conversation will be as clear as one had with a colleague in the same room.

More on video call pricing
Free
Free unlimited video meetings
Meet for up to 45 minutes
Screen sharing
Unlimited call recordings
10 participants max
Business
Zero pins plus larger meeting sizes.
All Free plan features, plus:
Meet for up to 5 hours
150 participants max
Recording transcripts
Unlimited video recordings
Custom hold music
Auto-dial out to participants
Frequently asked questions about online video calling
Can I make voice-only calls with a video calling app?
Yes, just turn off the video in your meeting and it'll be a voice-only meeting!
Are certain devices better for making video calls?
What can I use video calls for?
Can I use video call with people outside of my organization?
Should I pay for video calling software?
Why should my business use video calling software?
What's the difference between video calling and video chatting?