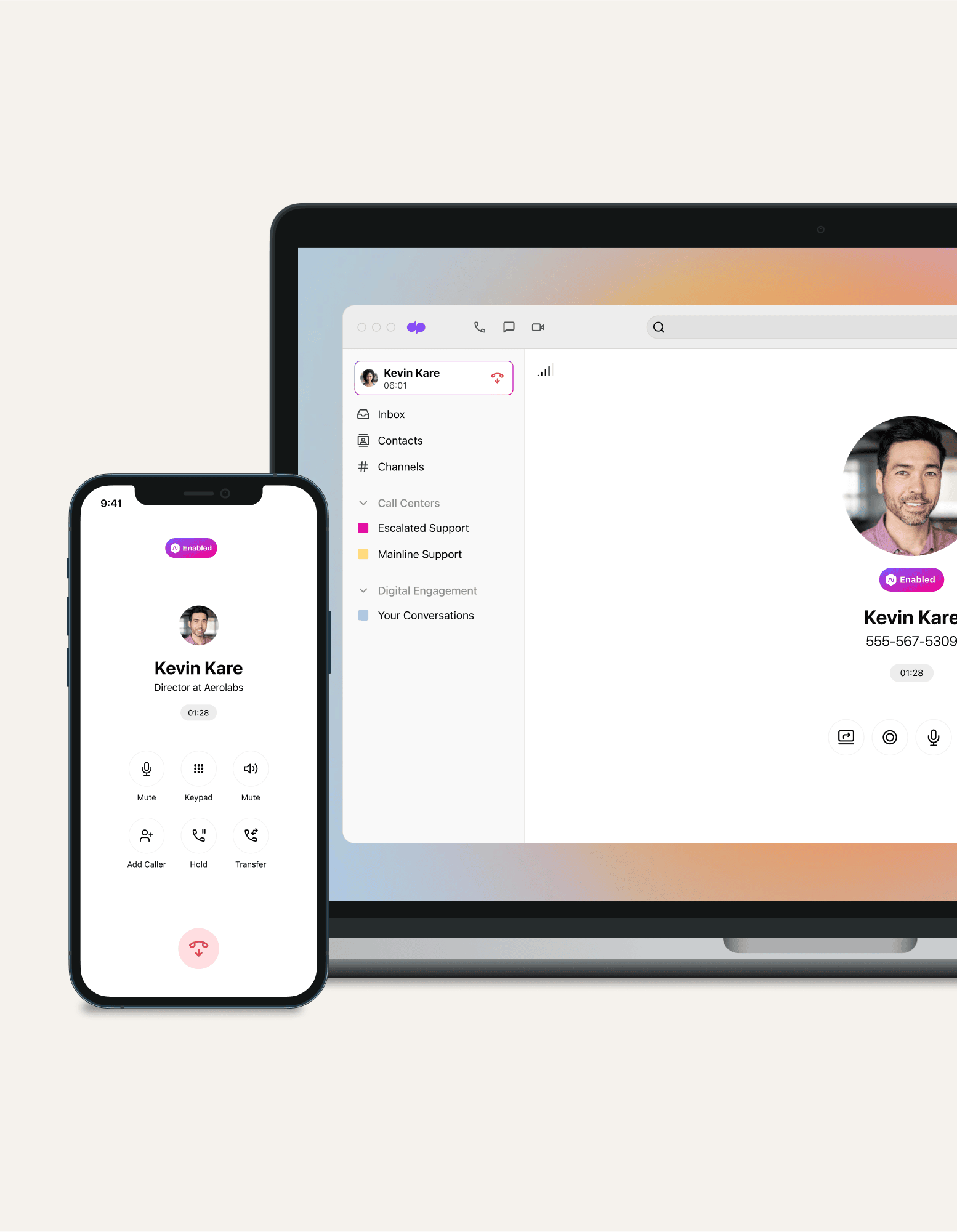 Designed for hybrid work
An easy-to-use virtual phone system
Dialpad isn't just a phone system. It's a fully unified communications platform that lets you talk, message, and meet—all in one convenient place. It takes just a few minutes to get started with a free trial and get a virtual phone number.

Sign up for a free 14-day trial!
Also sometimes called cloud phone systems, "virtual phone systems" are becoming a more and more popular communications solution for businesses—especially ones with distributed offices and remote or hybrid teams.
It helps that they're easy to set up (and affordable), but why are both small businesses and larger organizations moving toward this kind of phone system?
Let's look at what exactly these virtual phone systems are, how they work, and some creative ways that businesses are using them.
What is a virtual phone system?
With a traditional landline phone system, you're pretty much limited to using that system at a singular, defined location—which means employees can generally only work from the office. Want to do work on your mobile phone? Forget it.
Not so with a virtual phone system, which pretty much removes all those limitations and lets you make and receive phone calls from anywhere if you have a reliable Internet connection.
Today, the best virtual phone systems go beyond phone calls too—for example, Dialpad is a full-fledged communication platform that works across mobile devices (Including iOS and Android) and desktop apps.
Virtual phone systems tend to be affordable too, with options for monthly or annual plans. You'd pay per team member, and can choose different tiers depending on what you need, which makes this much more budget-friendly than traditional business phone services.

How does a virtual phone system work?
The unique thing about virtual phone systems is that they give you everything you need for business communications without clunky hardware.
Virtual phone systems use VoIP (or Voice over Internet Protocol) technology, which is what makes it possible to have a phone call via the Internet—no landlines needed. The system is cloud-based and hosted by your provider, which means you don't need any IT equipment in a closet or room in your office.
This means you can quickly set up virtual phone numbers, including international and local numbers, and even vanity numbers for your business.

Dialpad: More than a virtual phone system

Talk, message, and meet in one app
Beyond voice calls, Dialpad also gives you video conferencing, SMS/MMS text messages, instant messaging, and more (even on the least expensive plan!)—all in one platform. All you need is an Internet connection.
Plays nice on any device
Dialpad's softphone apps work across iOS, Android, PC, and Mac. Just download it onto your computer, cell phone, or mobile device to work from anywhere. (And yes, it's compatible with desk phones and office phones too.) No more being tied to your desk. You can make outgoing calls and take inbound calls on your cell phone, at your home office, or even from the beach.

Flexible pricing
Traditional phone systems can be expensive. You need to install costly hardware and you have to plan—and pay—for future capacity. Dialpad needs no hardware and has different tiers in its monthly plans, so your phone system can grow and scale with your business (perfect for startups and new business owners).

Customizable call routing
Need to set up call transfers to other departments or even to voicemail or auto attendants? What about setting up call routing for when you get business calls outside business hours? With Dialpad, you can manage that whole workflow easily right in your online account.

Business phone numbers on-demand
Get a new phone number with just a few clicks in your online account. Just choose phone numbers with area codes that are convenient for you and your customers. (This is great for sales teams that call prospects frequently, since having a local number in the caller ID can boost pick-up rates.)
Keep your existing numbers
Dialpad will help with porting your existing business numbers over from your current service provider—with no disruption to your business phone service!
Want to try a virtual phone system that's more than a phone?
Sign up for a free 14-day trial to take Dialpad for a spin or, take a self-guided interactive tour of the app!
👉 Did you know?
Built on a unique dual cloud architecture, Dialpad's VoIP technology gives you excellent call quality, no matter where your offices are located. (It also guarantees 100% uptime on the Enterprise plan.)
Integrations with your favourite tools
Chances are, your business is using other software like CRMs, ticketing tools, and Google Workspace or Microsoft 365. If your phone system integrated with those tools, you'd be able to do things like make phone calls from inside your Salesforce dashboard and create a Google Calendar invite with a conferencing link automatically populated in there!

Easy breezy deployment
Have your virtual phone system up and running across multiple devices in much less time than with a traditional phone system (it can take just a few minutes). Do everything from changing business phone numbers, to adding and removing users—all in one your online account.
Call recordings
Record calls automatically, or if you're in a highly regulated industry, toggle it on and off as you need. With Dialpad, you can easily record calls and access recordings in the app to make sure you're complying with regulatory requirements, maintain call quality, train staff, and more.

Built-in AI
Dialpad Ai can transcribe your calls in real time, pick out keywords and terms so that you can track how frequently they come up (like competitor names!), and much, much more.

Easy call management
Manage incoming calls efficiently with call routing options like IVR and an auto attendant. With Dialpad, your callers can route themselves to the best team or individual, and find information they need without burdening your team.

The best voicemail ever
Set up a custom greeting, listen to your voicemail messages, and even get voicemail transcriptions emailed to your inbox so that even if you're stuck in meetings all day, you can still catch up by reading your voicemails. (And did we mention you can easily forward your messages too?)

Conference calling
Need more than two people on a call? Dialpad lets you launch conference calls from any device, and you can take those calls global too. Easy to connect, easy to manage.
Browse Dialpad's plans:
USD $
USD $
CAD $
EUR €
GBP £
NZD $
AUD $
JPY ¥
Find the right plan for you
A checklist for choosing the right virtual phone system
1. Does it cover your basic business needs?
And by basics we mean things like call recordings, call routing, hold music, integrations with software you're already using (like your CRM), and your choice of phone numbers including toll-free numbers and vanity numbers if you need them.
2. Is it secure?
Your business probably handles sensitive information. It may also handle payments. That means your virtual phone system should also be highly secure. For example, Dialpad can help you stay compliant with SOC2® Type II, GDPR (if you have customers in the EU, this is essential), and PCI (if you're dealing with payments, then you need to have a system that is PCI compliant).
3. What are the SLAs? (service level agreements)
SLAs are basically a way of making sure you get reliable service from your business phone provider. You need a phone system that is reliable and has an absolute minimum of downtime because—well, you don't need us to tell you what happens if you can't communicate with your prospects and customers.
4. How easy is it to set up or install?
Some virtual phone systems take weeks—even months—to set up. No joke. Always check to make sure what the setup process is like. With Dialpad, for instance, setup can be almost instantaneous. As an admin, you can assign new users, give them phone numbers, sync them with tools, and have them up and running in a matter of minutes.
5. What do the reviews say?
Of course, you can just check out the website—which is what most people do—but if you really want to see the good, bad, and ugly of a phone system, look at the reviews.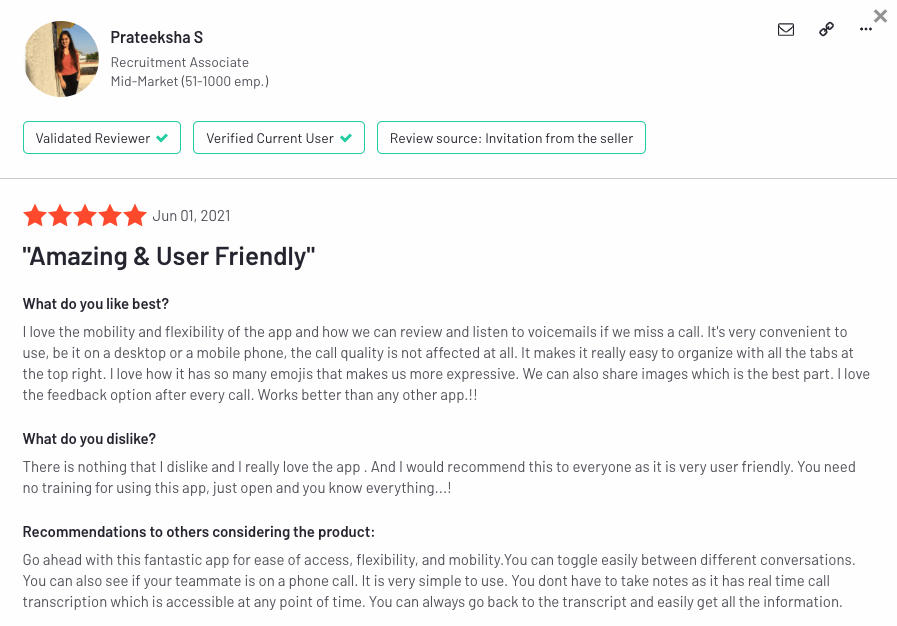 For virtual phone systems specifically, the top review sites tend to be G2, Capterra, and Trustpilot. (And if a provider that you're considering isn't listed there, that's a red flag and you should probably cross them off the list.)
6. What does it (really) cost?
When you're looking at costs, don't just look at the price tag. The pricing for virtual phone systems should cover a number of factors including both initial pricing and ongoing costs. Because these usually follow a SaaS pricing model (pay monthly or annually), it's very startup friendly compared to traditional phone systems.
However… Make sure you know what each pricing plan includes. Some phone system providers will say their plan is only a few dollars a month—but charge you by the minute for phone calls, call recordings, and other basic things. (Dialpad gives you unlimited calling in Canada and the US, even in the least expensive plan, along with a ton of other features.)
So, make sure you check the price. It'll make your CFO happy.
7. What's the customer support like?
Many small businesses may not have a dedicated IT team beyond Chuck (who also doubles as your sales manager, your shipping supervisor, your….well, you get the idea).
Even if you do have an IT team, their focus won't just be on your virtual phone system. That means you want to choose a provider that offers great customer support—worldwide, not just in the US. Dialpad's support team is always around to help, 24/7 for Pro and Enterprise customers (24/5 on the Standard plan), and there's also a comprehensive Help Centre online so that you can find answers to most questions anytime you want.
See how easy it can be to set up a virtual phone system
Book a personal walkthrough and we'll show you, or take a self-guided interactive tour of the app on your own!
Virtual phone system FAQs
How do I set up a virtual phone system?
It's generally pretty straightforward and works the same way no matter which provider you go with. First, choose a virtual business phone system provider (like Dialpad!) and sign up for one of the plans. You should have the option of paying month-to-month or on an annual basis.
From there, you should be assigned a virtual phone number (which you can use just like a regular phone number)—which takes literally a few minutes with Dialpad—then you're ready to go! Most providers should have a desktop or mobile app that you can use to make calls and have meetings through. Dialpad has this, and is also browser-based, which means you can just log in on a web browser and use Dialpad there if you (or your clients) don't want to download an app.
Do small businesses really need a virtual phone system?
How will I know if my business needs a virtual phone system?
What's the difference between a virtual phone system and PBX?
Which phone numbers can I use on a virtual phone system?
Can I get a free virtual phone number?
Can virtual phone systems be used at home?
What is the best virtual business phone system?
How do I use a virtual phone number?