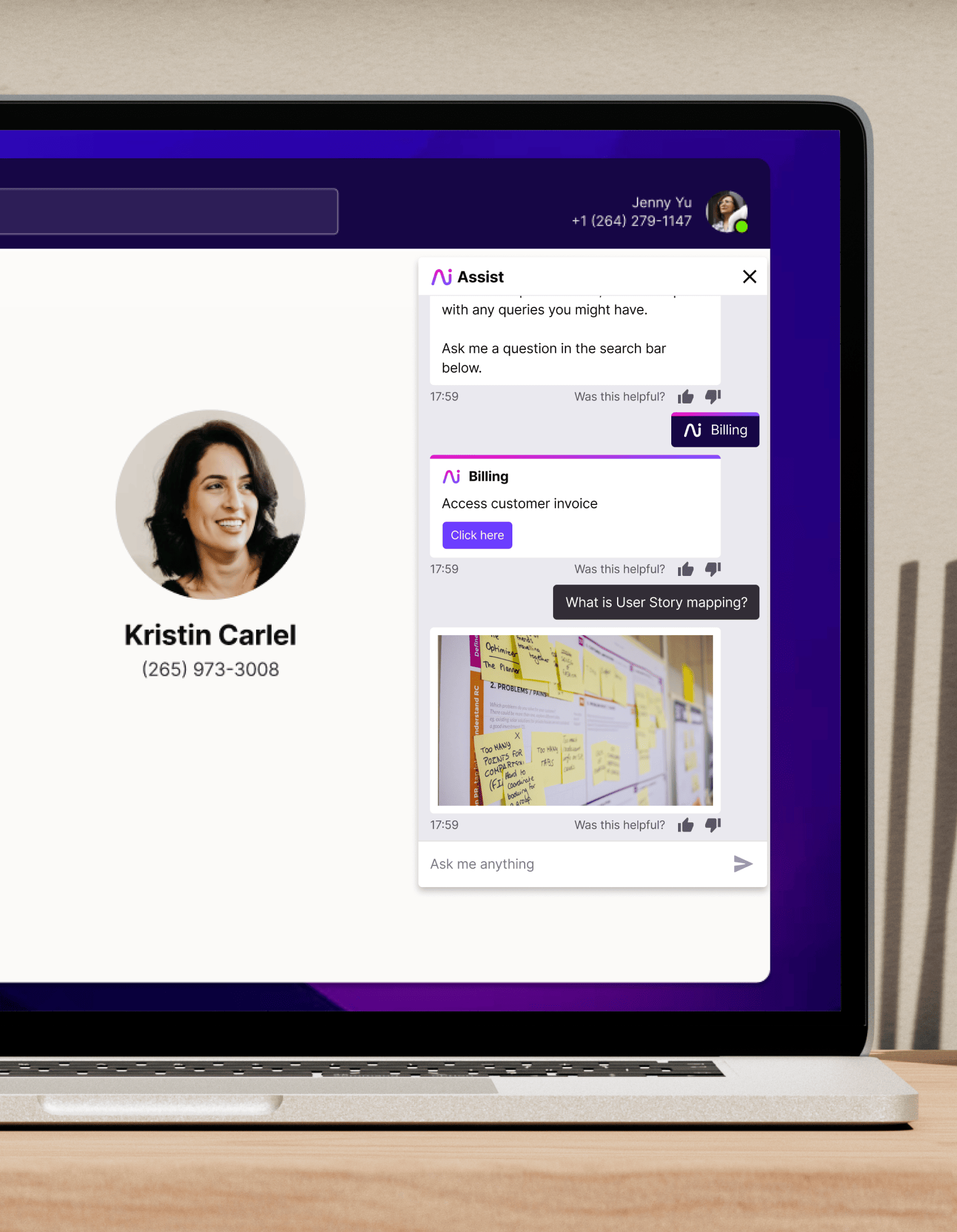 Automated customer service
Chatbot support
Customers and prospects are reaching out to businesses via more communication channels than ever. Are you able to handle that volume? Chatbot support can be a helpful way to streamline the customer experience—and this feature comes built into Dialpad Ai Contact Centre. Book a product tour to see how it can complement your human agents and help you provide a better customer experience!
How does a chatbot work?
Chatbots are computer programs that use artificial intelligence, machine learning, and natural language processing (NLP) to simulate human conversation in real-time, through either voice or text interactions. Many companies use AI chatbots to provide better customer service, as a complement to their contact centre support agents.
Chatbots can be used to handle a variety of simple tasks, such as providing self-service assistance to customers or gathering important data before passing them over to an agent.
In this way, customer service chatbots can help businesses save valuable time and resources, reduce overhead costs, and even extend customer service hours.
There are varying levels of complexity to chatbots. Many chatbots aren't especially "smart," meaning they do things like force customers to repeat information and can't carry this conversational data through different channels (say someone reaches out through social media, then calls in). Smart chatbots, on the other hand, can actually streamline these steps and create a better experience for customers.
You've never met a chatbot like this before
Dialpad's no-code self-service solution is easy to use and is designed to help businesses not only increase customer satisfaction, but also provide a better overall customer experience.

No coding needed
Imagine a virtual agent that can provide a good customer service experience that's just as natural as speaking to a live agent—even after business hours. Now imagine you can drag and drop these conversational flows with a few clicks. With Dialpad Ai Contact Centre, you can build automations and workflows in minutes to reduce wait times and help customers self-serve.


A true omnichannel experience
No matter how your customers try to contact your customer service team, Dialpad lets you handle all your customer interactions from one place. SMS, email, messaging apps like WhatsApp, and social media channels like Facebook Messenger, you name it. Plus, it's truly omnichannel, meaning it can carry contextual data through all those channels so that even new agents can see a customer's full history at a glance.

💡 Fun fact:
Dialpad's chatbot functionality can pull information from multiple unstructured sources to get answers instantly for customers. That means it can search not only knowledge bases, but also PDF files, transcripts of other customer questions, and more.
Integrations with the tools you're using
Dialpad has a huge library of integrations with CRMs and customer engagement software like Salesforce, Zoho CRM, and Google Workspace to help you streamline workflows and reduce resolution times. Reduce repetitive data entry work for your support team and give them all the information access to all the data they need. (You can also build custom automations with Dialpad's APIs.).

Built-in views of metrics
See important metrics like missed and abandoned calls, calls deflected, CSAT (customer satisfaction) scores, and more, right from your online dashboard. No need to contact a customer support team to get them to pull the data for you, no need to wait hours or days.


Plays nice with any device
One great thing about Dialpad is that its desktop and mobile apps work across iOS, Android, Mac, and PC devices—and even on web browsers if you don't feel like downloading any apps. Even the Salesforce integration is mobile-friendly, which is rare. (Most Salesforce integrations either don't work on mobile, or have a very clunky user experience.)


Robust security standards
Dialpad's enterprise-grade security keeps your and your customers' data secure. It can help you stay compliant, and you also have the option of creating a custom data retention policy and setting role-based access so that permissions can be granted at the company, office, department, or user level.


24/7 customer support, worldwide
Get customer support whenever you need it, even if you're not in the US. With Dialpad Ai Contact Centre, you get phone and live chat support 24 hours a day, 7 days a week—along with a detailed online knowledge base in case you want to find answers to common questions on your own.

Does your business need a chatbot?
Not sure if your business actually needs a customer service chatbot? It's true, not every company needs to have a chatbot platform. (If you run an ecommerce company, for instance, you probably should have a chatbot.)
Chatbots are incredibly versatile and can be deployed in a variety of ways throughout the customer journey. It really depends on your customer needs and the channels you use. Here are a few questions and use cases to consider.
Do you need coverage outside regular business hours?
One of the biggest advantages of chatbots is they let you extend your great customer service experience to even after-hours periods. If you can't hire human agents in different time zones to cover all 24 hours in a day, a chatbot can do that for you.
Are your customer support agents burnt out?
A chatbot isn't just useful because it can optimize the conversation flow with your customers across channels to give them a more seamless experience. It helps your agents or reps too. Instead of a customer support team having to handle all the questions coming in through every channel, a chatbot can lighten the load by taking the more basic and straightforward requests (like checking an account balance or even taking someone through simple troubleshooting instructions)—this isn't so your agents can slack, but so they can focus on higher-value tasks.
Customer service chatbots can do this across digital channels like live chat messages and social media like WhatsApp messages. With Dialpad, for instance, you can create templates for responses with just a few clicks. (Kind of like a phone tree.)
Do you want to automate part of your lead qualification process?
Implementing chatbots can also help with lead generation, since a chatbot can ask your website visitors a preset list of questions to determine if they're qualified, and then also route them to the right page or rep to get them started with your sales process.
Looking for the best customer support chatbot software for your business?
Instead of purchasing a separate customer support chatbot platform, why not use a contact centre solution that has self-service and chatbot functionality built right into it?
With Dialpad Ai Contact Centre, your agents and supervisors can handle all internal and external communication channels (including digital / social media channels, voice, and video), keep an eye on important metrics, and more—all in one convenient place.
Not only that, there's no coding needed. You can easily build a chatbot flow with just a few clicks by dragging and dropping. Book a product tour to see how it can work for your contact centre!

Why pay for a separate customer service chatbot tool?
Book a demo to learn about Dialpad Ai Contact Centre's easy-to-use chatbot feature and get more details on pricing. Or, take a self-guided interactive tour of the app on your own first!
FAQs about chatbot support tools
What should I keep in mind when putting a customer service chatbot on a website?
There are several key points to keep in mind when implementing a chatbot on your website. You should have a handy list of all the problems you need your support chatbot to solve, and identify all the different communication channels that it'll need to cover. You may also want to set KPIs for your chatbot (like number of calls or messages deflected), so you can measure how effective it is.
If you wanted to go one step further, you could even give your customer service chatbot some personality. You've probably seen this on some companies' websites, but some chatbots even have a name and photo or avatar, to make it feel like you're talking to an actual human agent.
One thing to keep in mind: Always, always have a "fallback" option for your chatbot. As smart as they can be, chatbots can't answer every single customer question—you should always have the option for a customer to escalate to a human agent through a voice or video call for these situations. Otherwise, it creates a really frustrating customer experience.

Are there different types of chatbots?