Rently's hybrid contact center story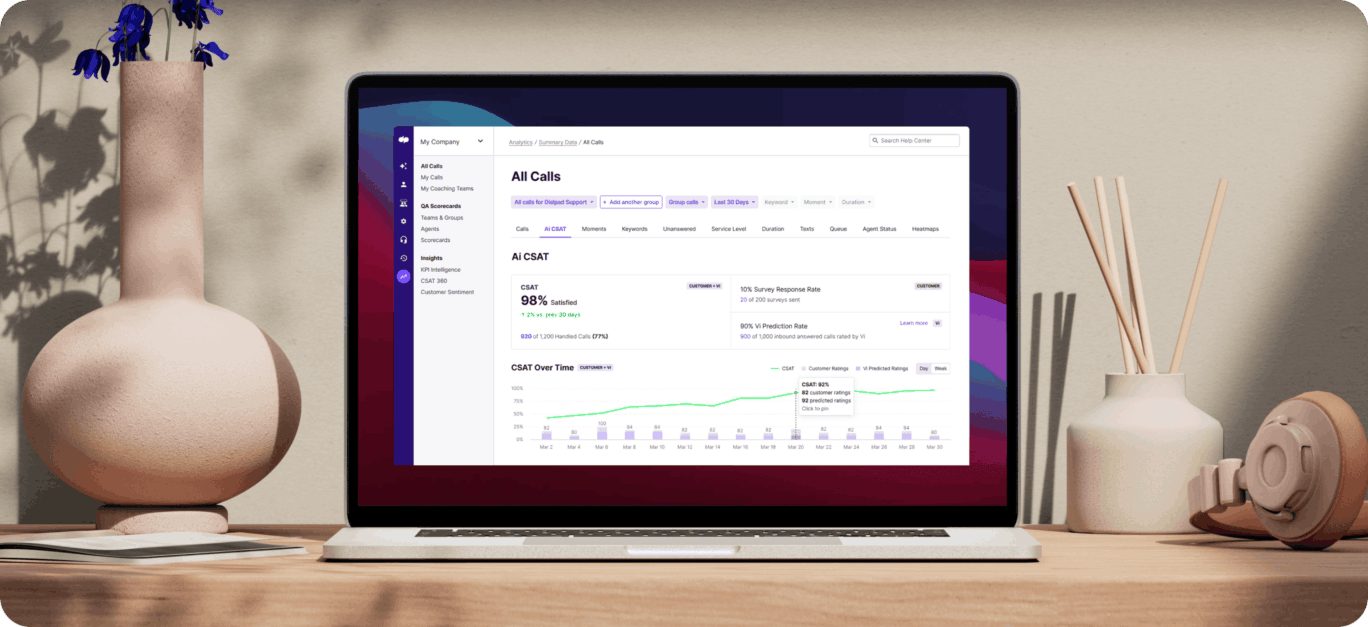 An Ai-powered contact center platform that's loved by global brands
How does Rently handle 2 to 3,000 calls a week... While maintaining a 4.5+ CSAT score?
Rently provides property managers with self-touring and smart home technology and support. As home rentals adapt to the digital age, Rently's technology has become more essential and widespread, which also means their customer support team needs to be able to properly handle all the incoming and outgoing calls, manage reporting, and meet their KPIs.
The thing is, their communications platform just wasn't up to that task.
Sahil Farooqi, Head of Customer Care at Rently, knew that they needed an upgrade. The solution Rently was using had a fair share of issues, from constant crashes to inaccurate reporting, and it just wasn't worth the money it was costing them.
Rently needed a more stable and flexible environment that could keep up with the company's growth—without constantly crashing or needing maintenance.
Before Dialpad, most of the employees at EF relied on being in the office because of their physical desk phones. EF is a heavy call center company, and there were very few options for working remotely.
EF chose Dialpad because of its ability to combine all forms of communication in one place, which was a huge time saver. Having calls, voicemail, texting and call recording in one platform instead of four made managing accounts and end user experience much more efficient:
All their communications in one easy place
Now, all of Rently's communications, both internal and external, are on Dialpad.
"
Dialpad is very intuitive and doesn't have a learning curve, you can understand it and start using it right away. It's had multiple positive effects on our call center environment.
"
SAHIL FAROOQI
HEAD OF CUSTOMER CARE
Rently has one customer service department each for renters, property managers, and technical installers calling in. With Dialpad Ai Contact Center, whenever someone calls, they can easily reach the right department, and Rently's team can even make sure the agent knows what they're calling about as soon as they pick up the phone.
"With Dialpad, we were able to set up a lower-complexity IVR than what we were used to. Our older IVR was very basic and outdated, and I was able to quickly implement Dialpad's IVR. Now customers call one number and are quickly sent to the right department. It's very smooth."

Not only does each call reach the right person, but Sahil and the rest of the team at Rently can see exactly how it got there. If a call is forwarded or routed, that's all recorded and tracked, so when an agent picks up the phone and gets an unexpected question, there's no more wondering "Why did this call get forwarded to me?"
"One thing that I love in Dialpad is the call journey feature, where you can see where calls were routed, forwarded, and changed. It's beautiful, and brought a lot of peace of mind to our call center operations—there's no more wondering where a call came from or how someone got it."
With Dialpad, every call provides important insights that can help Rently's agents learn and improve. "We're handling 2 to 3,000 calls a week with Dialpad," says Sahil.
At the end of each call, all the information is logged automatically, thanks to Dialpad's Salesforce integration. Agents used to have to log their calls manually, which took time and was a pain. Now? It's just there as soon as they hang up.

If Rently's agents ever need to go back and check the call, Dialpad gives them more than one way to do that too. They can go and listen to the call recording, or they can check the transcript (which Dialpad also automatically creates).
"A huge advantage for our reporting"
Now, Rently has insights into all aspects of their call centers. And with Dialpad, they're earning CSAT scores of over 4.5 in all their verticals (which is great—and also new because compared to their previous provider, where they couldn't see their CSAT scores at all).
There were even analytics that Rently's managers didn't know they needed. Call centers can be high-stress environments, especially when they're hit by an unexpected surge in calls. With the heat maps, they're no longer unexpected, and the call centers can prepare:

"I love the heat map," says Sahil. "Not only does it help my managers with capacity planning way in advance, we can also take those analytics and show it to our property managers so they can get a very unique set of evidence about calls coming so they can hire more people or extend our work hours."
Supporting agents + supervisors with powerful Ai
During calls, Dialpad Ai can listen in to identify keywords, and can automatically pop up Real-Time Assist (RTA) cards on agents' screens to help them answer tricky questions.
For example, if agents are getting tricky questions about rental policies or ending a lease, Rently can create an RTA card and set it to pop up whenever phrases like "cancel a lease" or "end a lease" are spoken on a call so that agents have all the info they need:
"Ai has been a huge advantage for our reporting," says Sahil. "We have a vast offshore operation for support, where we're running a full-service call center and trying to provide all levels of support. Dialpad has been crucial in making sure the reporting is accurate and for our managers to hold agents accountable and actually learn things from the Ai recording."
From call routing flows to call analytics, Rently has seen a huge improvement ever since they switched to Dialpad Ai Contact Center. Now when anyone needs to contact Rently, whether it's a renter looking to tour a home or a property manager making sure their equipment is properly installed, they're sure to get the help they need, when they need it.
Does your organization need a better way to handle communications from anywhere? Book a product tour to see how Dialpad can work for you!
Free your agents and
supervisors to work from
anywhere
Phone calls. Video meetings. SMS/MMS + team messaging. Contact center. See how Dialpad's truly unified, born-in-the-cloud solution helps organizations like Rently handle all internal and external communications from one intuitively designed platform.