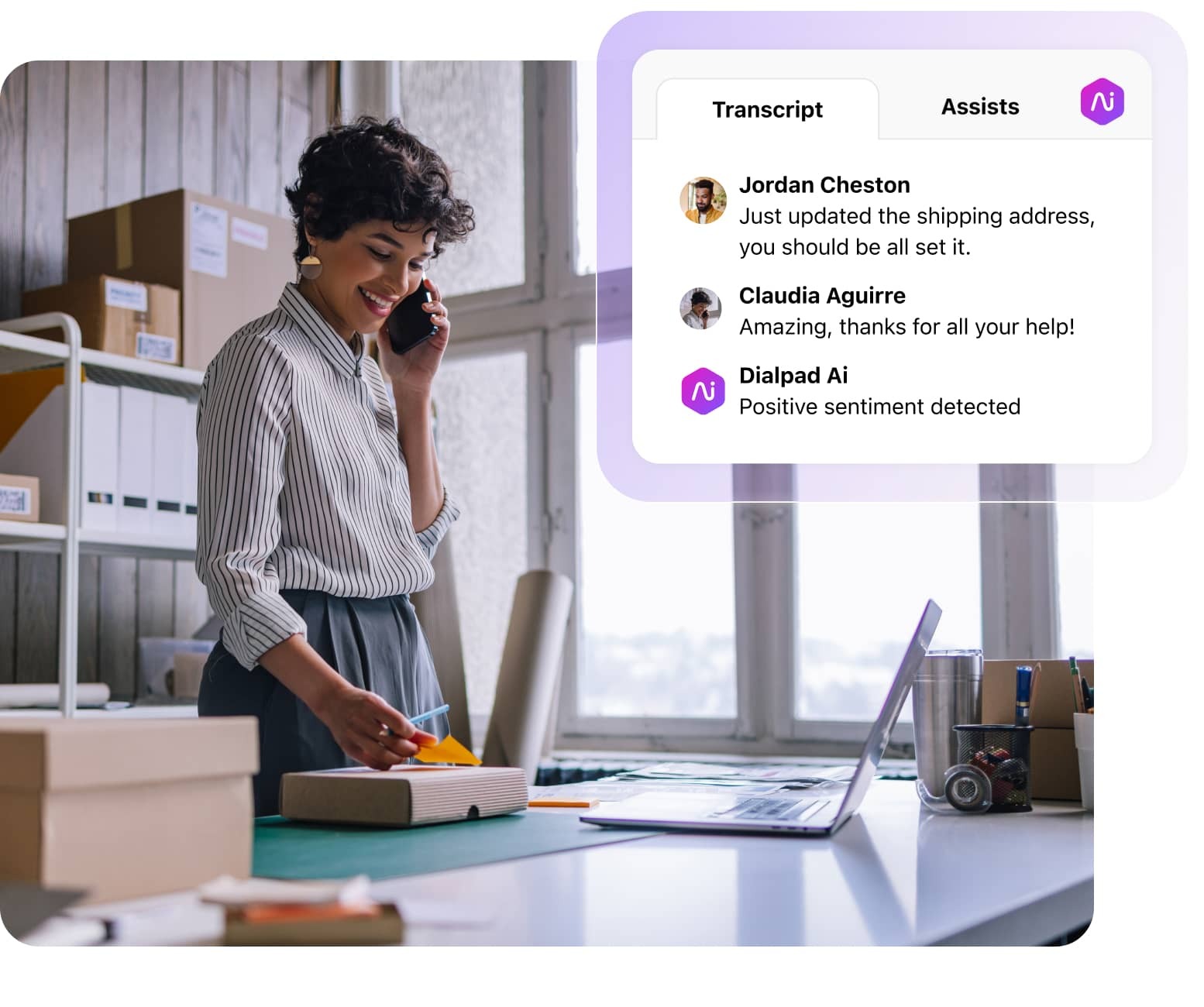 ONE UNIFIED AI PLATFORM
Ai that works
for you
Support customers, drive sales, and collaborate with your team—all in one, beautiful Ai-powered app.
Trusted by 30,000 customers in 140+ countries
Meet our Ai-powered
customer intelligence platform

Ai Contact Center
The world's most advanced customer engagement platform

Ai Sales Center
Outbound sales with live coaching at every step

Ai Voice
The most intelligent business phone system

Ai Meetings
One-click video meetings with live Ai transcriptions
Dialpad Ai is designed
for everyone
Get the most out of your conversational data with built-in Ai across every call, meeting, and customer conversation.
Ai for agents
Create the best customer experiences with the help of tools like real-time coaching and live Ai assists. Plus, our Ai CSAT feature gives you a complete picture of customer satisfaction.
Ai for sellers
Close deals faster with a helpful Ai assistant that coaches sellers on live calls, surfaces relevant scripts, and writes automatic email follow ups.
Ai for teams
Our built-in Ai transcribes calls and meetings, takes notes, and tracks action items—so you can stay focused on collaborating with the team.
DIALPAD AI
Get industry-leading
conversational Ai
Dialpad Ai is a native, omnichannel Ai engine that lives across every single Dialpad product. It's self-learning and adapts in real time to your business and its specific use cases. This means you'll get unparalleled accuracy when our Ai generates call transcripts, call summaries, real-time assists, and more.
AI CONTACT CENTER
Give all your support
agents a live Ai assistant
Guide agents right when they need it with Ai coaching and in-the-moment assistance. Dialpad Ai instantly recognizes specific keywords that are spoken and surfaces helpful content like scripts and step-by-step guides—so agents can resolve requests faster. Managers can also track live sentiment across customer calls, view ongoing transcripts, and jump in to help when needed.
AI SALES CENTER
Close deals faster
with Ai-enabled sellers
Support sellers on live calls with powerful Ai that transcribes conversations, offers live coaching, and analyzes sentiment. Our Ai Assist feature also connects your sellers to the right information in real time—from objection handling scripts to billing updates—so they can stay focused on moving deals forward.
AI VOICE & AI MEETINGS
Collaborate with all
your global teams
Improve team workflows with features like live transcriptions, action item tracking, and automatic note-taking. After every call or meeting, you'll also get an Ai-generated recap complete with a call summary, recommended action items, and pre-written follow ups. It's easier than ever for your global teams to stay connected, and build the next big thing together.
AI NATIVE PLATFORM
All on Dialpad's
proprietary Ai engine
Automatic speech recognition (ASR)
Dialpad Ai instantly transcribes spoken words into written text and tracks who's speaking. After every call or meeting, you'll get a detailed transcript that you can refer back to at any time.
Natural language processing (NLP)
Our real-time transcription engine has analyzed over 5 billion minutes to date with industry-leading accuracy. It's also self-learning—adapting in real time to your specific business needs.
Semantic search
Dialpad Ai understands the intent behind a user's question and automatically delivers more relevant search results. This technology is powering features like our Ai Assist for sellers and agents.
Generative Ai
Get deeper conversational insights with Dialpad plus ChatGPT. Our Ai Recap feature generates a concise summary of every conversation, and surfaces relevant action items.
THE ROI OF DIALPAD AI
Helpful Ai, huge results

Boost CSAT by 14% with our Ai Contact Center

Resolve up to 50% of customer requests with our Ai Chatbot

Boost agent performance by 35% with Ai QA Scorecards
Get a demo of Dialpad Ai
And see how easy it is to call, message, meet, and support customers—all in one Ai-powered app.