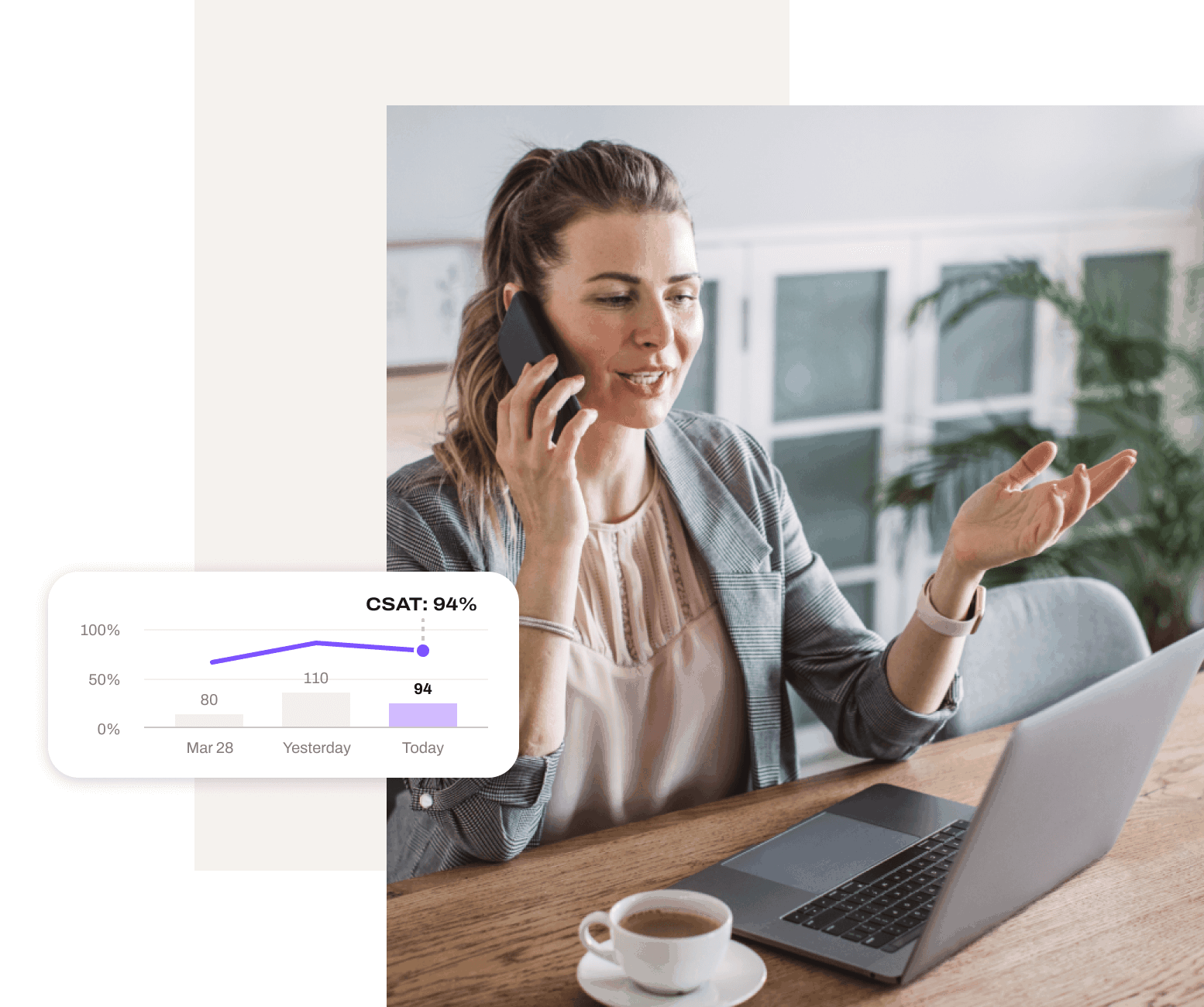 Ai CSAT
Ai-powered
CSAT for every
conversation
Introducing a completely new way to collect customer feedback across every conversation.
PREDICTIVE INSIGHTS
Dramatically increase CSAT insights
across your customer base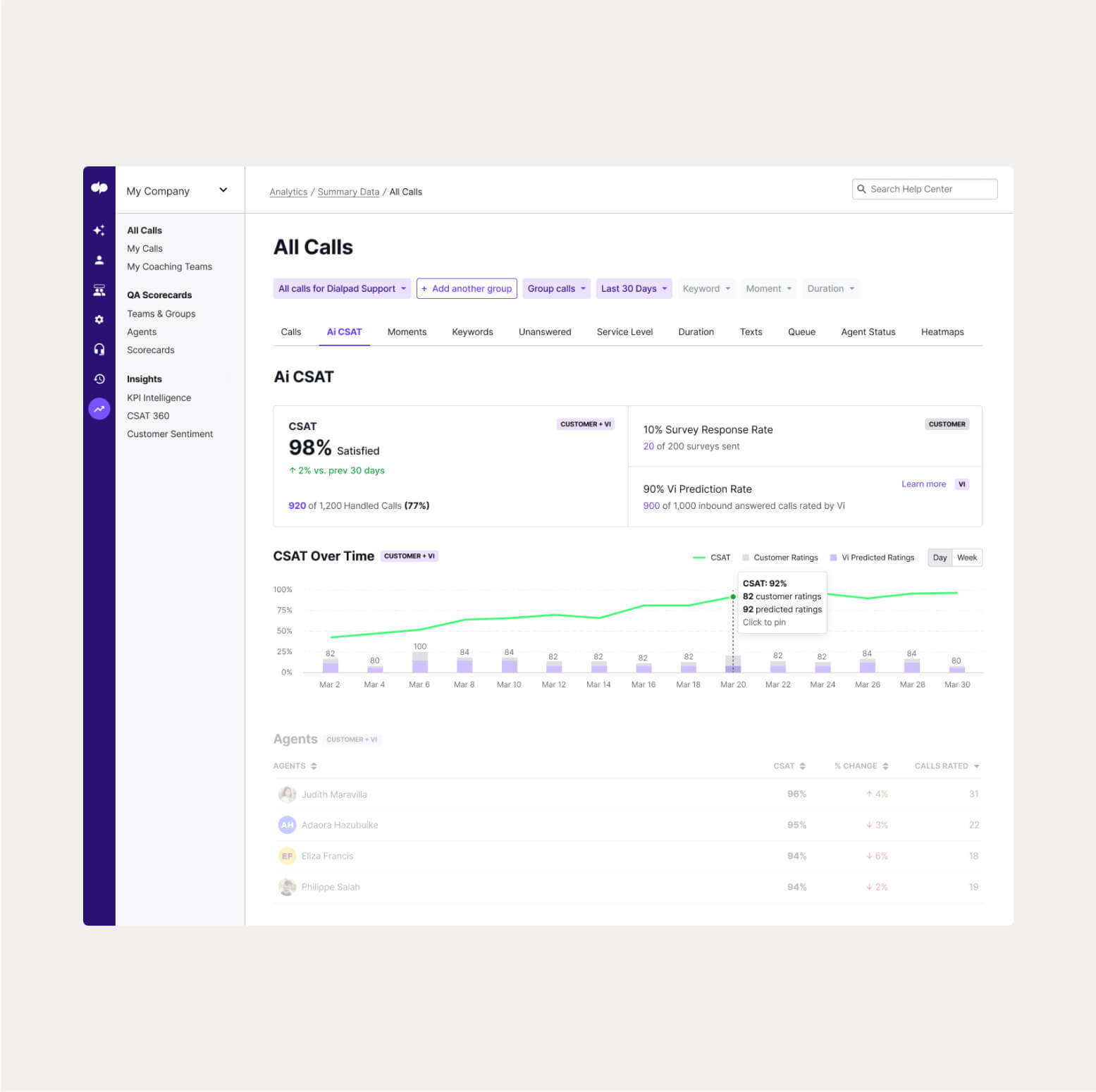 Your agents do the talking, while Ai infers CSAT
Automatically collect customer satisfaction without lifting a finger; Ai CSAT analyzes 100% of your conversations for you in real time.
Out-of-the-box predictive insights
No setup needed. Dialpad's predictive analytics democratizes the power of Ai, making it easy for every company to access meaningful customer insights without complicated customization.
A holistic view of customer satisfaction
By capturing all conversations, not just customers at either end of the response spectrum, you'll get a broader and more accurate view of CSAT across your entire contact center organization.
Ai CSAT & SMS SURVEYS
Live CSAT on every call, so
agents can react instantly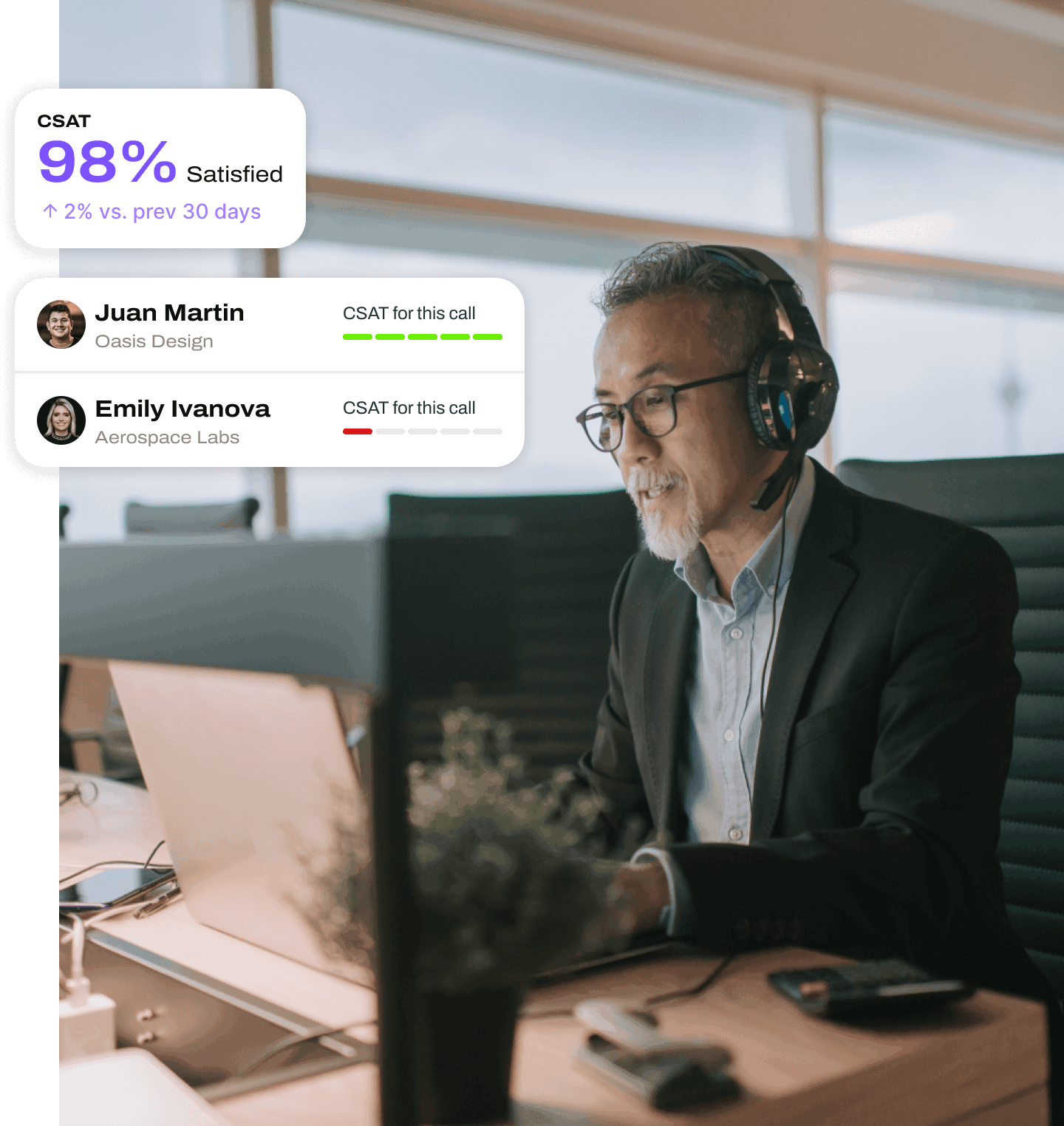 Accuracy you can trust
Leverage deep learning Ai to infer customer satisfaction from every call with 87% accuracy. Plus, our Ai is constantly learning and adapting to your organization's specific use cases.
Influence CSAT scores in real time
Give agents and sellers real-time insights and live coaching tools so they can influence CSAT scores in the moment during live calls.
The highest response rates in the game
Move traditional IVR survey response rates from 5% to up to 75% by combining Ai predictions with SMS surveys.
Loved by 7,000 customers big and small
Game-changing
Ai features
Automatic predictive CSAT insights
Organize CSAT scores by line of business to truly understand customer sentiment.
Real-time reporting
Stop waiting for enough CSAT responses to react. Ai CSAT gives responses seconds after the call.
Agent performance reports
Get granular down to the agent. See how remote agents are performing as easily as agents in the office.
SMS surveys
Strengthen Ai CSAT accuracy by utilizing our SMS survey feature as an additional data input.
Real-time agent assist
Assist cards instantly pop up on agents' screens with all the relevant information for certain topics—as soon as specific trigger keywords or phrases are spoken.
Collect CSAT scores on
100% of customer calls
Dialpad's Ai Contact Center gives agents one, beautiful workspace 
to manage every customer conversation.