At Dialpad, the confidentiality, integrity, and availability of our service is of utmost importance. We understand that your communications are vital to business operations and must be secure and always-available. Our security measures take a comprehensive, multi-layered approach, ensuring that every element of your data is secure.
Layered security
Physical
Dialpad leverages carefully selected third party platforms and infrastructure, assuring that customer data and the assets storing or used for processing are protected. Leveraging Google Cloud Platform for all web applications and customer data, Google is [CR2] ISO 27001 certified and completed audits for SSAE16 / ISAE 3402 Type II (SOC 2 and SOC 3). Dialpad telephony engines are managed by Tier 1 data center providers across the globe.
Application
Our applications have undergone comprehensive assessments by third party organizations to ensure protection against known vulnerabilities, common penetration techniques, and development pitfalls. We practice secure development and testing methodologies and use encryption to safeguard customer data both in transit and at rest.
Network
We use multiple layers of network and operational protection to ensure customer data is protected against tampering and eavesdropping. We implement best practices for protecting the network between our infrastructure and multiple carrier connections across the globe.

Privacy and trust
Dialpad has been certified by PrivacyTrust, formerly eTrust, for meeting strict privacy and data protection requirements. We have procedures in place that limit access to sensitive information and systems to staff that have a need to know. Our comprehensive privacy policy is publicly available online, and our internal Information Security Policy is also available upon request.
Work from Anywhere
Whether you're at HQ, working from home, or on the go, you can access UberConference from any device. Plus, with more than 50 international access numbers, the world is now your office.
Want to learn more about Dialpad
for your Business?
Start Your Trial
Dialpad offers a better communications experience for calls, messages, and meetings. Get in touch with our team through the form below and we'll get back to you soon.
Thank You!
Our team will contact you shortly to get you setup with your trial.
In the meantime, check out our free conference calling service UberConference! We eliminate PINs, show you who's on a call, and offer screen sharing, document sharing, and more—all from your browser with zero downloads.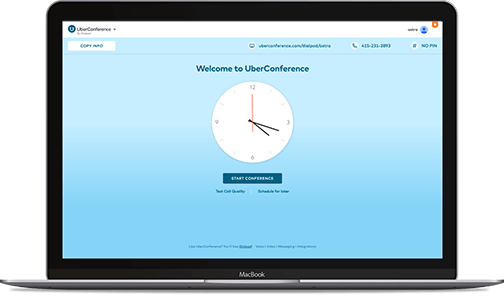 Learn More
Thanks for requesting a trial.
Unfortunately, we're not fully available for international offices without a US-based address at this time.
Should you have a US-based address, please feel free to start your trial here.
Also check out UberConference! Our Free Online Meeting Platform. No Pins. No Problems. No Downloads.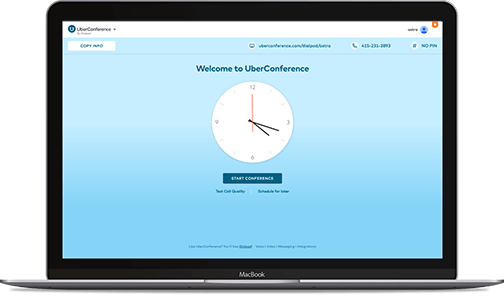 Learn More