DIALPAD FOR
TECHNOLOGY
The #1 Business Communications Platform
for the world's fastest growing companies.
Connect every team and location.
Join 48,000+ companies who've killed the desk phone with Dialpad
BUILD A CULTURE OF INNOVATION
Whether you're a five-person startup or a global enterprise, Dialpad gives you an easy, scalable way to deploy business communications for your entire company. Connect every department and enable users to talk, text, chat, and make video calls from anywhere.
BUILD A CONNECTED COMPANY WITH ANYWHERE MEETINGS
Eliminate conferencing PINs and downloads. Dialpad Meetings lets you collaborate on any device with seamless screen sharing and HD audio. Present demos, drive projects, and share your best ideas—from anywhere.
"I'VE WORKED WITH AVAYA, CISCO, MITEL—NOTHING COMPARES TO DIALPAD."
—Kyle Eve, Head of IT at Qubit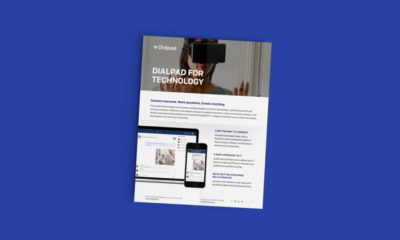 DIALPAD FOR
TECHNOLOGY
Download our datasheet and explore why tech companies across the globe have moved to Dialpad.