Find the perfect small business phone service for you
Small Business Phone Service: Types, Benefits & Features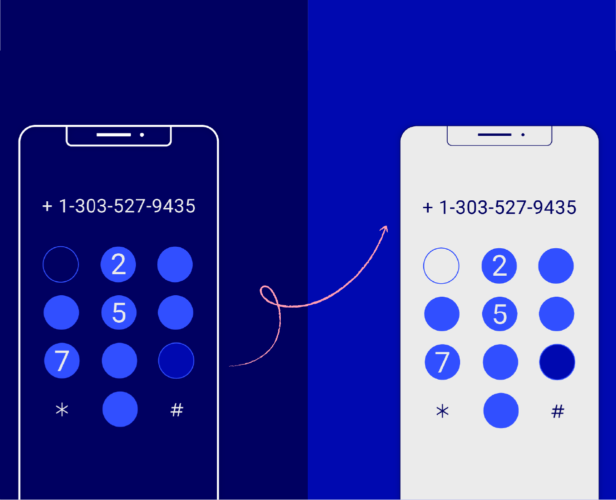 Running a small business can be hectic.
The last thing on your mind (even though it's absolutely necessary) is sometimes setting up a business phone line. You've been okay so far taking incoming calls and text messaging clients on your cell phone, haven't you?
But if you find yourself taking calls from customers or clients way past business hours—or trying to find that one really important text thread with a customer in your phone without any luck—it might be a sign that your small business needs to go beyond a phone number and get a business phone system.
It's not a bad sign either. Every thriving business will reach that point. But how do you choose the right phone service for your business?

How to know if your small business is ready for a phone service
Business phone services and cloud communications may sound like they're too expensive or complicated for your business, but often, they're the key to setting your business apart.
But of course, if you're a one-person business and you don't have too many communications needs, you might be able to get away with just using your cell phone.
The question here is: how do you know when your small business is ready to move on to an actual business phone service provider? Here are six questions to ask.
Do you have a growing team?
If you're just one person, you probably don't need to talk to many other people other than your customers and prospects.
But if you're hiring salespeople, customer support agents, and more, then it's probably time to start thinking about a business phone system. VoIP (Voice over Internet Protocol) phone systems are great because they run over the Internet, and are an affordable way for small business teams to do everything from conference calls to team messaging.
With Dialpad, for example, you can get set up with a new business phone number or phone line in minutes…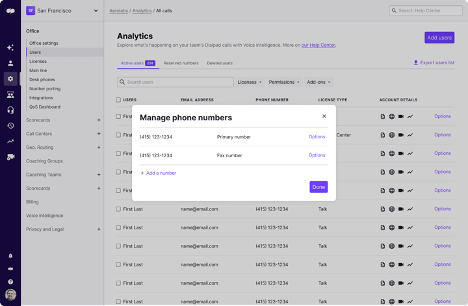 … Download the desktop or mobile app (Dialpad works across PC, Mac, iOS, and Android), and you're all set: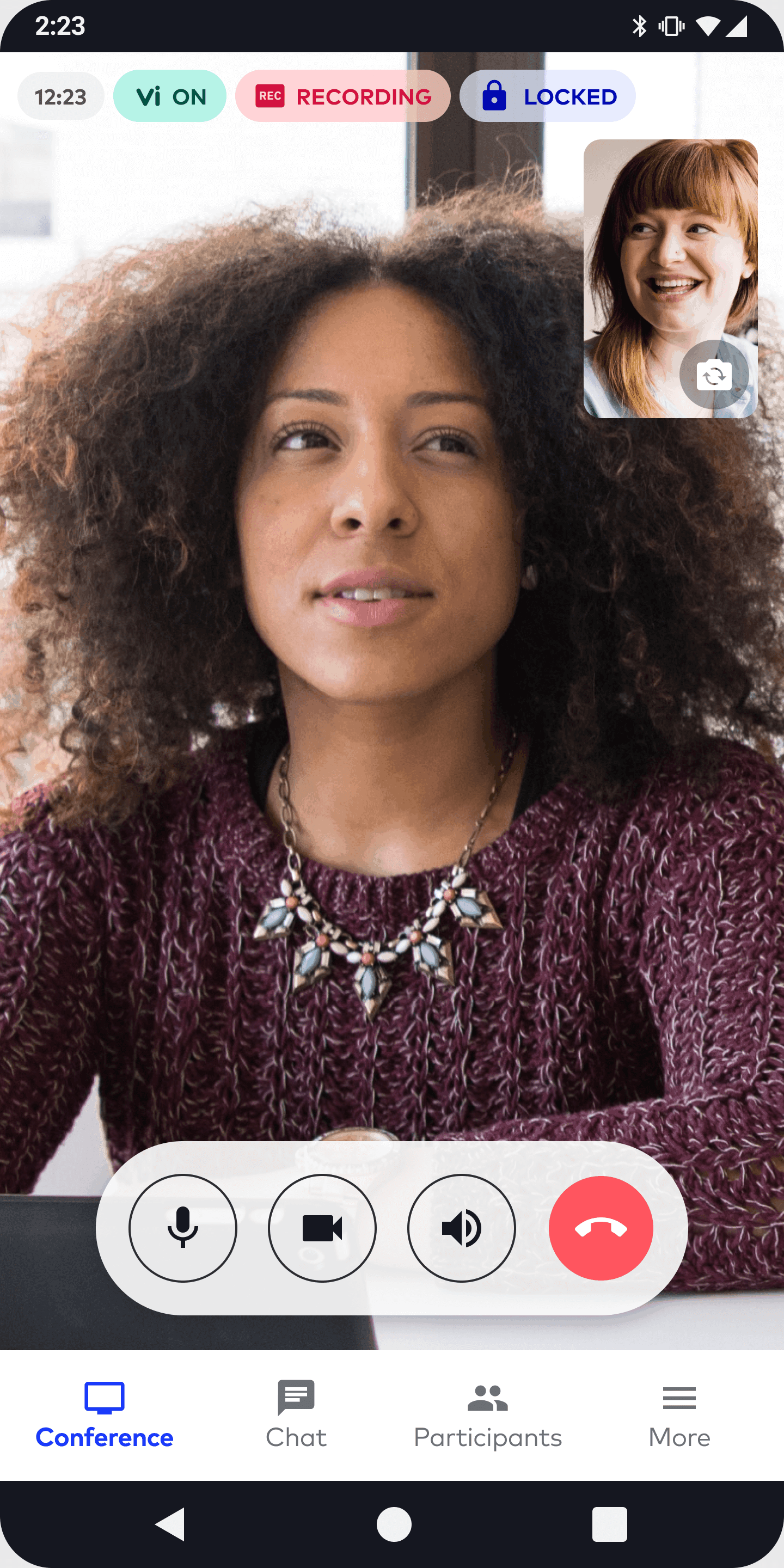 Are you getting irritated by business calls during personal hours?
If you're using a traditional phone system or just your personal cell phone number, you may be getting calls from customers and clients at all hours of the day.
If so, it's time to move on from just using your cell phone. At this point, you probably need to be able to set "do not disturb" hours on your phone or just be able to block business calls when it's time to unplug.
If you're with Dialpad's business phone service, for instance, you can just download the softphone app (you can still use your personal phone) and make business calls, message other team members, and even text clients—all from the app!
And of course, you can set your working hours so that any work calls you get after hours automatically get forwarded to voicemail: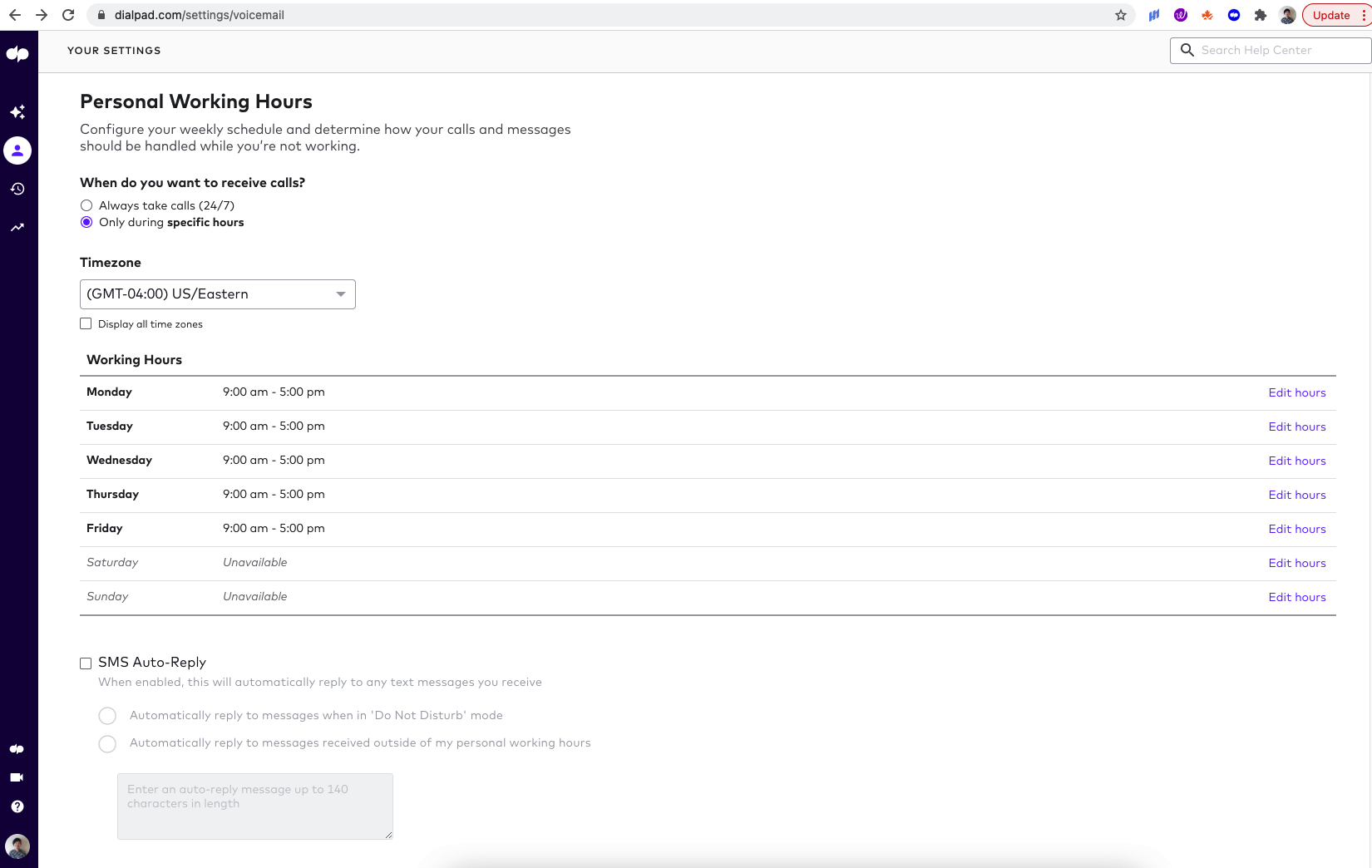 Do you need other communications channels too?
Phone calls are great, but what if you need instant messaging, SMS, and video conferencing? If you think you'll need those communication options soon, then you should look at business phone services that also come with those channels. (Yep, they exist.)
Instead of having five or six different add-on apps for things like messaging and video conferences, why not choose a phone service that comes with everything in one handy app?
For example, Dialpad can technically give you a small business phone service—but it's really a unified communications platform. With a small business phone plan from Dialpad, you get not only unlimited calls, but also built-in messaging, free video conferencing, SMS, call waiting, screen sharing, and a ton of additional features in one convenient place. (Did we mention you can flip your calls seamlessly between your phone and computer without dropping the call!)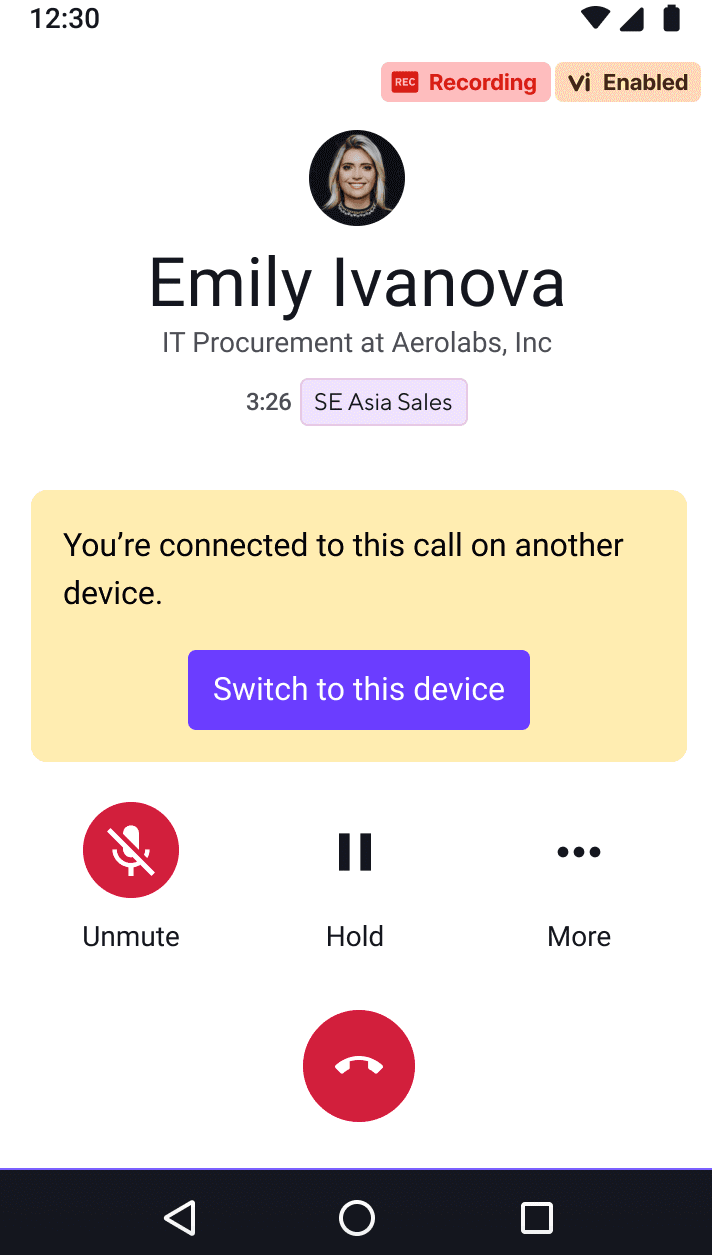 Do you need to uplevel your customer support and service?
A small business phone service can set you up with everything you need to create a small business call center or contact center. (In fact, Dialpad also has a contact center platform that's built right into the same app!)
If you're getting enough inquiries from customers that you need things like call logs, a virtual receptionist, hold music, or call routing, you may want to look into small business phone service that has these contact center features:

Do you have (a small) budget?
Let's face it. There are definitely "free" small business phone services out there, but often, they'll nickel and dime you on really basic features (or charge you by the minute for outgoing business calls). It's generally better if you have a budget to work with—even if it's a modest one.
Dialpad's least expensive plan, as a comparison, costs $15 per user per month, but comes with unlimited calling (in your home country, the US, and Canada) and unlimited texting among a host of other cool functionality: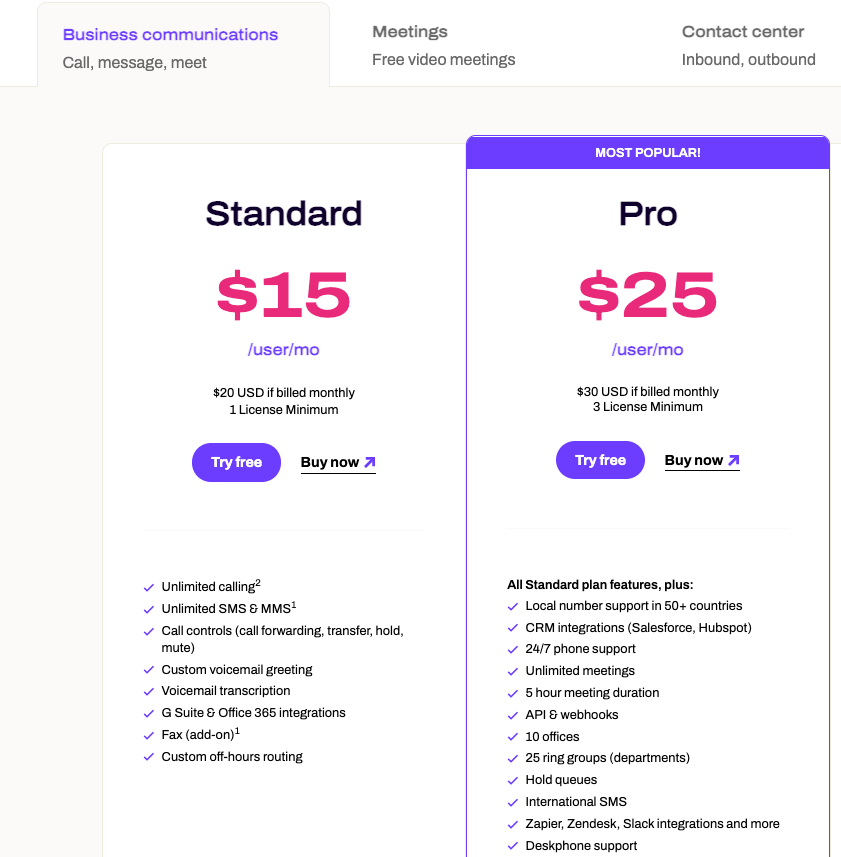 If you're curious, try out the 14-day free trial and take it for a spin.
PBX vs. VoIP: A quick comparison for small businesses
Private Branch Exchanges (PBX)

Voice over IP (VoIP)

What is it?

A private phone system used in a company, sometimes through hardware installed on-site.

IT professionals are often needed for maintenance and updates.

More expensive and time-intensive to set up.

Uses an Internet connection for phone calls.

Pay as you go with little investment upfront.

Easy to set up and onboard employees.

Can use other communication channels like SMS and instant messaging.

What kind of businesses is it perfect for?

Companies that have no plans to expand or that would rather pay a higher price upfront.

Companies looking for flexibility, predictable costs, and expansion options.
Top features to look for in a small business phone service
Local phone number
The most important thing: you'll need to be able to pick an area code based on your location. This is especially crucial for local small businesses that need to build their local presence with a local number.
With Dialpad, you can get a free local phone number with every pricing plan (and unlimited calling within your home country, the US, and Canada).
Call forwarding to mobile
You're not always at your desk—a lot of times, you're out and about getting things done. Call forwarding is one of the best features for a small business for this very reason: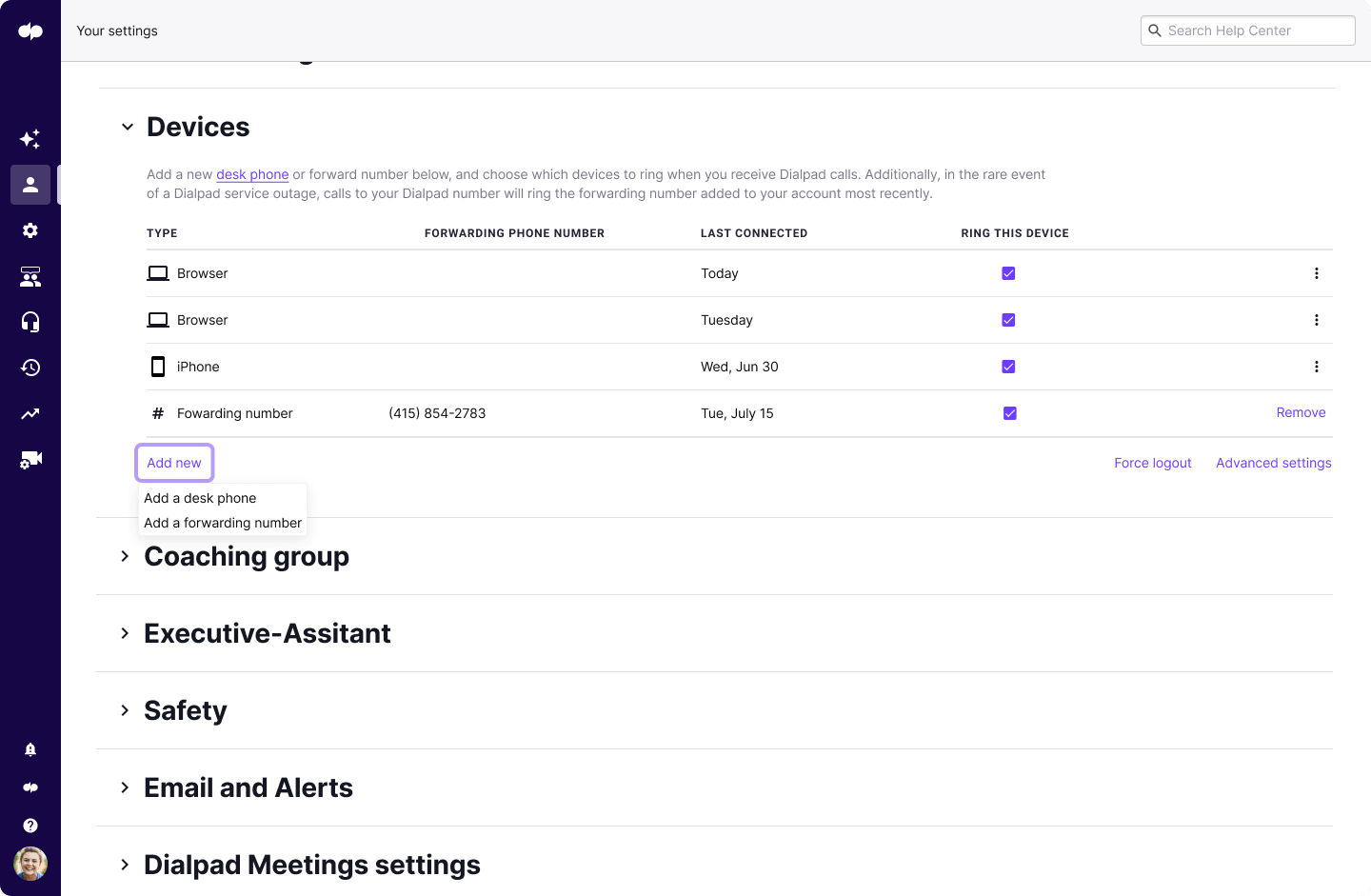 With Dialpad, you can add your cell phone number into your settings in two clicks and all of your calls will be automatically forwarded to your cell.
Call transcriptions (and live call coaching)
Hiring and training new employees can eat into a lot of your time. Live call coaching can get back some of that time because it can help you get new employees on the line faster and see how they do on calls.
Dialpad's Voice Intelligence (Vi) technology allows it to not only transcribe calls in real time, but also pick up on keywords and phrases to help with call coaching: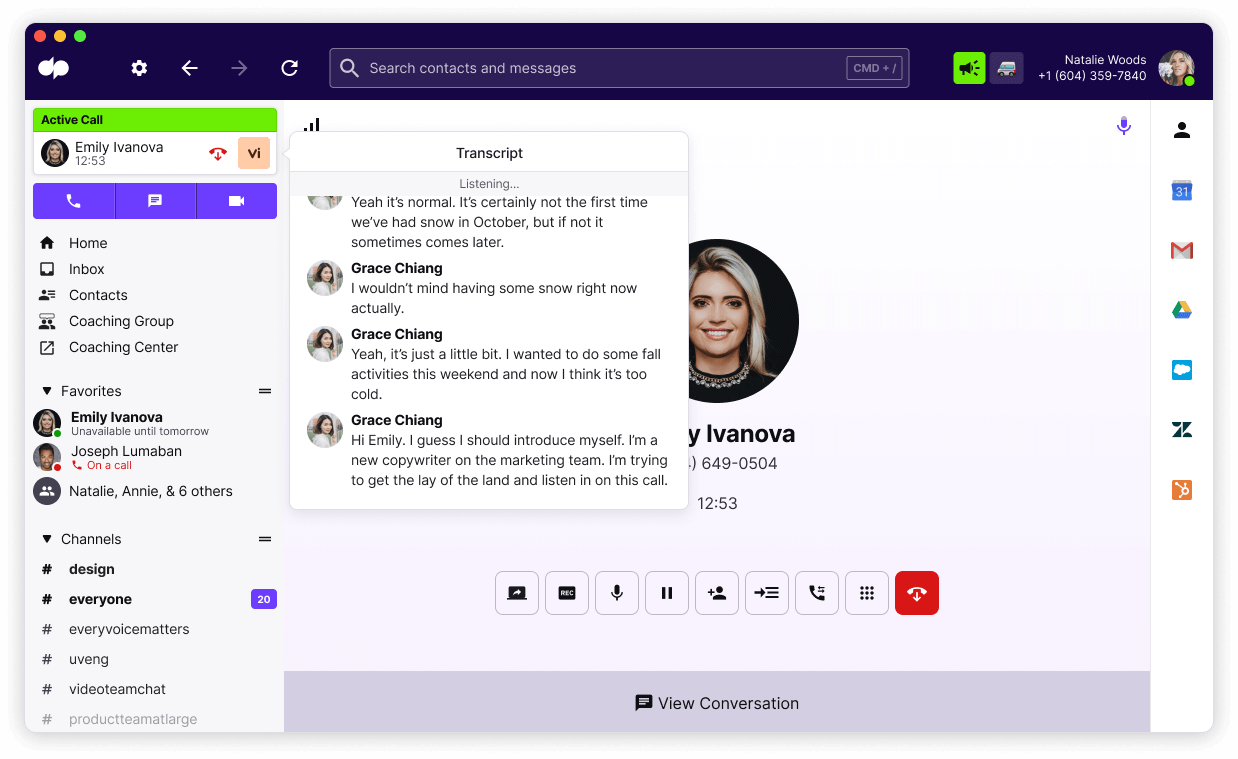 Caller ID
Caller ID is a must for your business VoIP phone system. With Dialpad, you can choose which caller ID profile you want displaying when you call someone: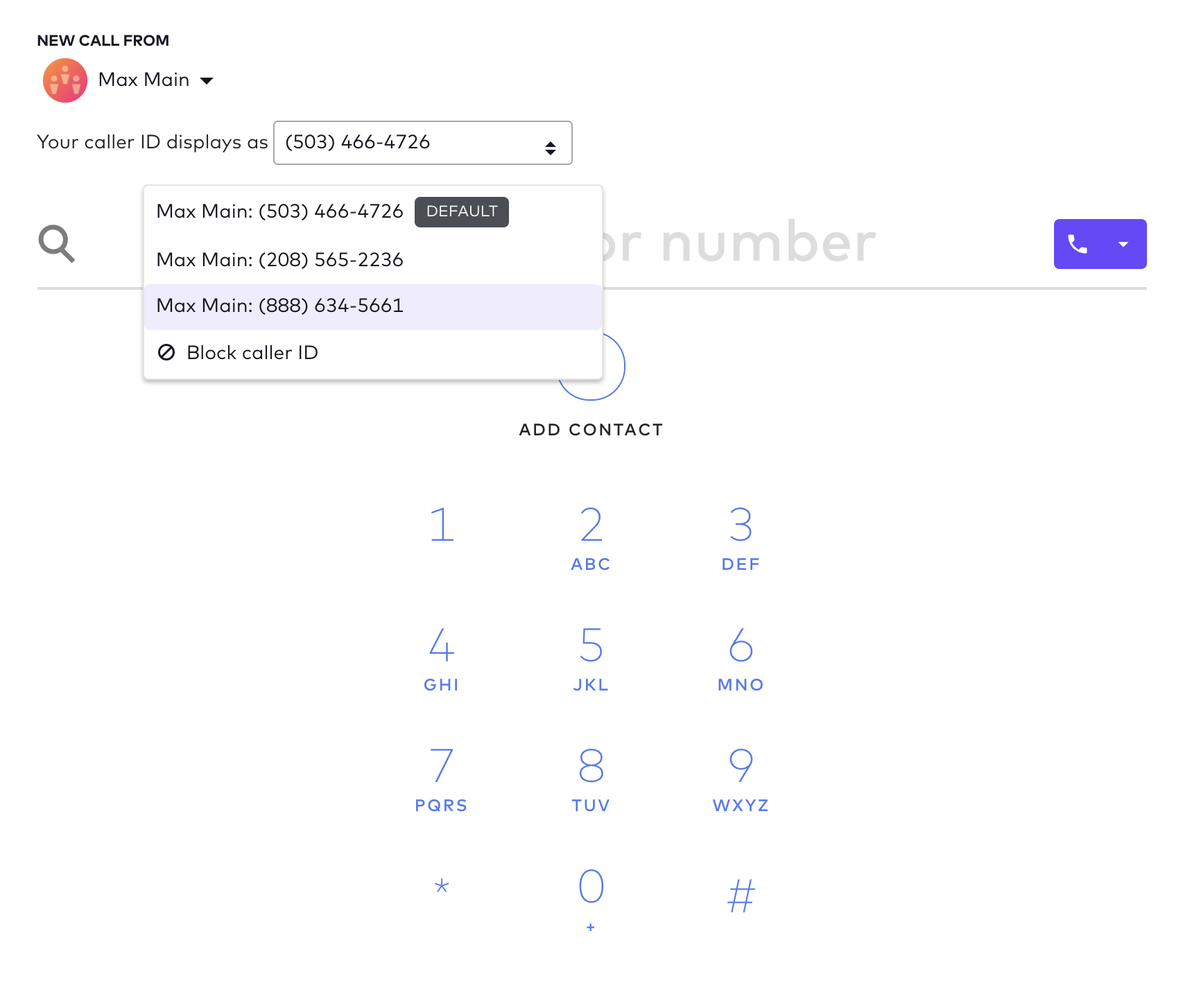 👉 Dialpad tip: You can always dial *67 before your recipient's number to block your caller ID or *87 to unblock it.

Visual voicemail
Do you ever wish you could just skim all of your voicemails instead of listening to them? Visual voicemail is a feature that uses voicemail transcription, turning your voicemails to text, so you can read them whenever you want.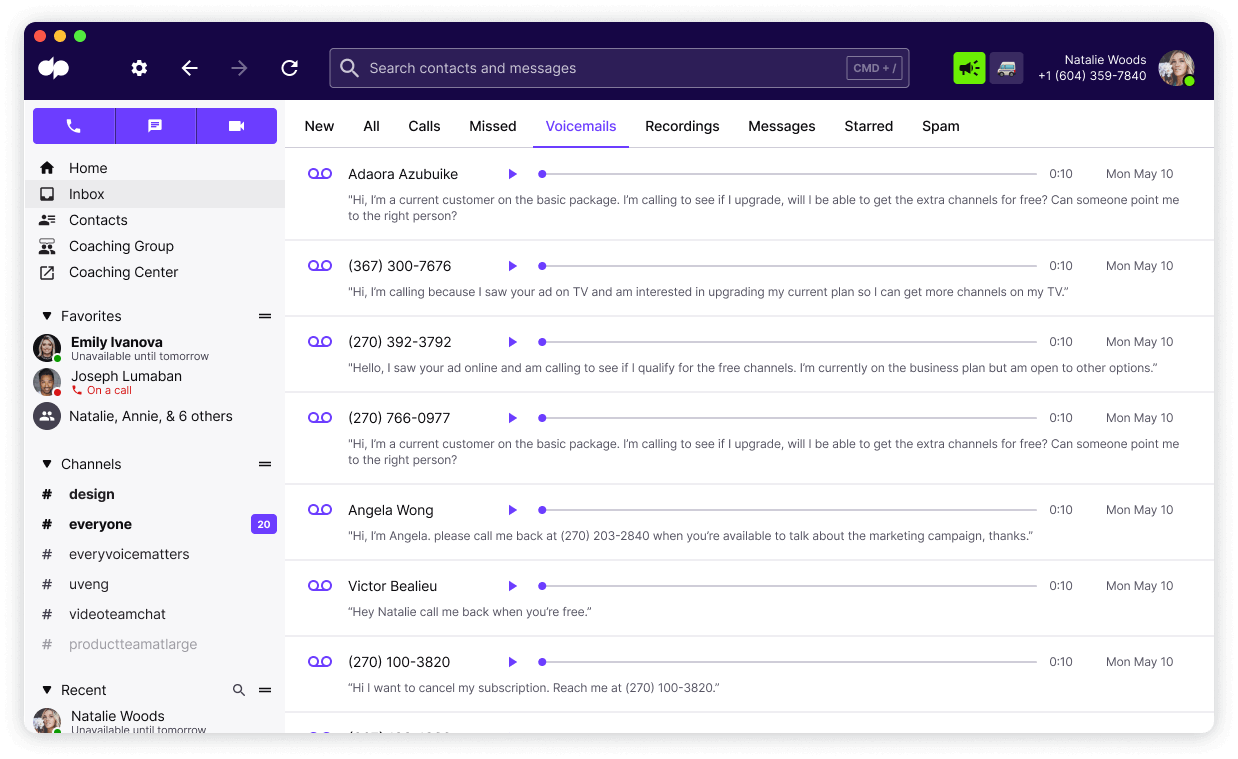 Call routing and call transfers
With call routing and call transfers, you can delegate some responsibility by setting up routing options that send calls to an office manager, customer service, or a sales rep.
Dialpad lets you forward calls to up to five numbers, landline or mobile phone numbers, even if they're not Dialpad numbers.
Quick and easy deployment
With a VoIP phone service, setting up your phone system should be simple. With a Dialpad deployment, your team can BYOD (Bring Your Own Device) and get set up on the computers and mobile devices they already use.
If you want to set up a traditional desk phone or office phone, that's cool too, and Dialpad can help you. Either way, deployment can (usually) be done in one day for a small business.
Existing number porting
If losing a favorite number is what's holding you back from switching to a business phone service—then we have some good news for you.
The best business phone services let you easily port in an existing number from your current provider. When you port a phone number with Dialpad, there's no interruption in service. As soon as your number is ported, you're good to go with the number you love on a virtual phone system.
Mobile and cloud compatibility
Mobile and cloud compatibility are important factors to consider when choosing a phone solution. A cloud phone system isn't tied to one location—it means you can take calls from anywhere, using a mobile or desktop app.
Software updates will be automatically installed, and if you need to add a new user or phone number to your service, you can easily do that without any IT help

FAQs about small business phone services
What is the difference between a phone system for small businesses and for large businesses?
With Dialpad, you get the same great advanced features and pricing options, whether you're a big or a small business. From unlimited calling to toll-free numbers, from auto-attendants to
crystal clear, HD audio call quality… Even small businesses can get advanced functionality with Dialpad.
What industries benefit from having a phone service?
Any industry! No, seriously. If you have to talk to customers, clients, or prospects on the phone, you probably need a business phone service. Especially if your business is making lots of international calls—a good VoIP provider can save you a lot of money.
How do I choose a small business phone service?
You've probably seen ads for Ooma, Nextiva, and Vonage—but they can't deliver the same depth of features and truly unified platform that Dialpad can.
Take it from Stanley Fukuda, Systems and Technology Manager at Mediasmith: "We looked into all the major players, RingCentral, services offered by our ISP, and Grasshopper to name a few. Dialpad came out on top in features and ease of management."
What is the average cost of a phone service for small businesses?
The average cost of a phone service for small businesses will vary depending on the company's size, how many users there are, and which pricing plan you go with. Dialpad Talk's lowest plan starts at only $15 per user per month, for example, and comes with pretty much everything you need included. There's also the Dialpad for Startups program, which helps early-stage companies grow with business phone lines and video conferencing. The program offers 10 free seats of Dialpad Talk Pro (business lines) and 10 free seats of Dialpad Meetings' Business plan (professional video conferencing).
How do I choose a business phone number?
If you're with a cloud-based VoIP provider, you'll get virtual phone numbers. Decide if you want or need new business numbers, a toll-free number, a vanity number—or port in your existing number. You can do all four with Dialpad!
How can I get a free business phone number?
You can get a free business number with any of Dialpad's plans! (Which also come with unlimited calling, call management tools, a mobile app, call recording, and plenty of integrations with tools and CRM software like Salesforce and Microsoft.

Improve your business communication and customer service with a small business phone service
If you're a small business owner who needs to make a fair number of business calls every day, your decision will most likely end up being based on a balance of budget and the features you can get.
If you need a better way to manage your business communications or want to switch to a better small business phone system, why not give Dialpad a try?