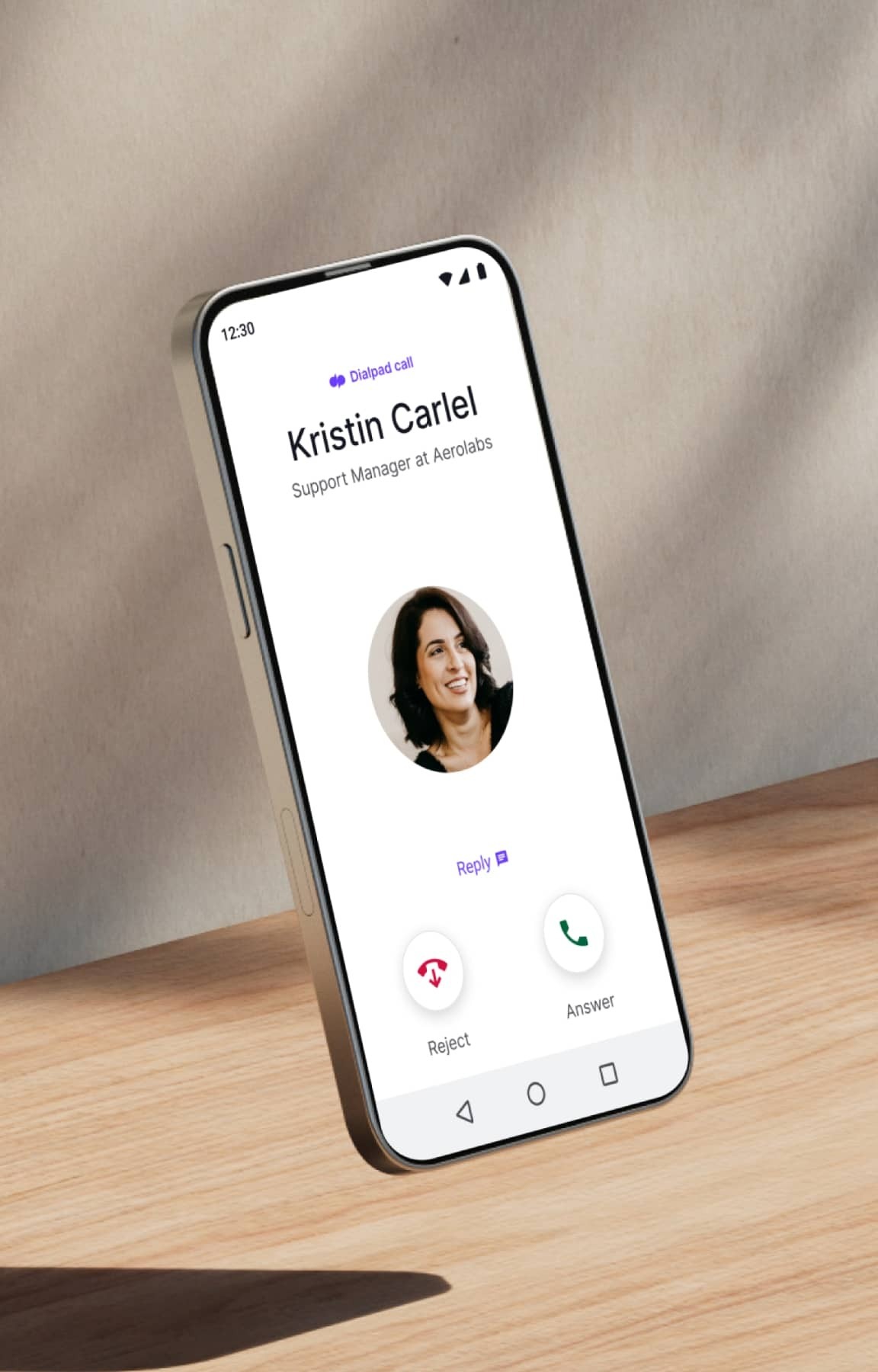 A GETTING STARTED GUIDE
Dialpad Ai Contact Center tips for agents: Part 1
Learn how to get started with Dialpad Ai Contact Center. Start adding agents, taking calls, setting up AI-powered coaching, and more! Haven't signed up yet? Book a product tour to get a personal walkthrough of how Dialpad works!
Dialpad Ai Contact Center empowers agents and supervisors to deliver personalized support at scale.
If you're just getting started with Dialpad Ai Contact Center, we're here to, well, offer exactly that when it comes to your first few days navigating your new contact center software.
Headset? Test it out
A good headset can make or break a conversation. And whether you opt for a wired or Bluetooth headset, having a reliable headset is key to connecting with your customers. After all, if you can't even hear them, how are you supposed to help?
Just look for the Headset icon in your desktop app to check that yours are connected to Dialpad.
Want to double-check everything works before starting your shift? Select Test Network & Audio to go through our testing wizard and make sure to share the results with your manager if more help is needed.
Placing and receiving calls
You might have already noticed that you've got an extension assigned to you (you'll see it listed next to your name in the app). That's from the call center you've been assigned.
So what does that mean for how you'll handle calls? Two things:
People can reach you directly by dialing your extension
You can place and receive calls on behalf of that call center
Go ahead and try a test call—the same label we show on your inbound call notification will also appear on your active call screen once you accept the call (this way there's no confusion about who's calling who).

And as you probably already guessed, there's a good chance that you won't be the only one answering calls on that line. That doesn't mean you won't get credit, though. We'll still mark which agent answered in the app as well as the KPIs your manager has access to.
Tour your inbox
Once you've downloaded the Dialpad app, you'll see that your left-hand sidebar has a section called Call Centers which lists the different ones you've been assigned to.
Go ahead and click into one to review that call center's inbox to display the tabs for:
Hold Queue
Agents
New notifications
All notifications
Spam
Let's take a closer look at some of the tabs you'll probably be using the most: Hold Queue, Agents, and Voicemails.
Your Hold Queue is where callers (you guessed it) wait on hold for the next available agent. You'll be able to see the caller ID as well as the amount of time they've been on hold.

Callers are routed to the next available agent depending on whatever call routing rules your manager has set up, like fixed order or skills-based routing.
Speaking of, your Agents tab will show you all the other agents that have been assigned to the call center and what their current status is.

Your Voicemail tab is where you can go back to listen to messages left by callers (you can also breeze through by reviewing the embedded transcription).

Taking a break vs End of day
Whether you're stepping away for a quick bite or it's time to head home for the night, Dialpad gives you a few different options to pause calls from routing to you when you can't answer:
Custom Off Duty Statuses
Do Not Disturb (DND) on call centers
Do Not Disturb (DND) on personal calls
Let's start with your Off Duty Status. Toggling between the options here will reflect across all the call centers you've been assigned. Other agents and managers assigned will be able to see your status and your manager will be able to pull reports on it or receive alerts (if they set those up) for when you're available vs out to lunch.

Now let's say that you're still available but maybe you're pausing calls for one specific call center. In that case, you'd want to toggle on your Do Not Disturb (DND) for that particular call center. You'll find this toggle on the main view of your call center.
And if you're leaving for the day and want to pause all notifications, we'd suggest toggling your main Do Not Disturb (DND) under your profile drop-down menu. This way you're not receiving calls or message notifications from call centers as well as any internal conversations you might be having with colleagues.
Helpful links
Looking to learn more about how to try the features above? Check out some help articles that go into more detail and offer FAQs and tutorial videos:
Ready to move on? Check out our part two guide that highlights how to leverage features like integrations and real-time recommendations to deliver personalized support no matter where you work.
Want to see how Dialpad Ai can work for your business?
Book a personalized product tour to see how your Support, Sales, and other teams can use it!