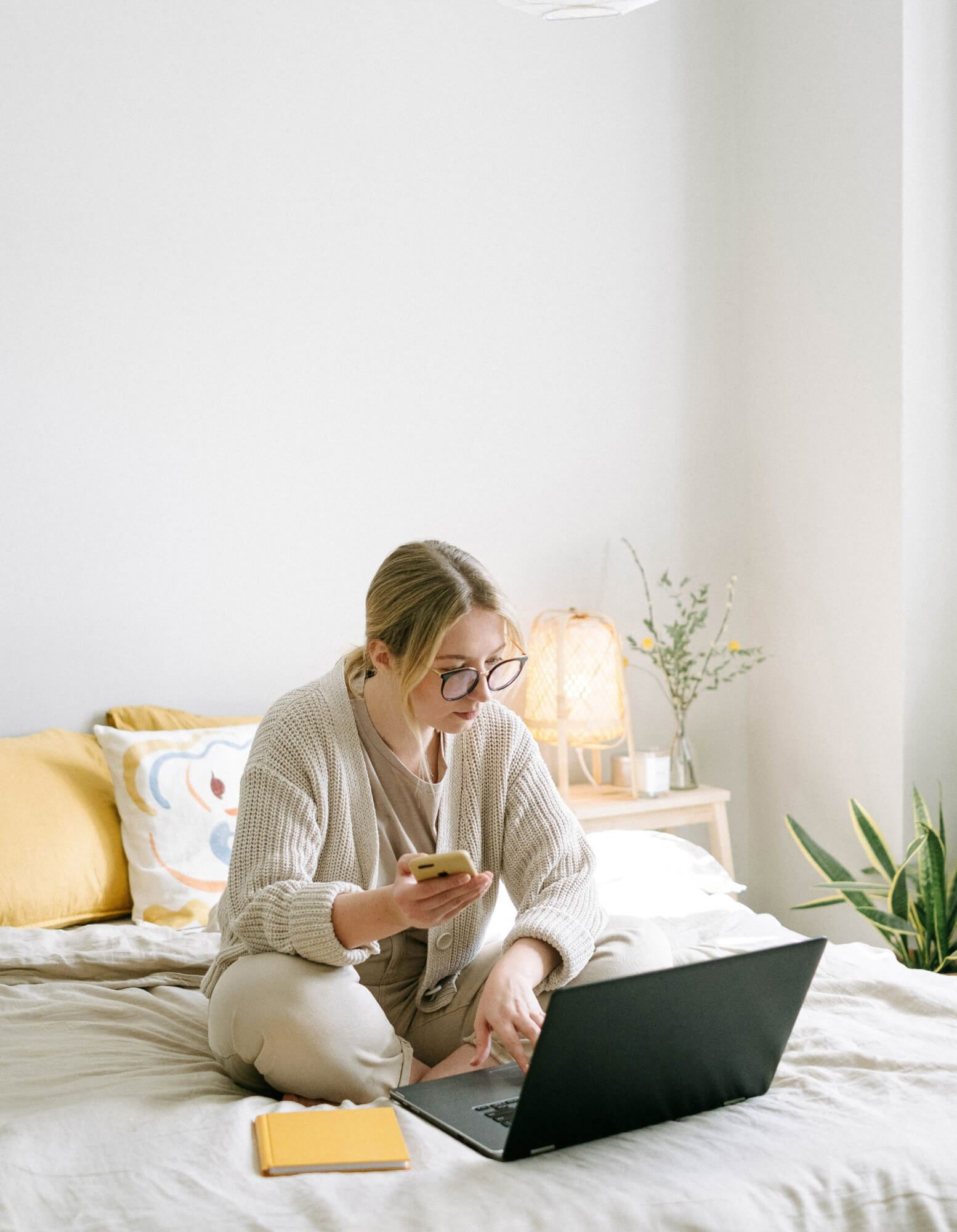 Interactive Voice Response
What Is IVR?
A modern contact center IVR plays a key role in establishing effective call routing flows. Great IVR systems not only increase call center productivity, but also improve the customer experience. Get a product tour of how Dialpad's IVR feature works!
If you've ever called a business line before and been greeted with an automatic voice asking you to "press 1" for general inquiries or "press 2" to learn about their policies and so on, then you've interacted with an interactive voice response (IVR) menu.
They're essentially a type of auto attendant that directs incoming calls to the person or team they need to go to. In The Office, they've got Pam; in your business, an IVR attendant fills that role.
Let's look at:
What IVR is

What is an IVR menu?

What are the benefits of IVR?

4 essential IVR business use cases

Setting up IVR: A few things to know

IVR implementation best practices
What is interactive voice response (IVR)?
The average IVR menu gives you a list of options to choose from, then prompts you to key in the number that most closely matches the reason why you're calling. (You might also sometimes see these referred to as DTMF tones, but they're basically just the touch-tones on a keypad.)
Newer variations on the classic interactive voice response system model might ask you to say your reason for calling out loud, then analyze your response using speech recognition technology.
What is an IVR menu?
An IVR menu is just the automated list of options presented to a caller when they contact your business. For example, they can choose to be connected to a particular person or department, and the system will automatically route the call to the appropriate place.
The latest IVR systems use artificial intelligence to transcribe what the caller says and figure out their needs. They typically offer self-service options for simple inquiries, such as providing information or accepting digital payments. If the caller needs help with something more complex, the system can direct them to a human agent.

Callers and customers tend to appreciate well-structured IVR menus, especially the ones they only need to listen through once to know which number to key in or what to say out loud.
4 core benefits of using interactive voice response
1. It helps you strategically lighten the burden of your agents
If your business has a high call volume, this one's for you. Using IVR software can help you manage your call flow, which in turn allows your contact center to handle a higher real-time call volume effectively.
The more people who call you, the harder it is for your agents to resolve everyone's issues without being rushed into finding the "quick" answer rather than the right answer. Not great for customer satisfaction.
That's why it's so important to keep an eye on your call volume. Which, by the way, you can easily see with Dialpad's Contact Center platform, along with your agents' average speed to answer (basically, are you picking up the phone in a timely manner?):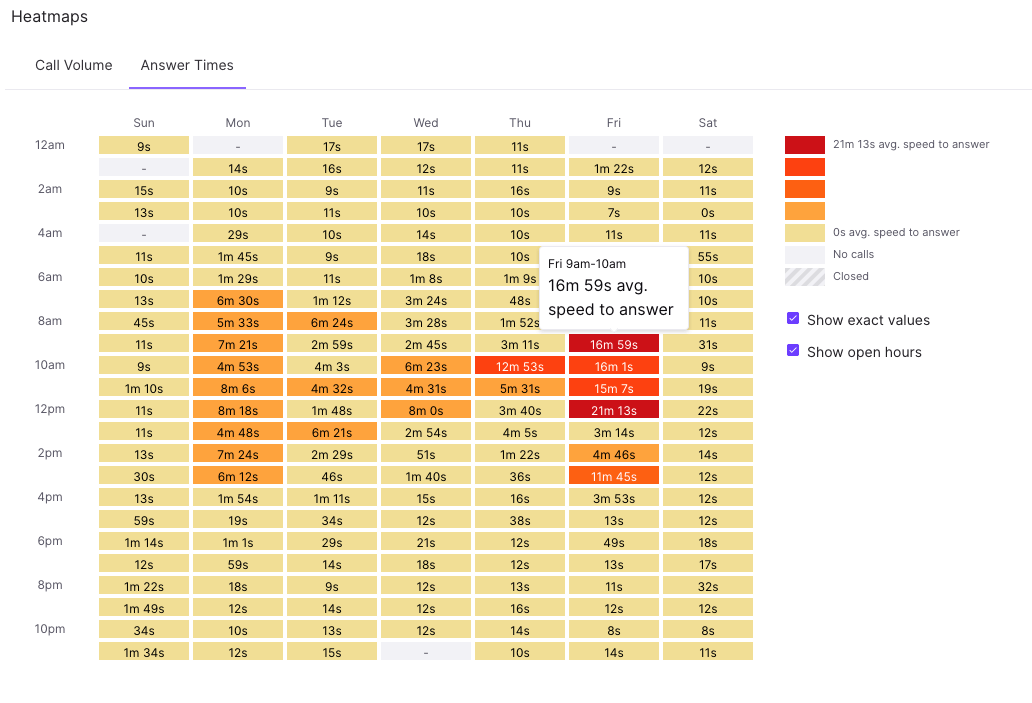 So, what does this have to do with your IVR? Well, if you notice your contact center team is regularly swamped with calls and customer satisfaction is going down, then you might want to look at adjusting your IVR as a solution.
Is your IVR menu working as hard as it can? One way you can try to figure this out is by seeing if your menu options are actually being used by your callers. Which, again, you can see in your Dialpad account: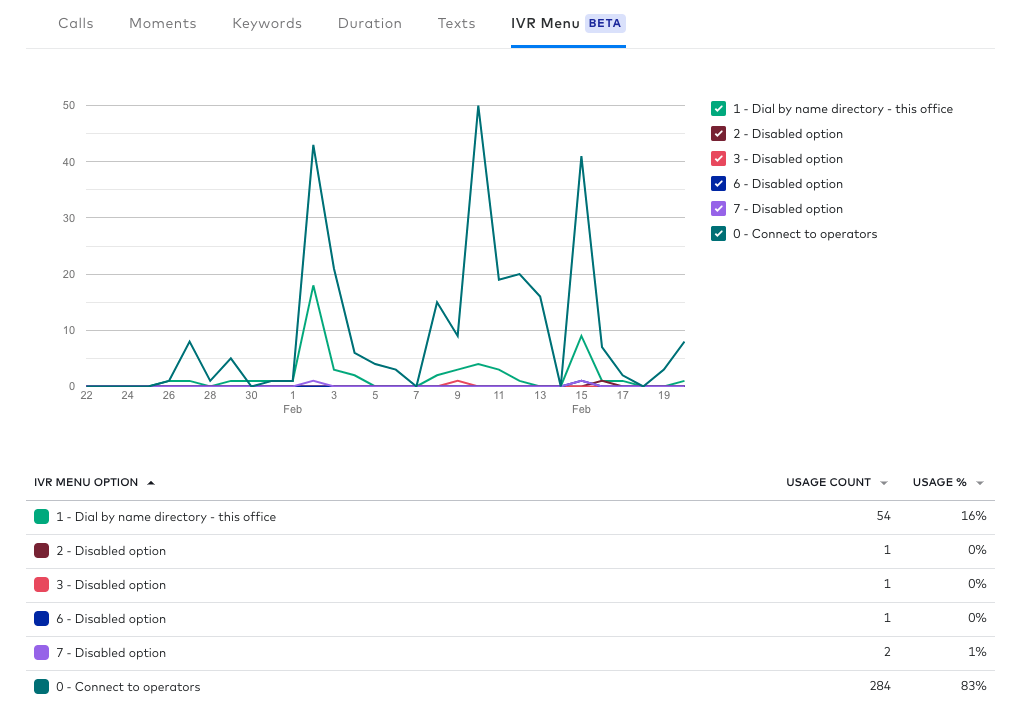 2. It helps you provide a better overall customer experience
Customers like to be helped—and they don't like to be kept waiting.
With IVR, you can automate huge chunks of the phone experience to make sure that anyone who calls your business is always sent to the right place to resolve their query, with minimal waiting or time spent on hold. (Thanks, callback options!)
That's one of the biggest reasons why IVR is so important when it comes to improving the customer experience—IVR menus reduce the amount of effort your callers have to put in.
(It also helps that customers these days are used to calling a business and being greeted by IVR software and a list of menu options, not a human operator.)
This way, your business doesn't need to list a different phone number for every department on your website—it can list just one VoIP number to receive every type of customer call… And still allow them to reach the specific person they need.
How much better would that make your customer experience on the phone?
3. It removes (or at least minimizes) human error
IVR platforms are, by nature, more accurate than a human would be at their one purpose: directing or transferring calls to the right person or team.
When your callers choose an option from the menu, it's guaranteed that they'll always be redirected to the right place thanks to IVR's foolproof accuracy, whereas a human operator in the same place would be bound to mess up once in a while.
And if they don't get directed to the right person? It's more likely that it's because they entered or said the wrong IVR menu option—not because it's the IVR's fault.
(What's more, having a pre-recorded voice read out all phone menus means there's no chance that this voice could stumble over a word, or mispronounce anything, or leave long pauses.)
4. It allows you to go global—while improving your bottom line
Handling more customers while providing a good customer experience naturally leads to, well, more money.
A good IVR system that's part of a good on-the-phone customer experience can be a key weapon in your customer retention arsenal. Use it!
The other important thing is that with some IVR software, you can record greetings and menus in multiple languages, which makes your contact center—and your business—more accessible to international customers.
And unlike humans, IVR menus don't need to eat or sleep. When your team is off the clock, your IVR system can still take at least part of your customer calls and answer certain types of questions.
Need an IVR for your business or contact center?
See how easy it is to set up and customize an IVR with Dialpad! Book a product tour to check it out.
How does IVR improve your business processes?
The biggest benefit of having an IVR system for your business is, of course, that it lets your callers direct themselves to the right person using their keypad or by speaking into the phone. It's one of the most basic examples of automation in a business.
You don't need to hire someone or make it part of your team's job to answer the phone and transfer calls all day. This is one of the most useful telephony features for businesses that want to be more efficient with their resources and staff, especially if they're the type of business that gets a lot of calls every day.
Overall, IVR is an effective way for organizations to cut down on costs while still providing customers with a more efficient experience.
👉 Dialpad tip:
If you need to, you can configure DTMF in a few simple steps using Dialpad.
How does an IVR work?
A few years ago, you would have needed a ton of expensive equipment to run an interactive voice response system. Dedicated software on a separate computer, a database, a couple of servers—not to mention an IT team to install and look after everything.
But these days, IVR is built right into cloud-based communications platforms. (Like Dialpad!) It's super-easy to set up and configure—and all the infrastructure is owned and maintained by your vendor, so it costs you less, too.
Here's how it works.
When a call is received, the IVR system springs into action and greets the caller with a pre-recorded welcome message. Then it goes through the list of options, which you've pre-programmed to suit the needs of your business.
The most advanced systems use speech recognition technology, so they'll ask the customer to give a brief description of their reason for calling (for example, "I need to change my password" or "I want to pay a bill"). These systems use AI to recognize and understand the words spoken by the caller.
Other systems will ask the caller to press certain numbers on their phone's keypad ("#1 for accounts, #2 for tech support," and so on). They can detect the dual-tone multi-frequency (DTMF) tones from a phone's keypad, and use the information to process the request.
When the system detects a simple inquiry, it may provide self-service options. Otherwise, it'll route the call to the most suitable destination, as defined by your pre-set call routing rules. This may be based on availability or skill set, or on a rotational basis.
If a caller wants to speak to someone who's not picking up, the IVR menu will offer alternative options such as trying a different department or leaving a voicemail.
Dialpad's IVR system is capable of handling callers' requests in both of these ways, and making sure they get the right information as efficiently as possible.
How do you set up an IVR?
IVR menus are sometimes called "phone trees" because each option can lead to further options (like the branches of a tree). It's best to keep things as simple as possible, to avoid confusing or frustrating your callers.
Dialpad makes it easy to customize your IVR menu—you can design a call flow that best suits your business and your customers in minutes, right in your online dashboard. Think about the most common reasons why people call you. Look at data from previous interactions, identify FAQs, and program your IVR to provide the answers.
Once that's done, you'll have a fully automated contact center IVR that can guide your callers!

Mistakes to avoid when setting up your IVR phone system
1. Creating an overcomplicated recorded menu
One of the key benefits of an IVR phone system is clarity. It needs to help your callers understand exactly where they need to go to have their problem solved. And to do that, your menu system has to be intuitive.
Try not to have too many options in your menu because it's likely to just frustrate your callers, increase their chances of hanging up, or lead to them just punching in a random number and getting sent to the wrong department.
As a general rule of thumb, try to limit yourself to four or five options. Talk to your customer support or customer experience team to find the most commonly asked questions or issues, prioritize those in your IVR menu, and continuously refine this over time.
2. Making it impossible to speak with a rep
Of course, limiting yourself to fewer options means that not every single customer query can be directly addressed. Because of that, your callers will sometimes need to speak to an actual person to get their question sorted out. Make sure they can do this from an IVR menu. Too many companies make it near impossible to talk to a person, and this is one of the biggest pitfalls when it comes to the customer experience.

3. Not looking at your data regularly (like hold times, abandoned calls, and so on)
If you're concerned about your overall customer service, looking at KPIs and metrics is a good place to start. For example, two of the big ones are hold times and abandoned calls (and they're related too).
There are different ways you can address this. One way is to set up in-queue callbacks so that your callers can choose for an agent to return their call when they're available instead of waiting on hold: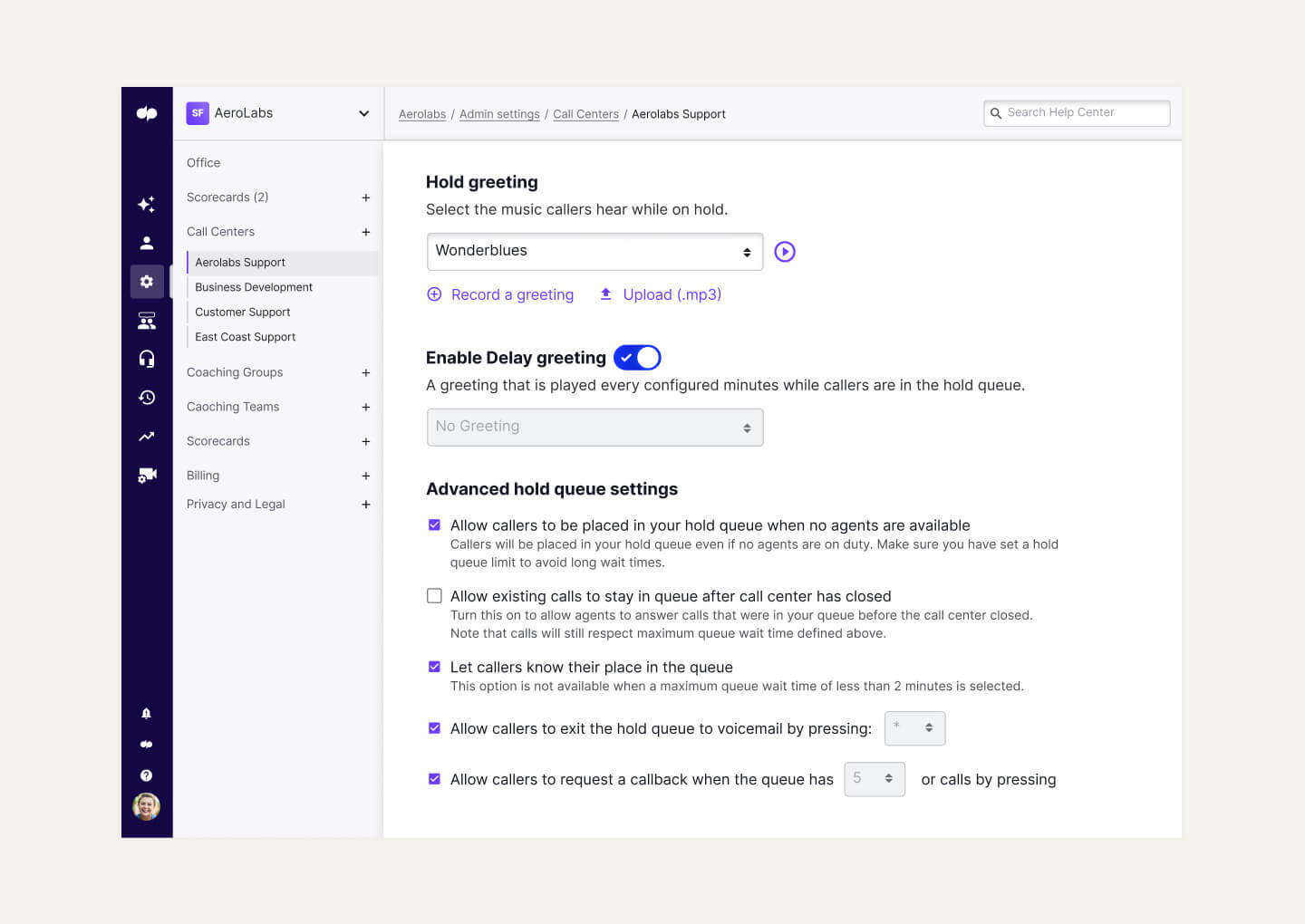 4 essential IVR business use cases

If your business isn't already using an IVR solution, here are four reasons to look into it:
1. Contact center routing
When your customers are trying to get in touch with you, the last thing you want is for your contact center or call center team to put you through to the wrong advisor.
That's where call routing comes in.
In the specific case of contact center routing, IVR helps ensure that all inbound calls are routed to the right agent, right away. This keeps the average duration of calls as low as possible, since the vast majority of callers will be putting themselves in touch with the people who can resolve their issue quickly.
Being able to allow your callers route calls and do that heavy lifting for you also comes with an added bonus: It keeps your contact center queues shorter, which creates a better customer experience overall.
2. Surveys and polls
IVR is also a fantastic way to get callers to provide feedback or answer a short survey.
All you've got to do is set up your IVR system to offer callers the chance to provide feedback or answer a quick survey at some point during the call (ideally at the end—right in the middle tends to interrupt conversations).
They're a great tool for measuring customer satisfaction. For example, you can set up a CSAT (customer s atisfaction) survey in Dialpad in just a few clicks: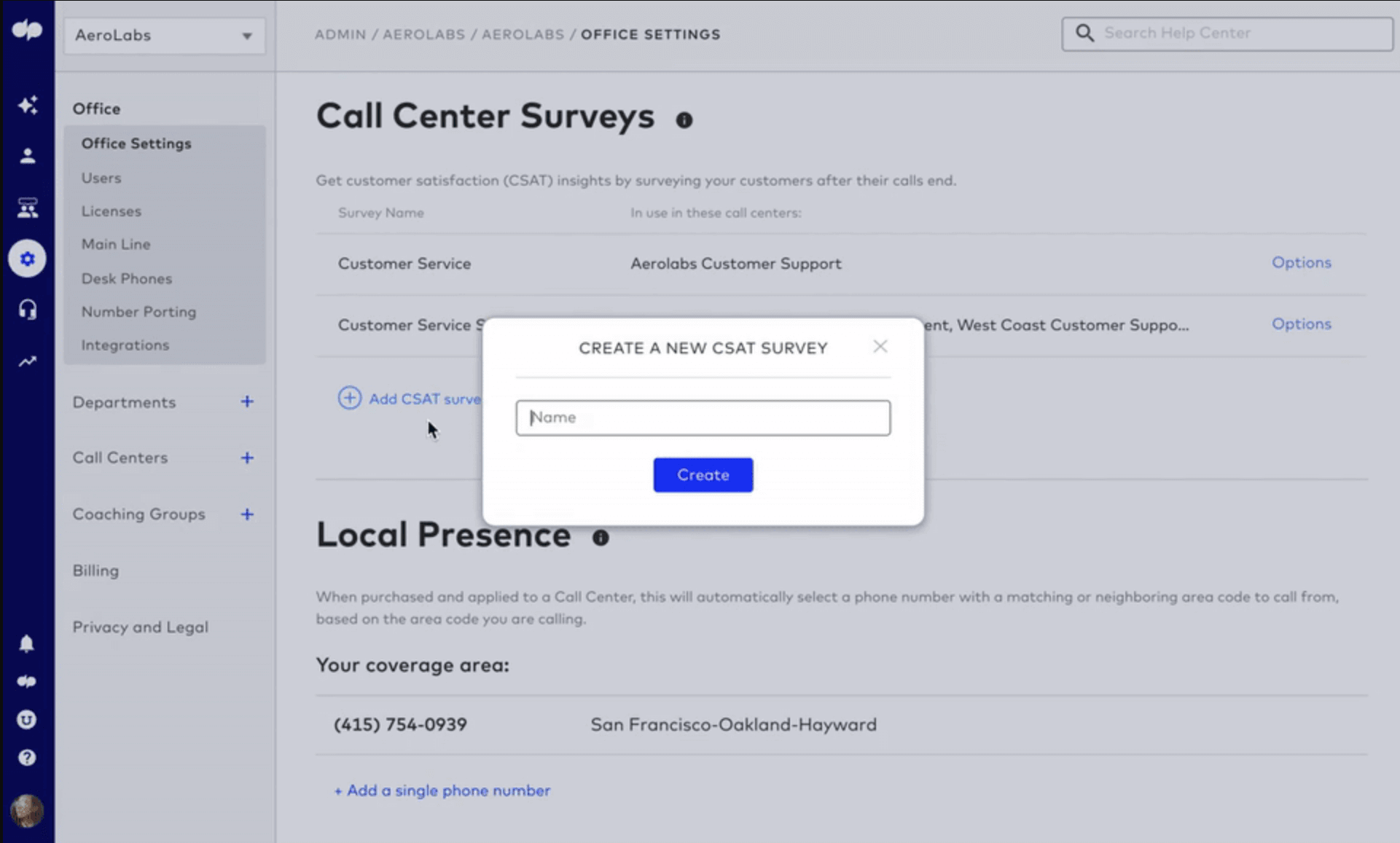 Just type in your survey question, and Dialpad's text-to-speech feature will automatically ask that question in your customer calls.
Plus, you can ask them to elaborate on their response, which Dialpad's Voice Intelligence (Vi) technology can then transcribe so your team can review easily later on: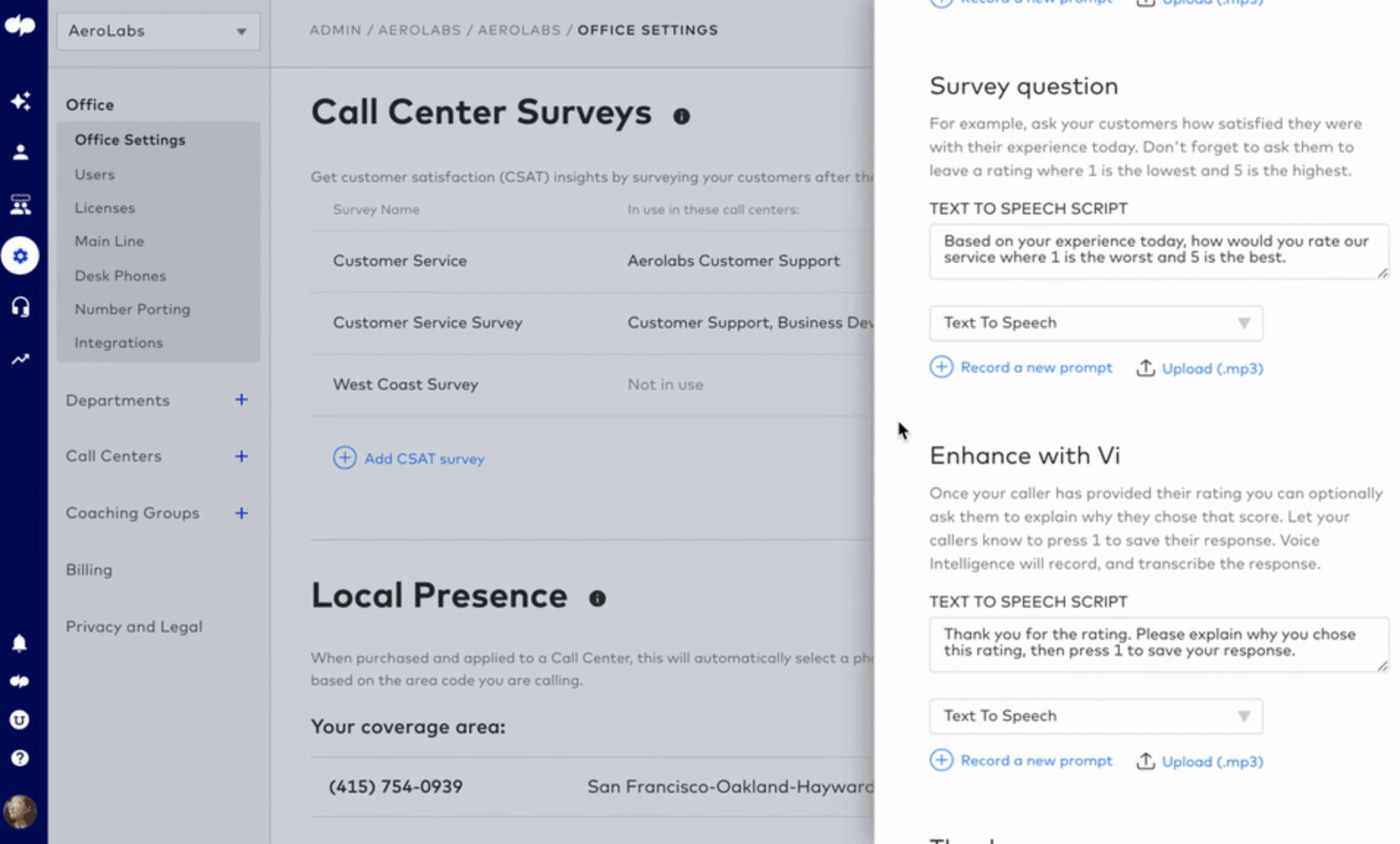 3. Office calls routing
This is subtly different from contact center routing, since most office calls will be going through to coworkers, receptionists, or other members of the office rather than a live agent in a call center.
Think of these calls as the types of phone calls you get at your HQ, rather than the ones that go to your customer support team in an inbound contact center.
You may still have someone at reception to greet visitors and pick up the phone when it does ring, but you can at least minimize those kinds of repetitive desk phone tasks with an IVR system that can take care of most of the call routing work.
Long story short: Good IVR applications turn call routing into a self-service—and cut out the need to hire an operator or dedicated virtual receptionist.
4. Bank and stock account transactions
These days, it's pretty easy to check your account balances from your mobile device or computer. It's just kind of how that customer experience has naturally progressed.
An IVR system doesn't make you recite your account number (or any other sensitive information, for that matter) to an actual person, and generally it's pretty efficient since it's all automated.
Where human operatives might have call recording functionalities enabled automatically for all the calls they take, IVR systems don't work this way.
Okay. Now let's look at the benefits of using IVR.
Setting up IVR for your business: A few things to know
Generally, depending on the system or IVR technology you have, you should be able to set up and make adjustments to your IVR on your own without IT help. It should not be a huge operation or require that you pay extra fees just to get things set up.
For example, in Dialpad, you can just go into your account to set up things like your call flow, holiday hours, and call routing rules: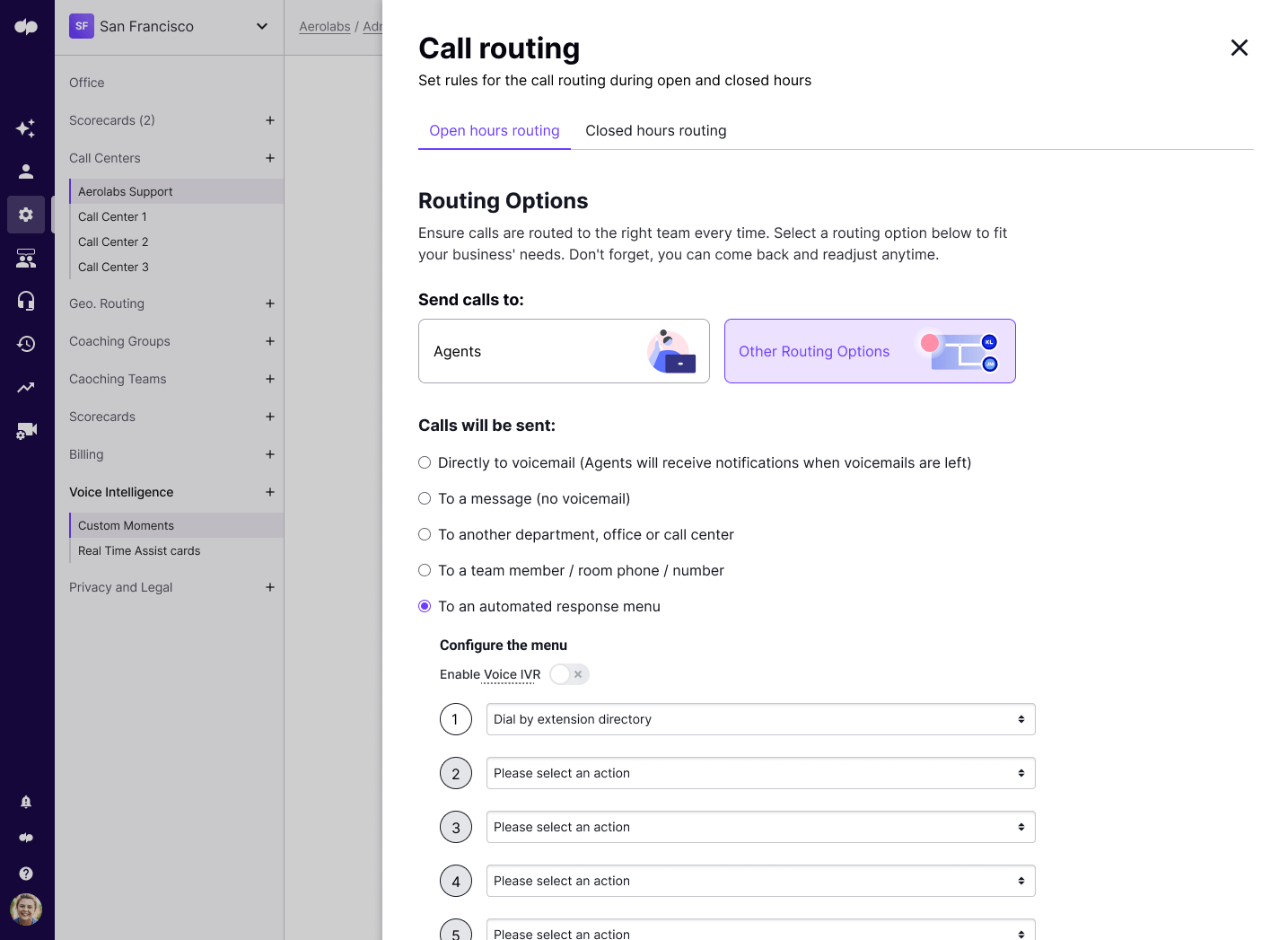 Dialpad lets you customize your IVR however you want. If you have a contact center team, you can add agents to different departments, and make them an agent or a "department operator" in whichever call center teams you like:
👉Dialpad tip:
Dialpad lets you combine IVR functionalities with all the benefits of a virtual receptionist. This means you'll get access to any IVR phone menu options you need, as well as an auto attendant that routes calls and sends them to voicemail for you.
5 IVR implementation best practices

Make sure you're ready for a smooth implementation of your new IVR by keeping these five best practices in mind:
1. Make sure your phone system operates in the cloud
Cloud-based technology is becoming more popular with every year that goes by. And there's a good reason for it.
With a cloud contact center solution or phone system, you don't need expensive or clunky hardware, and you can generally get set up on your own—and from anywhere you want, as long as you have Internet access. Oh, and you don't have to worry about installation fees or upgrade fees with the cloud either.
Basically, if you're looking to implement IVR or any kind of phone system for a business, look into cloud phone systems because they come with massive benefits for businesses (especially remote-friendly ones).
2. Consult your customer experience experts
Your customer experience experts are there to help you optimize your IVR implementation to bring the best possible service to all of your customers. Talk to them!
They'll likely already know what your customers tend to call about, what kinds of actions they're comfortable with doing over the phone, and what they'd rather do online.
Your IVR is only one part of providing a good customer experience—and your customer experience or customer support team will be your biggest helpers in implementing an IVR system because they're literally on the front lines talking to your customers every day.
Involve them in your IVR process.
3. Optimize your on-call and hold times
It might be tempting to assume that it's best to have absolutely no hold time. However, this isn't necessarily the case.
Sometimes, being put on hold is actually better for both the caller and the agent, as the agent has a chance to find answers to the caller's question(s) while the caller gets to avoid sitting around trying to decide when they should drop the next "uh-huh."
Fun fact: customers' overall satisfaction only starts to drop after up to three minutes of being put on hold: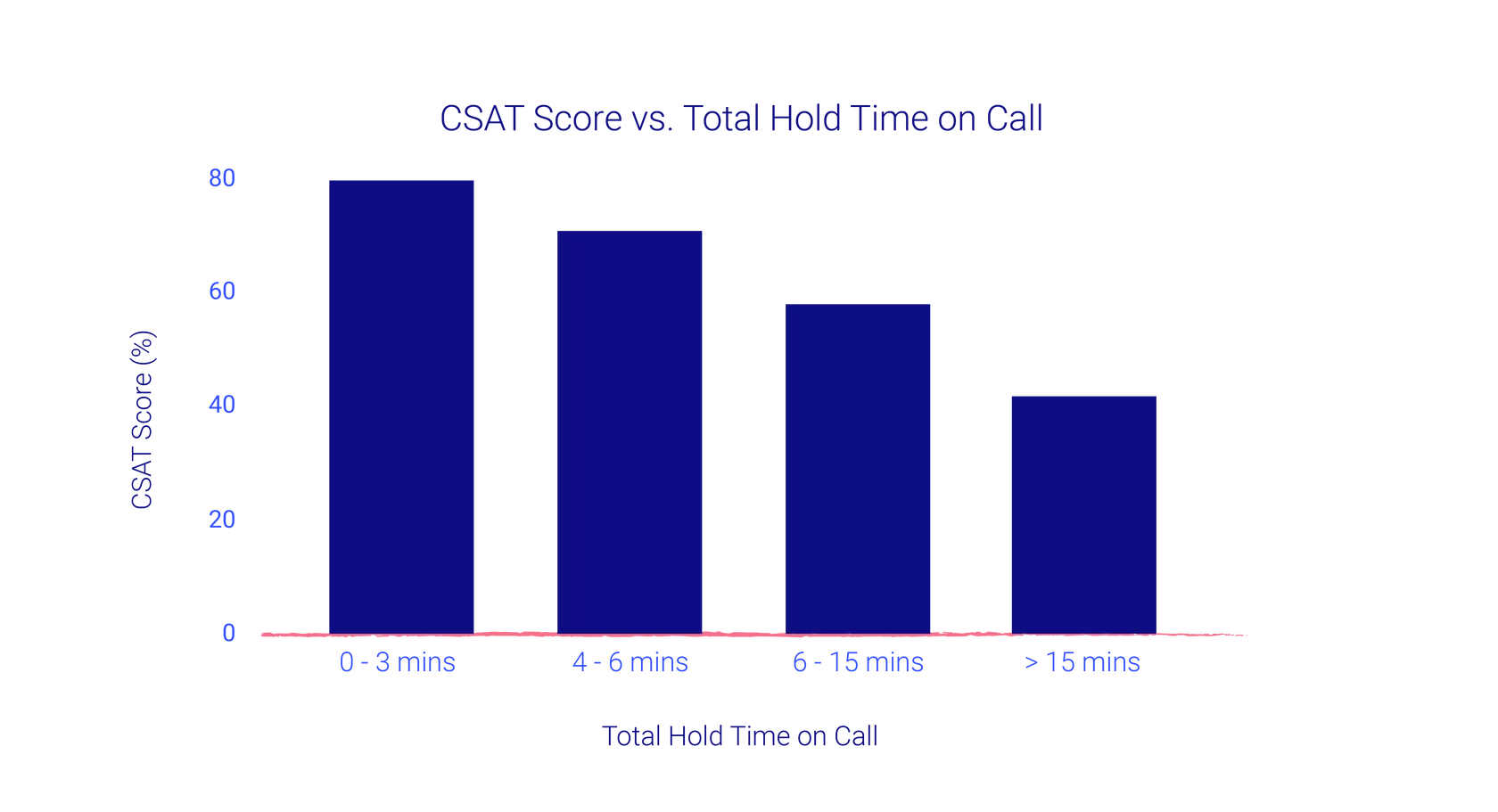 These results do make sense, logically speaking. After all, being put on hold and immediately getting results is usually understandable, whereas waiting for over 15 minutes just to re-enter into conversation is, well, annoying at best. Customers aren't totally unreasonable—most of them do understand that it can take a little time to find answers to tricky questions.
The key here to maintaining that customer satisfaction is not making them wait too long.
4. Start with a simple call menu and adapt it as needed
As with most things, It's generally a good idea to master the basics of something before you start adding extras onto it.
With IVR menus, for example, you can probably start with three or four primary options, and go from there. Monitor how customers are using your IVR, then add or adjust the menu options as you go. Don't start with a hundred different options and five sub-menus—it's much harder to test.
And if you want to use an IVR system that can detect spoken answers, you'll want to first make sure that the natural language processing technology of whatever you're using actually works. If it can't even detect a simple "yes" or "no," then it probably won't be able to detect what your callers are saying if your IVR asks them to say their full names and addresses out loud.
5. Make access to a real agent easy for callers
Sometimes, customers go into a call knowing they're going to need help from a real person. When it takes them ages to figure out which menu options to pick to get to one, they'll end up feeling—you guessed it—frustrated.
That's something that's entirely avoidable.
One of the best ways to let customers easily reach a real person is to set your call routing rules carefully.
You have to make it simple for someone to get through to an agent, or at least be placed in the queue to reach one, reasonably quickly.
Of course, the tricky thing here is to not make it too easy—otherwise, people might get lazy and just choose to speak to someone when you'd painstakingly automated an IVR option that answers that question for them. (For example, if they just wanted to find your business hours but you didn't put that at the beginning of your IVR script.)
This is why it's important to take care when you're setting up call routing and your IVR menus.
Get set up with IVR today
If you don't have a call routing or IVR system set up for your business already, you should!
Not only does Dialpad Ai Contact Center allow you to do both, it also does everything a contact center or call center software needs to be able to do, from CRM integration to automatic call logging (did we mention the built-in analytics?) and more.
Take Dialpad's IVR for a spin
It takes just a few minutes to get started with a virtual business number and try Dialpad for free with a 14-day trial!