Enterprise VoIP
For a large organization or enterprise, a good unified communications platform and phone system are essentials. It keeps distributed teams in sync With enterprise VoIP, you can keep distributed teams in sync—and reach prospects and customers all around the world efficiently and in a cost-effective way. Get a demo of Dialpad to see how it can work for your enterprise organization.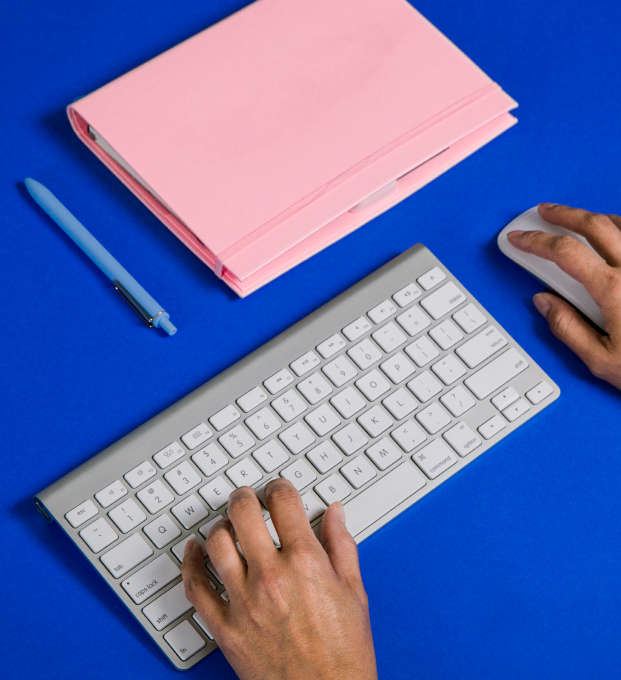 What is enterprise VoIP?
Used by mid to large businesses, enterprise VoIP (aka. "Voice over Internet Protocol" or "Voice over IP") phone systems have become more and more popular in comparison to traditional on-premises PBX systems for a few reasons.
Not only does business VoIP come with expected functionalities like call routing built in, it's also a more flexible and cost-efficient alternative to old legacy systems (more on this in a bit) while incorporating important elements like contact center platforms too.
And beyond just making phone calls, some enterprise VoIP solutions allow businesses to communicate through other channels too, like messaging, SMS, and video conferencing.
What you get with Dialpad
For large organizations, there are a few things in particular to consider when deciding on a VoIP service provider. Here are just a few.
Unified communications
While a phone system is a good starting point for business communications, it's often not the only communication channel an organization uses. If your team uses video conferencing, SMS and instant messaging, and other channels, then it's probably prudent to look for a unified communications platform that includes VoIP calls as one of a few different ways to talk to customers, prospects, and teammates. With Dialpad, your team can consolidate all their conversations into one app instead of toggling back and forth between different software.
The ability to keep your existing phone numbers
Need to port your business numbers over? Dialpad will help you port over your phone numbers, including local and toll-free numbers, with no interruption to your services. (It's free to port your local phone numbers in the United States.)
24/7 global support
When you have questions or technical issues, they should be addressed as soon as possible. Dialpad offers multilingual enterprise support, 24 hours a day, seven days a week via web, chat, and phone. Worldwide. And if you want to troubleshoot on your own, there's an incredibly detailed Help Center knowledge base.
A wide range of integrations
Other than CRMs like Salesforce and HubSpot, Dialpad also has integrations with other popular project management, ticketing, and sales software like G Suite, Office 365, ServiceNow, Happyfox, Intercom, and Zendesk: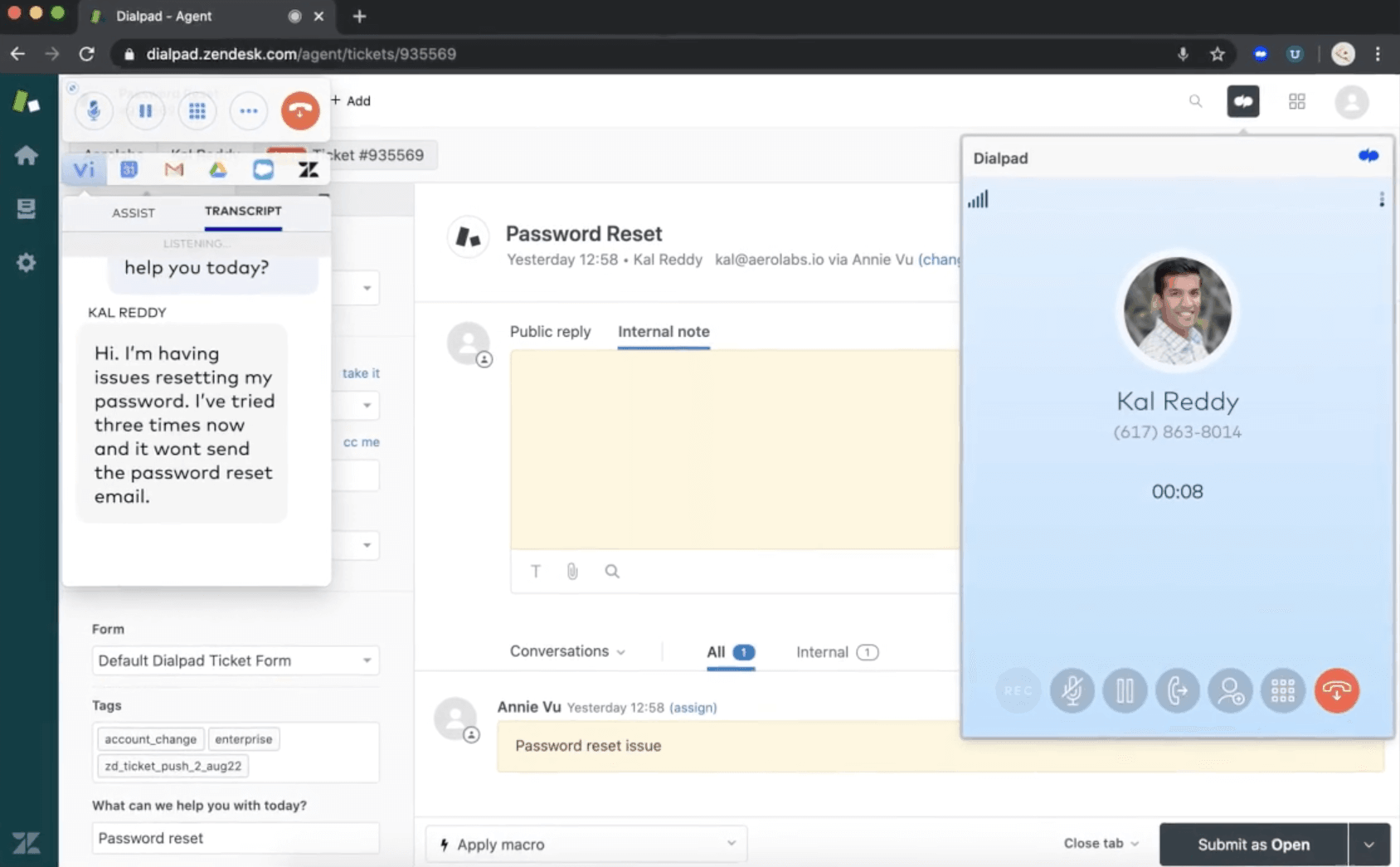 Open API
Enterprise VoIP service providers should have open APIs. It allows for custom integrations and often for large organizations, there are nuances to workflows, processes, and software that require an open API.
Dialpad has that (along with a robust app marketplace), allowing your organization to configure your system to align with your specific business needs.
Desktop and mobile apps
With Dialpad, your organization can download the desktop and mobile app, which works across iOS, Android, Mac, and PC. No matter what devices, mobile phones, or computers your employees—and your clients, prospects, and other third party vendors and stakeholders—use, you'll be able to make calls and have video meetings seamlessly with them. Not only that, Dialpad is also browser-based, meaning you could just use a web browser to have these calls, no downloads needed: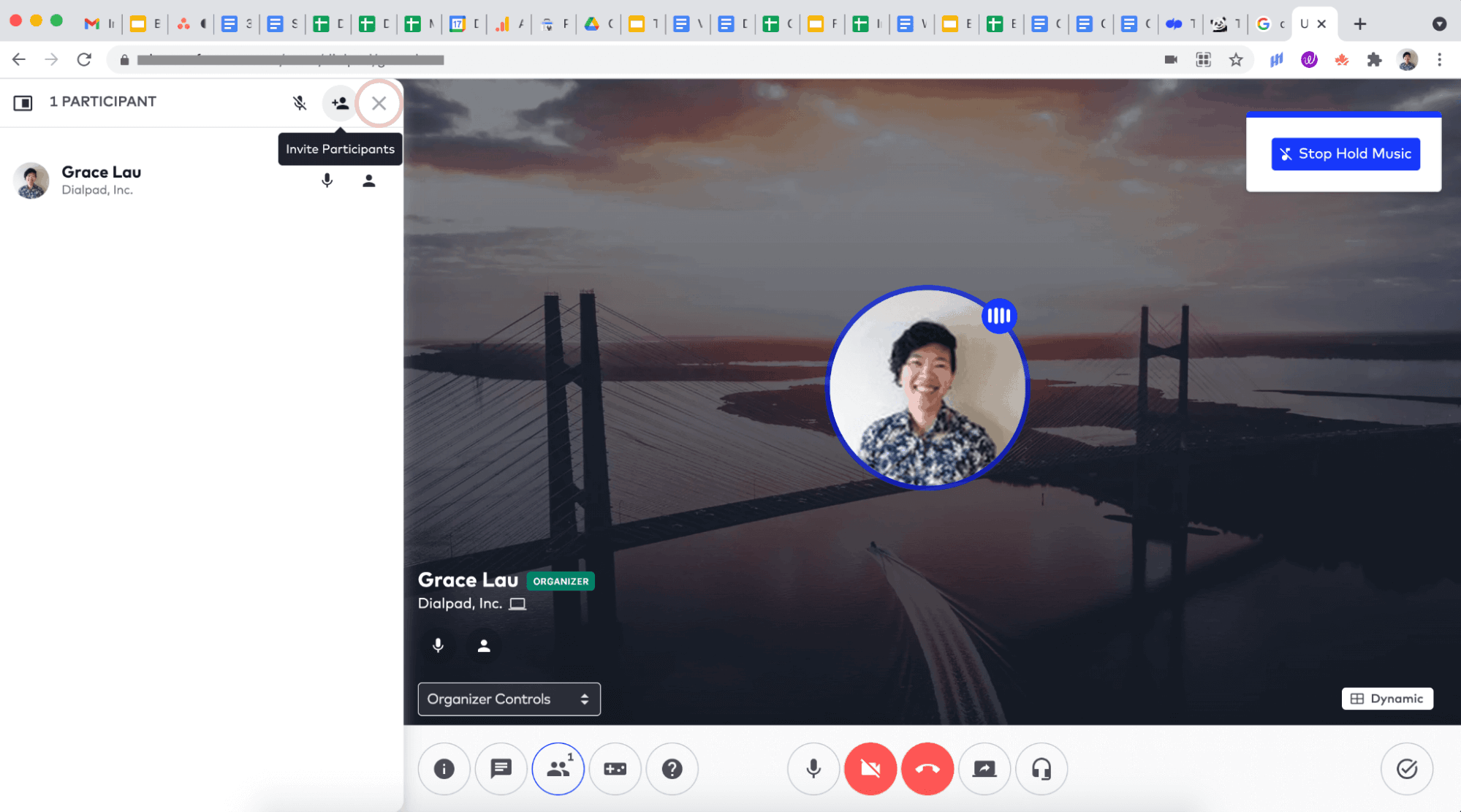 Robust security
Security and data privacy are top concerns when choosing any service provider, and Dialpad has a range of features including single sign-on, role-based access, and more to help keep your data secure.
Dialpad is SOC2® Type II compliant and Privacy Shield compliant, and helps organizations meet their GDPR compliance requirements through features like retention policies, data subject access requests, and individual consent mechanisms. Dialpad also offers customers a Data Protection Agreement (DPA) and is a member of the Cloud Security Alliance (CSA)'s Security, Trust and Assurance Registry (STAR). Learn more here.
Voice Intelligence
What do AI-powered business communications actually look like? Dialpad's proprietary Voice Intelligence (Vi) technology is built right into all of its products, and transcribes call in real time—more accurately than Google.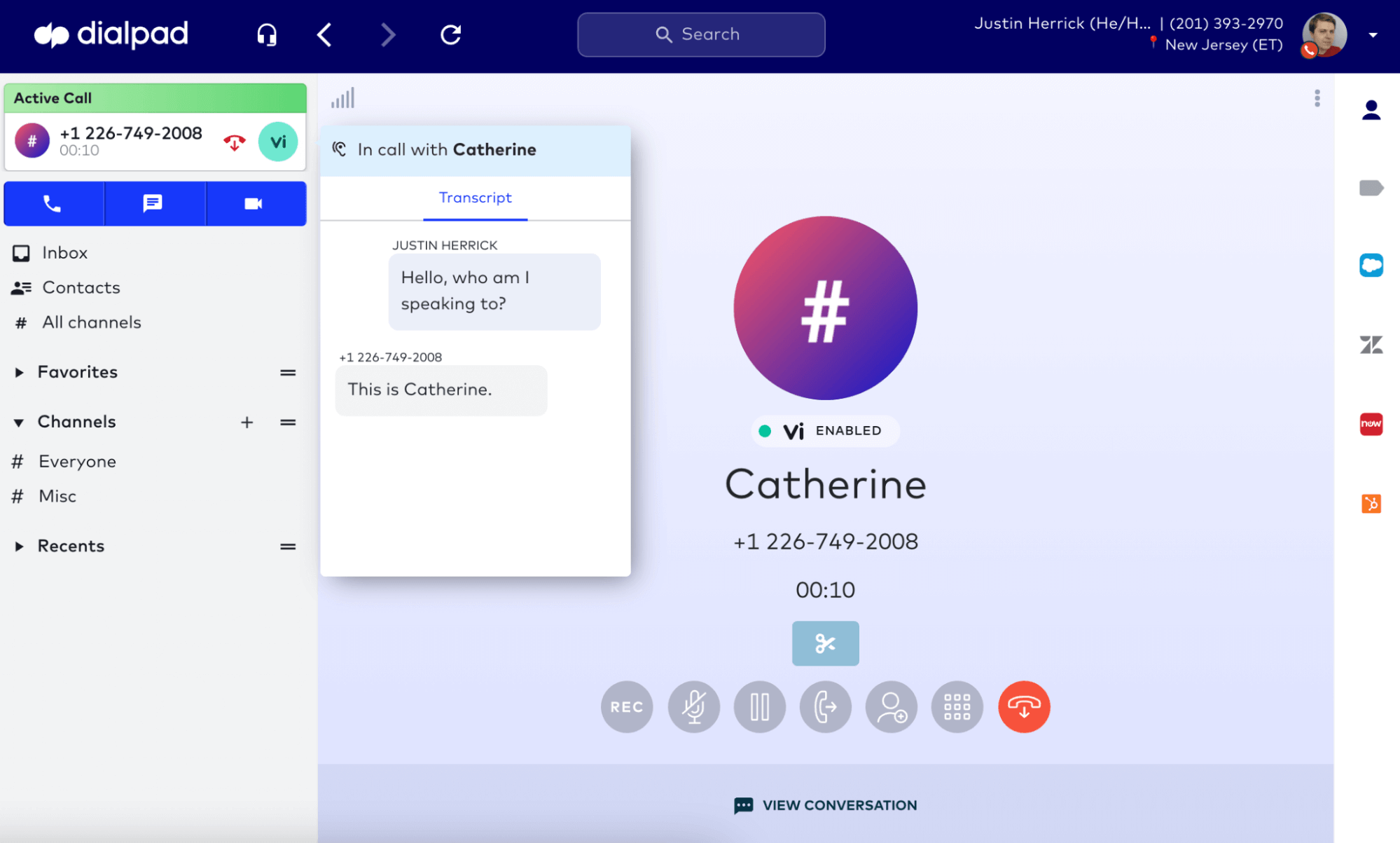 Not only that, it can also pick out questions and keyword phrases on calls. Which then allows Dialpad to offer real-time coaching via Real-time Assist cards and do a live sentiment analysis of customer calls, which helps customer support teams manage the on-phone experience more effectively.
Easily customizable call routing
Contrary to popular belief, an enterprise class platform should make it easy to customize basic things like call routing—not harder. It isn't necessary to involve IT just to make small routing changes, and it shouldn't take hours or days to implement those changes. In Dialpad, you can make adjustments to your call routing in seconds, and even get insights to your IVR menu performance: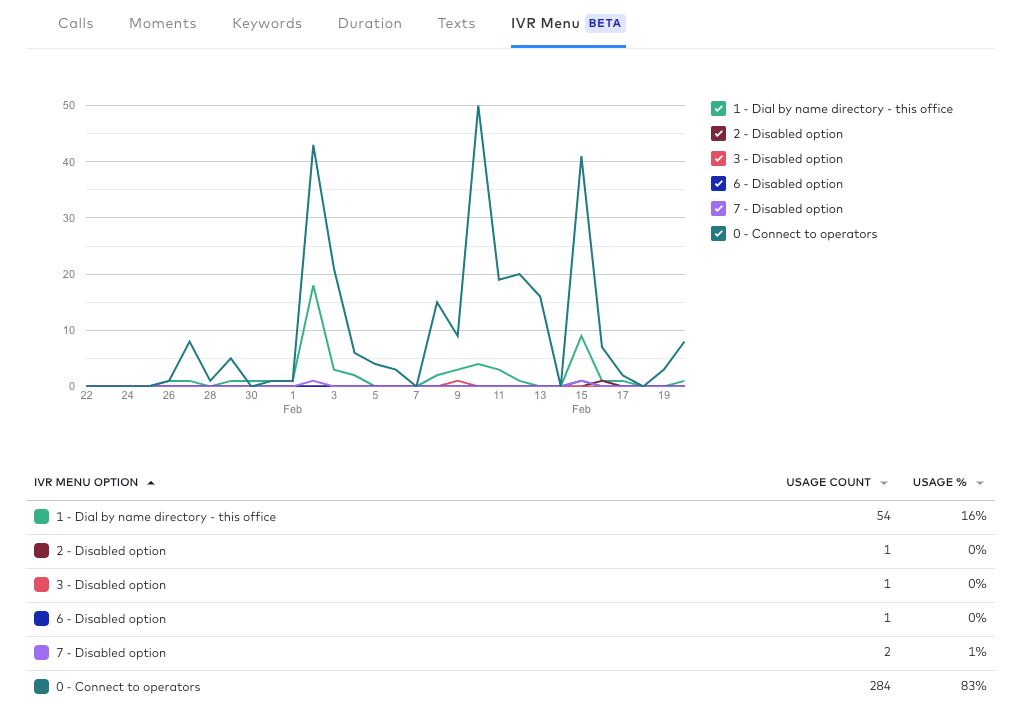 Other enterprise VoIP features
Unlimited calling in your country, the United States, and Canada

Unified communications (built-in video meetings and instant messaging)

Conference calls

Custom caller ID

Multi-level auto-attendant

Number porting support

Visual voicemail

Custom routing

Unlimited SMS and MMS in the United States and Canada

24/7 worldwide support

Integrations with Salesforce, HubSpot, and more

Number forwarding

Call transcriptions

Service Level Agreement (SLA)
👉 Further reading: See how ClassPass spun up phone systems for new offices "in five minutes" with Dialpad.
Benefits of switching to an enterprise VoIP service
It's more cost-effective

One of the most significant benefits of switching to an enterprise VoIP service is the cost savings—especially over the long term, an organization can save a pretty significant amount of money (depending on things like how many employees you have and how many calls you make).
Because VoIP technology uses the Internet to place calls, you'll have a lower cost per call, and if your organization makes long-distance calls on a regular basis, the difference will be even more dramatic.
Every service provider is different—for example, with Dialpad, you get unlimited inbound and outbound calling within your country, the United States, and Canada (along with low international rates).
The scalable nature of Dialpad's split cloud architecture also helps enterprises avoid the overbuying and overprovisioning of phone services. You don't have to plan meticulously—and pay up front—for future growth and capacity. Dialpad scales with you, as you grow.
With enterprise VoIP in general, you only pay on a monthly subscription basis, and most providers, like Dialpad, will cover all maintenance and upgrade costs so you don't have to pay for regular system updates.
It's more scalable
The problem with legacy phone systems isn't just the fact that they're expensive and unable to evolve meaningfully with the times—they're also limited in how quickly they can scale.
If your organization has an explosive growth period where you're expanding to new offices and hiring new employees, for example, that's much easier to do with enterprise VoIP. With traditional phone systems, you'd have to ship out hardware, provision analog phones, and typically spend weeks on setup.
With VoIP, an admin can easily add new users (and also remove users), manage phone lines, purchase toll-free numbers, set up contact center teams (see how Education First—an enterprise with 10,000+ employees—sets up contact centers in just 10 minutes), and more—in minutes, in their online account.
International reach for remote and hybrid teams
Another big advantage that an enterprise VoIP solution should provide is connectivity and global reach in terms of business communications. (See how WeWork does it.)
Whether your organization has a distributed team across countries and time zones, or just a widespread customer base, a good VoIP solution should make communications between all of these employees, prospects, customers, freelancers, and investors as seamless and easy as if they were all in the same office.

FAQs about enterprise VoIP
What are some considerations in terms of accessibility in an enterprise VoIP solution?
One of the first questions to ask is whether your team needs desk phones or if it can get away with using only mobile devices. For many enterprises, depending on the industry, it may not be possible yet to fully get away from using desk phones or adopt a BYOD (bring your own device) at the moment.
Until that changes, a good rule of thumb is to find an enterprise VoIP solution that's compatible with both desk phones and mobile softphone apps. This way, your teams will still be able to make calls over the Internet and do other important telephony-related tasks like re-route and transfer calls to other teammates. All they need is a router, an Internet connection, and a computer.
How does enterprise VoIP impact customer service?
If your business has a call center or takes many phone calls on a daily basis, whether it's for customer support or sales or both, then your enterprise VoIP solution will likely be one of the most important investments you'll make.
For example, the ability to transfer calls to the right agent easily will directly affect the quality of your customer service. Being able to see call analytics and measure your contact center's performance will be key to providing a good experience to callers and customers. And having a phone system that integrates with your CRM can drastically minimize the amount of data entry required from your team, which allows them to focus on actual customer conversations.
These aren't necessarily advanced features, but not all VoIP providers have them built in.
With Dialpad specifically, you get features designed to improve the customer experience, from our Intercom integration (which allows agents to consolidate live-chat and phone conversations in one place), to real-time coaching features that allow supervisors to monitor calls using the live transcriptions. (If needed, they can message an agent on the side with advice, or even jump into the call to help.)
What VoIP features should I be aware of?
Of course, you don't necessarily need the fanciest business phone on the market or the most advanced features. Small business IP phones do tend to have more limited features that may or may not include voicemail, audio calls, and call blocking. With enterprise VoIP, you can generally assume that these basic features will come included. (But always check the fine print.)
In general, an enterprise organization will need conference calls, caller ID options, call forwarding and the ability to route calls, voicemail, SMS, and more. Also, unlike old legacy phone systems, some enterprise VoIP solutions are designed with contact center management and remote team collaboration (browser-based use, mobile apps, etc.) in mind.
Dialpad's VoIP phone system has all of these features and also goes beyond regular audio and video calling capabilities. On an enterprise plan, you'd also get IVR, call recording and post-call summaries, screen sharing, business messaging, virtual faxing, auto-attendant, real-time call transcripts, and call analytics.
Why go with enterprise VoIP over PBX?
In a nutshell, it's more cost-effective (you don't have to purchase phone system hardware up front or pay fees to do little things like change your voicemail settings or add new users), more scalable (you can add new hires or new users to Dialpad in minutes, not days or weeks), and much more flexible (spin up a new contact center team in just a few clicks, remove users easily if your business is approaching a slow season).
What other VoIP(-ish) solutions are available for enterprises?
When choosing an enterprise-grade VoIP service provider, you'll sometimes hear of a few options: on-premises, hybrid, and cloud-based.
On-premises: Decades ago (and even today), many enterprise businesses had on-premise phone systems. These were clunky and required not only hardware, but also space for server rooms in the office—not exactly cheap, and not easy to scale either.
Hybrid: Today, traditional PBX (or Private Branch Exchange) phone systems have evolved a bit to incorporate VoIP technology. They're no longer on-premises or tied to physical landlines, but they're also not truly "cloud-based" because the hardware and equipment just got moved from a server room in your office... to your provider. If you hear "IP PBX" or "cloud PBX," it's probably referring to these.
Cloud-based: True cloud-based systems are the most flexible and scalable solution that's starting to overtake traditional PBX phone systems in enterprises. With the cloud, you get not only a system that can rapidly scale up with more users in less time, and also 24/7 support for your provider, but also functionality that automatically updates on a regular basis without you having to worry about manual work, hardware shipment, server maintenance, or any IT involvement.
Why go with Dialpad?
Okay. This isn't technically an FAQ, but if you are on this page and have read this far, you might be wondering this.
With data centers across six continents, robust security, and a thoughtfully designed product that puts the user experience first, Dialpad is built for enterprise organizations that need to be able to scale up quickly, on a global basis—while fully supporting in-house IT teams in making that process as painless as possible. There's a reason why organizations like Motorola, WeWork, and Xero choose Dialpad as their communications platform.

Stay on top of business communication with enterprise VoIP
If you're looking for an enterprise VoIP provider to supply you with all the features listed above, you should consider Dialpad. For more information on Dialpad's pricing, click here.