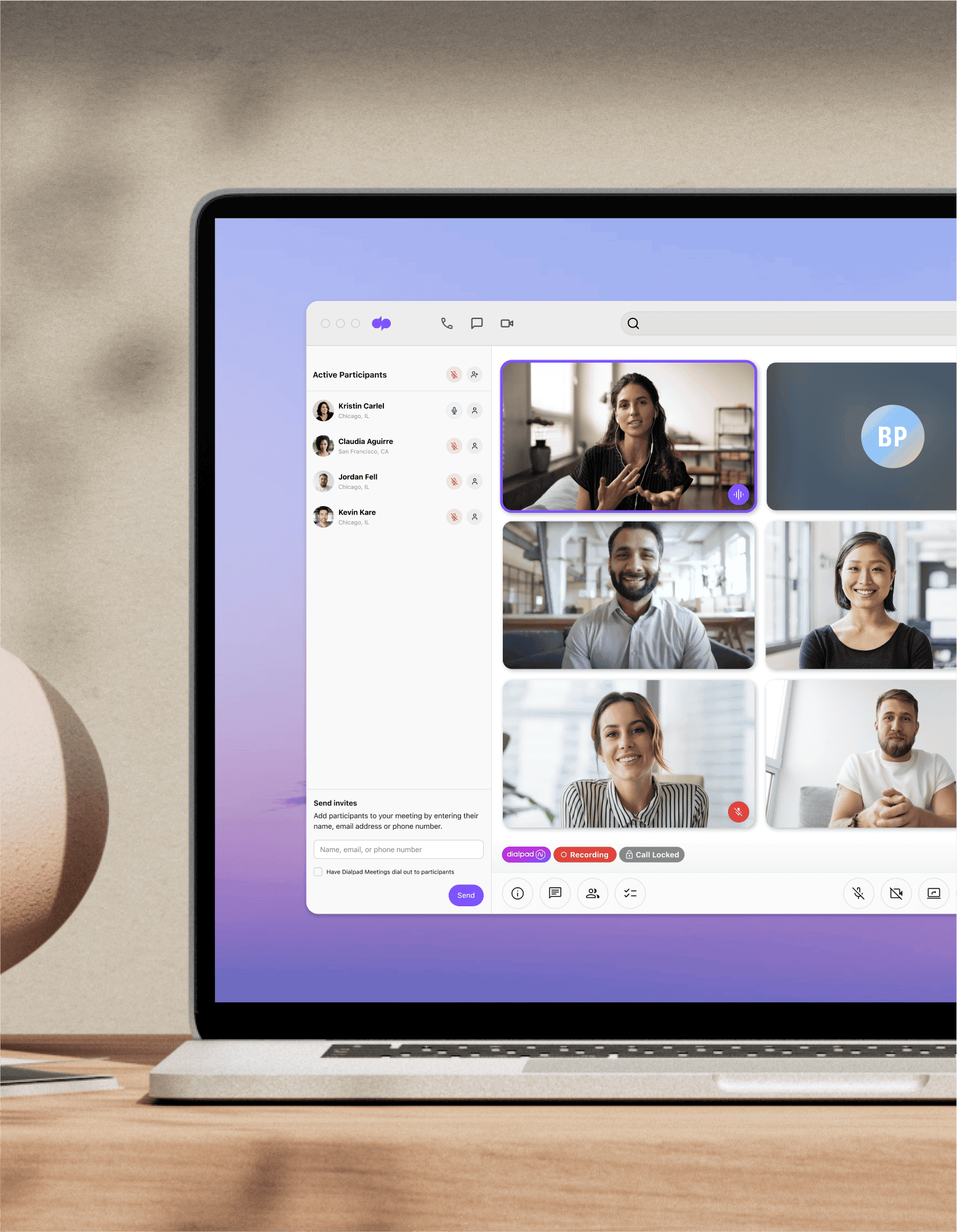 Hybrid conferencing
With hybrid working becoming more popular, companies need an easy way to include both in-office and remote participants on conference calls. See how Dialpad can help you provide a seamless meeting experience for everyone. Try the free video conferencing plan, which gives you unlimited video meetings!
Dialpad: Not your average hybrid conferencing tool
Not only does Dialpad Rooms let you easily set up huddle rooms with endpoints thanks to our partnership with Poly, Dialpad's unified communications platform also comes with a variety of useful conferencing features.

Plays nice with any device
With Dialpad, you can have hybrid video conferencing across Mac, PC, Android, iOS devices, web browsers (no downloads needed)—and it also works with Poly's conference room devices.

Digital whiteboarding
Dialpad's Miro integration gives you whiteboarding functionality so that participants can brainstorm and come up with ideas together, just as they would in a shared meeting space.

All your communications in one place
Beyond hybrid video conferencing, Dialpad also gives you phone calls, SMS/MMS + team messaging, and more—all from a single app. No need to constantly toggle between different windows and apps. Want to send a teammate a quick message while you're on a video call with someone else? You can do that!
Integrations with the tools you love
Rather than sending conference invitations via email, why not schedule meetings directly in your team calendars? You can do just that with Dialpad's Microsoft 365 and Google Calendar integrations. It also integrates with other tools like Salesforce, Zendesk, and Microsoft Teams (to provide license-free direct routing functionality).
Try Dialpad's hybrid video conferencing features
Take it for a spin by signing up for the free plan, which comes with unlimited video meetings, unlimited audio recordings, virtual backgrounds, and more. Or, book a personal walkthrough with our team to see how it works!
Post-call summaries
Dialpad's unique built-in AI transcribes your conference calls and video conferences—in real time. Not only that, it also automatically emails a post-call summary with a searchable transcript, the call recording, and action items to participants.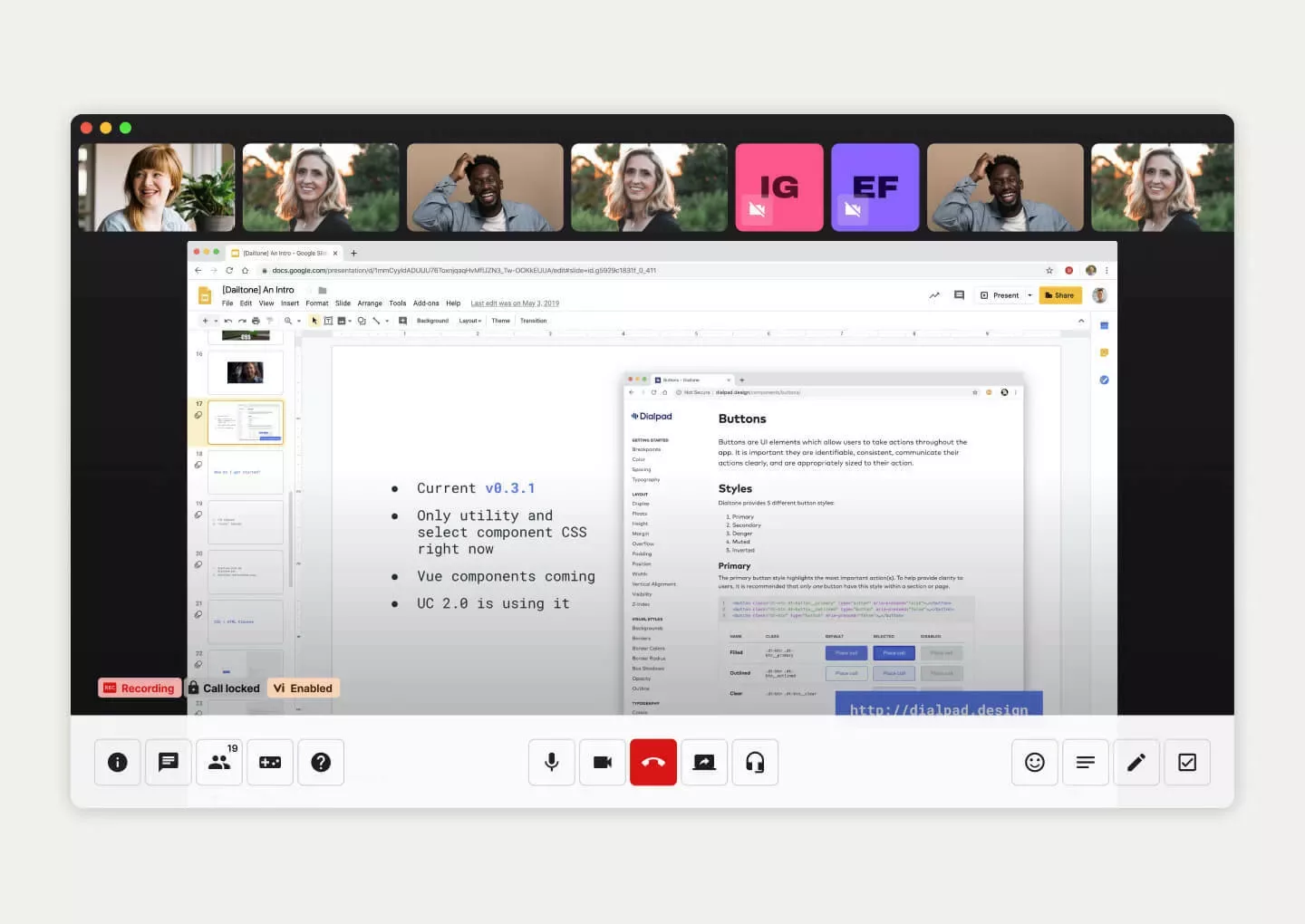 Easy screen sharing
When it comes to hybrid work, screen sharing is an important feature because it lets participants share a visual of what they're walking the team through on the video conference. Whether you're reviewing a mockup or new marketing material, Dialpad makes content sharing easy. Just click the "Share" icon and choose if you want to share your entire screen, a window, or a specific tab.

In-meeting chat
Want to keep attendees in your hybrid conference engaged during the video call? Dialpad's in-meeting chat feature lets people ask questions and use emoji reactions to interact with each other without interrupting the speaker.
The benefits of using a hybrid conference platform
It's more cost-effective
If you invited all your remote teammates to physically join an in-person meeting, you'd end up paying travel, accommodation, and other expenses. That can get pricey if people have to travel long distances or even overseas. (Not to mention the impact this has on productivity and the environment.)
With remote work and hybrid conferences, you can avoid these expenses—and save on office space since you won't need to budget for huge meeting spaces.
It lets you support both employees who want to be remote and those who want to be in-office
Hybrid workspaces give employees the freedom to choose how and where they prefer to work, which, as you've probably heard, is better for morale and work-life balance.
With hybrid conferences, meetings are much more accessible—and you still have productivity features to support the team, like screen sharing, whiteboarding, and so on.
It lets you communicate through different channels
Some hybrid conference platforms, like Dialpad, also let your team members communicate through other channels like phone calls and team messaging.
Having these different options is useful because sometimes, you don't need a formal meeting—a quick message or voice call is enough to sort out a simple question. As opposed to juggling multiple apps, you'd be able to start a conference call from the same unified communications platform that you'd use to send a message or call someone.
Get the most out of hybrid conferencing with Dialpad
Dialpad is designed for hybrid conferencing—and hybrid working in general—thanks to its advanced meeting features and unified communications capabilities.
You can connect everyone seamlessly with HD audio and video, while screen sharing, digital whiteboards, and in-meeting chat make virtual collaboration easy.
Plus, Dialpad's unique AI-powered post-call summaries and real-time transcription eliminate the need for note-taking. Try it for free!
Try Dialpad's unified communications platform for free
Take Dialpad for a spin and start having video meetings in literally minutes!
FAQs about hybrid conferencing
What is the difference between virtual and hybrid meetings?
A virtual meeting or conference takes place entirely online, with every participant logging in from a computer or mobile device. These may be live events where all attendees can interact and collaborate as they would in person. Or, they may use pre-recorded content for things like webinars and webcasts.
Hybrid events involve both in-person attendees (who are together in a physical venue) and remote participants who join the meeting online from different locations.
What is hybrid conferencing?
What equipment is needed for a hybrid conference?
What is the definition of a hybrid conference platform?
What are common hybrid conference challenges?
What are three hybrid conferencing models to know about ?