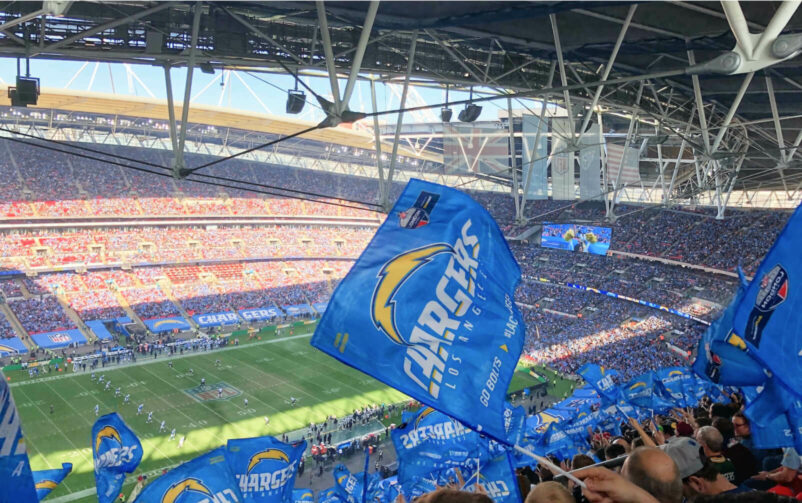 ---
The Los Angeles Chargers have been drawing crowds and scoring touchdowns since 1960, but keeping the stadium seats full takes a lot of work behind the scenes. Their sales teams, for instance, need to be able to sell tickets quickly, track calls and sales, and coordinate from anywhere.
While the Chargers staff used to use desk phones, they had to make a quick switch to a cloud platform in order to work remotely once the COVID-19 pandemic hit. They grabbed the first solution available, and… it wasn't the best.
"It was challenging," explains Megan Bell, VP of Business Intelligence for the LA Chargers. "It was a difficult setup, it was hard to get integrated, and it was very wonky to use. Connections were bad, calls were dropping—it was tough."
It was clear that they needed to take their time when investigating their unified communications options. They needed a solution that could work remotely (without dropping every other call), integrate with Salesforce, and let them track their analytics across teams (Service, Suite, and Ticket Sales).
In short: They needed a new MVP for their communications.
Dialpad catches the pass
Given the lengthy and complicated onboarding from their previous provider, the LA Chargers sales teams had been expecting another long and drawn out process. Instead, onboarding Dialpad was quick and painless. In fact, one of the reasons they chose Dialpad was because of how easy it is to set up.
As for onboarding sales reps? Well, according to Megan:
"
One of my favorite things, as someone who typically trains everyone, is that the training, onboarding, and support from Dialpad was fantastic. Each of the groups has their own training, because they all work a bit differently, and Dialpad was great about helping us plan them. It was really helpful.
"
Megan Bell
TVP of Business Intelligence, LA Chargers
Now the LA Chargers are porting all their sales and service numbers over to Dialpad, so not only have they moved away from their last provider, they're done with landlines. In fact, they're planning on moving additional teams, like Sponsorship, on to Dialpad as well!
No more fumbled calls
When it was time to start working from home, the LA Chargers' sales teams had trouble getting started. "Their day-to-day work was flipped upside-down," Megan explains. And the constant dropped calls weren't making things any better.
So the first thing they wanted was strong connectivity and the ability to work from anywhere without interruption.
Dialpad's global voice network and unique dual-cloud architecture are designed for consistent uptime, and can work from anywhere with an internet connection. This means call quality improved, and the sales reps could work comfortably from home (or anywhere they want to work from).
"Everyone's favorite feature is using Dialpad on the go. Now we never have to miss a sales call that comes through, so that's a huge feature we all love."
Megan Bell | TVP of Business Intelligence, LA Chargers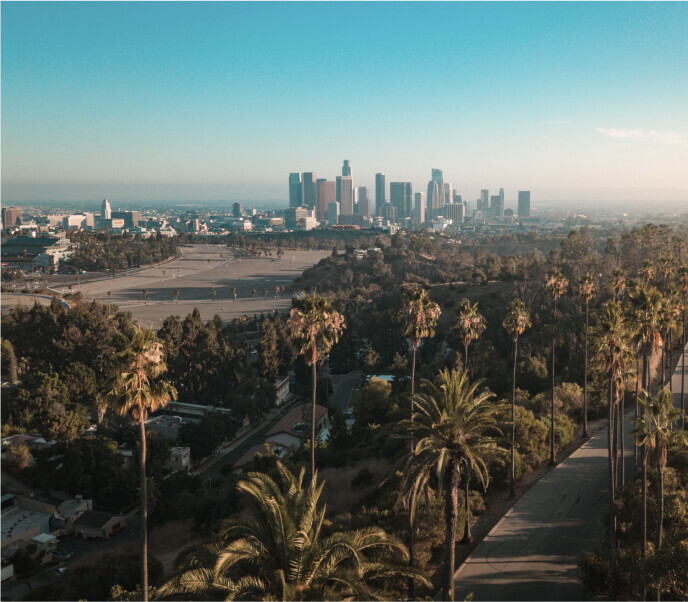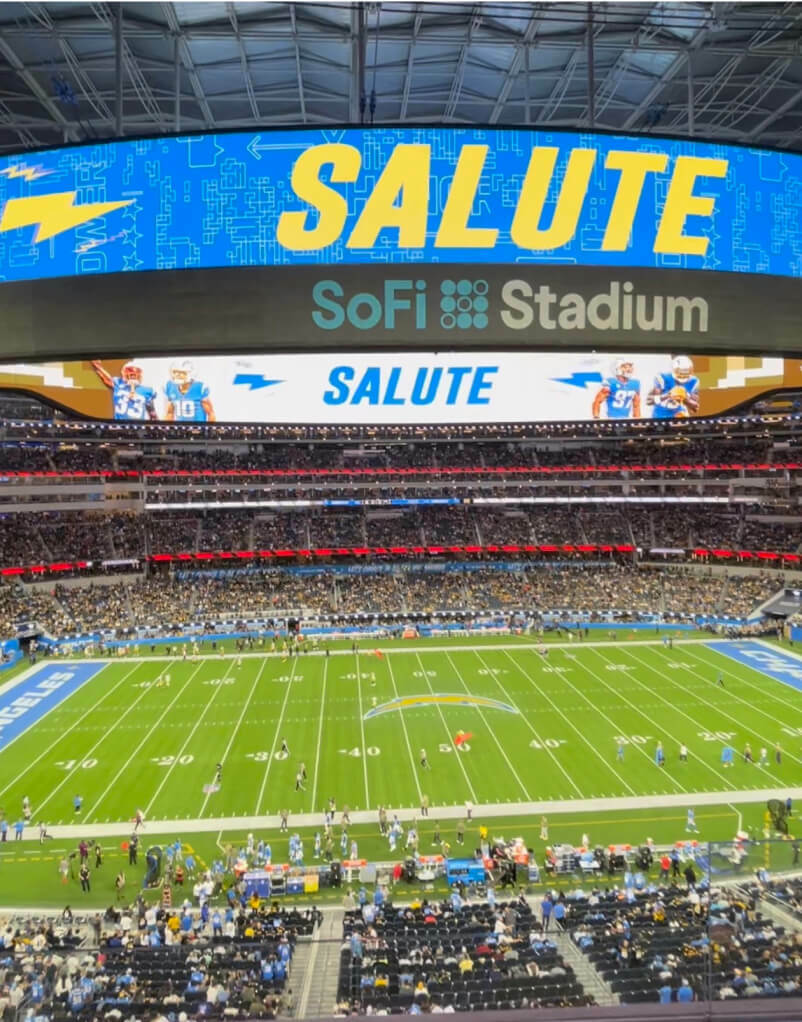 "Everyone's favorite feature is using Dialpad on the go. Now we never have to miss a sales call that comes through, so that's a huge feature we all love."
Megan Bell | TVP of Business Intelligence, LA Chargers
Not only are the calls getting through, they're getting to the right people each time. Before Dialpad, according to Megan, "Calls weren't getting routed to the right people, and it wasn't easy to route calls after office hours."
After switching to Dialpad, they can set up contact centers for each team with just a few clicks. And routing is just as simple, all available on an easy to use dashboard. They have different lines set up for each sales group, so it's easy to make sure the calls go where they're supposed to. But even if a caller reaches the wrong group, call transfer just takes a single click:
"
The ease of transfer is great. Our groups are separate, but when someone calls their sales rep when they're really having a service issue, they can easily send the call over to a service rep.
"
Megan Bell
TVP of Business Intelligence, LA Chargers
And while the calling is great, Dialpad also opens up new ways to communicate, like SMS messaging. "We're more likely to get a response to a text message over an email or phone call, because people can answer on their time, which is a huge convenience for our members," says Member Services Account Executive, Johnny Mendez Jr.
Reaching the analytics goal post with new insights and automation
One of the most important things for Megan? Call analytics.
"It's important to understand what everyone's doing, how we can improve, what they can change, and what we can change to make the process simpler and smoother," Megan explains. "I think one of the biggest challenges for us is that we're limited in the amount of games we can sell, and once a game is over, you can't go back and sell more tickets."
This means they have only one shot to sell tickets to each game—and they need analytics that let them know how long it takes to make a sale. According to Megan: "To do all that, everything has to be built properly to track correctly, and the user experience for our sales reps has to be simple enough that they'll follow it and actually use the tools that we put in place."
These days, they can instantly get reports and analytics, right from Dialpad's simple dashboard:

"
We've set up reporting for all the managers, so we can look and see how many phone calls we're getting and making. It's helpful to see the outbound calls, the times spent on calls, how many calls go to the same person, and how long it takes for someone to answer the phone.
"
Megan Bell
TVP of Business Intelligence, LA Chargers
On top of that, Dialpad's "Custom Moments" can automatically track how often customers bring up certain complaints, questions, or conversations. This allows the LA Chargers sales teams to quantify how many complaints they're getting about an issue (so if a rep says they're getting "a lot of complaints," they can check to see if it's 300 people bringing it up, or actually just three).
"It's all automated, and we've set up automations to just tag things when the call is over," Megan says. "So if we want to track if someone is calling about renewals or COVID concerns, we can do that easily right from the dial screen."
And of course, the analytics aren't presented without context. They can find individual calls to delve more deeply into them, which creates new training opportunities and insights. Every call provides new valuable information for the LA Chargers' staff.
"
We use call recording and summaries as call training tools, so if we're training new team members or have a situation that our team needs to learn how to handle, we can play those calls and use them as an educational resource.
"
Johnny Mendez Jr
TAccount Executive, Member Services, LA Chargers
A "two-click process" with Dialpad + Salesforce
In the past, the UC solution the Chargers used just didn't integrate with the tools and applications they used. It needed a custom setup, which messed with their processes and still didn't always work.
Now, the Salesforce integration lets them automatically log calls in the CRM:

"Dialpad's Salesforce integration eliminates a lot of steps for us," Johnny said. "I don't have to find the account information, because it's already populated when I'm on the phone. We're making anywhere between 40-70 customer touchpoints per day, so this makes our day a little bit easier, making it a two-click process. Then we can notate the call and move on to the next account."
And after the calls are logged, all the information they need is easily accessible. "We can see everything," Johnny says. "We can see our own personal call log, our contact centers, the inbound calls, and calls being made, then look at their metrics. It's all there."
On top of that, when reps need to make outbound calls, they can do it right from Salesforce—just by clicking on the number. No more switching between apps and tabs or constantly double checking to manually enter numbers. It just takes a second to place a call.
Catching every word with Ai transcriptions
Dialpad doesn't just record and log calls—it transcribes them too. Dialpad Ai uses natural language processing to transcribe calls in real-time, and has analyzed well over three billion minutes of voice. The transcriptions are great for taking notes on every call, checking points brought up in conversations, and even as an accountability tool.
"Just being able to go back to the transcripts as a way for us to know what we said to a client has been good for us," Johnny said. "If we miss anything, we can go back and use the transcripts as our own little checklist for everything we said in a conversation."
This applies to voicemail as well as calls, which makes it easy for the team to check their messages at a glance:

"If we get a voicemail from a call we may have missed, it's transcribed and sent to us," Johnny says. "If they leave their issue in the message, then I can prioritize based on the issue, address concerns that need to be handled now, and see what can be put off until later in the day."
Before Dialpad, the LA Chargers had trouble adjusting to remote work, and struggled with connectivity and analytics. But like the most exciting of games, they turned it all around in the second half, and can now work smoothly with unprecedented insights, whether they're in the office, at home, or on the go.
"With Dialpad, we always have a way to communicate that travels with us."
MEGAN BELL
VP of Business Intelligence, LA Chargers

Running a
sports organization?
See how Dialpad's unified communications can help your team sell more tickets and work from anywhere. Get started with a 14-day free trial today or take a self-guided interactive tour of the app!