Customer Stories
From outsourced to in-house: IPM Medical Group gains new insight into every call
See how IPM Medical Group, a healthcare organization with over 25 locations and 400 employees, keeps patients informed with its communications platform
At IPM Medical Group, their goal is to help patients recover from their injuries or improve their ability to manage chronic pain. In short: reducing pain is their gain.
But you know what's an entirely different kind of pain? Poor communications.
For Jay Cornelius, Director of Technical Development at IPM Medical Group, that pain was a recurring symptom that needed to be addressed. With a company mission of patient communication being a top priority and 25 locations with over 400 employees (and growing), IPM just didn't have a good way to stay connected—or manage their contact center.
Originally, they outsourced their contact center, but it didn't work well because the third-party agents would inevitably end up forwarding calls to the clinic team rather than resolve the issues during the call. 
And because patient care can have a complex ecosystem involving medical clinics, employers, attorneys, and many more factors—it was better to resolve the issues in-house, rather than pass the customers back to the clinics.
So, Jay began looking for a better solution.

"My primary objective was to find the telephone solution that had the most fully-functioning integration with Zendesk. I'm also designing workflows for our teams, and I want to be sure it's going to serve our ticket functionality as robustly as possible and be easy for our Call Service Representative team to use."
Jay Cornelius
|
Director of Technical Development, IPM Medical Group
Essentially, IPM needed a platform that could allow agents and customers to communicate over the phone, email, and text, and integrate with their tech stack.
Quick caller context for contact centers
Beyond the communications app, Dialpad Ai Contact Center was a game-changer for IPM Medical. They no longer have to outsource calls, and the agents can resolve the issues properly in-house. Plus, as the company grows and adds more clinics, they can easily add more seats to Dialpad with just a few clicks: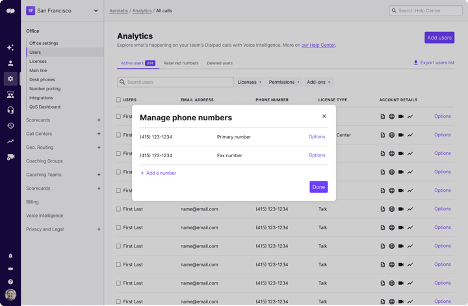 And of course: Dialpad's Zendesk integration brings all the calling and messaging features to Zendesk. IPM Medical Group's agents can access a client's records, contextual information, and history, then instantly call them without needing to switch to a new tab or application: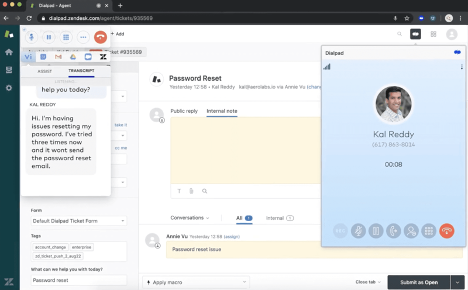 With Dialpad Ai Contact Center, IPM Medical Group can make sure each caller gets to the right agent for their needs. The contextual information is instantly available, which helps with call routing and making sure the agent on the line is fully informed and prepped.
"We can separate out the different calling party types, like if a patient or medical clinic calls. Then—what is the topic they're calling about? How did it get resolved, and what other actions were taken. If it's something that needs to get forwarded to another department, we can immediately change the Zendesk form to the form of the applicable department and it gets picked up in the next team's workflow."
Jay Cornelius
|
Director of Technical Development, IPM Medical Group
"Dialpad really lets us fine tune our systems"
Before Dialpad's healthcare phone system, the only KPIs IPM Medical Group could track were "are you answering calls?" and "are you returning calls?" These days, they have access to a fair bit more.
IPM Medical Group can now see what clients are calling about, how long it takes to resolve calls, the average time it takes to answer calls, and more—right in Dialpad: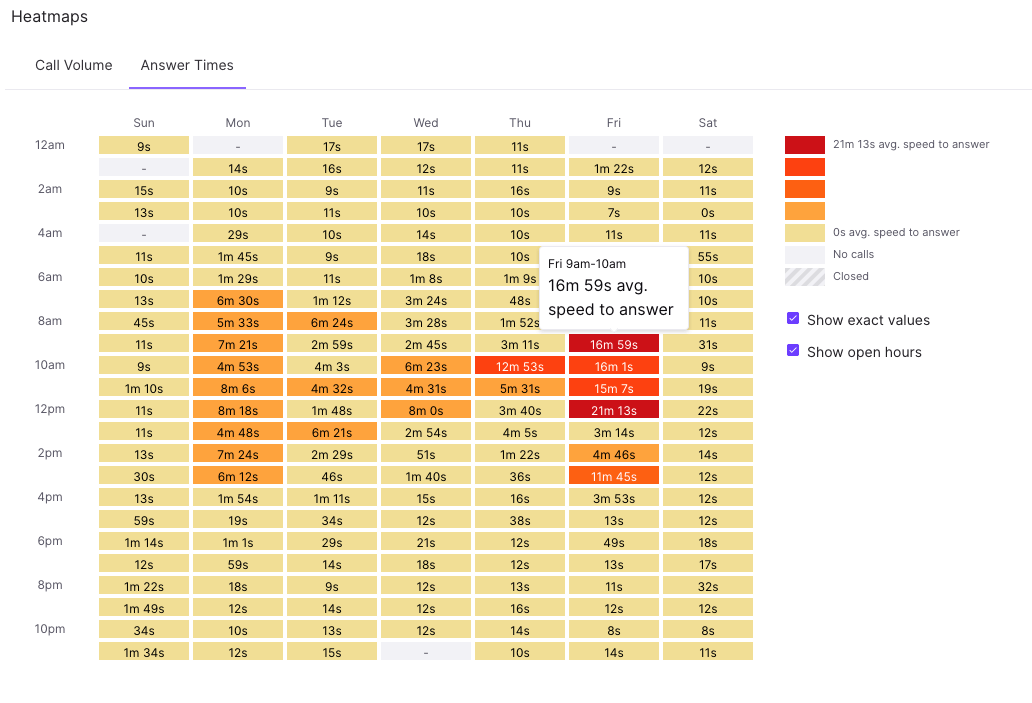 They can also easily identify what questions or issues take the most time to resolve, so they can focus on creating a standardized process for those calls and training the agents to resolve them.
All they have to do is go into the Analytics page of their Dialpad account to see data about how service levels are trending, which keywords are coming up most frequently on calls, and more: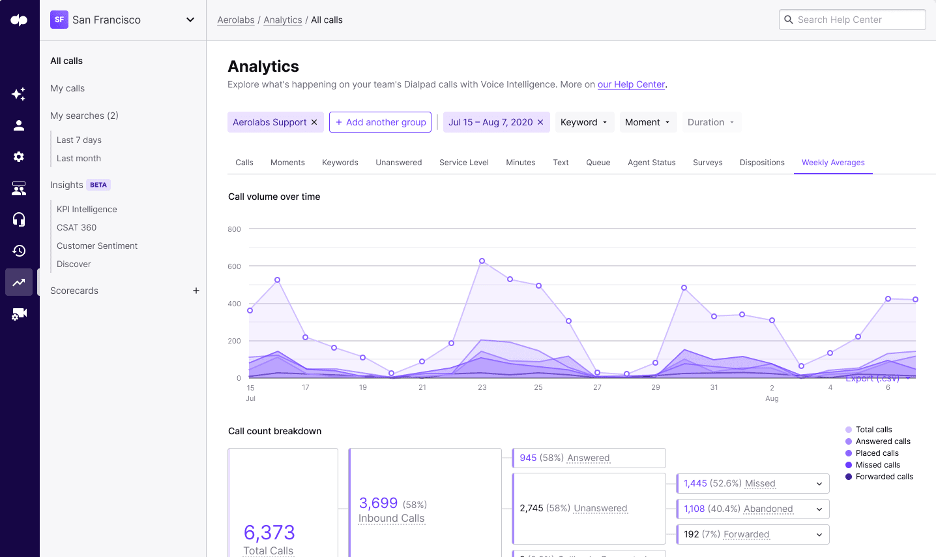 This not only saves time and frustration (for both the agents and the callers) but it improves efficiency across the board. Faster resolutions to big issues = more time agents can spend on other calls.
"Dialpad really lets us fine tune our systems. We can see what are the most complicated calls that occupy our customer reps' time."
Jay Cornelius
|
Director of Technical Development, IPM Medical Group
Do you have a contact center that needs better tools to handle high volumes of calls and messages? Book a product tour of Dialpad Ai Contact Center to see how it can work for your organization!