Call Centers, Reinvented
Say hello to the new age of call centers from the minds behind Google Voice.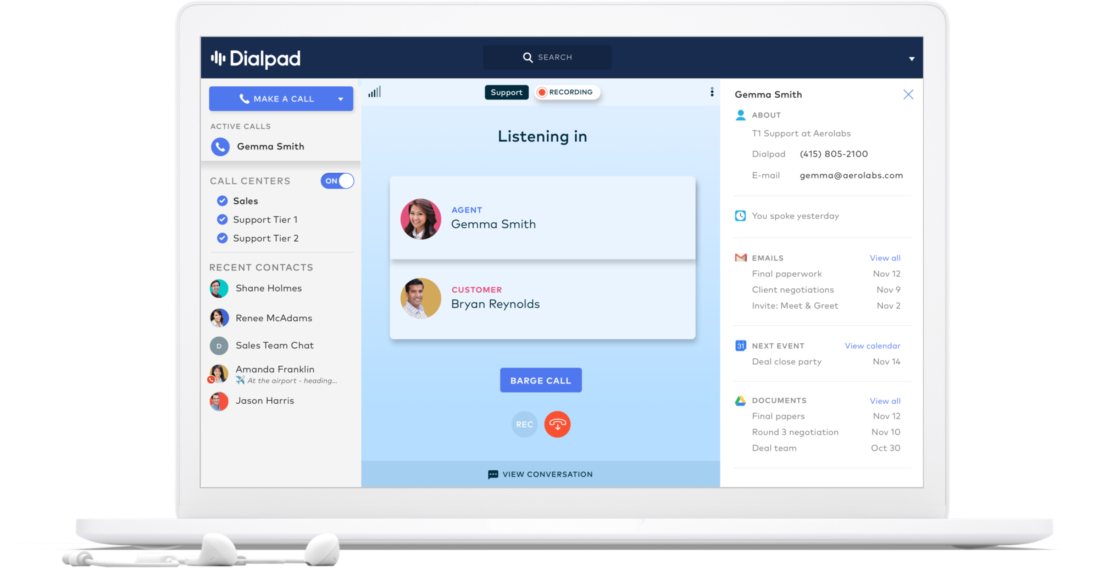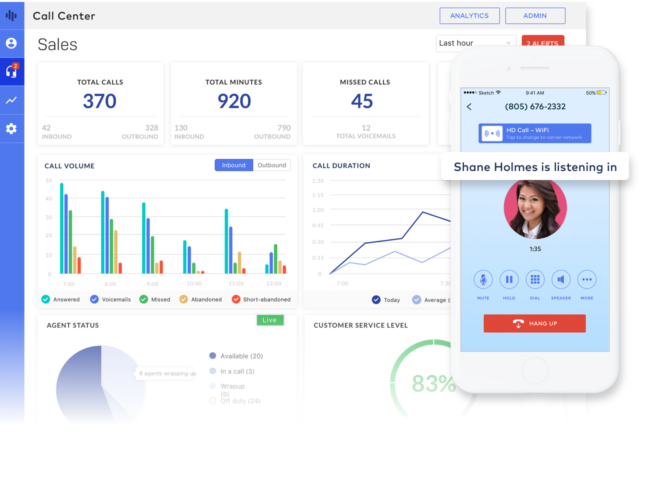 Built for tomorrow
Spin up new call centers, add agents, and update IVRs, all from an instantly responsive admin portal that's ditched complicated deployments and the IT headaches that came with them.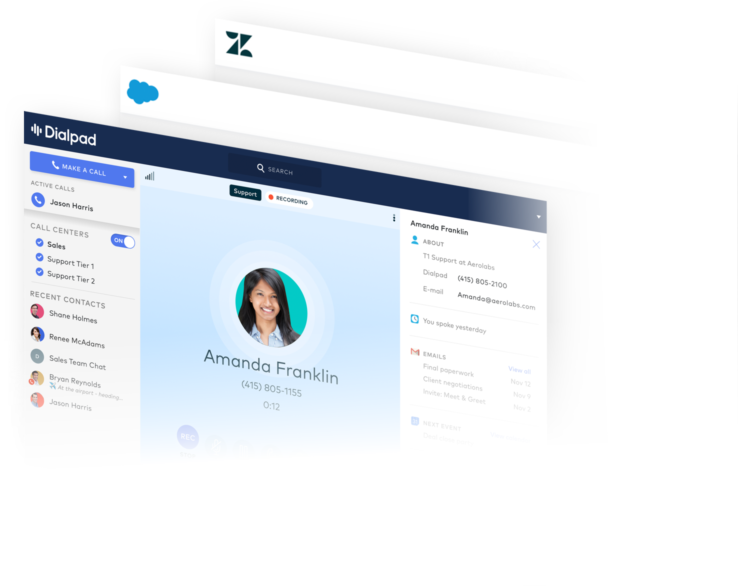 One Voice, One Platform
Dialpad's Call Center is built on the same platform as your business phone system, so calls, texts, and contextual customer information is always front and center.
Plus with native integrations between Salesforce, Zendesk, G Suite and more, Agents get the full picture on every call—from first opportunity logged to latest ticket created.

View active calls and listen-in to hear how your agents are doing. Provide coaching through built-in messaging tools or jump in live for assistance.
Monitor live dashboards with agent status, service levels, wait time, abandon rate, up-to-the minute agent stats.
Respond quickly to demand fluctuations with real-time alerts for service levels, agent activity, abandon rate, and more.
Two-way integrations offer CTIs for fast dialing within sales and service apps, and pull customer interactions into Dialpad.
Dialpad Has transformed the way we sell and service
— Brendan Farrell, Director of IT at PlanGrid
Product Features
3000 Outbound Minutes Per Agent, $0.01/min additional
Automatic Call Distributor (ACD)
Number of Call Centers (Call Queues)
Number of Agents per Call Center (Call Queue)
Agent Monitoring (Listen/Barge)
Custom Service Level Alerts
Customizable Greetings & Hold Music
Integrations including Salesforce, Zendesk, O365, G Suite
Unlimited Concurrent Calls
Unlimited Callers in Queue
Visual Voicemail & Transcription
FREQUENTLY ASKED QUESTIONS
How many Call Queues are included in a Call Center?
It's a 1:1 ratio—every Call Center created in Dialpad includes one Call Queue (or Hold Queue as we call it). Hold Queues are where your callers will be routed when no Agents are available.
I don't have a Dialpad account—can I still buy Call Center?
Sure you can. Just remember that Call Centers are sold as an add-on to Dialpad Pro and Enterprise plans. We do plan on offering a standalone product in the near future.
Can I integrate existing apps with my Call Centers?
Absolutely. Our Call Centers natively support integrations with Salesforce, Office 365, G Suite, Zendesk, and ServiceNow.
Do you support the Whisper functionality?
We found that the whisper feature was pretty distracting (how can you concentrate on what your caller is saying with someone whispering in your ear?). Instead, Supervisors can message their Agents while listening in on their calls—less distracting, more direct, and all in one central place.
My questions weren't answered on here. Where can I find more information?
You can always find more information on Dialpad products and features by visiting our Help Center.