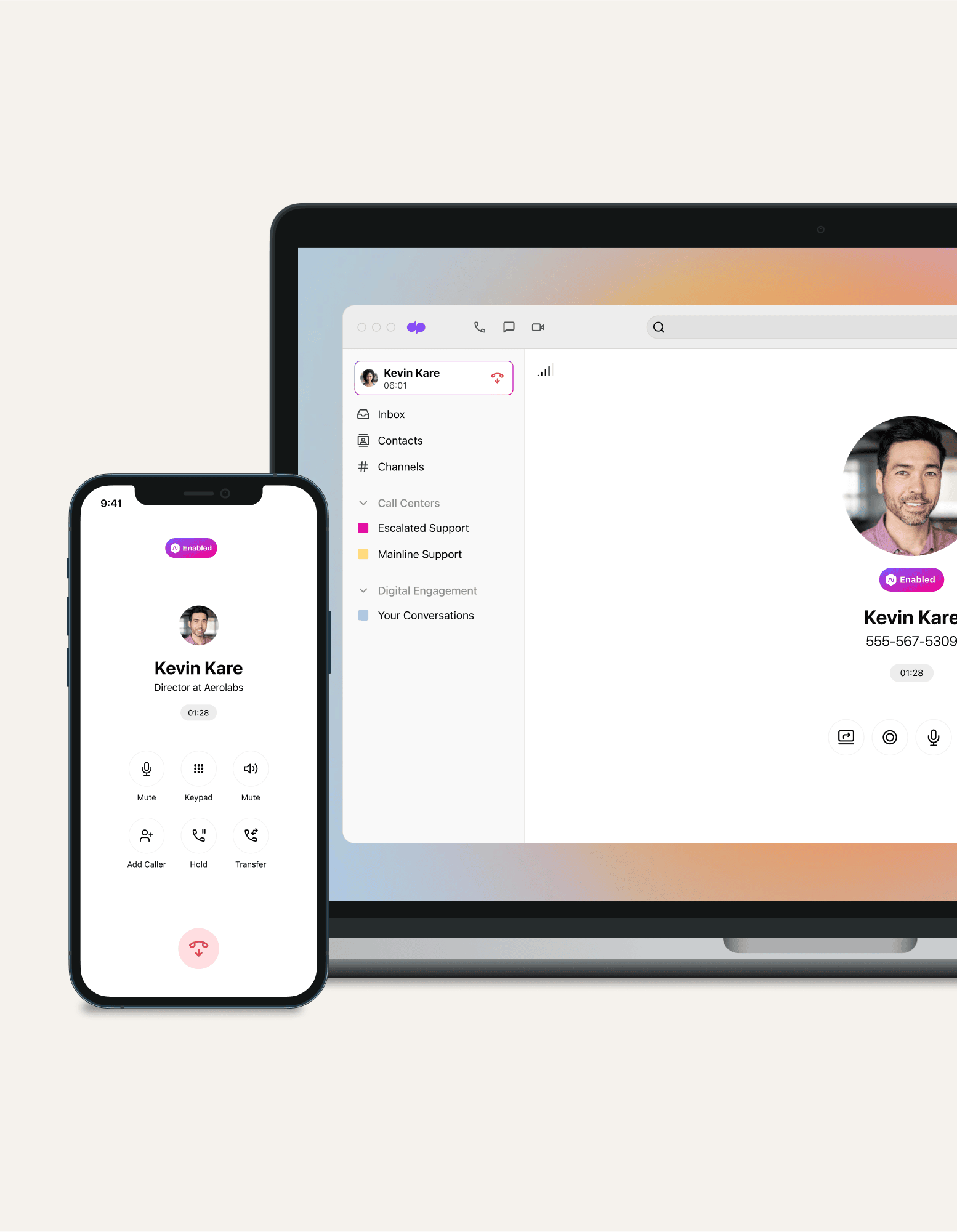 Business phone systems in Toronto
Are you based in Toronto and looking for the best business phone system? Dialpad's cloud unified communications platform offers a range of communication solutions, and a multitude of functions and features to help you get the most out of them. Sign up for a free trial to get set up with a virtual phone number in minutes!
Sign up for a free 14-day trial!
How to set up a phone system for your business in Toronto with Dialpad
To get started with Dialpad as your business phone solution provider, it takes literally just a few minutes.
The first step is to sign up for one of Dialpad's plans. All you need is an email address, a Google account, or Microsoft 365 account to sign up.
The next step is to set up your business line. If you're operating out of multiple offices, you add each one as a separate location. Then, you can assign phone extensions, and make sure that each phone line has its own unique code.
Now, you're ready to start making and receiving calls. Just open up the Dialpad desktop or mobile app, or log into your account from your web browser (yes, Dialpad is browser-based, which means you can make calls and join video conferences from a browser without downloading anything!), then click the phone icon. Enter the number you want to dial, or if the person is in your contacts list, simply select their name.
If you want to optimize or change your call settings, you can navigate to the Settings menu, and then click on the Advanced tab. From here you can port over existing phone numbers, add a toll-free number or vanity number, set up a virtual phone number, and more.
Finally, you can add more personalized touches by recording custom greetings for each phone line. Simply navigate to Settings once again, and click on Call Handling & Voicemail.
Features that the best business phone service in Toronto offers
Dialpad isn't just a basic business phone service. As a UCaaS platform with a built-in VoIP phone system, it gives you pretty much everything a business will need communications-wise:

Call recording
Dialpad gives you unlimited call recordings. You can either manually or automatically record calls, making it easy to refer back to them later, share important details with teammates, or use them for coaching purposes.

Great call quality, worldwide
Dialpad's unique dual-cloud architecture is designed to give you better call quality, better connectivity, and greater reliability, regardless of where in the world you want to use it. Many traditional enterprise telephone systems use on-premises telephony technology, which can be inflexible and expensive to maintain—problems which Dialpad's dual-cloud architecture also helps with.
Integrations with CRMs and your favourite tools
If your business already uses other software, then your communications platform should work seamlessly with them. Dialpad has integrations with a wide range of business apps like Microsoft Outlook, Azure, and Salesforce to name just a few. Or, use the APIs to build your own custom integrations!

Desktop and mobile app
Dialpad's desktop and mobile apps are designed to work across Mac, PC, iOS, and Android devices. (It's even compatible with certain desk phones!) And because Dialpad is browser-based, you can easily have clients and prospects join your conference calls from a web browser without having to download any software.

Choose your caller ID
Thanks to Dialpad's caller ID function, there's no need to worry about mixing your personal and professional lives—even if you use the same phone for both. Just choose which number you want to display as you're making a call or sending a text message from the app.

Visual voicemail
Have you ever been in an important meeting, but then received a voicemail from an important client? You can't excuse yourself from the meeting, but you need to know what your client's voicemail message was about. Dialpad's visual voicemail feature automatically transcribes voicemails—in real time—so you can read the messages right away, even if you can't step out to listen to it.

Custom call routing
Dialpad's auto attendant, call routing, and IVR features let you automatically direct inbound calls to the right person or department (or even voicemail). An automated call queue system means that you can cut down on wait times, and you can also set custom rules to send calls to agents based on idle time, skill level, and more. No more manually directing calls.


24/7 support, worldwide
Diapad offers a detailed online Help Centre, filled with answers to the most commonly asked questions. If you can't find the answer you're looking for there, don't worry. Phone, live chat, and web support are all available. You can use these services any time of the day or night, from anywhere in the world.
The best phone system in Toronto... Isn't a phone system
Not only does Dialpad's fully unified platform give you all the communication channels you need in one place, it also has 24/7 customer support on live chat and phone, worldwide for the Pro and Enterprise plans. (Or, visit our Help Centre where you'll find FAQs and other handy resources.) Try it now with a 14-day free trial or take a self-guided tour of the app!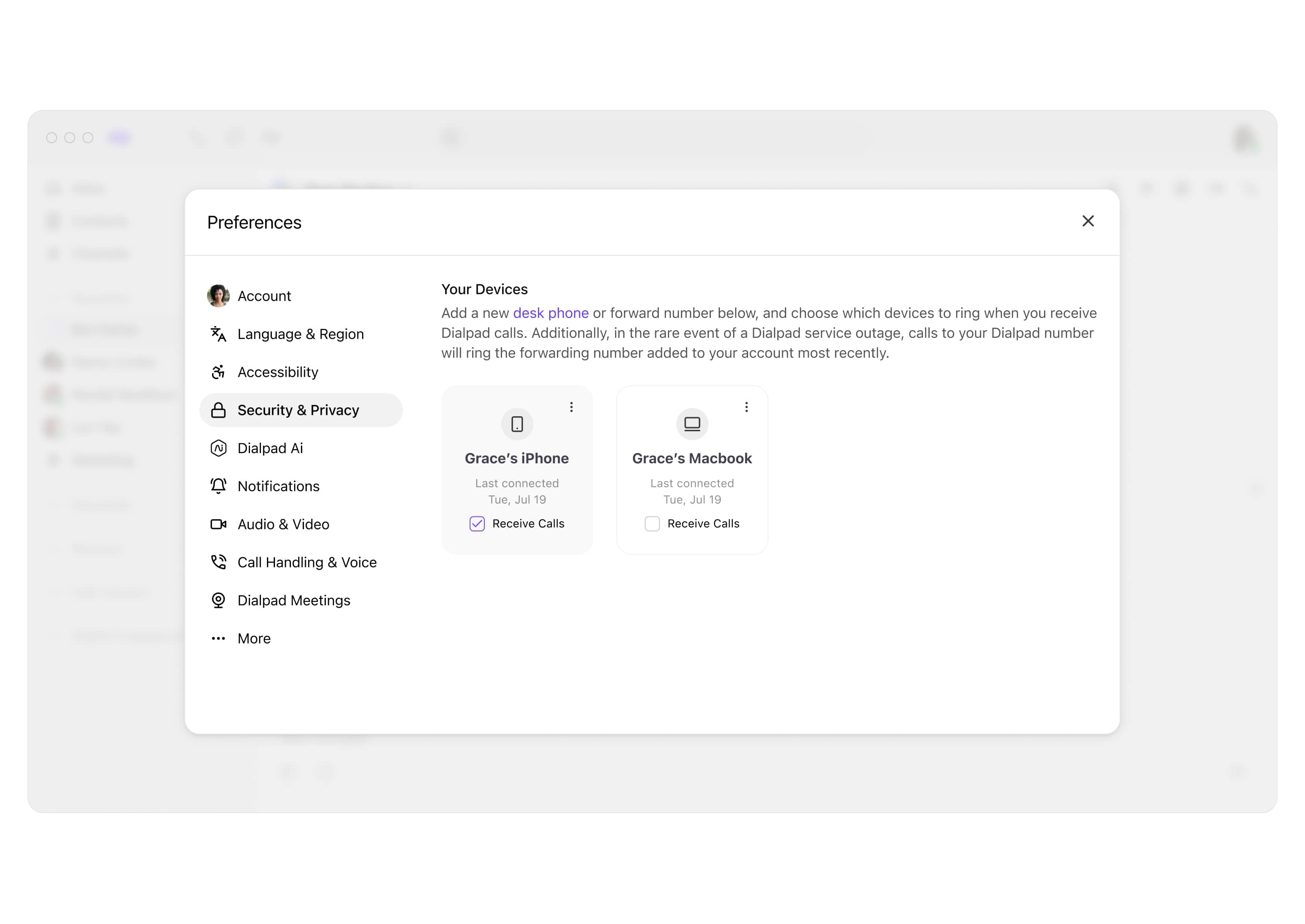 Easy call forwarding
Dialpad's call forwarding feature means you'll never have to miss a call again. It'll automatically send missed calls to a colleague, voicemail, or even your cell phone. Set up a maximum of five call forwarding numbers, right from your online dashboard. (You can also easily park and transfer phone calls too from Dialpad's app.)


Real-time transcriptions
Dialpad transcribes phone calls in real-time, allowing you to refer back to conversations later, or even use them for training and coaching purposes. Not only this, but Dialpad Ai is also able to pick up on specific keywords or phrases—or other action items—when they're spoken, which can then be highlighted in the transcription.
Built-in call analytics
Forecasting call volumes can be difficult, but it's an important exercise to undertake to ensure you're properly staffed to handle the calls you're receiving. Good thing Dialpad's built-in analytics make it easy to see when you're getting the most calls, analyze call volume patterns, and even assess which IVR menu options are being used most frequently.
Integrations with your favourite tools
From Google Workspace to Microsoft 365, to CRMs like Salesforce and HubSpot, Dialpad integrates with a variety of popular software to automate repetitive tasks. For example, its CRM integrations embed Dialpad's dialer inside the CRM so that sales reps and support agents can make phone calls from right inside Zoho CRM or HubSpot. And if you want to build a custom integration, you can do that too with the APIs!

Robust security
Dialpad comes with enterprise-grade security, including in-meeting security controls that let you mute and remove participants. SOC2Ⓡ Type II compliance comes as standard to protect your business and customer data—and we also help our customers maintain GDPR and HIPAA compliance.
Optimize your business communication with the right phone system in Toronto
If you're running a business in Toronto, it's time to leave behind landline business telephone systems and use a cloud platform that gives you way more functionality—at a similar or even lower price.
If you need access to video conferencing, online fax, affordable local and long distance calling, and top notch security, then check out Dialpad. Starting at only $20 per user per month, it gives you unlimited calling in Canada and the US, real-time transcriptions, multi-level auto attendant functionality, and more!

Try Dialpad's unified communications platform now
Get telephony, video meetings, screen sharing, integrations, and more in a single platform. Sign up for a free trial to get set up with a virtual business number in minutes, or take a self-guided interactive tour of the app!
FAQs about business phone systems in Toronto
What is the best phone system for businesses in Toronto?
We may be a bit biased, but if you're looking for a reliable business phone system that provides a robust set of features at a great price, then get a demo or free trial of Dialpad's UCaaS platform, which basically comes with a built-in Voice over IP phone system. Regardless of whether you're operating in Canada or anywhere else in the world, Dialpad is easy to set up remotely, and makes it easy to stay in touch with your employees, clients, and prospects from a single app.
How much does a business phone system cost?
What are the different types of business phone systems?