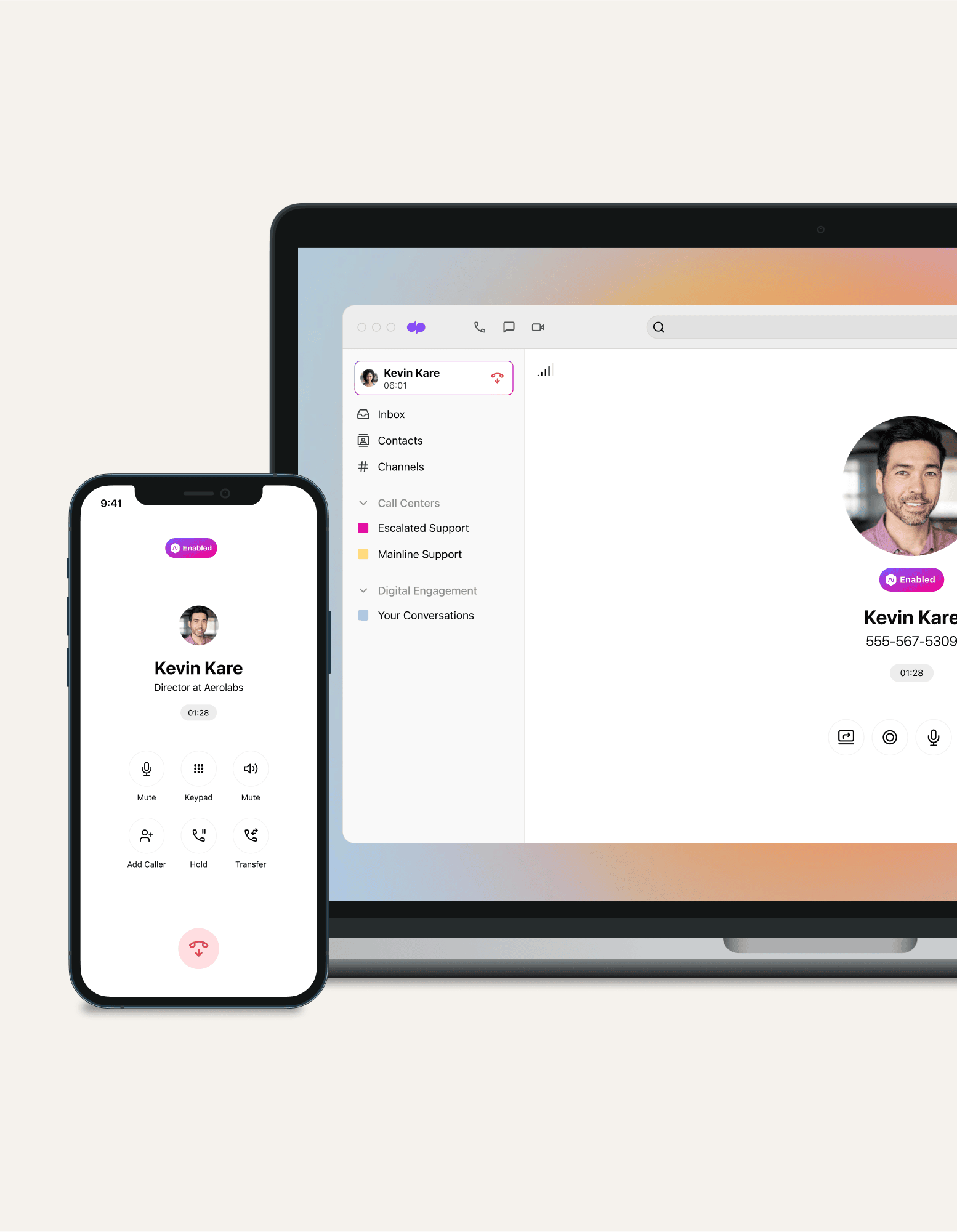 free trial
Hosted PBX
Learn about hosted PBX, how it works, what features to look for, and why you might consider a UCaaS (Unified Communications as a Service) platform instead! And if your business needs one, why not try Dialpad for free? Signup takes just a few minutes, and you'll be set up with a virtual phone number too.
Sign up for a free 14-day trial!
What is hosted PBX and how does it work?
Hosted PBX is a more modern version of traditional PBX where the system itself is hosted off-site in a data centre by your service provider. When you use a hosted PBX system, your virtual phone system gets connected to your chosen PBX host through the internet. This then lets you make phone calls.
A term you might see used in association with hosted PBX is "cloud PBX." They sometimes get used interchangeably, but technically, cloud PBX systems are unlike hosted PBX in that they're entirely housed in the cloud. In both cases, your provider will handle the management and maintenance, as well as any upgrades.
Dialpad's unified communications solution: Much more than hosted PBX
If you're looking for a hosted PBX provider, there's a good chance that you could get something that's even more functional and robust. For example, what sets Dialpad apart from other Canadian hosted PBX providers is that it's a fully integrated UCaaS solution.

👉 What's UCaaS?
Think of UCaaS as a step up from hosted PBX and traditional on-premise solutions. With Unified Communications as a Service platforms, you get not only phone calls, but also video meetings, instant messaging, and SMS/MMS messaging functionality. (There are more advantages over hosted PBX, but this is a key difference.)

All your communications in one place
With Dialpad, you can make phone calls, have video meetings, and send instant + SMS/MMS messages—all from the beautiful desktop and mobile softphone app.

Set up in minutes
Dialpad's unified communications platform is essentially a super-charged business phone system, and is entirely cloud-based. Add a phone line with a few clicks, and use Dialpad on pretty much any device that can connect to the internet through the desktop or mobile app, no hardware needed. Don't want to download an app? No problem, it works on web browsers too.

Voicemail to email
Dialpad Ai, our proprietary artificial intelligence, can transcribe your calls and voicemails—in real-time. If you're in back-to-back meetings all day and can't listen to your messages, the voicemail transcription will be especially useful. Not only that, Dialpad Ai can also do live sentiment analysis, pop up helpful tips for support agents when tricky questions come up on calls, and more!

Easy call routing
Make sure your inbound calls go to the right person or department automatically. Dialpad's call routing, auto attendant, and IVR features all come included with every paid plan, and you can easily make changes to your call routing in minutes from your online dashboard.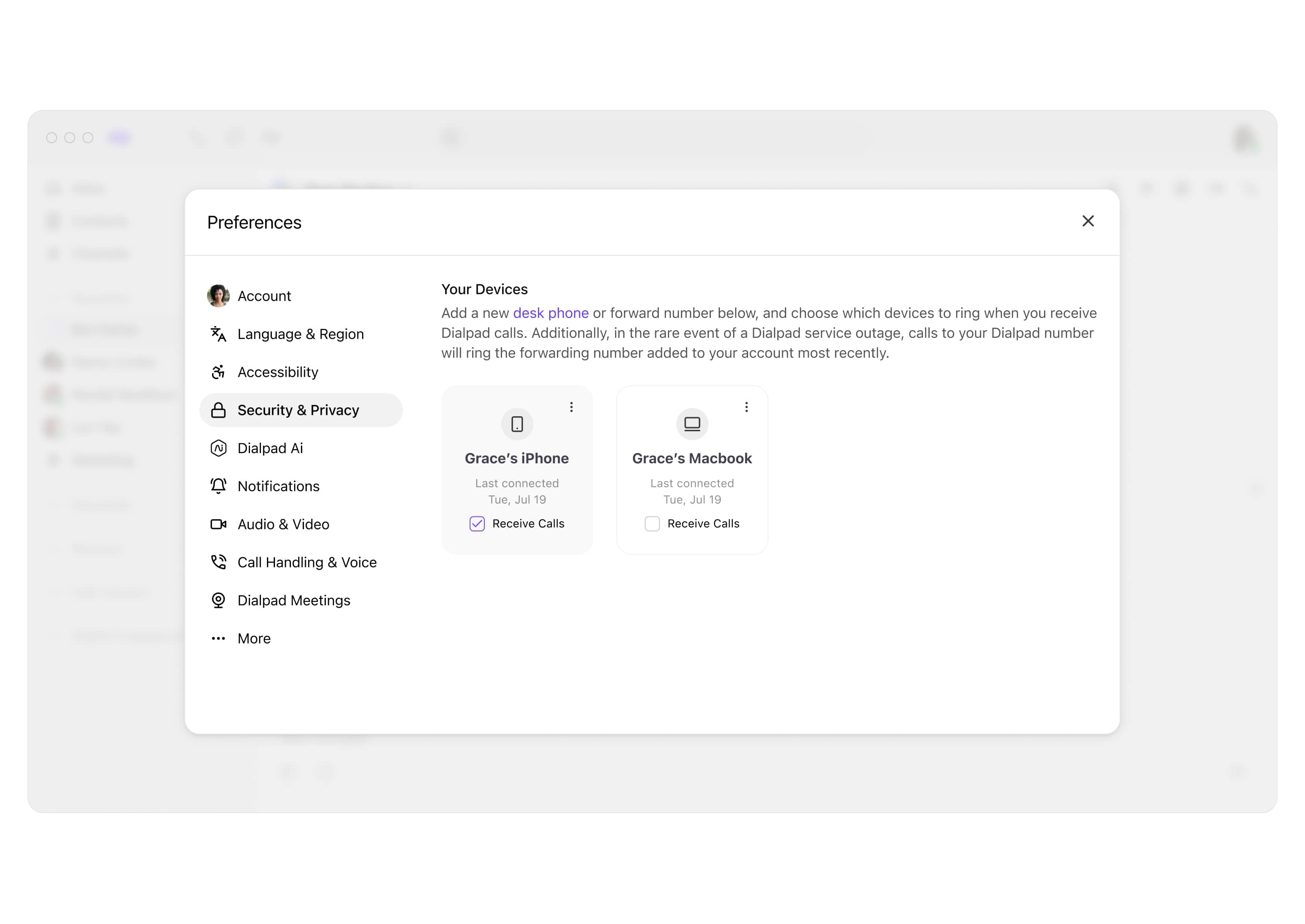 Call forwarding
Never miss a crucial call again. Dialpad's call forwarding feature lets you set up a maximum of five phone numbers for forwarding calls. That means you can have calls forwarded to your cell phone, your home phone, a colleague—anywhere you want.

Customizable caller ID
Whether you're calling from mobile devices or your office phone, you should be able to choose which caller ID shows up on the phone of the person you're calling. Dialpad's customizable caller ID functionality lets you do exactly this. Need to step away from your desk and take a call from your cell phone? Just choose your business number from the dropdown menu in the Dialpad app.
A wide range of integrations
Something else that distinguishes Dialpad from a standard hosted PBX system is the fact it can integrate with your other favourite software. Does your team use Microsoft 365, Salesforce, HubSpot, or Google Workspace? Dialpad's UCaaS platform integrates with all of them. Or, build your own custom integration with the APIs!
Don't just get a hosted PBX system
Get a robust, unified platform that lets you make phone calls, have video meetings, send messages, and handle all your daily business communications from one place. Sign up for a free 14-day trial to get set up with a business number in minutes, or take a self-guided interactive tour to play with the app on your own first!
What advantages does a UCaaS solution give Canadian businesses over hosted PBX (and other telephone systems)?
We've seen some of the features that set UCaaS solutions apart from hosted PBX and other phone solutions, but what practical benefits do you get when you use them?
It lets you have a remote and hybrid workforce
When your workforce isn't (exclusively) concentrated in the office, you need a communications solution that can keep each member connected. Hosted PBX solutions were a start—UCaaS is the next level for even more versatility and mobility.
Firstly, there's the fact that they aren't hardware-dependent. This means that anyone who wants to connect only needs to log into their company account—that's possible even from private devices that aren't owned by the company.

👉 Dialpad tip:
To make it as easy as possible to keep your workforce mobilized and connected, choose a provider that has a desktop and mobile app that's compatible with PC, Mac, iOS, and Android devices. This will let employees work from their phone or computer, no matter where they're located.
If you have remote and hybrid workers in different countries and time zones, this is a must. Otherwise, you'd be spending a lot of time mailing out equipment and managing hardware.
It gives you all your communication channels in one place
Unified cloud communications solutions like Dialpad make it easy to bring all of your communication channels, from conferencing to team messaging to video calling, together into a single, streamlined platform.
This is one of the biggest benefits of unified communications solutions over PBX phone systems and IP phones. They eliminate the need to switch between software applications and tabs since you don't need to have a separate video conferencing app and another team messaging tool and so on.
With Dialpad, you can easily send a text message to someone you've just voice called, then arrange a video call—all without having to open a different tab or app.
And the best part? You can use it from any device that can connect to the internet. Mobile device, desktop, tablet, you name it.
It can be integrated into your CRM software
Providing a great customer experience is crucial to pretty much all businesses. Which is why most businesses use some type of CRM (customer relationship management) software.
A good cloud-based UCaaS solution will have integrations with a variety of CRMs. For example, Dialpad has a range of CRM integrations including Salesforce, Zoho CRM, HubSpot, and Kustomer:


It paves the way for easier scalability
UCaaS solutions are typically much more scalable than their on-premises and hosted counterparts. That's because you can add more users in a matter of minutes, as opposed to a traditional solution, which can take weeks and a ton of IT resources if you want to scale up.
With certain modern enterprise VoIP solutions (and even options that are geared toward small businesses), this is where you can really see the advantage of a cloud-based alternative compared to hosted systems.
The tricky thing is to try this out and verify whether a communications platform can actually scale up easily. This isn't something you can just check off on a pricing page—you have to actually be in the software and see how user-friendly it is when adding or removing users. Don't skip this step!
UCaaS is, in other words, the best low-cost solution for Canadian businesses from Toronto to Fort Nelson and everywhere in between.
Get started with the best unified communications provider in Canada and leave hosted PBX behind
If you're looking for a VoIP / PBX solution, just be aware that even though they're better than traditional alternatives, they still have limitations—especially in comparison to UCaaS solutions. If you want more than just basic phone calling functionality, and need to have video meetings or send team messages, then even the best hosted PBX provider in Canada might not have all of that.
You might want to consider a unified communications solution instead of just a hosted VoIP phone solution. Dialpad's UCaaS platform is designed for modern business communications, and is flexible, versatile, and easy to set up.
On top of that, it has a range of pricing options to suit the needs of small, medium, and large businesses alike. Whether you're running a Canadian business in Toronto or Fort Nelson, Dialpad can give you excellent call quality and an incredibly versatile platform.
Try it for free!
See what a unified communications platform can do
Sign up for a free 14-day trial to take Dialpad for a test drive—or take a self-guided interactive tour of the app first!