June 26, 2019
Here's a quick test: what percentage of mobile calls are expected to be spam by the end of this year? If you answered half, not only are you right on the money but there's a good chance that you've experienced a few too many spammers in your time, too.
Spam calls aren't just annoying (although they definitely are that), they're also disruptive to your daily operations, especially when your phone lines need to be open for customer support or inbound prospects.
A Growing Trend?
Back in 2009, the Federal Trade Commission (FTC) received around 63,000 complaints about illegal spam calls per month. In 2017 that number jumped to 375,000 per month—six times the amount less than ten years earlier.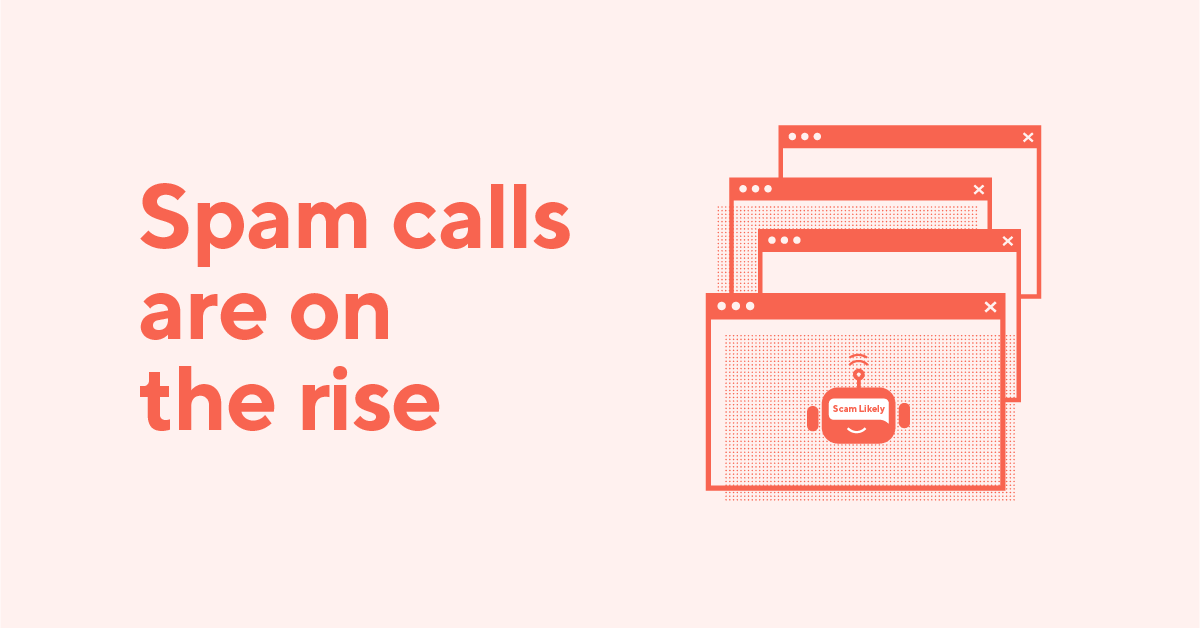 And while the FTC is trying their best to mitigate spam callers with the National Do Not Call registry, the simple fact is that it's extremely cheap for spammers to create new numbers. In fact, it ends up costing a spammer only $0.01 to place a spoofed call.
Spam: By The Numbers
According to one study, combined spam and telemarketing calls totaled 2.2 billion this past January.
| | | |
| --- | --- | --- |
| Call Type | Estimated January Spam Calls | Percentage of Jan Spam Calls |
| Alerts and Reminders | 1.09 billion | 21% |
| Payment Reminders | 968 million | 19% |
| Telemarketing | 908 million | 17% |
| Scams | 2.216 million | 43% |
So what reason did spam callers use to place all these calls?
| | | |
| --- | --- | --- |
| Type of Scam | Est. Jan Spam Calls | Summary of Scam |
| Health/Health Insurance | 462.2M | Identity theft/scam payments |
| Interest Rate Scams | 164.1M | Identity theft |
| Student Loan Scams | 131.3M | Identity theft/scam payments |
| Easy Money Scams | 121.7M | Pay to make money/get job |
| Search Listing Scams | 95.1M | Fake search listing fee |
Keep spam on the shelf, not on your phone
Even with all these stats, there's still a silver lining for consumers. There are a ton of resources out there to educate yourself on how to avoid spam calls, including some tips from the FTC themselves.
If you'd rather take the headache out of managing spam yourself, a business communications partner like Dialpad could be your solution.
With Dialpad, teams not only benefit from a multi-layered approach to call blocking and spam prevention, but a cloud-based communication solution that nixes communication silos between teams while increasing individual productivity.
Dialpad Key Features
Unlimited HD quality voice calling
Automatic user provisioning
Seamless, native integrations with Google, Slack, and more
Real-time transcriptions plus post call action items
Real-time call analytics and reporting
Real-time sales and support coaching
Supported across multiple devices (laptop, desk phone, mobile, tablet)
Spam Blocking Features
Full block (play "Number not in service" message)
Straight to VM (no notification)
Straight to VM (notification plus live, real-time transcription)
IVR screening ("Please state your name and Dialpad will try to connect you")