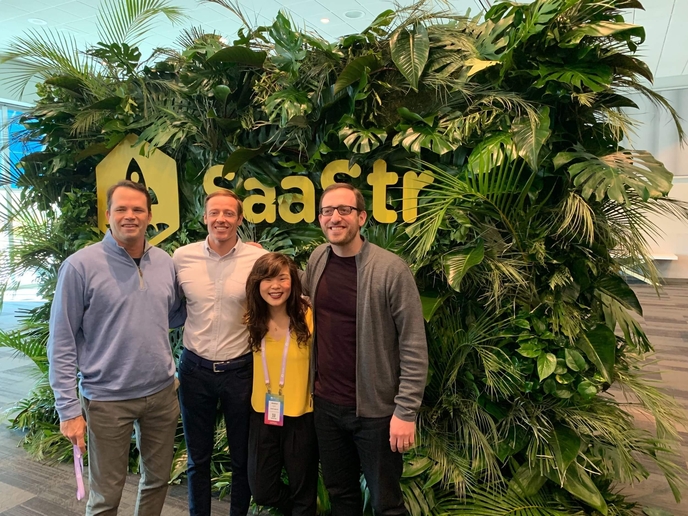 February 11, 2019
Successful SaaS founders are known for their ability to identify market trends and shifts before they hit the mainstream. They're known for being disruptive either by starting an entirely new business and category, or by acquiring a complementary team and technology. Dialpad has done both. First we reinvented business communications by bringing it to the cloud. Then we did it again by building artificial intelligence into our products to turn every conversation into actionable insights.
Recently at SaaStr Annual '19, Dialpad Co-Founder and CEO, Craig Walker and CSO, Dan O'Connell sat down with Work-Bench General Partner, Jessica Lin to talk about the journey so far and and how we've been able to quickly convert newly acquired talent and tech into fast, scalable growth. Here are some of the highlights from the conversation.
Lin: When most people read your bio, Craig, they almost have to do a double take because you started a voice company that was acquired by Yahoo in 2005. Then you started another voice company which was acquired by Google in 2007. How many founders can say that they've personally started and sold two UCaaS companies?
Walker: Well I think it speaks to what a big opportunity UCaaS is and just how nascent the market was in '99 when we were first starting. When I was at Google Voice we wanted to give people a way to manage their communications, but we also wanted to make it much more than just a phone call. That's the same philosophy we have at Dialpad. We're always thinking about how to make the experience better before the call, on the call, and after the call by tying in a bunch of non-voice pieces.


Lin: So then you started your third UCaaS company, Dialpad, in 2011. You won TechCrunch Disrupt in 2012. And I'm sure you get asked this all the time but what made you want to start your third business phone company?
Walker: There was still so much to do! We had figured out how to make really high quality voice over IP calls and how to do a lot of really interesting features, but when you look at the enterprise voice space you realize the legacy versions of all of our products— Dialpad Meetings for video conferencing, Dialpad Voice for your cloud phone system replacement, Dialpad Ai Sales and Dialpad Ai Contact Center for call centers— are all pretty terrible. They're expensive, complicated, end users don't like to use them very much. And so it just looked like a massive opportunity.
Lin: So then let's fast forward to 2017. You've been building Dialpad for roughly five years, you have some incredible VoIP technology, infrastructure, a phenomenal team, and you clearly saw again even more opportunity on top of this business phone layer. At the time, conversational AI was really heating up here in Silicon Valley. What were your thoughts when you started seeing other players in the space?
Walker: We had been interested in AI for a while. We were meeting with virtually every provider in the space and they all wanted to integrate with us so they could get access to the call data and be able to go do their magic. And basically everyone we met with had the approach of joining the call as an additional participant, recording the call, and sorting it all out afterwards. But when we met with TalkIQ they actually had a platform that we could integrate into or core telephony so that they could transcribe in real-time, get sentiment scores in real-time, and give conversation recommendations and insights in real-time. That felt much more compelling than any after the fact data.
Lin: So you had gotten together with TalkIQ from a licensing deal relationship. And then at some point you thought we'd like to be in an even closer relationship. We'd like to acquire them. Walk me through that thought process.
Walker: We were actually in a board meeting giving an update on our progressive and speaking to how this was going to be a completely differentiated product that set us apart from anyone in the space, and Marc Andreesen said "hey why don't you just acquire those guys?" The board meeting ended at noon and I met with Dan for dinner that night.
O'Connell: It was super seamless. Our product teams were already onsite on a weekly basis. I had worked with Crag and his co-founder Brain Peterson at Google. When we were trying to figure out how to get on call paths he was the first person I called. Ultimately it came down to having two CEOs who really wanted this deal to happen.
Lin: And Dan, you joined TalkIQ in 2017 as CEO. Can you tell us a little bit more about the company, the product and where the technology was at that time?
O'Connell: When I joined we were only six people. We had raised $6M in seed, went through the process of raising our Series A led by Salesforce and Scale Ventures, and really it was off to the races from that. We were basically a startup trying to be three different startups at once: we were building our own telephony stack, our own speech recognition engine which was taking audio and transcribing it to text, and then our NLP on top of it. Those are three tough problems to figure out. So when the acquisition offer came, we didn't try to shop it at all. We weren't looking to sell the business. But we decided to do it because we viewed Dialpad as the most innovative business communications platform in the space. They had four different pillars we could go take our technology to. We resonated on how to build things, the vision, and most importantly our teams liked each other.
Lin: But as with any acquisition decision, there are going to be people who don't agree or who feel differently. How were you able to get the whole TalkIQ team on board the Dialpad train?
O'Connell: Really it came down to having honest conversations with people and talking through their fears, or what they perceived to be the pluses and minuses. Will they have different managers? Will they still work on the same things? Will those things continue to be a priority? But something that Craig made very clear from the start was that anything my team was working on would be the number one priority. I think that's what became very important for us. We weren't gong through an acquisition where all of our jobs would change overnight and our work would be thrown out.
Lin: Which happens a lot!
O'Connell: Yes it does. So in that respect we've been super fortunate.
Lin: And what advice do you have for founders who may be looking to go out and acquire other startups themselves?
Walker: Look for synergy, shared values, and shared vision. That's the approach we took and now nearly a year later we've retained almost everyone, the team continues to work well together, and the products are integrated really well.
Lin: I've heard a bit about this culture playbook. Would you be willing to share a few pages with us?
Walker: Every Friday we have an all-hands meeting to recap the week, what went well, what didn't. We try to be as transparent as possible with employees so they trust us and we trust them. That lends itself to one of our core value which is to always do the right thing.
O'Connell: Another one of our values, which came from TalkIQ, is Karaoke State of Mind. The idea behind that is to have fun, own things, and not take yourself too seriously. Yes you want to drive accountability, yes you want to be a strong performer, but at the end of the day we're not saving lives. We can loosen up, and I think people definitely appreciate that.
Lin: Final question, how are things going?
Walker: Things are going really well. It's more than just bells and whistles or neat features. It's being able to provide a worldwide, enterprise-grade platform that's powered by AI so you can really start to understand this last offline data set without adding any more annual processes.
Experience Dialpad Ai's powerful, real-time insights for yourself by starting a free two-week trial at the link below.