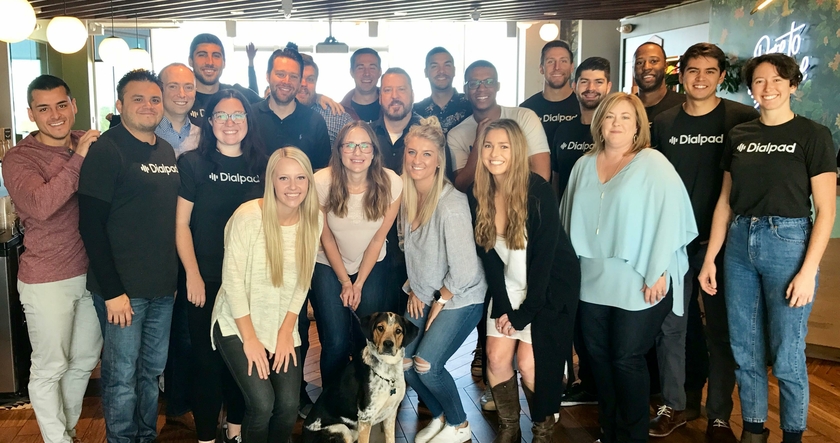 February 05, 2018
With the Austin Business Journal's BizFit Challenge now squarely in the rearview, it brings me great pleasure to announce that Dialpad's Austin sales team finished 11th place overall, out of 100 participating companies, and had an exciting first place finish in the small business category of companies with 25 or fewer employees. Even when pitted against companies four, five and ten times our size, our focus on the goal line never wavered.
It's the same "always charge ahead and never give up" attitude we take with us onto the sales field every day. If you've ever researched and signed up for a business phone service, you know there's no shortage of options. The UCaaS (Unified Communications as a Service) market is exceptionally crowded. Our sales team has to be prepared for competition of all kinds, from third generation cloud entrants like Fuze and 8x8 to legacy giants like Cisco and Avaya.
Central to our success is our future-facing product that's beloved by customers and partners alike. But it also takes a particular type of self-discipline and rigor to go against the companies we do and win.
As a lean team of just 45, we are a relative David compared to the Goliaths in our space, just like we were in the Biz Fit challenge. So what's our secret sauce? How do we consistently win customer logos like Uber, Netflix, and Groupon even in the face of much larger competition? I attribute these successes to the extensive training we give every new sales rep during the onboarding process. It's focused on six core values that unite our team and drive us toward our shared goal of being the best business communications solution you've ever used.
Those values are:
• Love: because if you're going to be on this team, you will be loved.
• Respect: because no one can do it all on their own.
• Commitment: because excellence is contagious.
• Passion: because no one follows without it.
• Hunger: to win every day at everything.
By putting these core values at the forefront of our work, there's nothing we can't do; no pitch too complicated, no challenge too daunting. I look forward to what this new year in Austin will bring us. And if you're interested in joining a team that rallies behind real values, not just talk, drop us a line.
This David is growing every month across offices in Austin, San Francisco, Chicago and New York. And one way or another, those Goliaths are going down.