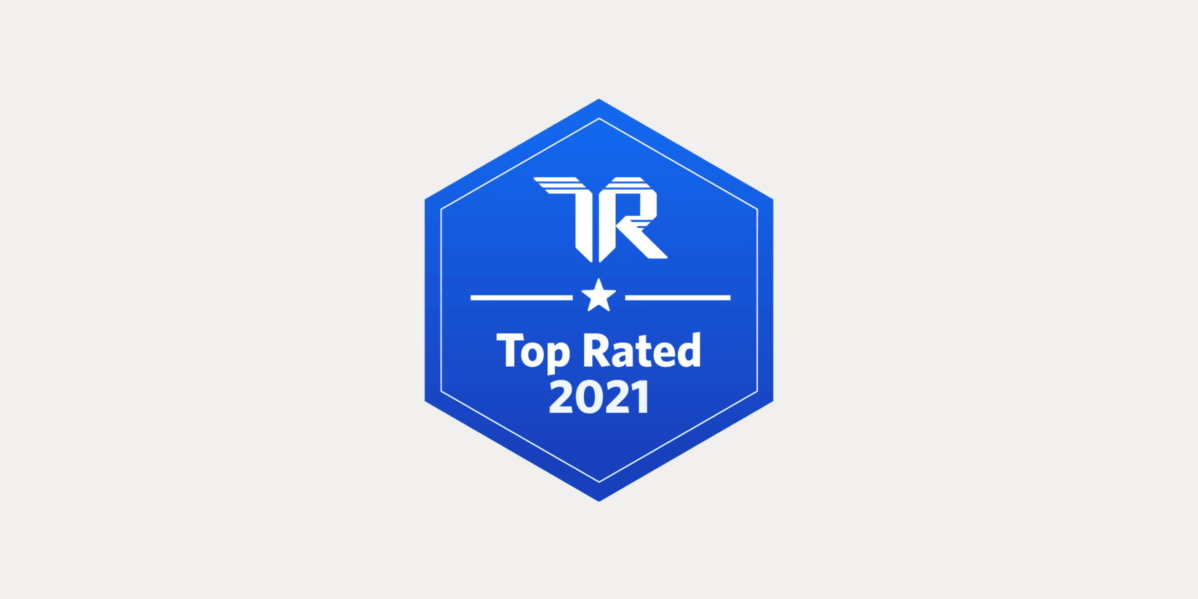 At Dialpad, we take pride in our work and our solutions. So sometimes, when our accomplishments are recognized, that's pretty awesome too.
That's why we're thrilled to announce that TrustRadius has announced Dialpad as a Top Rated winner in not one, but two categories! That's right, Dialpad has won in the Unified Communications as a Service (UCaaS) and VoIP categories, thanks to our high-quality calls, ease of setup and management, and AI-powered tools that make work (and life) easier.

Top-rated by TrustRadius... And Dialpad fans like you
TrustRadius gathers reviews from verified and vetted professionals, including pros, cons, and honest opinions from real people, to help inform an audience of around 500,000 B2B technology buyers a month. The website takes every measure to ensure the reviews are real and unbiased—vendors can't pay for reviews or have them removed—along with clear guidelines and transparency to keep everything fair.
This means that when a product is a top-rated one on the site, you can trust that it's from people who have really used it and want to provide their honest opinions. It's a pretty big deal.
The TrustRadius Top Rated Awards are awarded to products in the top tier for their categories. Winners are based on customer reviews, but must also meet certain guidelines. To be eligible, the product must:
Have at least 10 recent reviews

Be included on TrustRadius' TrustMap*, if available

Earn at least 1.5% of the traffic for the category

Earn a trScore (TrustRadius's rating system) of at least 7.5
So for Dialpad to be a Top Rated winner in both the UCaaS and VoIP categories is a testament to how many people love using Dialpad.

👉 Did you know?
*The TrustMap™ is a visual depiction of the best software products as rated by users on TrustRadius within each market segment. TrustRadius does not endorse any vendor, product, or service depicted in its TrustMaps and does not advise software users to select only those vendors with the highest ratings.
Why people love Dialpad

To be declared a Top Rated winner means that businesses and employees have been using and enjoying Dialpad Talk (now known as Dialpad Voice)—and they wrote the reviews to prove it!
Essentially, all those eligibility requirements mean that our customers have been consistently leaving positive reviews for Dialpad Talk to express how much they trust us and enjoy our communications platform. And why shouldn't they?
If you'll excuse us as we brag just a little bit, Dialpad Talk provides high quality voice communication across devices, backed up by Dialpad Ai that does cool things like transcribe your calls in real time:

Our customers love how easy it is to deploy and manage, so they can work from anywhere and on any device. And with our 100% uptime SLA, they never have to worry about interruptions or downtime.
Plus: Dialpad connects every part of your business, thanks to our wide array of integrations. Dialpad Talk integrates with everything from G Suite to your CRM to help keep company and customer data connected and available from a single place.
Dialpad Ai gives you more than just a means to make a call—we supercharge your communications with AI, so you can focus more on what matters. Notes? They're taken. Action items? Already highlighted for you. Want to know how often a product was mentioned on a call? Dialpad Ai has the number at the ready. Dialpad also offers AI-powered analytics, so you can quickly figure out call volumes, search for keywords, or even pick up sentiments automatically.
Given the high quality calls, ease of use, and amazing features that come with Dialpad Talk, is it any wonder why it's a Top Rated winner? 😉
Ready to see why TrustRadius reviewers love Dialpad?
Get started with a free trial today! It takes just a few minutes to get started, and you'll be set up with a virtual business number too. Or, take a self-guided interactive tour of the app!