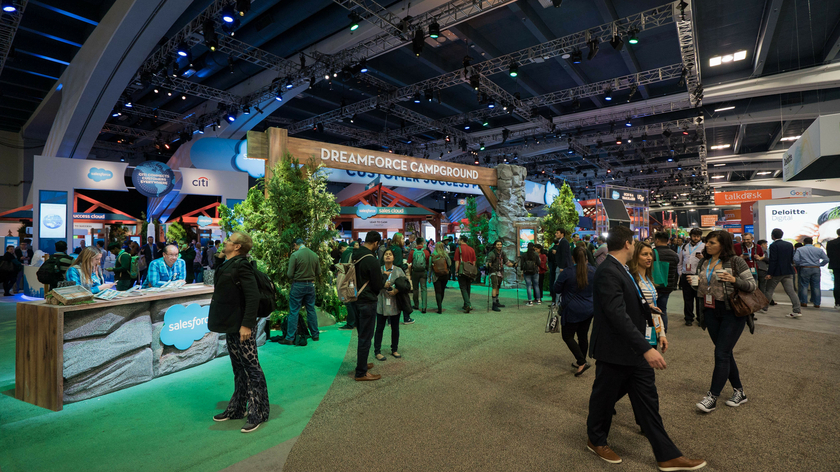 November 13, 2017
So you made it through Dreamforce. You came, you saw, you blazed your trail with Astro and Codey, you danced your face off with Alicia and Lenny. Now it's Monday, you're back in the office, and you're having trouble crystallizing everything you learned. Don't worry—our team compiled the top three Dreamforce 2017 takeaways to help you shake the post-conference fog.
1. Customer personalization is key
If you attended Marc Benioff's keynote on the first evening of Dreamforce, you'll recall his rapid-fire announcements of new products including myTrailhead, myEinstein, and myLightning. The products were nearly identical to their my-less predecessors from a technology standpoint, yet customers reacted with rabid enthusiasm over one key difference: the ability to customize everything from content to color scheme.
Later, when Salesforce leaders presented customer case studies for Adidas and 21st Century Fox, the personalization theme continued when each one dressed respectively in head-to-toe Adidas and Oscar-night garb. It even seeped into the Welcome Jamboree, when instead of having a traditional musical act, Salesforce gave customers the opportunity to sing with a karaoke band and put their own spin on songs. All of these details contributed to a uniquely tailored event that left attendees feeling truly part of the Salesforce "Ohana." In an age where so much value is placed on customer experience, the trend of hyper-personalizing customer engagement is only getting bigger, and customers are eating it up.
2. Equality Is everyone's responsibility
On day two of Dreamforce, attendees shared rare air with the former First Lady of the United States, Michelle Obama. Her message to the audience was simple: We all need to do better job of bringing more diverse voices to the table. Day three's Equality Summit, which featured big name actors and activists such as Taraji P. Henson and Sarah McBride, doubled down on this directive.
The tech world, despite its home in the liberal, kale-eating bastion of California's Bay Area, has always been a boys club—and that's just not good enough anymore. It's up to each of us to speak up when we see inequality in the workplace, whether that's standing up for women's pay equality, providing access to more professional education and leadership opportunities to people of color, or simply asking a coworker what their preferred gender pronoun is. Each of these small acts fosters a more diverse and inclusive workplace, and ensures tech is a force for good. After all, in the words of Mrs. Obama, "[What good is it for] us to walk through the doors of success if we're not reaching back and pulling everyone through with us?"
3. The cloud is here to stay, baby
Perhaps the biggest, most exciting announcement of the entire event was the Salesforce-Google team-up. From the Google Analytics 360 integration to the free year of G Suite offered to all Salesforce customers, the partnership is undeniable recognition of the cloud's maturity and its ability to not only only facilitate, but actively drive, the future of work. Today's businesses have spoken. They want greater accessibility, scalability, speed, and collaboration than any on-premise solution can adequately provide. We know this first hand because we hear it from our customers and prospects every day. And we have to say, as the only business communications platform built on the Google Cloud Platform, it feels pretty good to be part of that revolution.
Of course, there were so many other great highlights of Dreamforce 2017, and we'd love to hear from you what your big takeaways were. In the meantime, if you want to know more about how we're powering business communications in the cloud, reach out to us today.