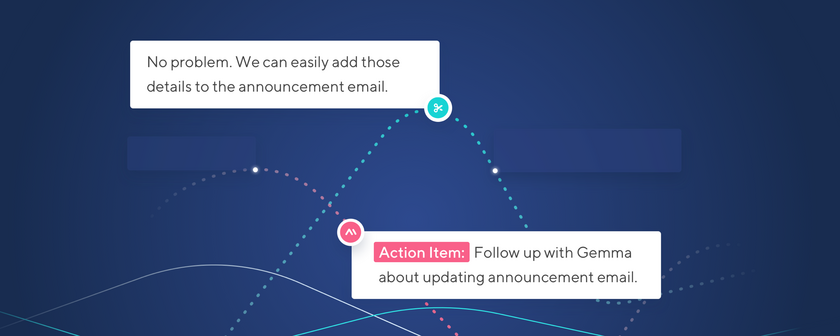 September 07, 2018
Previously we shared how one of the biggest opportunities for speech analytics is the development of "real-time" features. What we mean by this is the technical ability to utilize speech recognition and natural language processing to add value to conversations as they happen. This allows you to do some really interesting things, such as: automate notes, analyze contact center sentiment, track agenda items, automate compliance, and identify trends and patterns in conversations -- all in real-time.
With these capabilities, businesses will be able to react exponentially faster to the challenges and opportunities that arise during customer interactions. As the speech analytics market climbs past $2 billion, the application of these real-time features to support client-facing teams will be a key driver of growth.
Here at Dialpad, we're excited to bring real-time speech technology to all of our products (some of which you can experience today).
Over the course of the next few weeks, we'll be rolling out a host of new features designed to drive value for sales and support teams:
Real-Time Recommendations
Dialpad Ai delivers reminders and relevant information to reps and agents at the right time in the conversation resulting in fewer "I don't know," moments. If a prospect asks a new sales hire about pricing, or mentions a new competitor -- rather than having that rep stumble, Dialpad Ai will provide the information instantly.

Live sentiment analysis
Dialpad Ai's streaming sentiment score provides managers with an aggregated view of every conversation happening across client facing teams. Instantly, at any point in time, managers can pinpoint trouble calls and opt to listen or barge in, with all the necessary context of the conversation.

AI-generated call notes
Using powerful automatic speech recognition and natural language processing, Dialpad Ai generates call summaries for employees to review at the end of every call (and will auto-save them into a CRM or other system of record if needed).

As you think about how speech analytics fits into your sales and support strategy, look into products that combine real-time capabilities with post call functionality.
Our belief is that real-time speech recognition and NLP innovates basic recording functionality in game-changing ways. Rather than spending your time reviewing your team's game tape for insights, you can now leverage technology to proactively identify trends and share insights with your team -- saving everyone time.
If you're curious to learn more about what we're working on, pay us a visit at Dreamforce. We'll be showing off our support and sales specific products, and also giving a few talks on the future of AI for client facing teams.