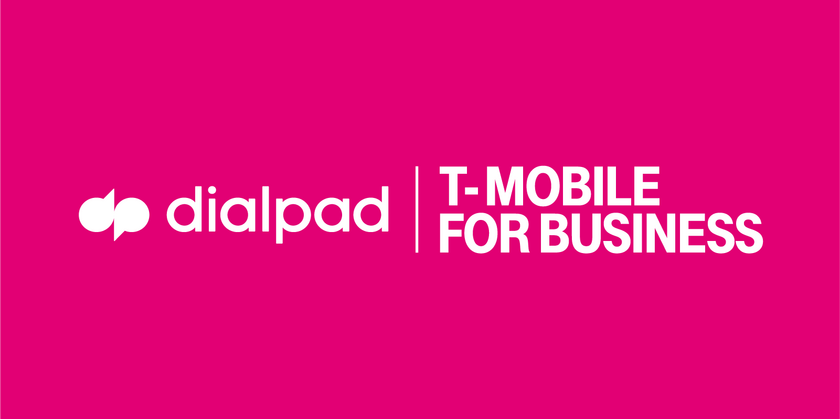 April 12, 2021
T-Mobile Collaborate (powered by Dialpad) exists for the mobile-first environment. You may think everyone will return to the office soon, but the truth is that businesses are already going all-in on hybrid models in which shared workspaces and Work From Anywhere™ setups lead the future of work. With that said, wouldn't you want a cloud-based communications solution? It'll make all the difference between closing a deal or losing a prospect, capturing every detail from a conversation without lifting a finger or struggling to reread hand-written notes, and meeting with colleagues in an efficient conference or settling for a scattered back-and-forth over email.
Internet connectivity plays a significant role in this, too. If you can't use a fast or reliable connection at all, the tools typically struggle to remain effective. As one of the world's largest telecommunications companies, T-Mobile is able to get businesses and their employees online across the United States. T-Mobile runs a best-in-class 4G network, but its investment in 5G as the future of internet connectivity is where all eyes are today.
5G is about more than just speed. Sure, it'll result in data speeds up to 15X faster than what's possible on a 4G network; however, the signal strength is broader and goes further. Latency earns a huge benefit from 5G as well, and that means the time it takes for data to transfer between servers drops to a barely-noticeable level. T-Mobile operates America's largest and fastest 5G network, and yet there's still so much ahead for this technology to expand everywhere from metropolitan cities to rural communities for every business in any industry.
So, what does this actually mean for you, your business, and your employees? T-Mobile Collaborate uses an unrivaled next-generation 5G network to get everyone online to call, message, and conference using Dialpad from any device.

Future-Proof Your Business with T-Mobile Collaborate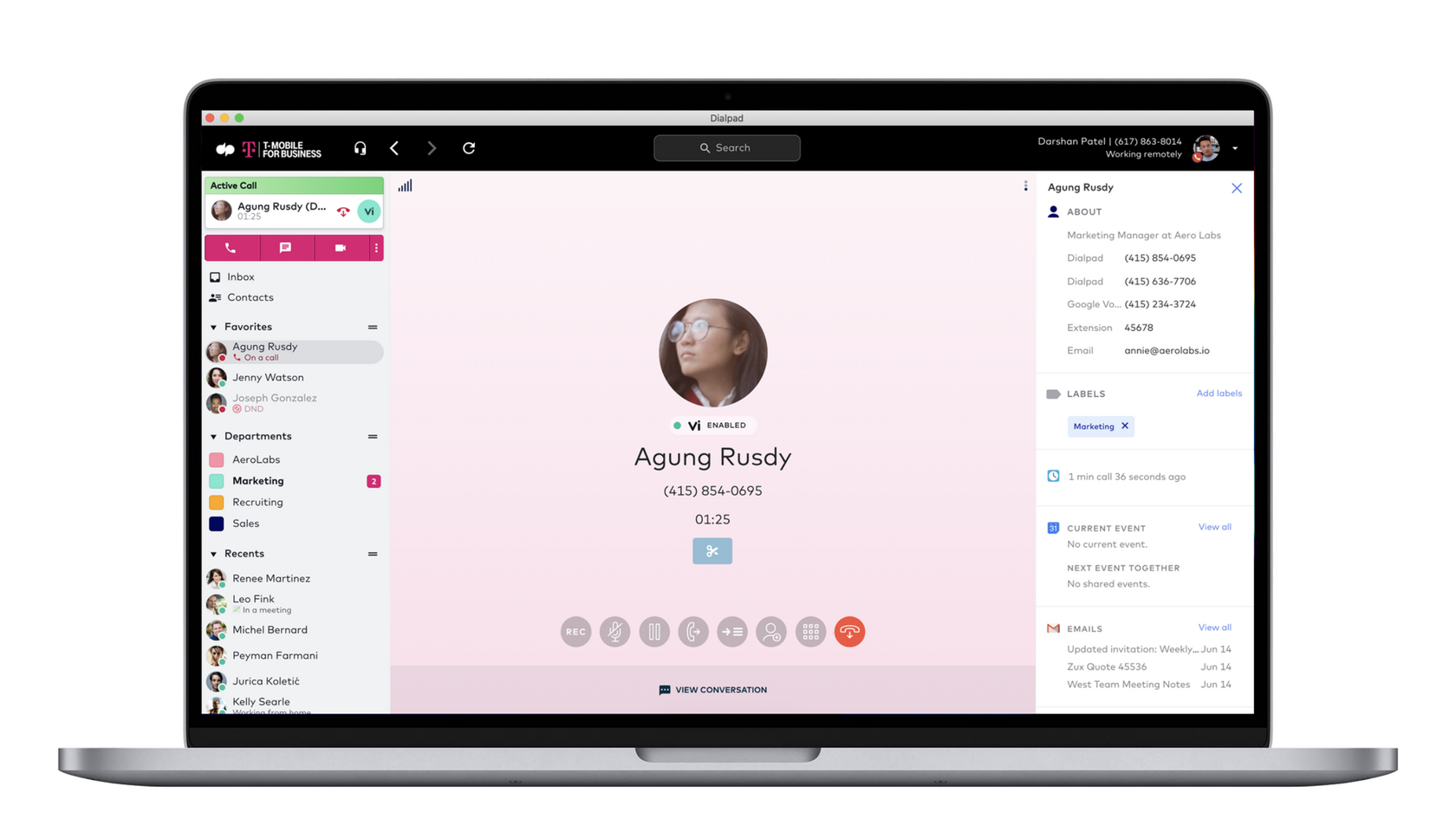 T-Mobile Collaborate is the unified, cloud-based solution drawing three forms of communication and collaboration — calling, messaging, and conferencing — together to unlock true business mobility. Business numbers work on any device, allowing employees to embrace the Work From Anywhere™ future today. And there's still so much more to T-Mobile Collaborate than the ability to place a call, send a message, or launch a meeting. Powered by Dialpad, T-Mobile Collaborate taps into AI-powered technology that businesses use to transcribe calls, take notes, and understand which parts of a conversation stand out to drive decision-making.
Dialpad Ai acts as an assistant by your employees' side for every call. Employees see a real-time transcript to never miss a word, and Dialpad Ai quietly acts to understand the conversation and capture moments to review after the call. You'll always know when a caller shared important information such as the purpose of the call, an email address or phone number, and even a competitor's name.
Communication and collaboration need to 'play nice' with your other tools, too. Courtesy of Dialpad and its integrations, T-Mobile Collaborate ties in with several top-tier software providers including Salesforce, Microsoft 365, and Zapier. Just as you talk to a coworker or client, T-Mobile Collaborate talks to other platforms to sync business data.
T-Mobile Collaborate also deploys in minutes, and expert support is available for any businesses requiring hands-on guidance. If you ever need to add or remove employees, that takes just a few clicks. Dialpad's decade-plus of experience means that T-Mobile Collaborate scales flawlessly for organizations from small businesses up to large enterprises. Outdated, on-premises PBX systems just can't do this.
5G is pivotal for T-Mobile WFX Solutions, which T-Mobile Collaborate falls under. Businesses are able to allow employees to use their smartphones and tablets as well as a computer through mobile hotspot on the magenta-colored network, but T-Mobile Home Office Internet also unlocks fast, reliable internet in the home rather than away from the office or a shared workspace. It's just a matter of plug-and-play, too. No need for any hardwiring that takes up time and eats away at your business' budget.
Between faster data speeds, larger capacity for bandwidth, and reduced latency, the benefits of 5G are apparent for any business whether in-office or remote. Uploads and downloads accelerate to a mesmerizing level, and the lag employees often experience during meetings is virtually erased. That means participants in a meeting aren't forced to repeat themselves or accidentally talk over others mid-call. Employees focus on what they need to: communication and collaboration.
Overall, T-Mobile Collaborate delivers the best of what your business needs to get online and to actually communicate and collaborate internally as well as with customers. T-Mobile's 5G and 4G networks ensure a fast, reliable internet connection nationwide while Dialpad makes it more efficient than ever to call, message, and conference because you're not restricted to any particular device in the office or on-the-go. Looking to ditch an old, expensive system? Go right ahead — turn to the cloud and use AI to elevate your business' productivity by signing up for T-Mobile Collaborate.
The Hype is Real: Listen to What the Industry Says
T-Mobile Collaborate debuted in early March, and immediately the industry reacted with excitement as the partnership focuses on delivering what makes both Dialpad and T-Mobile innovative, well-regarded companies capable of transforming business communications. With a next-generation 5G network that's only expanding, T-Mobile's opportunity to get more employees and entire businesses online using a seamless connection leads the wireless industry. Dialpad offers a complete cloud-based solution to ensure businesses interact anywhere at any time, including Dialpad Ai to automate common tasks and reveal key insights from every conversation.
Several publications throughout business and technology covered the news, and industry analysts also shared the importance of this partnership as an impactful way to future-proof a business' communications in the cloud.
Let's take a look at just some of the responses received since announcing T-Mobile Collaborate (powered by Dialpad).
"In partnership with Dialpad, T-Mobile is trying to offer businesses a way to provide workers with business cell service and, at the same time, replace the desk phone with modern unified communications software.

T-Mobile not only has significantly more scale these days, but it's also the leader in 5G networks."
"Although there are variations to work from home, one thing is common — hybrid work will be a fact of life post-pandemic (whenever that is). Hybrid work creates an excellent opportunity for T-Mobile for Business (TFB) to usurp the incumbents Verizon and AT&T."
"T-Mobile is also offering Collaborate, a virtual PBX and conferencing system from software firm Dialpad, which decentralizes the corporate PBX system and lets employees use it from a range of devices."
"T-Mobile is confident that it can make strong inroads into the enterprise 5G market, which it expects will total at least $40 billion by 2025."
"Companies can get T-Mobile Collaborate and unlimited talk, text, [and] data with 5G access for a price that's closer to what the competition charges for just the software or just the line."
Coverage of the announcement didn't stop there, and Channel Futures' James Anderson dug deeper with Dialpad's Mike Kane, Vice President of Global Channel Sales, and DJ Gillit, Head of T-Mobile Partnership, to discuss why T-Mobile Collaborate isn't just a resale structure. As noted in the piece, T-Mobile did consider assembling an in-house solution but turned to Dialpad due to its award-winning history in the mobile-first environment.
As part of the effort to expand access to cloud-based communications for all businesses, T-Mobile Ventures also made a strategic equity investment in Dialpad. So it's only the start for T-Mobile Collaborate as Dialpad continues building out world-class features to empower businesses on T-Mobile's next-generation 5G network.