March 06, 2020
There's been an unquestionable uptick in remote work over the past few years. That came as no surprise to those of us who have been following the trends.
However, threats associated with the COVID-19 virus have many companies accelerating their plans for remote work and expanding existing policies or implementing an entirely new framework.
Dialpad and Dialpad Meetings were designed from the ground-up to allow great collaborative work to take place, no matter where a person happens to sit at any given moment. As powerful solutions like these have always been at the core of how work gets done at Dialpad, we asked a few of our employees to share their thoughts on what it means to thrive while working remotely.
They offered their advice on everything from the importance of setting up a desk by the window, to setting clear boundaries with your family, to using a cloud phone system to stay connected and productive.
5 remote work tips
Tip #1: Jenny Moody, a Dialpad Billing Support Manager, who works out of her home office in Haleiwa, Hawaii

"My big tip is to make sure to put in the hours. Just because you're home, don't get distracted with quick errands or chores--which never finish--and will be waiting for you after work. If I need to drop my kids off at school, l put in an extra half hour of work later in the day.
It's also important to set expectations for the rest of your family. I tell them, if the door is closed, it means we need to be quiet and most likely I'm on a video meeting or conference call. My family knows not to barge in.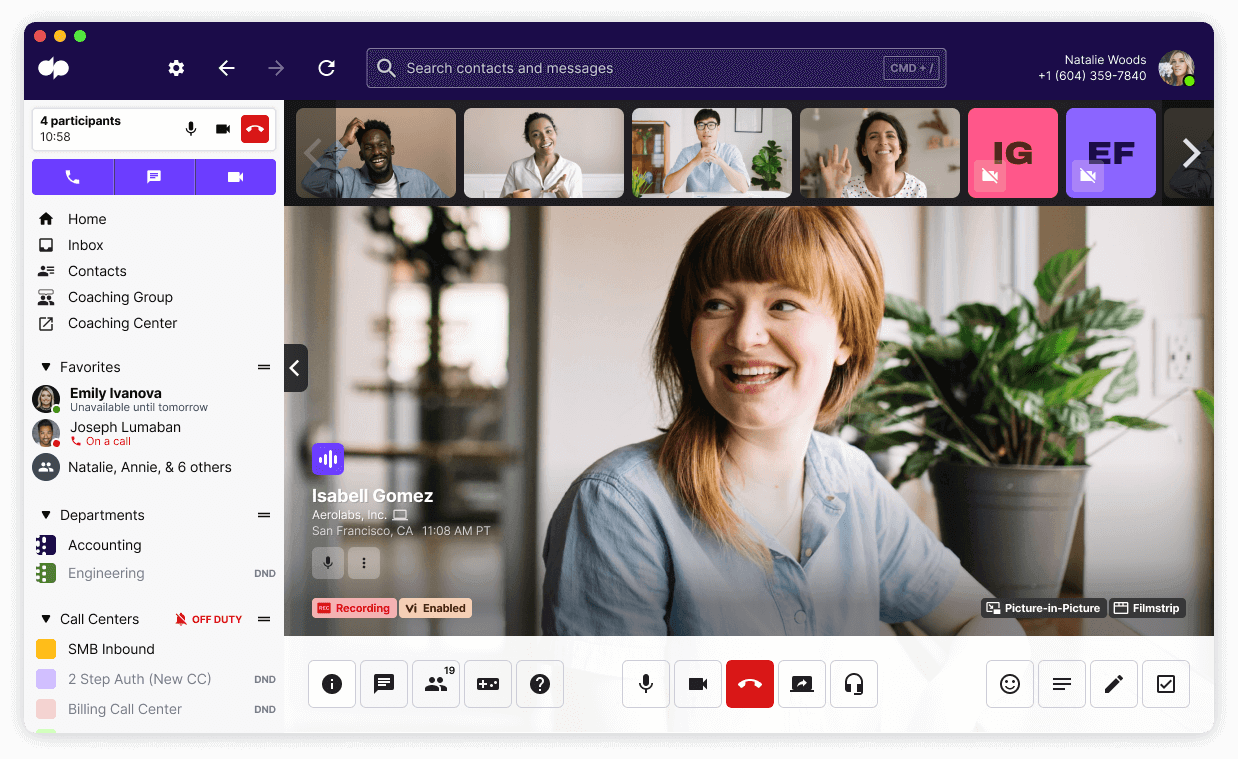 Our motto at Dialpad is Do the Right Thing. I make sure to tell my team members to be honest and have open communication. I feel trust is so important when you work remotely. Don't jeopardize the relationship with your team, your manager, or your company. You are being trusted, and it's a privilege...And don't get distracted by social media--that will also be waiting for you after work!"

Tip #2: Mike Kane, Dialpad VP of Channel Sales, who works out of his office in Los Angeles, CA

"Leverage video calls as often as you can, as it really does help you stay connected and present. You're able to communicate non-verbally as well as pick up on non-verbal queues. You can read body language, facial expressions, etc… without it, remote working is more challenging.
I typically travel each week but try to reserve Mondays and Fridays to work from home. I like it because it has good lighting, which is critical for video. And good acoustics. You're on video a lot so your webcam lighting is important. That's why I sit by the window. 🙂
And when working remotely, it's really important to have the same routine as you would heading into an office each day. Establish your work space, establish the same start time, dress as if you're heading into an office."

Tip #3: DJ Gillit, a Dialpad Enterprise Sales Engineering Manager, who works in his home office in Thompsons Station, TN

"Because there can be so many distractions when you work from home, it's important to set goals and priorities for getting things done while also keeping regular working hours.
When I think about remote work, I often use the phrase, 'Don't work like cattle graze.' You have to set clear boundaries. Work should not blend into family time and the rest of your life. Most mornings, I help my kids get ready for school. But at a certain point, I transition into work-mode. I go upstairs and close the door to my office. I've gotten everyone comfortable with pretending I'm not there.
It's critical to stay focused and knock out your work. I also make a point of having workspace separate from the places in my house where I relax."

Tip #4: Josh Hynes, a Dialpad Senior Product Designer, who works from home in Carlisle, PA

"If you're making a transition from working in an office to working from home, have a dedicated space. That definitely helps with work-life balance. Don't try to do it at your kitchen table. When you work from home, you're always overworking. So this helps you close the door and walk away.
It's also important to make connections with people. Find other freelancers, remote workers, or contract workers who live in your area. Meet up with them--even if it's virtually. If you make that first transition to working from home, it's a good habit to have initially. For me, it was a culture shock to go from being surrounded by people all the time--to suddenly not."

Tip #5: Kareem Agha, a Dialpad Regional Sales Director, who works remotely in Boston

"I've been working remotely with Dialpad for three years now. I've gotten so used to it that it's not really any different from working in an office. I always make sure to wake up at the same time--just like I did when I was commuting. I think it's very important not to change that. Every morning, I have the same routine. I drink my coffee, start work at normal business hours, and then set a typical schedule for the day.
However, since I'm not in the office, and there isn't a common meeting space, I find it's really important to do something social. It could be going outside, exercising, or talking to a friend. If you just sit in your house all day, you can turn into a little bit of a hermit crab. For me, it's really important to still have personal connections even if you're not physically going into an office."
---
So bottom line, everyone is different when it comes to what helps them the most with concentration and efficiency, but here are some tips that our very own remote employees have found extremely beneficial. Other productivity tips you can try include taking breaks, decluttering your workspace, and saving your video calls for the afternoon.
We hope some of this can give you inspiration and help you maximize your productivity when you work from home!