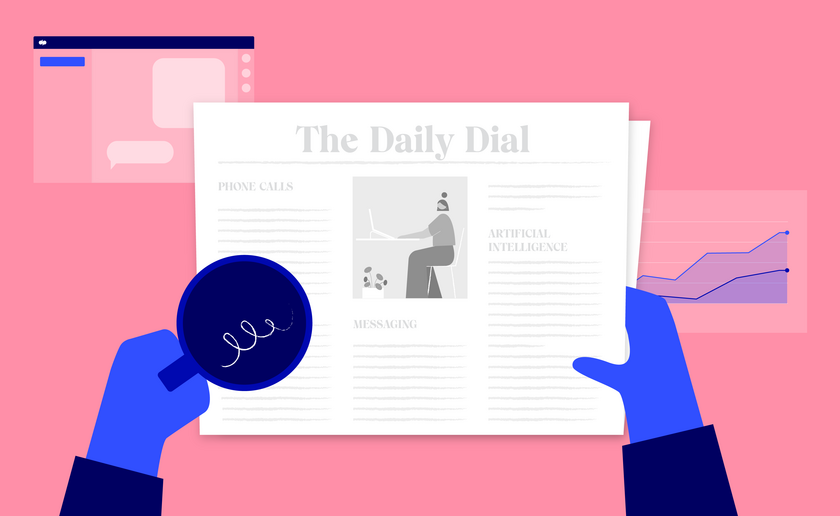 March 08, 2021
Release Roundup: February
Dialpad is always delivering even more tools to help you and your teams be more productive, more collaborative, and more efficient.
Let's take a closer look at the features released on the Dialpad platform in February.
Preset Statuses Linked to Presence Indicator
One of the best parts of taking a vacation is that moment when you check the final 'to-do' off your list and watch the clock strike 5:00. Rest and relaxation are right around the corner, and the last thing to do before closing your computer is setting your out-of-office status on Dialpad (which is usually accompanied by a smile and sigh of relief!).
Now with preset statuses linked to your presence indicator, easily and automatically let everyone in your organization know that you're on vacation, in a meeting, traveling, or out sick. Aside from displaying fun emojis of palm trees or an airplane as your status, these indicators also appear next to your name on the left sidebar of everyone else's Dialpad app, letting them manage their expectations if they are trying to reach you while you're out.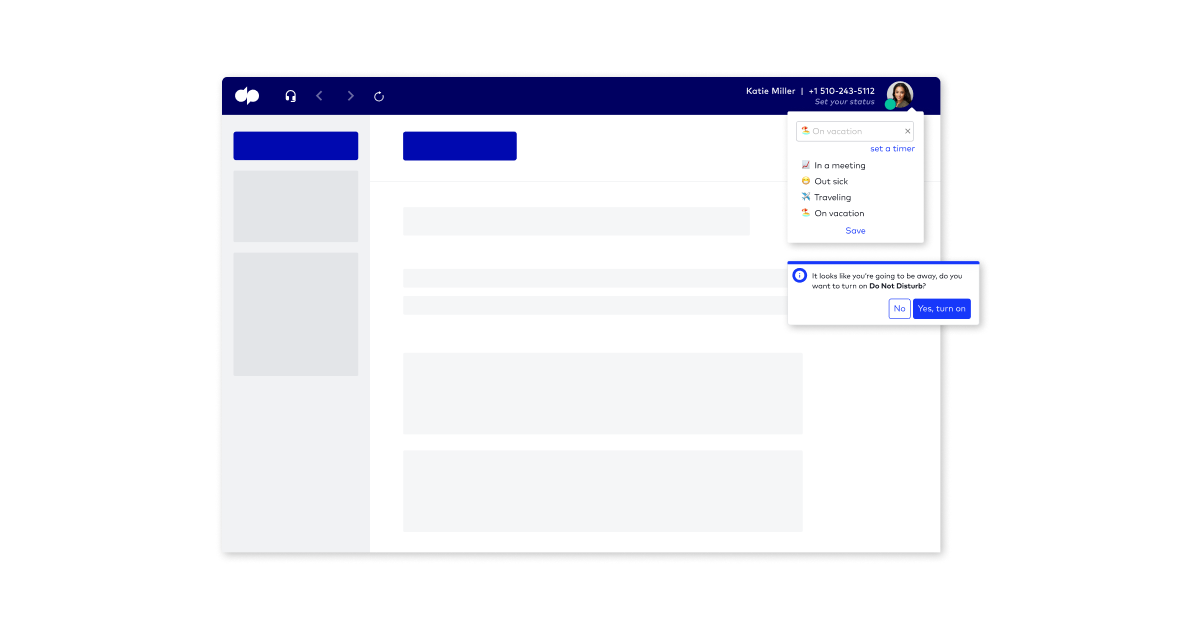 If you select the preset vacation, traveling, or out sick statuses, you'll be prompted to turn on Do Not Disturb (DND) mode, saving you a step in having to select it from the drop-down menu. Do Not Disturb mode can be configured in the Settings menu to either route calls to your other devices or directly to voicemail in case you're trying to fully unplug for a while.
Manage Your Meetings Like a Champ with Meeting Countdown Timer
With companies' shift to remote work, we find ourselves attending more meetings throughout the day. These meetings can take many forms, some that are more productive than others. Research has shown that the most productive meetings have a clear and set agenda. However, we've all been invited to meetings with agendas so long that it's impossible to cover every item on them. Early presenters drone on. Topics get debated. You quickly glance at the clock and realize you have 5 minutes left in the meeting, so the remaining presenters are asked to quickly power through their content. During this time, focus is lost and participants have shifted their thinking to their next meeting.
Wouldn't it be great if you had a dedicated tool that could give everyone equal floor time? Enter Meeting Countdown Timer, a new feature for Dialpad Meetings that helps you manage the time in meetings more effectively. Meeting Countdown Timer is now available for all UberConference Business users.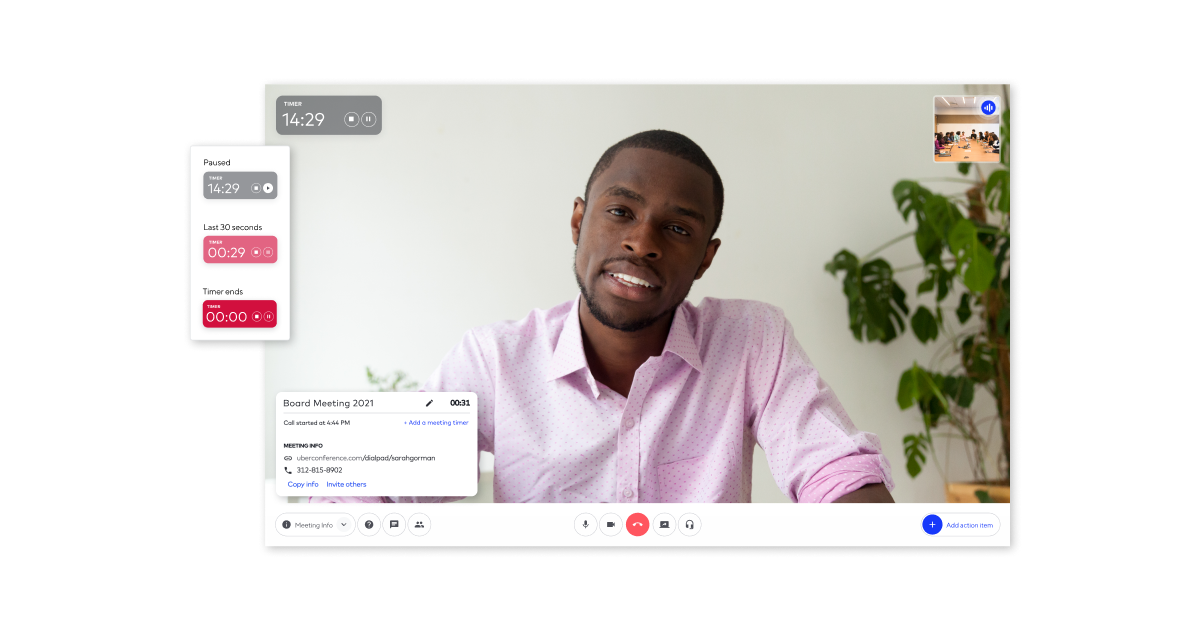 Built into the Dialpad Meetings desktop and browser apps, set the meeting timer to minutes or seconds from the Meeting Info menu. The meeting timer is displayed elegantly on top of the meeting window so that it is visible to everyone in the meeting. It will flash red at the 30-second mark and then provide a light-sounding alert when time is up. The meeting timer can also be started and stopped by anyone in the meeting, which offloads responsibility for the meeting host to be the sole facilitator of the meeting.

But Wait! There's More...
Uncover the reasons behind your calls with Dialpad Ai and the 'Purpose of Call' moment

Now enabled for Dialpad Voice and Dialpad Ai Sales licenses in addition to Dialpad Ai Contact Center licenses, the 'Purpose of Call' moment identifies the reason for calls by identifying the who, what, when, where, and why a call is taking place; example: "I'm calling to see if I can get my car detailed later this afternoon.

Reveal key data with Dialpad Ai and the 'Competitor' moment