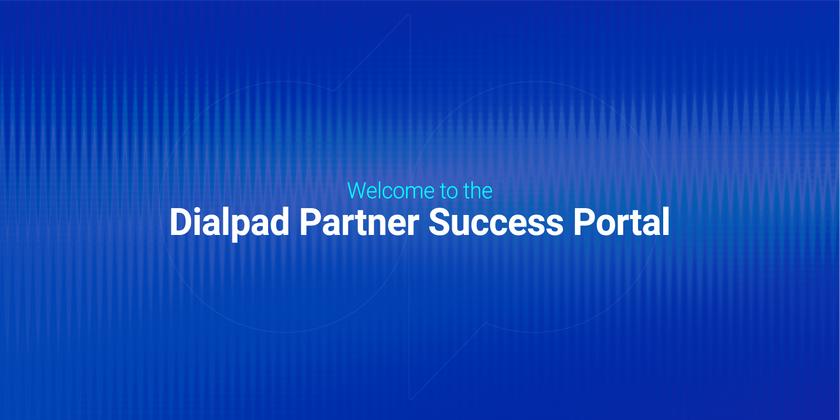 April 05, 2021
Dialpad values doing the right thing, and it's my job as a Sales Enablement Program Manager to ensure that we enable our partners with the right resources at the right time — from training to certifications to enablement resources and everything in between — in order to enhance their ability to take Dialpad as a product to market for their customers.
Beyond providing the right resources, I'm also responsible for creating processes internally at Dialpad to make sure that we provide the best partner experience and a positive experience for their customers. For me to ensure we're providing resources and processes in the right way is to actively listen to our partners' feedback every day to understand what they need from Dialpad and continuously make sure their needs are being met in order for them to be successful with us.
Introducing the Dialpad Partner Success Portal: Our Partners' All-in-One Experience with Dialpad

As I joined Dialpad late last year, I've been able to see the incredible progress that the entire Dialpad team has made to give our partners what they need to become successful Dialpad partners. Today, I'm pleased to announce the latest investment in our partner ecosystem with our new partner portal, the Dialpad Partner Success Portal.
Launching a partner portal is a team effort spanning the channel organization, but for today I'd like to share the benefits of the new partner portal through the lens of partner enablement.
An effective partner portal provides partners with an all-in-one experience where they can go to get the latest and greatest content. In today's world, this is incredibly important as partners can be inundated with hundreds of emails each day, and I don't want them to worry about sifting through their inbox to find documents from our team but instead the right content at the right time they need it.
The functionality and processes put in place through the Dialpad Partner Success Portal make it easier for our partners to do business with us. From the portal, partners are able to access robust marketing campaigns and sales playbooks that they can use to position Dialpad as the right solution for their customers. Now when a partner's customer is ready to move forward with Dialpad, a partner can go to the portal and submit a deal. Once the deal is submitted, our team is able to get back to partners typically in a few hours to qualify the deal and make sure it's the right mutual fit.
A Home Built for Partners
Overall, the Dialpad Partner Success Portal was built for our partners so that when they work with us they are benefiting from a seamless, refreshing experience that removes the friction that partners may experience when working with other solutions.
As partners are able to access the portal today, I am most excited to see partners take advantage of the many great features of the portal, including customized landing pages that can be spun up by partners to present the right Dialpad messaging as well as resources to review with their customers.
What's Next for the Dialpad Partner Success Portal
Looking forward, I am eager to see how the Dialpad Partner Success Portal evolves to meet the ever-growing needs of our partners by giving them access to live training, certifications, and more so they have an excellent enablement experience with our dynamic product offering.
If you're ready to experience the benefits of the Dialpad Partner Success Portal, get started today.