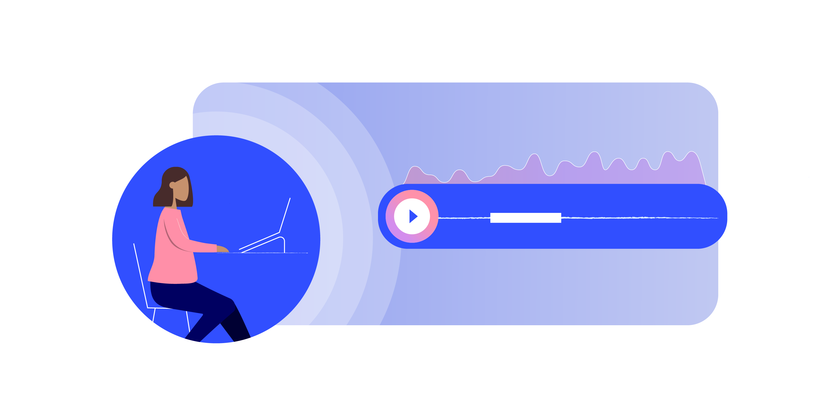 March 26, 2021
For a small business competing to thrive, it can often be difficult to find a winning edge. Having a bad business phone system (or no phone system at all) can cost you customers, slow down your team, and have you spending a lot of money for little value. Your communications need to be agile, quick, and clear if you want your business to succeed.
A good small business phone system—or better yet, communications platform—can help you get your business off the ground and go toe-to-toe with larger competitors - this is where artificial intelligence (AI) can shine. When you add AI to your communications platform, you open up a new world of possibilities.
When properly utilized, AI can boost efficiency, productivity, and make communicating smarter. That's what we provide with Dialpad Ai, which brings the power of AI to every call. To illustrate the value of Dialpad Ai, we've covered just a few of the ways it can make communications easier for your small business.

Challenges Small Businesses Face
Too much delay can cause a business to lose customers, and every customer is important - letting one fall through the cracks can set you back. Teams need to stay connected and be able to move quickly. Each member of your team may have multiple responsibilities to juggle. With all these challenges, it can be difficult to see the payoff especially with competition from bigger rivals.
Choosing a communications platform for a small business can be a difficult decision. You need to find a platform that is affordable and provides the key features that your team needs to thrive - thus both saving money and improving productivity. Going for a platform with more bells and whistles than you need can also get prohibitively expensive, but you shouldn't ignore your communications platform.

A small business needs every edge to line their pockets and stay competitive. What better edge is there than the power of AI in your communications platform?

How Dialpad Ai Can Help Your Small Business
Now that we know what challenges small businesses face, the next step is seeing how Dialpad Ai can help overcome them. There are many features that can help businesses of all sizes become more agile, efficient, and connected.

Transcriptions
The daily life of a small business owner or employee can be busy, with multiple calls, conversations, messages, and notes to keep track of. You need laser-sharp focus to keep up with everything, especially if you have an important call and don't want to miss a detail. Call recording is helpful, but searching for key moments or statements in a lengthy recording can also be time-consuming. What you need are automatic transcriptions, so you can focus on the conversation in the moment and have everything written down when it's done.
Dialpad Ai can provide automatic transcriptions for every call and voicemail message to help improve efficiency. When the call is done, the conversation is ready for you to read, making it easy to go back and check on important moments, grab quotes, and take notes for your records.
Check who agreed to complete what task, what's coming up, and similar vital information with clearly marked, sorted, and delivered insights from your conversation. Dialpad Ai highlights action items, pain points, and next steps on the transcriptions.
By making calls and voicemail immediately available and visible, you can work faster. If you need to pull information from a call, it's easy to search the transcription and find it rather than listening through the entire call. If you have voicemail with important information, you can pull it up quickly and respond.
Transcriptions also improve accessibility. With call recordings or voicemail, you have to listen carefully and take notes, and there are distractions whether you work from the office or remotely.
If you're in the office, and the coworker in the next cubicle is talking particularly loudly on a call, you might get distracted and miss an important moment in the call.

If you're working from home, you might be busy trying to take notes while helping your child or pet, or even just get distracted by a neighbor mowing the lawn.

If you're commuting between work and home and need to check your previous conversations while on the bus, you can do that without distraction too.

If you are hard of hearing, transcriptions will ensure the information is accessible for you.
Dialpad Ai transcriptions can be accessed from any device and easily read through even if there's noise and distractions around.

Real-Time Assistance
Customer loss can be a major issue, and the best way to keep customers coming back is through positive interactions with your business. In the case of a small business, your employees often turn into customer service agents or your own miniature call center. These moments can make or break customer retention - how can Dialpad Ai help you keep customers happy?
When your team isn't sure how to respond to a customer, Dialpad Ai offers Real-Time Assist cards and live coaching. During the call, it analyzes your conversations in real time to identify customer pain points, questions, and even sentiments, then provides assistance to your people.

Is a customer asking about a product? Dialpad Ai can instantly pull up relevant information.
Is the customer having trouble with a known issue? Dialpad Ai can provide instructions for fixing it with a Real-Time Assist card.
Is your employee talking too fast or interrupting the customer? Live coaching will provide tips telling them to slow down.
Whenever your team is on the phone with a customer, Dialpad Ai's real time assistance can help ensure they provide top-quality service every time. You'll be able to keep your customers happy, keep them coming back, and keep ahead of the competition.

Record Keeping & Sharing
If records are unavailable or hard to access, it can cost you both time and money. Running a small business keeps you busy and pulled in every direction, and losing track of your records can set your productivity back significantly. When you keep records of calls and conversations, there are often laws and regulations you'll have to be compliant with, especially in case of audits.
This means that keeping your records organized is of the utmost importance. Can Dialpad Ai help with that as well?
It keeps records of every call and message, including the aforementioned transcriptions, action items, and talking points. This makes it exceedingly easy to save, search, and share your records to make sure everyone is up-to-date. You can also set your call recording and transcription settings based on your local guidelines and regulations, ensuring compliance with all applicable laws.
If you need to find key information from a call you made a week ago, you can simply search your history to find the call, access the transcriptions, and jump to the information you need. Everything is transcribed, so sharing is as simple as sending a message.
These call records can keep you productive and prevent delays caused by searching through cluttered notes and memos. When records are readily available, your small business can move faster.

Affordable for Small Businesses
As a small business owner, you understand that, in order to grow, it's important to keep costs low while increasing productivity. But there are so many hidden fees and the costs can seem unrealistic. Fortunately, Dialpad is affordable for businesses of all sizes, with predictable annual charges and no hidden fees.
You won't have to pay extra for AI support or any of the features therein. While some communications platforms may charge extra for features like automatic voicemail transcripts, Dialpad includes artificial intelligence and all its capabilities in even our most affordable plans. This means that call recording and transcriptions, automatic post-call notes, speech coaching, and all the other AI-powered features that help small businesses thrive are available at no extra cost. Our customer service team is also there to help every step of the way.
Staying competitive doesn't have to break your budget. Small businesses that use Dialpad for their business communications benefit from Dialpad Ai and all its features while staying well within their price range and getting the support they need from real people.
See for yourself how you can satisfy customers and grow your business with Dialpad having your back.

Try our 14-day free trial and see how Dialpad Ai can transform your small business.
Get Started Today