February 04, 2020
If you've ever read a choose-your-own-adventure book, you know at some point you're going to be faced with making a decision. And with each page turn, your storyline (or path) changes, leading you to an ending that either leaves you satisfied or frantically thumbing your way back to the start (it's okay, we all did it).
Today, workplace communication is a lot like that. Email or Slack? Text or call? And just like the books, the channel you choose can potentially lead you astray: a single email turns into a three-day thread; your weekly conference call leaves your team snoozin' rather than following along.
But that's where tech can help.
Instead of having all these choices and channels living in separate ecosystems, the right combination of workplace tools can give you a single point of focus. And when you need to pivot, whether that's from a text to a call or a Slack to a screenshare, you can.
Which brings us to our latest announcement: starting today, customers can launch an Dialpad UberConference meeting straight from Intercom or Slack and get to the heart of the matter faster.
---
Dialpad UberConference for Intercom: Deliver Real-Time Support
With Dialpad UberConference for Intercom, agents can walk customers step-by-step through tough spots and ensure that every question is heard and answered.
UC + Intercom | How It Works
The Dialpad UberConference app for Intercom gives you online meeting functionality from within Messenger.
During a chat, agents can select the Dialpad UberConference icon to initiate a meeting card invite with their customer or prospect. Your meeting invite will include details like:
Your Name
Your meeting URL (to join online)
Your meeting dial-in number (to join by phone)
Clicking the join meeting button will launch the Dialpad UberConference web interface and give both customers and agents the ability to join a video or audio meeting. The customer can then view a screen share from their browser without needing to install any software.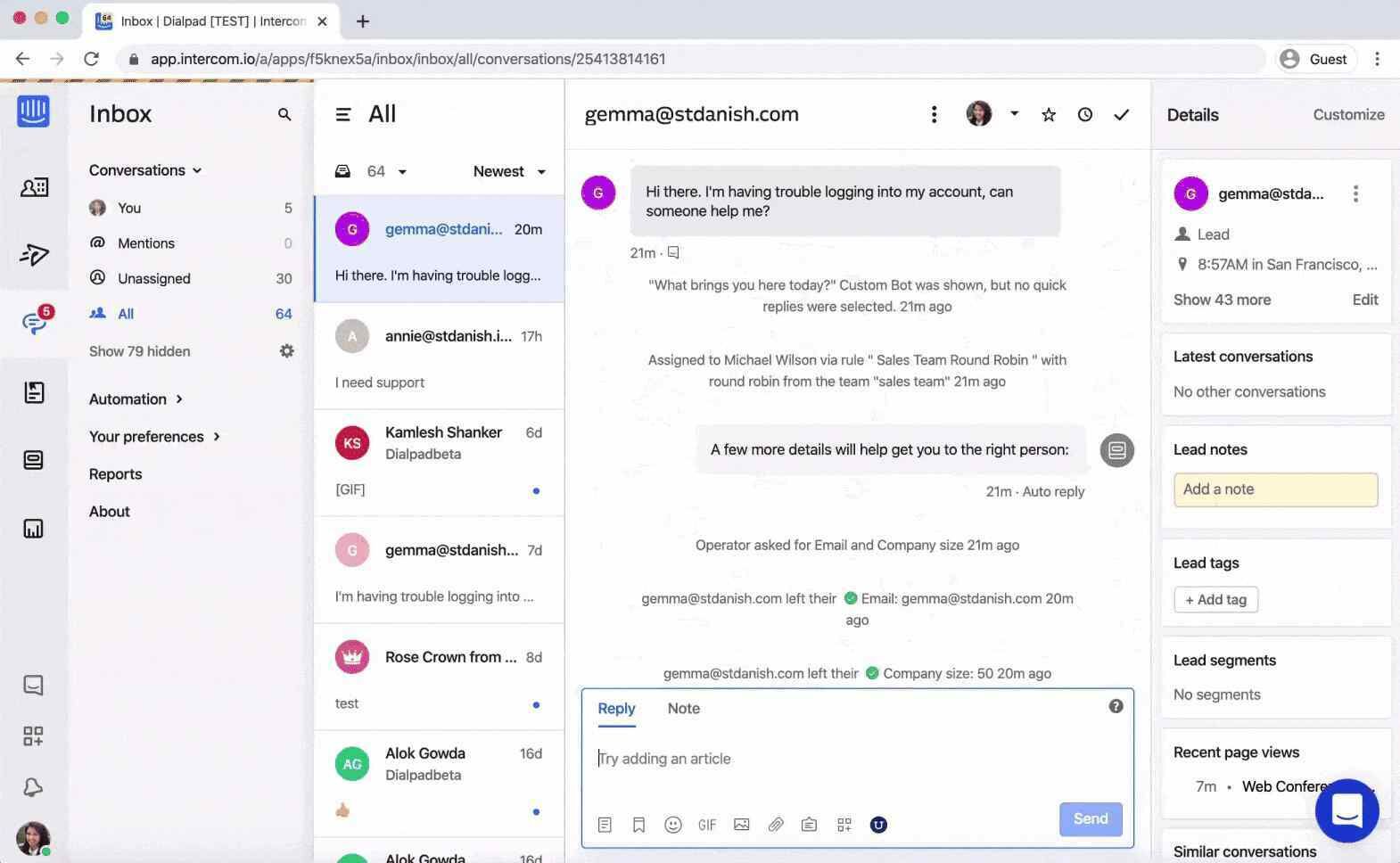 ---
Slack: Where Teams Come Together
With Dialpad UberConference for Slack, teams gain an easily accessible meeting platform to clear up confusion, connect with people outside of Slack, or just gain a little face time.
UC + Slack | How it Works
The Dialpad UberConference app for Slack gives you easy access to your online meetings platform right inside Slack.
To initiate a new meeting, simply use the /uberconference command to generate your meeting card which includes details like:
Your Name
The timestamp of your meeting invite
The # of people already on the call with their displayed Avatars
Join button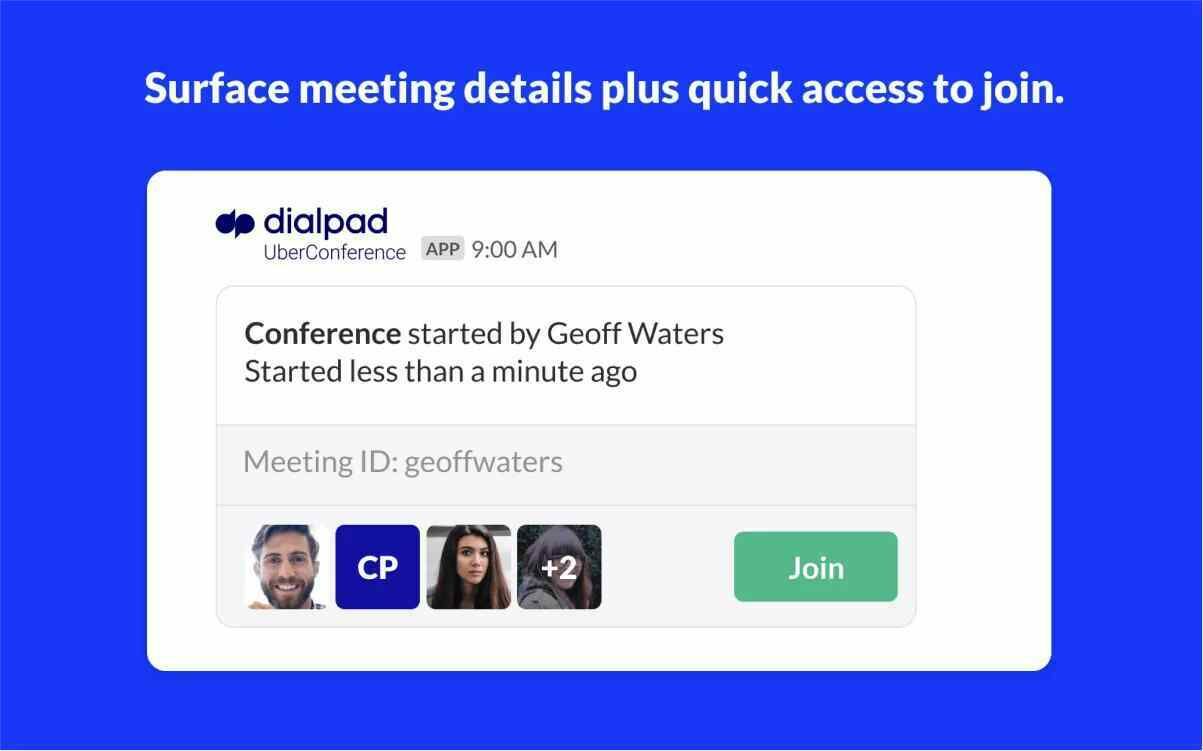 And when your meeting wraps up, Dialpad UberConference will automatically thread your meeting notes plus a link to your call recording under the meeting invite so everything you need is still accessible from Slack.
---
No Pens, Pins, or Downloads
Dialpad UberConference is the only meeting platform that's ditched pins and downloads to deliver the easiest path to collaboration.
With Dialpad UberConference, automate your meeting notes and keep track of next steps with our Voice Intelligence™ Ai-powered summaries that include:

Your entire call transcription with clear speaker separation
A link to playback the audio recording
Highlighted action items that help pinpoint your next steps
A sharing link to easily loop in other team members

Teams can start using the Dialpad UberConference integration today by visiting the Intercom App Directory or Slack App Directory.