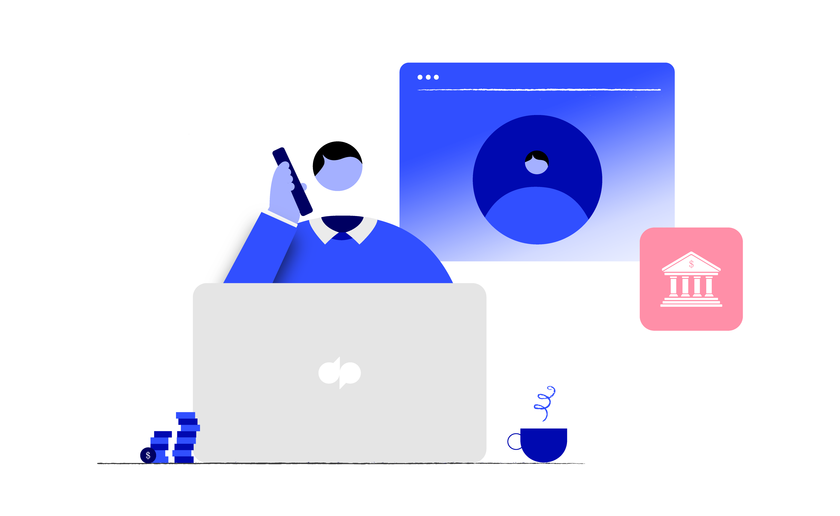 September 10, 2020
Professionals in the financial services industry know that trust is paramount for their businesses' success—but how can you trust that your company has the best communication system?
Modern credit unions and banks no longer rely on traditional phone connections. Your clients demand more ways to access the help they need as they work to improve their fiscal future. Today, financial service leaders use cloud-based communication systems that offer automation and integration options to enhance both client service and their bottom lines.
Whether your financial company is a startup or an established firm, cloud communication software can dramatically modernize the way you do business. To find the best business phone system for financial services, you should compare price, flexibility, reliability, and the availability of features designed specifically for the industry.
Cloud-based business phone systems should securely protect proprietary data, use artificial intelligence to help you provide better client service, and allow for automated call recording, call logging, voice transcription, and note-taking. You'll want to select a system that works on all devices, lets you have both local and toll-free phone numbers, and integrates seamlessly with your other cloud-based services.
With these features, your business phone system can truly become an asset that supports your company as you provide the high level of service your clients expect.
Call logging
It can be challenging for executives to monitor the team's work, but it's as simple as reading a report if you have a good cloud-based phone system. Using a softphone app on a mobile device or a computer, managers can analyze every call taken or placed. Modern phone systems allow you to record call histories, track all communications, and ensure client needs are met and that your employees are exceeding expectations
Call recording
The financial services industry requires that formal requests, such as investment decisions or payment concerns, are completed promptly. When confusion arises in passing along tasks to other team members, there can be severe consequences. The best VoIP phone systems can help.
You'll want to make sure that any modern communications software you choose provides unlimited audio recordings of every call, whether those are inbound calls or outbound calls. Call recording lets you play back calls right away or download them for record-keeping to store in a client's file. Because calls can be stored in a shared repository, the entire team can access the data (or you can restrict access by role) no matter where they are working.
Automated transcription
Imagine being able to transcribe virtual meetings or critical phone conversations about changes in legislation or other detailed updates for the industry—without having an assistant sit in or trying to take complex notes while holding a conversation.
The best cloud communication platforms provide transcription automatically. Gone is the clunky transcription software of the past that often created gibberish notes. Modern systems transcribe clearly and accurately and even differentiate between voices, so the speakers are apparent in the notes. These smart transcriptions let you filter call notes by speaker or search by keyword, date, time, and even phone number.
Security

Whatever your company's role as a financial institution, the most important thing to look for in cloud-based communication software is security. Clients who trust you to manage their money or provide lending opportunities need to feel sure their data will be protected.
To assure your customers that they can trust you with their finances, your cloud-based, professional phone platform needs to protect call data from cyberattacks and security breaches with robust data protection and encryption.
App integrations
In the past, even small and medium-sized financial businesses worked with word processing and other office software that was set up on individual computers. Today, networks are managed online through cloud-based platforms, such as Google Workspace or Microsoft 365.
Many financial services companies rely on these platforms to manage daily workflows. It's important that your communication platform can seamlessly integrate with the other services you use. Otherwise, you'll spend unnecessary time and effort organizing and syncing files so that all data will be accessible and accurate.
Cross-platform compatibility
It's only been in the last few years that financial services institutions have been able to work outside the office, and now clients expect this remote work to happen at all times of the day, no matter where you are.
Look for cloud-based platforms that can be used on all devices. Your team won't have to be at their desks in an office to work efficiently or handle client requests. Modern workforces require flexibility, so choose a business phone system that allows access to communications technology via softphone, desktop, laptop, or mobile device. The best communications systems also make it easy for staff to keep business conversations separate from personal ones, even on the same device.
Local number availability
Depending on your client base, your financial services company may be able to increase your trustworthiness by using a local phone number. Not all cloud-based systems have this capability, but the best systems will let you have both toll-free and local phone numbers.
Your customers can quickly and seamlessly contact your business with a local number, no matter where your staff is located. With improved customer service opportunities, your clients will feel supported and interested in expanding business relationships. Businesses with local numbers in their directory listings may also receive a boost in local organic search rankings, helping you connect with more potential clients in target markets.
Researching phone solutions for financial services?
When you've decided to transition your financial services communication system to a cloud-based platform, you should search for a respected company that offers HD audio, automation, and other features tailored to financial services businesses.
Look for service providers that are willing to offer guidance through the transition process and also allow you to try the service for free. Dialpad provides modern business phone systems for financial services and supports innovative companies of all sizes around the world.
Sign up for a free, 14-day trial to get a local number and unlimited calling and texting within your own country as well as to the U.S. and Canada. See how a modern cloud-based communications platform can empower your business to work efficiently from anywhere on any device!