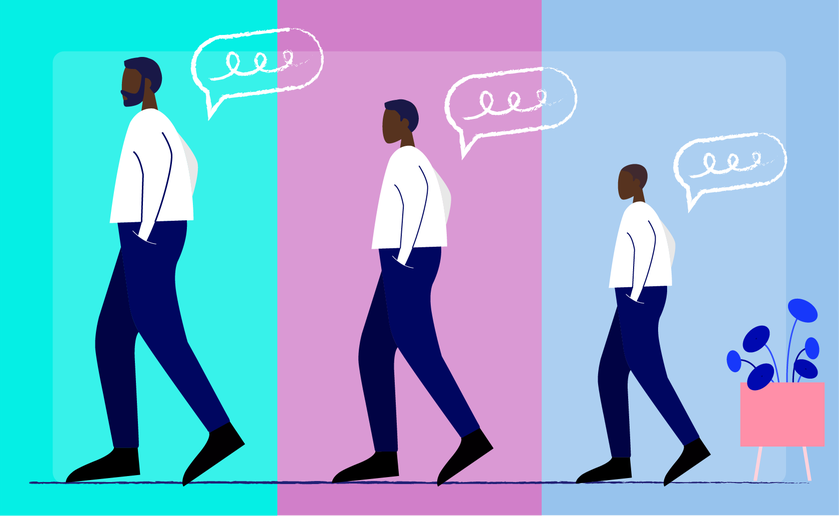 December 08, 2020
This past month, our Equity, Balance, and Belonging team held a company-wide event to bring the themes of community, sexual identity, and intersectionality to light. But how do you discuss such topics in a way that resonates with everyone? Movie night (with a special guest)—of course.
Equity, Balance, and Belonging at Dialpad
Inclusion is critical to the way we communicate and build our services. Looking back at the past year, Dialpad has seen and heard the pervasiveness of racial inequality and injustice in our world. To combat this, our EBB team has been working hard creating events and programs to help cultivate true equity, balance, and belonging here at Dialpad.
Our latest event to champion inclusion and diversity was a free movie screening of the award-winning Moonlight, followed by a discussion with the film's producer, Andrew Hevia.
Takeaways from Andrew Hevia and Moonlight
Moonlight is a coming-of-age drama written and directed by Barry Jenkins. The film, based on Tarell Alvin McCraney's play In Moonlight Black Boys Look Blue, is a series of three vignettes centered around Chiron's, the main character, childhood, adolescence, and early adult life. The entire film uncovers Chiron's sexual identity and the physical and emotional abuse he faces growing up.
Here are a few takeaways from the discussion with Andrew after our Moonlight screening:
Something original doesn't need to be expensive. Moonlight grossed $65 million on a $1.5 million budget. So, whether you're making a movie or managing an event at work, you can still create a massive impact on a budget—just keep your message clear and original.
Authenticity creates the most impact. It's why Andrew wanted to film Moonlight in his hometown of Miami. "By focusing on Miami, we could explore the stories in our neighborhoods. Stories we understood. Stories we lived. Stories that were authentic to us. We wanted to show you where we lived." When you tell a story that you have a deep understanding of, it comes across in your work.
Focus on a single audience. The rest will come. When creating Moonlight, Andrew set his sole focus on one audience—individuals like the main character. People that never seemed to fit in. People who came from an abusive past. People with an uncertain future. Andrew knew that not everyone has experienced this. But when you tell the story in a focused, compelling way, anyone can relate to it.
Small moments can create great meaning. As we see in Moonlight, a small moment like meeting a kind neighbor or eating dinner with an old friend can change someone's life forever. Your story doesn't need to be about saving the world or ending poverty. It just has to be human.
So, what can we learn from Moonlight and our discussion with Andrew? To the Equity, Balance, and Belonging team, awareness is the first step in any endeavor. Awareness for people of different cultures. Awareness of past trauma. Awareness of individuals that question their sexual identity. Once you become aware of people with diverse backgrounds and underrepresented communities, then you can start to advocate, understand, and build policy to help those individuals. Moonlight does an excellent job of this and its impactful storytelling allowed for millions of others to relate.
Dialpad will continue to work towards true diversity, equity, and inclusion by acknowledging and understanding the realities of underrepresented communities. If you have an idea for our next event or have another movie recommendation, please email our Equity, Balance, and Belonging team at [email protected].
---
Special Thanks to Andrew Hevia
We would like to extend our gratitude for taking time out of your busy life to chat with us.
About Andrew Hevia
Andrew Hevia is a Cuban American filmmaker from Miami, Florida. His producing credits include the three-time Academy Award-winning film Moonlight and the Spanish language film Cenzias, winner of three Ecuadorian national film awards. His latest directing project, a documentary feature called Leave the Bus Through The Broken Window, was called "the most original and fascinating documentary" of the year by Film Threat after it premiered at SXSW in Austin, Texas.
A graduate of the Florida State University Film School and Fordham University's Gabelli School of Business, Andrew was a 2015 Fulbright Fellow to Hong Kong, a 2017 IFP Labs Fellow, and a 2018 Producing Fellow at Berlinale Talents. He currently lives in Los Angeles, where he runs the North American office of Fabula, the Academy Award-winning production company founded by Juan de Dios and Pablo Larraín.