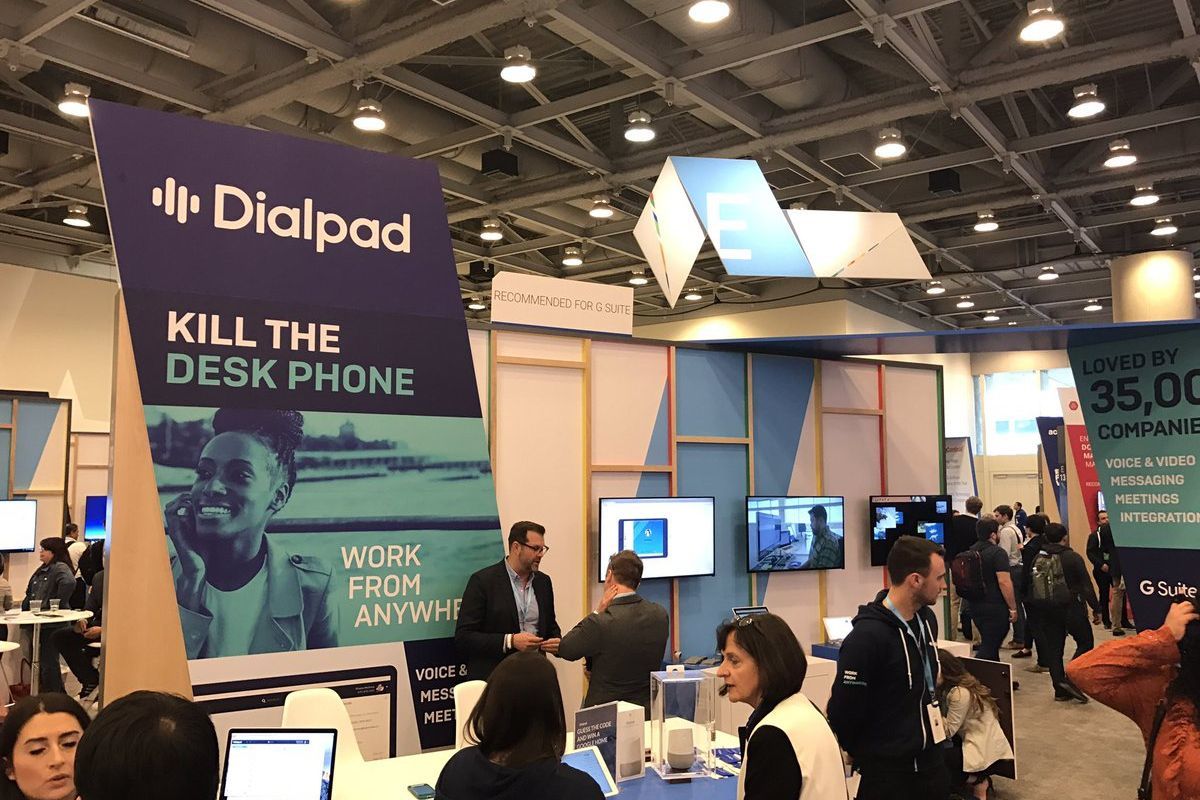 March 09, 2017
Image credit: @slac
The Dialpad team has set up camp at booth #E9 at Google Next! Come grab a beer with us at the booth or catch Dialpad CEO, Craig Walker's talk on filling in your IT stack with the Recommended for G Suite apps program— March 10, 2:40 PM–3:40 PM.
As the team behind Google Voice, the Dialpad troops are pretty excited about Google Next. Here's a rundown of your need-to-know info on everything Google Cloud Platform, G Suite and Dialpad.
Google Next: Day 1 highlights
New security features
Underscoring that security is fundamental to the Google Cloud mission, yesterday's keynote speaker Urs Hölzle, Google's senior vice president of technical infrastructure, announced six new security features for Google Cloud Platform and G Suite.
"By baking security into everything we do and offering innovative capabilities that build upon this secure foundation, we create many different layers to prevent and defend against attacks and implement enterprise security policies so that our customers can feel confident partnering with us to achieve their business goals."
- Urs Hölzle, Senior Vice President of Technical Infrastructure, Google
Easy content migration
More and more IT leaders are buying into the G Suite vision and looking to future proof their organizations. While G Suite is lightning-fast and easy to implement, many legacy systems still contain content and documents essential to the business. Content migration is often referred to as the iceberg of implementation projects.
Google is tackling this head on with its recent acquisition of AppBridge, the enterprise grade G Suite migration tool that helps IT leaders achieve the goal of shifting from their on-premise, cloud-based and hybrid solutions, to Google Drive.
"With AppBridge, your organization can migrate files effortlessly to G Suite from your existing file servers or content management systems like SharePoint, or from many other cloud platforms you might be using. File permissions are also brought over when you migrate, which means your team's file access remains unchanged and your data stays safe."
- Alex Vogenthaler, Group Product Manager, Google Drive
Future-proof your investment with G Suite + Dialpad
Dialpad is redefining voice for enterprise with scale, security, speed, and relentless innovation—all built on the Google Cloud Platform. Employing a microservices approach and utilizing WebRTC technology, we're able to roll out new product enhancements every week without down time, and scale at an incredible speed. In other words, Dialpad is a perfect example of cloud-first architecture that, by leveraging Google technology, will always be ready for tomorrow at no extra cost to the customer.
G Suite (formerly known as Google Apps for Work) is one product suite to create, to collaborate, to share, to meet and connect, and it works from any device. It is a born-in-the-cloud suite of apps, including Gmail, Docs, Drive and Calendar, designed to make businesses more connected, so they can move faster and go bigger than the competition.
Dialpad compliments the G Suite mission beautifully and our customers constantly report huge productivity gains and even bigger cost reduction. For example, Percolate's Director of IT, Kyle Jackson, saved 60% on his telephony bill while inspiring a motivated, work-from-anywhere culture by deploying Dialpad—in 24 hours with just two IT support staff.
---
The anywhere worker IT stack
Dialpad + G Suite across all devices
Dialpad is mobile-first and can be used across all devices. That means you have full flexibility to start or join video meetings and voice calls from any device, including Google's Chromebooks or Android for Work-enabled devices where Dialpad has also built steely integrations.
Native integrations with G Suite
Built by the team behind Google Voice, Dialpad naturally has a suite of Google integrations up its sleeve ready to delight G Suite workforces. Some examples are:
Employees can sign-in to Dialpad with their Google credentials using Google's SSO saving time and headspace used looking for and remembering passwords
Admins access their G Suite directory natively, making it dead-easy to spin up offices anywhere
Contacts sync bi-directionally with G Suite so your address books are always up to date
Dialpad, the #1 cloud communications partner for G Suite
Today, Google has 15 partners included in the Recommended for G Suite program within 10 different categories ranging from Document Management Systems over CRM to UCaaS or Unified Communications, the category home to Dialpad (although we're redefining this category as Modern Business Communications).
These categories were identified by Google because these solutions have the strongest demand from Google's Enterprise customers who are serious about transitioning the business processes into the cloud.
"Our partners like Dialpad have gone the extra mile in building extremely robust integrations with a great user-friendly UI, and thus have strong momentum in the marketplace with customers of all sizes and across various regions. Dialpad really compliments G Suite."
- Adam Massey, Director, Strategic Tech Partnerships, Google Cloud