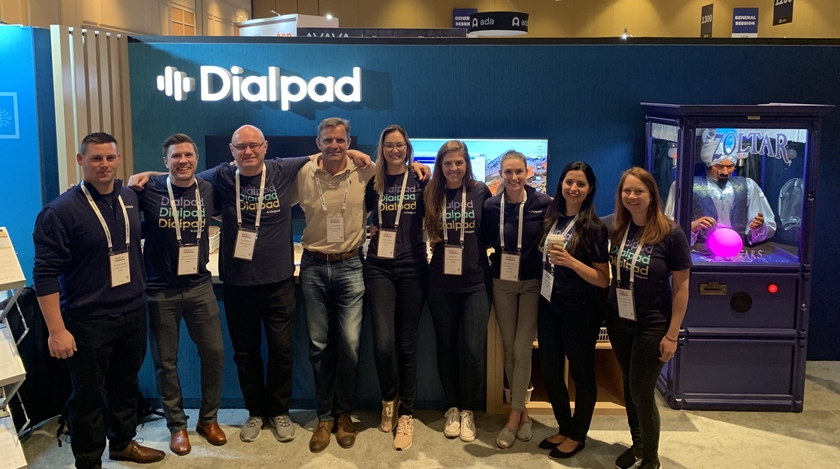 July 02, 2019
This year, Dialpad exhibited at Customer Contact Week in Vegas for the first time—and it was an event to remember! CCW is the world's largest customer contact event, bringing over 2,000 attendees together, 250+ speakers, and 200 sponsors and exhibitors across the customer experience space.
Although exhibiting companies may have differed in the products and services offered to attendees, one question resonated across the board: how do we create memorable customer experiences?
Day 1 kicked off with some wonderful insights to answer that question from Nancy Brinker as part of CCWomen—a community for women in customer contact to build relationships, support and inspire one another. Nancy, who built a billion-dollar global network against breast cancer, shared leadership lessons around building a company, strengthening a team, and keeping your team energized. Her presentation was inspiring as were the other workshops throughout the day. I walked away with some great advice, including:
Be more convenient
When you offer less friction and more convenience to your customers, they reward you with their money and loyalty. Customers are looking for easier and seamless experiences, so when building your product or service strategy, always keep convenience top of mind. For instance, you may have a great product, but how long does it take to get customers up and running once they sign the contract? How easy do you make it for them to add new users, while keeping their budget in check? Straightforward pricing, and ease of administration and deployment are things we have focused on at Dialpad from day one, and our customers love us for it.
AI is here to stay
The future is now, and in the age of automation, customer experiences must be redefined. We all know AI is here to stay, but how can you actually use it to improve both agent productivity as well as customer satisfaction (CSAT)? At Dialpad, we personally believe that while it's important to regularly perform post-call analysis so that you can shape your support strategy for the future, we also know that sometimes one bad customer experience is enough for a customer to be gone forever. From the day we designed Dialpad Ai Contact Center, we knew we wanted to help our customers help their customers, not just after the fact, but in the moment when they actually need help. We do this with Dialpad Ai, our artificial intelligence, which does voice transcription, allows managers to view the live sentiment of a call so they can step in to assist their agents, as well as automated coaching features, which help agents with real-time recommendations for answers to certain questions, and guidance around how to better drive their conversations. This enables coaching at scale!
Company culture and employee engagement matter
Building a culture of happy employees drives happy customers for your business. It's important to make employees feel not only engaged with your company and brand, but also connected to your customers and your mission. This isn't a function that only customer-facing teams are responsible for—your culture should be built in a way where every employee keeps customer satisfaction at the forefront of every decision and every task that they perform.
We still crave human interactions
In a world of AI, self-service automation, and virtual assistants, people still want to talk to… Well, people. Human connection is what drives us, and most of us would still rather talk to a person than a machine. It's important for organizations to find a balance between automating processes so they scale their customer service efforts efficiently, and ensuring customers still feel listened to and cared for.
At Dialpad, we have built our products with both productivity as well as meaningful customer interactions in mind, so agents can spend less time doing manual work, and more time having conversations and building great customer relationships.
This was a lot to think about and Day 2 was no less exciting with even more interesting topics to discuss—always with the customer at the center.
Customer service is the key to transforming your business
In the era of enterprise digital transformation, apps, and smartphones, customers' expectations around customer service are higher than ever. They have options and they know it, too, which means that they are no longer willing to stick around with a business that isn't responsive or efficient when they have a question or an issue that needs to be resolved.
These high expectations can be a problem for businesses not willing to quickly adapt and innovate, but represent a real advantage to businesses who have a sense of urgency and understand the importance of embracing change. At Dialpad, we're proud to have some of the world's most innovative companies in our customer portfolio, businesses who have embraced the cloud and artificial intelligence to ensure their customers' experience isn't only pleasant, but the best that it could be—and our commitment to them is to continue to push for innovation.
Stay curious and never stop learning about your customer
Do you really know your customer and what matters to them? Do you empower your agents to deliver personalized service and engage with customers in a way that will make the experience truly memorable? Most businesses will say yes, but few actually do it.
Mapping out the customer journey and shaping your strategy accordingly is important, but needs are always changing and evolving, so this work should be ongoing. At Dialpad, we understand the importance of helping our customers understand their customers, and giving them the tools to do so efficiently and at scale.
Our call analytics allow managers to spot keyword trends over time, see which topics are coming up the most, and view comprehensive call summaries complete with call transcriptions, key moments in the conversation and call recording, so they can always view the full picture and quickly turn insights into action.
Have empathy
Last, but definitely not least: don't treat your customers as a transaction. Building great customer relationships may take time and effort, but it pays off. Be a customer champion and encourage every person in your organization to be one, too. Train your team to be empathetic, even when the situation is difficult or frustrating. Ask your supervisor to step in when your agent needs help (hey, we help with letting them know when).
Build a culture that's both employee- and customer-obsessed, and your customers will feel the difference—and may as well end up your customers for life.