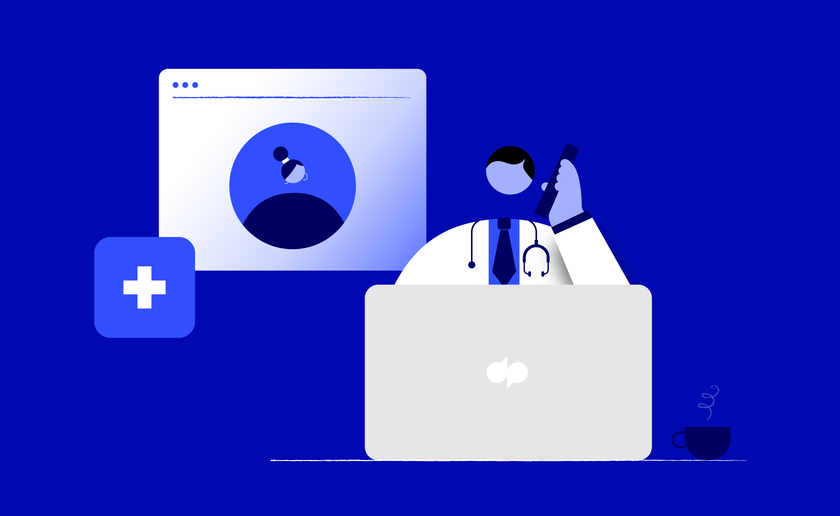 October 14, 2020
Selecting a business phone service in the healthcare industry means meeting a variety of specialized requirements.
Your front office must communicate effectively with both patients and insurance companies, and your doctors and office managers will need an easy way to contact staff and medical suppliers as required. Your phone service also needs to support critical considerations like HIPAA compliance and patient retention.
So, what exactly do you need from a business phone service? Here are a few things to look for when deciding on your healthcare office's new phone system.
HIPAA Compliance
The most critical requirement of a business phone system for the healthcare industry is compliance with HIPAA, or the Healthcare Insurance Portability and Accountability Act. This law requires healthcare companies to guard the privacy of medical and billing information against data breaches and unauthorized access.
Before anything else, a business phone service provider must be willing and able to sign a Business Associate Agreement per HIPAA regulations. Doing so assures your clients that you take responsibility for the compliance of the video and voice platform.
After all, HIPAA doesn't apply only to hospitals, clinics, and healthcare providers. It applies to third-party administrators and private vendors who access, collect, or transmit protected health information over the phone.
Security and Access Control
Compliance with HIPAA requires that all private information be locked, encrypted, and shielded from unauthorized changes and access. If changes are made, there must be an audit trail showing what was changed, when, and by whom.
Security is crucial, especially if you have team members working remotely. A cloud-based phone solution is an excellent tool for remote work. However, it must still have an audit trail, backup capabilities, breach notifications, and encrypted transmission of voice commands.
Business phone security also requires personal or office authentication, transmission and workstation security, and device and media controls. Your security and management process should contain information about each of these points.
Call Recording and Logs
Call recording and call logs are critical for ensuring accountability and information monitoring. A VoIP phone service with crystal clear calls helps retain both the words used and the vocal intent behind them.
The right service can help you identify when various patients, doctors, hospital staff, and insurance companies call and return the call with a single click. If you track your call volumes and the originations, you can staff your offices more effectively as well.
Record calls for training and evaluating staff members on their phone etiquette and knowledge. You can also upload critical conversations to an electronic healthcare record for future reference and compliance purposes.
Transcription
Select a business phone solution that provides call summary and transcription services. Patient records are most helpful when the information is provided in a format that can be quickly scanned before and during patient visits. When the transcription is part of the phone service, you can streamline your workflow and provide more personalized care for patients.
Efficiency and Ease of Use
Moving patients through a provider's office, keeping up with appointment bookings, and handling insurance and billing are challenges many healthcare offices struggle to meet. Not only should your phone system not be an obstacle, but it should also actively help you manage your office with ease and efficiency.
Call Handling
Patients call for appointments, to speak to a doctor, or to ask about billing and insurance. Pharmacies, insurance companies, other providers, and vendors are also on the line.
Transfer calls with one click to the appropriate party, no matter who they are. Look for easy transfer, call parking, and call delegation to handle call volumes at their highest.
Call parking allows you to place callers on hold momentarily until another staff member picks up on another device.
Call delegation will enable you to assign other team members to answer your incoming calls while otherwise engaged.
Call transfer makes it easy to pass calls along to a doctor or another member of your team.
Other services to look for include call waiting and caller ID, which helps your staff prioritize calls and hand them off to the proper person.

Learn more about healthcare contact center best practices.
Video Calling
As telehealth services continue to grow, video calling is an absolute must. Patients are demanding efficient service and prefer to skip driving to the doctor's office if it isn't necessary.
Underserved and rural areas benefit highly from video calling. Visual conference calling and screen sharing extend the type of appointments you can conduct over the phone.
Video conferencing encourages patients to sign up for the secure patient portal, where they can access lab results, send secure messages to their provider, track immunizations, and schedule appointments.
Flexibility and Convenience
Cloud-based phone service gives you the flexibility to take calls anywhere and the convenience to use your own devices. You can even make your smartphone HIPAA compliant with a mobile encryption service. It encourages strong passwords and prevents access to sensitive applications and data. Also, set up the device to clear all information after a limited number of attempts to access it.
Another strength of cloud-based phone service is that it is always updated to the latest version, keeping your phones secure.
Patient Experience
Your business phone service is often the first place your patients experience your services. A lousy patient experience results in low reviews and loss of revenue. Beyond ensuring everyone answers the phone professionally and courteously, you want to provide a pleasant experience in other ways:
*Custom Hold Music
Go beyond the bland hold music everyone else uses. Create a custom playlist that matches your branding and supports the experience you want patients to remember.
*Ability to Reach a Live Human Quickly
The most common complaint from patients is the inability to get to a human when faced with a phone menu. Ensure your business phone service allows patients to quickly reach a live person through a well-designed menu or an efficient live-answer plan.
---
Try Dialpad
Dialpad offers all the services above and many more. We help you work securely, efficiently, and effectively, no matter where you are or what device you use. It takes less than five minutes to set up.
Select a business phone service for your healthcare organization that takes care of you while you take care of others.