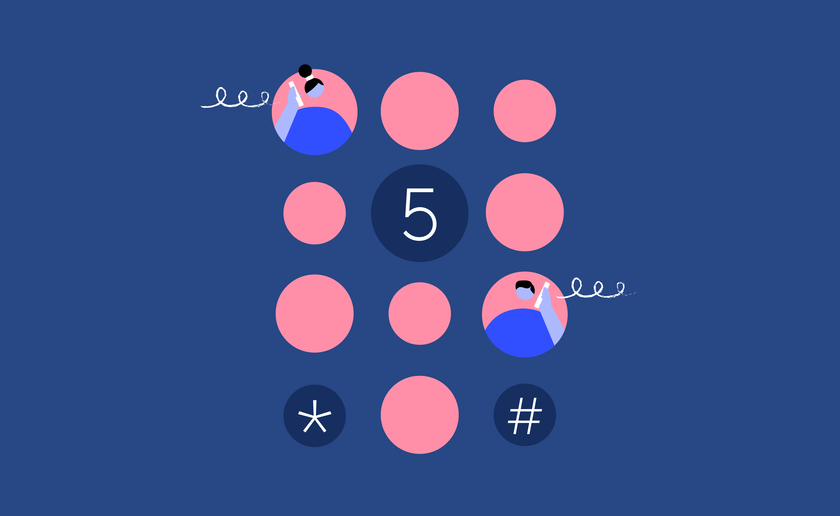 June 30, 2020
The age of the cloud is here. With it, comes a shift within the business world to become more API-based. One of the significant changes in the last few years is switching from traditional phone systems to AI-driven cloud phone systems.
Businesses today need to be more flexible, especially given the surge in remote work recently. Not to mention: businesses are at a significant disadvantage when it comes to scaling, as traditional phone systems often require expensive hardware and higher maintenance costs. These issues disappear and your team becomes more efficient and effective when you have a cloud phone system.
In addition to the lower cost, here are other benefits of a cloud phone system that you will want to consider as significant incentives for switching over.
Seamless and Total Integration
A cloud phone system allows employees to have everything they need on hand using fewer tools. When you decide to switch over to a cloud phone system, you benefit from a seamless and total integration of your company's business communications with many other applications you use every day, especially if you use a unified communications platform. Enjoy increased efficiency when using various business applications while ensuring your employees stay connected, whether they are at home or on the go. This kind of integration leads to an increase in productivity, thanks to easy access to audio and video communication, artificial intelligence CRM tools, instant messaging, and email.
Cloud phone systems integrate with business applications to assist employees in communicating and collaborating more efficiently and effectively. Other commonly-used applications, like Salesforce, can also be used within a single platform as your cloud phone system, so you don't have to toggle between different apps.
Business communications can stay seamless even when significant disruptions in traditional communications arise, such as severe weather. Anything up on the cloud will always remain operational and accessible, ensuring continuity for your business communications. Employees can access the tools they need, even when they cannot get to the office physically, or if a global pandemic is standing in their way.

Customization and Control
Cloud phone systems allow your business to decide on what features you want to be available to your employees. You will have the ability to customize communication functions according to what you want users to access. Since the cloud is always up and running, your employees will be able to access the phone system anywhere in the world. They can connect to it using their smartphone or desk phone at the office.
When your business grows, you need to hire more employees, open up more offices, and onboard new customers. These three significant changes stand to benefit from a communications system that can be flexible and scale according to your company's unique needs. Cloud phone systems can easily add more lines, deactivate extensions, and handle a larger call volume.
Helpful Business Features
When you have a cloud phone system, you can create ring groups, add users, swap numbers, leverage business SMS, set up dynamic call routing, use call analytics, take advantage of spam blocking, and more. Having access to a comprehensive suite of features that caters to businesses ensures that all business communication can become streamlined. Having an all-in-one communication system also enhances productivity.
Overall, this type of cloud-based communication system is easy to set up, simple to deploy, and straightforward when it comes to managing users and features. The benefits and unique features of cloud phone systems include:
Automatic backups and redundancies within the platform ensure that all calls are encrypted and secure.
Advanced AI-powered Voice Intelligence (Vi) uses natural language processing and voice recognition to assist in providing real-time recommendations and even transcripts.
A comprehensive suite of features to optimize business communications within your company, ultimately increasing your revenue and profit.
Mobile Simplicity
Mobile technology has dominated the business world for years, and it is only increasing its prevalence. Small businesses, in particular, need to have an effective yet simple way of communicating from several locations. A cloud phone system can provide a great solution to the need for mobility. Your employees will have access to a powerful phone system that allows them to communicate using any device from anywhere with internet access.
This enables remote meetings using high-quality video and audio conferencing, including extensive screen-sharing capabilities and advanced features for conference calls that are not possible to use on traditional telecommunications systems, allowing you to adapt to your workforce's workstyle.
Improved Time Management
Having a cloud phone system helps improve users' time management, allowing them to focus on what is most important: their work. When everything is in the cloud, IT staff can also avoid wasting countless hours fiddling with wires and troubleshooting hardware issues. A cloud-based phone system gives your employees access to everything they need to increase their time management and focus on increasing revenues for your company.
Your business stands to benefit from a cloud phone's mobile features and functions. What makes an AI-driven cloud phone system even more appealing is the cost, which is less expensive than the traditional alternative. When you shift your business communications onto the cloud, you save money on hardware and associated maintenance costs. By paying a monthly service rate, you avoid making a massive investment up front, while getting a better multi-channel communication solution.
---
Dialpad provides an innovative unified communications platform using AI to make business communications smarter. With over 7,000 satisfied customers using our cloud phone system, you can be sure you will be using one of the best alternatives to traditional telecommunication system.
Learn more about what makes us different by visiting Dialpad, then try out your 14-day free trial to see how your communications can improve.