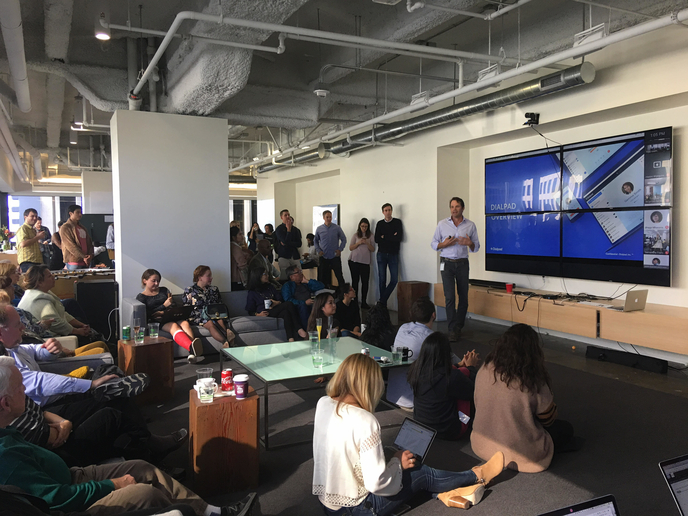 November 27, 2017
When I started at Dialpad, I had no idea how much of a family I was really joining. Not only were people warm and welcoming from my first day in the office, but everyone from the CEO to my deskmates went out of their way to get to know me personally, outside of the 5th floor walls of 100 California Street. I didn't think I could feel any more connected to the company, until Bring Your Parents to Work Day— the perfect opportunity to share the Dialpad family love with my real family.
Once a year for the last five years, Dialpad has been inviting employees' parents to the office for an afternoon of fun, learning, and most importantly, to answer the classic parent question, "What is it you do at work?" My mom was thrilled to take part, saying it reminded her of the "back to school nights" of my childhood. And when I told her this year's event would include mimosas, massages, and a Thanksgiving-themed lunch, she arrived two hours early in typical mom-like fashion.
To be perfectly honest, the day was full of too many memorable and hilarious moments to count, but my favorite was the presentation from our very own CEO, Craig Walker. It was amazing to see my mom and the other parents react to our product and founders story, and to hear our VP of People talk about our company values and culture. "Lots of people work in tech," she said, "but only your sons and daughters are part of this team." There wasn't a person in the room that didn't feel how truly special a place Dialpad is.
When I saw my mom off, she congratulated me on the job and asked when she could come back. As a startup employee, there is always some degree of uncertainty with these things, but if my time here so far has been any indication I know we'll definitely be back for next year. And the year after that. And the year after that, too.