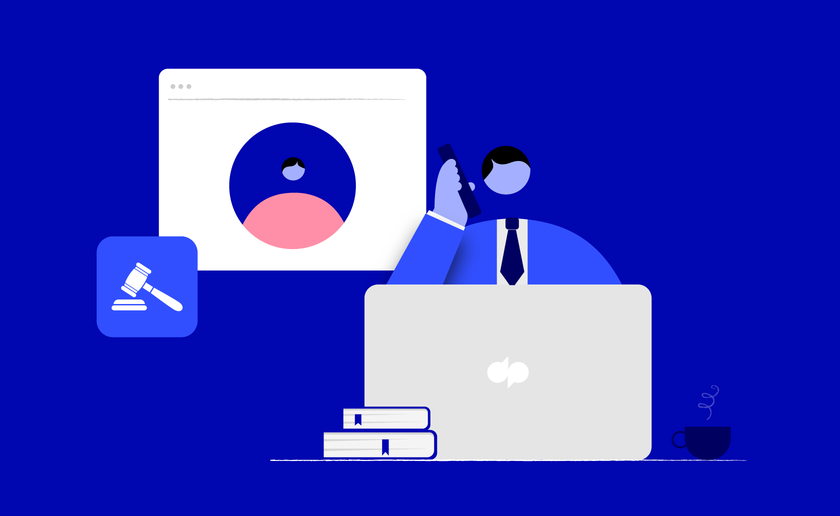 October 09, 2020
Legal practices are some of the most traditional, longest-standing companies in many cities throughout the United States. But to keep pace with the demands of running a modern business, virtual law firms must understand how to leverage the latest technologies.
Forward-thinking attorneys, office managers, and legal assistants have integrated technology into their practices by upgrading their phone services. Instead of relying on old-fashioned phone companies, many firms have implemented a cloud-based communication platform to improve their workflow capabilities.
A legal phone system helps offices run more smoothly and provides the features needed to improve client engagement and office management. This means having the ability to automate work, take on more clients, increase billable hours, and a range of other benefits that can aid both new and well-established firms work more efficiently and effectively.
By relying on a high-quality business phone system that integrates with Clio and other applications that your practice may use, it's possible for legal teams to seamlessly track every conversation with tools like Dialpad—regardless of the device used.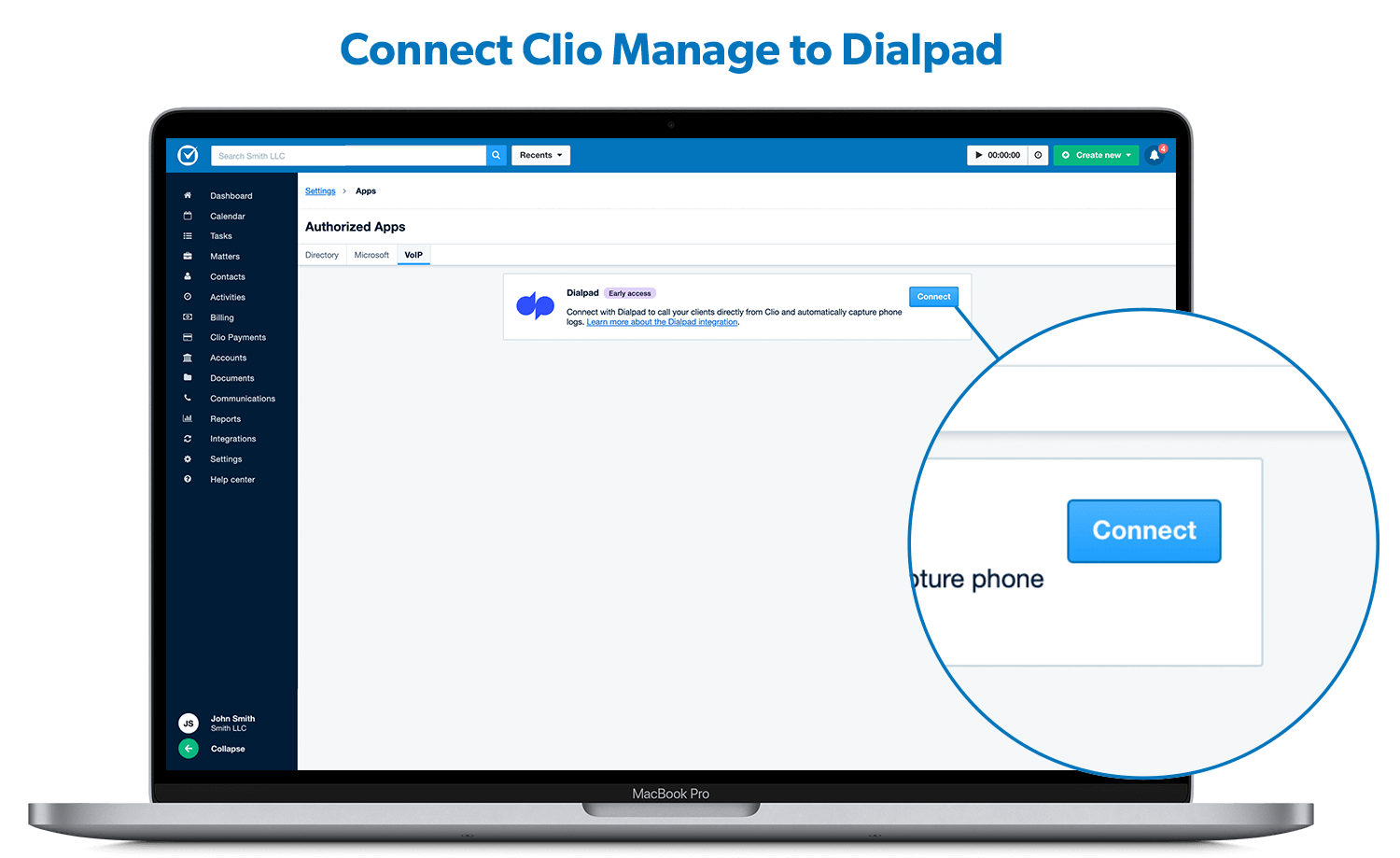 In this post, we'll cover the top 5 benefits of upgrading your law office phone system—and how to choose the right system for your virtual law office.
1. Transcribe and track conversations
When taking calls with existing or potential clients, you likely already take detailed notes. With a cloud-based communication system, you can automate note-taking and focus your attention on the conversations you have. Dialpad's native artificial intelligence technology can automatically transcribe your calls, with each speaker identified easily.
Each call is labeled with data like caller information, the time and date the conversation took place, and the parties involved. You can highlight action items within each transcription to share with your legal team, playback a recording of the call, or use a host of other built-in features to ensure no detail falls through the cracks when preparing for trial or negotiating a settlement.
2. Flexible access outside the office
Legal teams have only a few options to manage their workload when outside their law office. Most attorneys have no problem sending emails or placing calls while remote but face challenges recording calls, transcribing calls, or logging conversations outside the office. With a cloud-based legal phone system, you'll have the ability to work from any device anywhere in the world.
If a client has a question while you're at court, legacy phone systems would require you to check voicemail when you're back in the office, take notes, manually send follow-up actions to support staff, and then remember to record the billable hour. (Burnout, anyone?)
VoIP phone systems that live in the cloud can automate all of this work, so you can focus instead on helping your clients.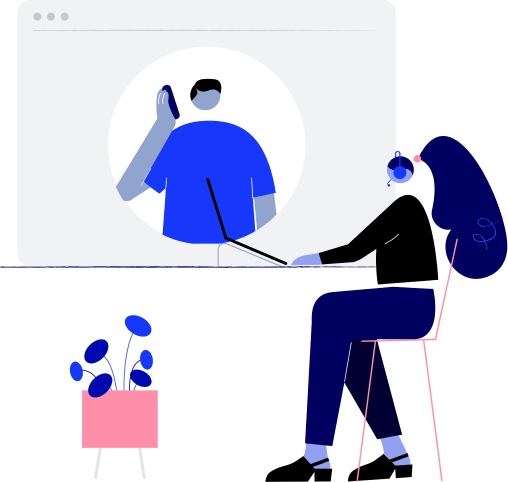 3. Free up support staff
The ability to record calls goes beyond saving attorneys the time and effort of note-taking. With features like unlimited call recording, Dialpad frees up time for your legal team and support staff to do other, more critical tasks. Automated call transcriptions make recalling information much easier than listening to a lengthy recording.
Partners and other attorneys know that paralegals, legal assistants, and secretaries are the backbone of any stellar legal team. These non-lawyers are needed to complete many complex, time-sensitive action items that help a client's case. Still, often they must carry out the responsibilities of transcription and organizing communications as well. When they are freed from this through automation, you can take on more clients, resolve cases more quickly, and improve your bottom line.
4. Analyze and integrate with case management software
What if your customer satisfaction team could measure the exact percentage of calls that end with a satisfied client? What if your office manager could track the number of calls each assistant receives and tie that back to the cases involved?
With the right legal phone system, you can log every call in an organized manner and track analytics on client touchpoints and inbound calls. Integrating with case management software like Clio lets you tie these analytics back to specific cases and clients. Calls can be sorted and filtered by case type, keyword, or time and date. You'll even be able to see who took the call.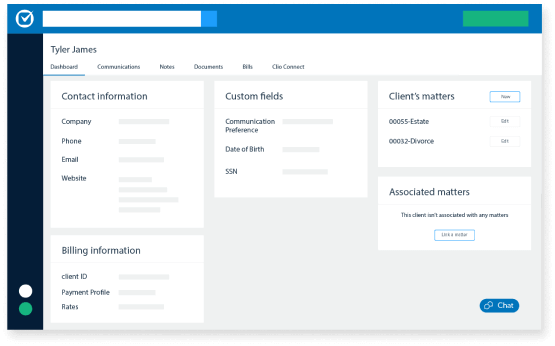 5. Guarantee security and confidentiality
Whether the call is a one-on-one meeting with a client or a conference call with your legal team, case data, transcriptions, and recordings mustn't ever be seen by anyone not authorized. The best law office phone systems protect client data through enterprise-grade security and encryption.
If you need to share call recordings and automated transcriptions with your legal team members, that's also possible in a secure manner. What's more, if only select employees should have access to individual records, you can limit who will be able to see the information using a role-based access model. Your clients won't have to worry about confidentiality, and they'll be pleased with how easy it is to collaborate with your firm.
How to choose a phone system for your law firm
Not all communication tools are equal. Cloud-based phone systems are state-of-the-art, and can integrate smoothly with your operations and support internal processes rather than interrupt them.
Compare features, cost, security, flexibility, and reliability before choosing a phone system for your law firm. Be sure to look for the features your firm will need, whether that's HD audio recording or integrations with LawGro, Google Workspace, Microsoft 365, CRM platforms, and so on. With the ease of native integrations, you should be able to implement secure sign-on and easy syncing of your directories, contacts, shared emails, events, and documents.
Be sure to select a modern business phone system with the flexibility to run on softphones, mobile devices, and computers. Attorneys and office staff should be able to easily flip a call between different devices if they ever need to step away from their desks.
Learn more about the best apps for lawyers in this guide penned by two former attorneys!
The best business phone system for law firms
Dialpad has a history of modernizing communication for some of the world's most innovative businesses. We provide modern business phone systems and communications technology to law firms around the world, like Coye Law Firm and Harrelson & Harrelson.
Using the right phone system lets you free both your attorneys and support staff to work on more impactful tasks. It also allows you to give consultations and schedule client meetings, even when you're away from the office.
Try Dialpad's communications platform for your law firm today!